FREE Animated eCards
---
Home > Free Animated eCards
Got a few seconds? That's all it takes to pick and send the FREE animated eCards on this page to your family and friends. 
In less than a minute, make your loved ones smile (even shed tears of joy), just by showing how much you care about them with one of my free eCards. Now that's worth a few moments of your time.
Send FREE eCards in seconds!
Just like this one...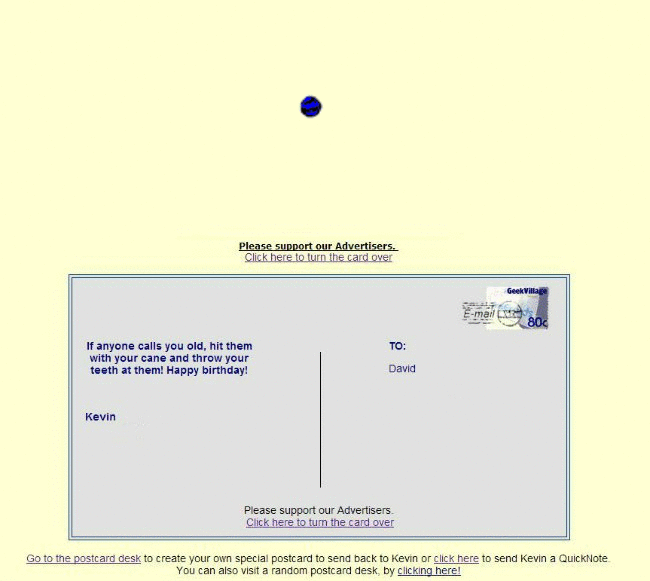 Start here

!


No login or registration required

!
Here's how to create FREE eCards in three easy steps...
To choose and send the FREE birthday eCards on this page, just follow these three easy steps:
Go to "STEP 1: CHOOSE eCARD IMAGE" below to add any animated GIF from my photo gallery.
Go to "STEP 2: ENTER A MESSAGE" below to enter your birthday wish, quote or poem (whatever kind of birthday message you want to send).
Go to "STEP 3: PREVIEW OR SEND eCARD" and enter your name, the recipient's name and both your email addresses to preview and/or send your eCard.
Here's how to take full advantage of my free eCards:
Use the latest version of your browser (earlier versions may prevent "previews")
Make sure your browser "enables" Javascript (find out how on enable-javascript.com)
Ensure that your browser "accepts" cookies (learn how on aboutcookies.org)
Top of FREE Animated eCards
What to write in my FREE animated eCards
Send a free birthday eCard in just seconds based on one (or more) of the "Happy Birthday" message ideas from yours truly (me, Message Guy). 
Here are just a few of the birthday wishes on this site you can use to quickly and easily add your personal touch to the eCard you choose...
Have a very happy, happy, happy birthday!
Wishing you an exciting, fun-filled birthday!
You deserve everything wonderful, awesome and happy today...and all year long!
Hope you have the happiest of birthdays! I love you!
May you have a birthday full of joy and wonder!
Best wishes for the best birthday ever.
Wishing you a birthday filled with every guilty pleasure you enjoy!
Hope your birthday is a celebration to remember!
Can't wait to spend your birthday with you. It's going to be epic!
Another year older, wiser, healthier, funnier, richer, smarter, sexier...and alive!
Happy birthday to one of my greatest friends ever!
Thanks for everything you've ever done and are still doing and will forever do.
May all your birthday wishes come true and come from the heart!
Savor every moment of your birthday!
Create and capture wonderful birthday memories that will last you a lifetime!
Need more birthday message ideas?

Click any link below to pick a birthday message (a new window opens, so you don't lose your place on this page).
Top 15 sites for sending eCards
When it comes to eCards, here's why I highly recommend the sites below:
All offer a free, no-obligation trial period (with access to FREE eCards)
All offer membership plans for very low fees (with unlimited access to FREE and premium eCards, plus many more bells and whistles).
Click the links below to see everything these eCard sites have to offer: 
Save 25% Off Subscriptions to Hallmark eCards & Send Unlimited eCards this Fall with code ECARDSFALL25!
---
---
Message Guy
Creator of this site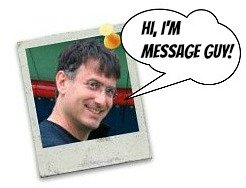 Meet the veteran writer
behind every message 
---
Click here to easily
create your own site
(and work for yourself)
---
Share a birthday message
Share a smile today
---
Check out these popular pages
---
Help me get the message out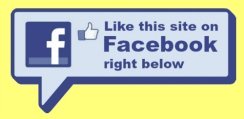 A big THANK YOU to all my Facebook fans!
Follow
BirthdayMessages.net


on Facebook
---

By Kevin - Message Guy 
Copyright © 2013-2016
BirthdayMessages.net.
All rights reserved.
All trademarks and service marks
are the property of their
respective owners.
The copyrights of all poems
on this website
belong to the individual authors.