An Inspirational "Facing Your Fears" Story


How I learned to love rolling in the deep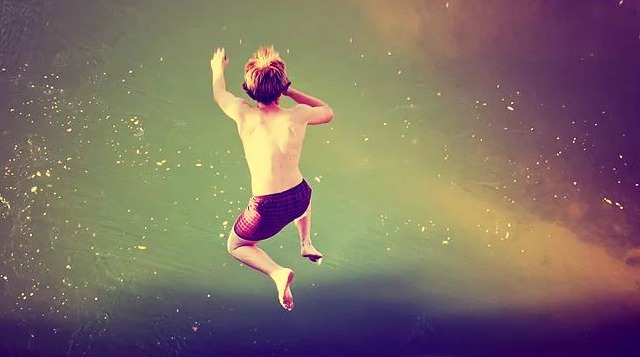 Sometimes, you just have to take the plunge!
I did! Now I love the deep!
You've got nothing to lose! How many times have you heard those words of wisdom and thought to yourself: well, I can still lose my pride, I can lose my way, I can lose my mind, I can lose so many things, come to think of it.
That's not the kind of lose-lose-lose-lose situation you want to be in at the tender age of 10, but that's exactly where I found myself in the summer of 1972.
​I lacked courage
I was at summer camp at the time. All the boys in my bunk had passed the Four-Five swimming test — four Olympic-sized laps of swimming and five minutes of treading water — a prerequisite for a three-night canoe trip everyone wanted to take. I wanted to go too, but I had not passed this test, which would force my camp counselor (and, by default, my bunkmates) to stay in camp with me during the trip.
I did not lack the stamina to do it. I just lacked the courage. I was terrified of deep water. I could swim in shallow water, as long as it did not go over my neck, a big problem for me since the Four-Five test had to be taken in water that was at least eight feet deep.
I came by my fear honestly
I came by this fear of water honestly. Four years earlier, when I was 6 years old and on vacation with my family in Banff (a resort town in Alberta, Canada) , I unknowingly joined a group of boys and girls two to three years older than me taking swimming lessons.
When the swimming instructor asked us to jump into the deep end of the pool and start swimming, I jumped with the rest of the kids. They swam to the surface — I didn't. I didn't know how to swim. I remained at the bottom of the pool, gasping for breath.
Looking up at everyone looking down at me, I saw my father's panic-stricken face break through the water's surface. Within a few seconds, he grabbed me by both arms and pulled me straight up to the surface. I was saved!
I was left with a sinking feeling
This incident left me with a sinking feeling in the pit of my stomach that lasted all day and all night. Fortunately, by the next morning, I had forgotten all about this experience, like any six year old would.
Yet, every summer for the next four years, I managed to avoid deep water of any kind. That was until I was the only boy in my bunk who would not even try to pass the Four-Five swimming test, the boy who would force everyone else to forgo a canoe trip they desperately — in the way 10-year-old boys are desperate — wanted to take.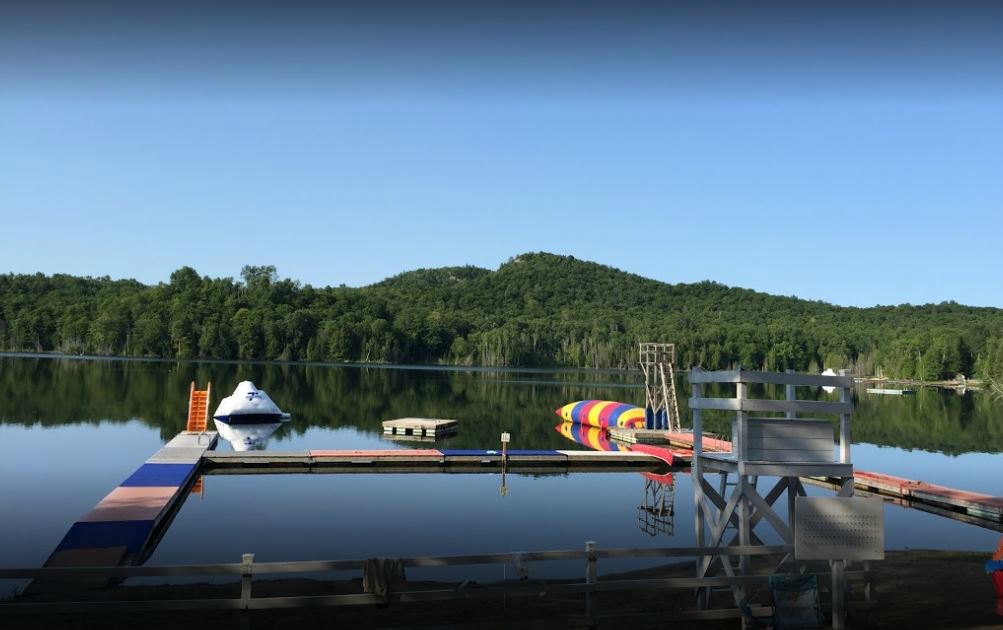 In the summer of 1972, when I was 10 years old, I overcame my fear of deep water at a summer camp (pictured above), with the help of a kind swimming instructor...and an inspirational quote.
I decided to take the plunge
My bunkmates had no intention of letting me sabotage their beloved canoe trip. Nor did my camp counselor. I had to at least try to pass the test. I could have told them about my fear of deep water but I wasn't about to give my bunkmates any ammunition to tease me the rest of the month at camp.
So I decided to take the plunge. That old sinking feeling came rushing back the moment I made my decision — and stayed with me until the day of the test.
I swam like a fish in water
Luckily, the head of waterfront saw right through me. On the morning of the test, before anyone was awake in my bunk, my counselor brought me to the camp's waterfront to take the test. Amidst the chilly, early-morning dew and fog, I took off my jean jacket and t-shirt, made my way from the beach to the dock, past the shallow first area of the waterfront, to the second (and deeper) area, shaking more from nerves than the cold.
The head of waterfront, a 20-year-old girl, looked at me and knew my little secret. "Hey, blue eyes," she said, referring to my baby blues, adding "nothing ventured, nothing gained, so you have nothing to lose." This nugget of wisdom, which adds up to one of this world's most overused inspirational quotes, was wonderfully new to my ears.
"Besides, I'm going to be right beside you every step of the way," she said. And that's exactly what she did, from start to finish. She walked along the dock only a foot away from me as I swam my laps and even got into the lake with me as I tread the water.
Now I've got nothing to lose
"Well, blue eyes, you've officially passed the Four-Five," my water angel said to me when I finished treading. "Why don't you go for your Twelve-Seven?" (As in 12 laps of swimming and seven minutes of treading.) "You're still in the water, so you still have nothing to lose." 
And everything to gain, I found out, because I ended up being the only 10-year-old in camp who had passed the Twelve-Seven and, better yet, I discovered just how deep inspirational quotes can go.