The best kids birthday parties cost a fortune!


With the eBook below, your kid's amazing party won't!



---
Save with never-before-revealed secrets to the best party ever!
Special eBook offer! 99

¢

 for the next 40 orders only!
Kids birthday parties do not have to cost a fortune to be fun and memorable. You can throw one that costs very little but will still make your child the envy of all his or her friends. How? Just by reading and following the never-before-revealed tips in this eBook... 
In Kids Birthday Parties: Secrets to the Best Party Ever, learn all the tricks of the trade for pulling off an amazing birthday party at a fraction of what you expected to spend.
You'll get...
Proven ways to stay well within your budget

Party themes, games and activities for all age groups
Party favor ideas that will impress your child's friends
Food ideas that will more than satisfy any kid
Party invitation and decoration ideas that will wow everyone
And much, much more! 
All for 99¢. 
Make planning kids birthday parties a breeze
When it comes to planning birthday parties, there's no need to get flustered over everything that needs to be done.
Organizing it all, from the invitations, party theme and decorations to the food, loot bags and venue, not to mention all the other things that need to be looked after, can be a breeze.
Kids Birthday Parties will reveal "tried and tested" tips (from years of experience) that will solve all your kid's birthday party dilemmas. This guide practically does all the work for you!
Organization is the key to a fantastic birthday party. Without it, the results can be less than pleasant. There's a ton of planning to do to pull off the best birthday party ever.
Most of all, you need to answer questions like...
How early should I start planning?
How many kids should I let my child invite?
How exactly will I pull off this party without breaking the bank? 
In this guide, get the answers to these questions, plus the solutions to hundreds of other problems. Here, you will find real solutions that work 100% of the time.
The complete guide to great parties for kids is here
Everyone wants their child to have an unforgettable birthday party. Kids Birthday Parties: Secrets to the Best Party Ever will give you all the tools you need to make it happen, plus much more.  
Included, you will also get simple-to-follow checklists that will help you:
Stay on track the whole time - You'll get a complete checklist that will tell you the best time to send out invitations, order (or bake) the cake, buy decorations online, decide on games, pick best party times...and much more.
Remember everything you need to do - You'll have access to the BEST "Birthday Party Ever" shopping list, which will ensure you do not overlook anything.
Here's what you'll learn from this guide....
How much is saving hundreds worth to you?
At least 99¢?
The price of this eBook — $1.99 — is a drop in the bucket that will pay for itself the first time you put all the valuable information inside to use at the very first birthday party you throw. 
Anyone can use the information inside Kids Birthday Parties: Secrets to the Best Party Ever. This guide is for anyone who wants to throw a great birthday party for their child, and not go broke doing so. 
Ask yourself these two questions.

How much did you spend to pull off your child's last birthday party (including how much the food, decorations, party favors, games, activities and venue cost you)? $300? $400? $500? MORE???
Now, what if you could throw the best birthday party ever for a small fraction of that cost? Would that be worth 99¢?
Here's how to order your copy right now!

Click here to place your order. Once you make your payment — via PayPal — you will receive a link to a special download page, where you will have instant access to the eBook.
Special offer! 99¢ for the next 40 orders only!
Throw an amazing birthday party for a small fraction of what you normally spend. At 99¢ per copy, what do you have to lose? Think of everything you have to gain!
---
---
Message Guy
Creator of this site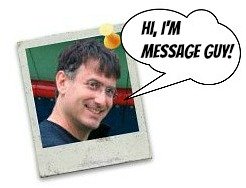 Meet the veteran writer behind every birthday message here
---
---
Check out these popular pages
---



Love what you just read?




Help me get the message out!



Please like this site
Follow this site

 on Facebook



Be the first to see what's new
---