Birthday

Poems



---
Looking for birthday poems to wish a very special "happy birthday" to a loved one? You have come to the right place. Now you have an opportunity to choose from the many different poem styles I have here...the web's best and biggest collection of poetry for birthdays. Select any type of birthday poem below.
Birthday poems are the best birthday messages to choose when you think a simple birthday wish is not enough. 
Why a poem? There's something about funny, sentimental, cute, inspirational, clever, romantic, cool and happy poems that make us want to read them over and over again.
In other words, poems are, as my Dad would always call anything important, keepers. And birthday poetry is, in my mind, the best kind of keepsake you can give family and friends.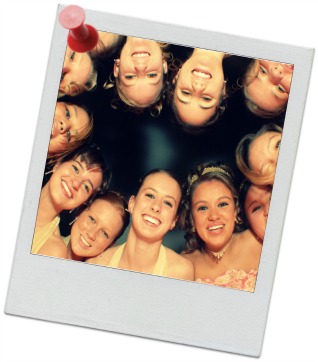 Add rhyme and rhythm to your messages
Your loved ones will definitely appreciate the extra rhyme and rhythm of the poem you choose for them. Better yet, every poem here is FREE to copy and share. And every single verse is writer-approved, so you know you'll end up with the perfect birthday message for your loved ones.
---
Birthday Poems
Sneak Preview
This is just a preview of the birthday verses I have in this section. You'll find many more with the links above and below.
---
Funny
Birthday Poems
Preview

THERE ARE WORSE THINGS 

By Message Guy
So what if you're getting older,
There are worse things to be,
Like a goofy, pimply teenager,
With zero self-esteem.
 So what if you got a few wrinkles,
There are worse things to have,
Like a case of the twentysomethings,
And a room at Mom and Dad's.
To me, you're simply wonderful.
Everything about you is just right,
So have a happy birthday,
And let's party all night.

---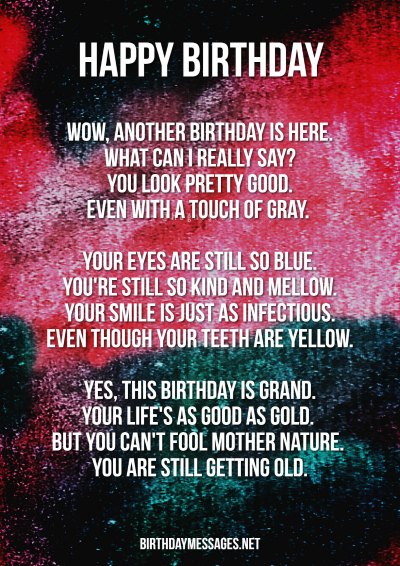 LIFE'S AS GOOD AS GOLD

By Message Guy
Happy birthday!
Wow, another birthday is here.
What can I really say?
You look pretty good.
Even with a touch of gray. 
Your eyes are still so blue.
You're still so kind and mellow.
Your smile is just as infectious.
Even though your teeth are yellow.
Yes, this birthday is grand.
Your life's as good as gold. 
But you can't fool Mother Nature. 
You are still getting old.
---
---

Quick Links
Sentimental
Birthday Poems
Preview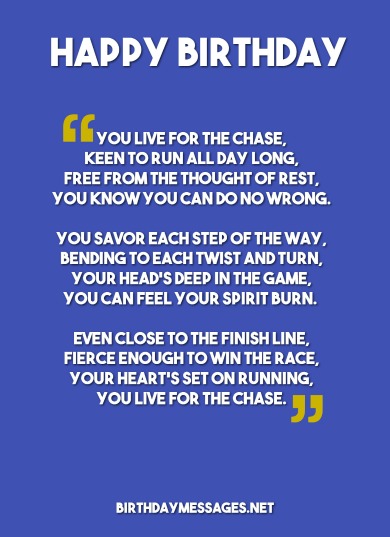 FEEL YOUR SPIRIT BURN

By Message Guy
You live for the chase,
Keen to run all day long,
Free from the thought of rest,
You know you can do no wrong.
You savor each step of the way,
Bending to each twist and turn,
Your head's deep in the game,
You can feel your spirit burn. 
Even close to the finish line,
Fierce enough to win the race,
Your heart's set on running,
You live for the chase.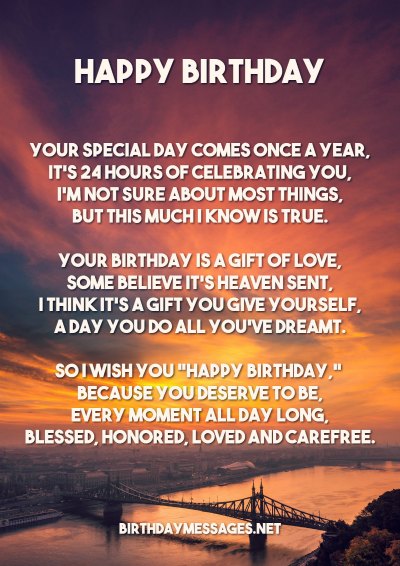 BLESSED, HONORED, LOVED & CAREFREE

By Message Guy
Your special day comes once a year,
It's 24 hours of celebrating you,
I'm not sure about most things,
But this much I know is true.

Your birthday is a gift of love,
Some believe it's heaven sent,
I think it's a gift you give yourself,
A day you do all you've dreamt.
So I wish you "happy birthday," 
Because you deserve to be,
Every moment all day long,
Blessed, honored, loved and carefree.
---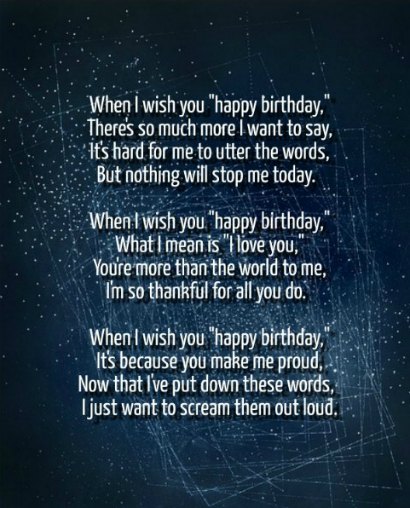 WHEN I WISH YOU
"HAPPY BIRTHDAY"

By Message Guy
When I wish you "happy birthday,"
There's so much more I want to say,
Though it's hard to utter the words,
Nothing's going to stop me today.
When I wish you "happy birthday,"
What I mean is "I love you,"
You're more than the world to me,
I'm so thankful for all you do.
When I wish you "happy birthday," 
It's because you make me proud,
Now that I've put down these words, 
I just want to scream them out loud.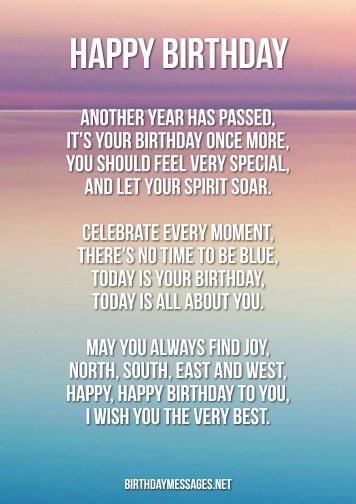 TODAY IS YOUR BIRTHDAY

By Message Guy
Another year has passed,
It's your birthday once more,
You should feel very special,
And let your spirit soar.
Celebrate every moment,
There's no time to be blue,
Today is your birthday,
Today is all about you.
May you always find joy,
North, south, east and west,
Happy, happy birthday to you,
I wish you the very best.
---
Cute
Birthday Poems
Preview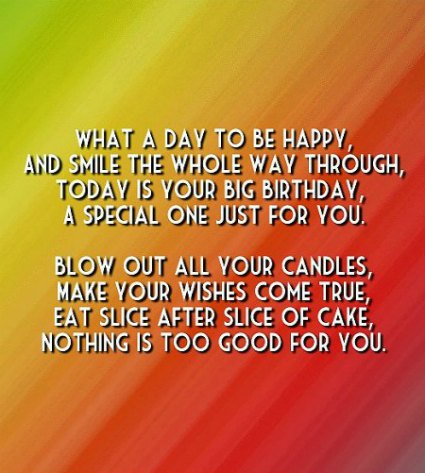 WHAT A DAY

By Message Guy
What a day to be happy,
And smile the whole way through,
Today is your big birthday, 
A special one just for you.
Blow out all your candles,
Make your wishes come true,
Eat slice after slice of cake,
Nothing is too good for you.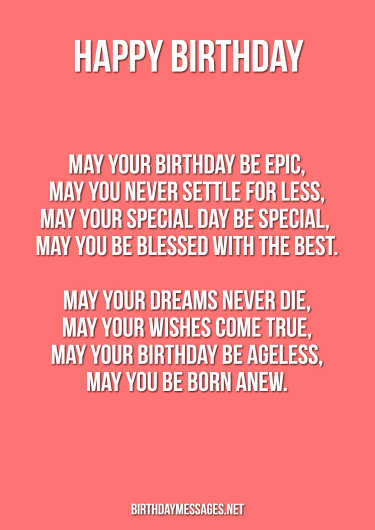 BE EPIC

By Message Guy
May your birthday be epic,
May you never settle for less,
May your special day be special, 
May you be blessed with the best.


May your dreams never die,
May your wishes come true,
May your birthday be ageless,
May you be born anew.
See everyone's favorite birthday messages
---
Inspirational
Birthday Poems
Preview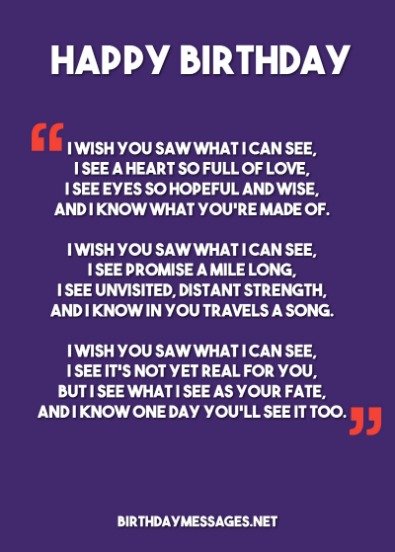 WHAT I CAN SEE

By Message Guy
I wish you saw what I can see,
I see a heart so full of love,
I see eyes so hopeful and wise,
And I know what you're made of.
I wish you saw what I can see,
I see promise a mile long,
I see unvisited, distant strength,
And I know in you travels a song.
I wish you saw what I can see,
I see it's not yet real for you,
But I see what I see as your fate,
And I know one day you'll see it too. 
NOW'S A GREAT AGE

By Message Guy
Happy birthday!
Now's a great age to take chances,
And do all you want to do,
Your creativity knows no bounds,
What you need is right in you. 
Your wisdom is wiser than ever, 
Your spirit is bolder than bold,
Your humor is more humorous,
There's just no time to be old.
AS YOU GROW UP
By Message Guy
As you grow up, may you find...
Hope before despair,
Passion before boredom,
Love before loss, 
Joy before sorrow, 
Peace before turmoil,
And only happy birthdays ever after.
---
Clever
Birthday Poems
Preview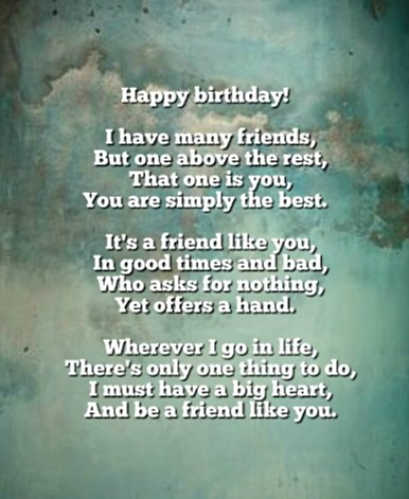 A FRIEND LIKE YOU

By Message Guy
Happy birthday!
I have many friends,
But one above the rest,
That one is you,
You are simply the best.
It's a friend like you,
In good times and bad,
Who asks for nothing,
Yet offers a hand.
Wherever I go in life,
There's only one thing to do,
I must have a big heart,
And be a friend like you.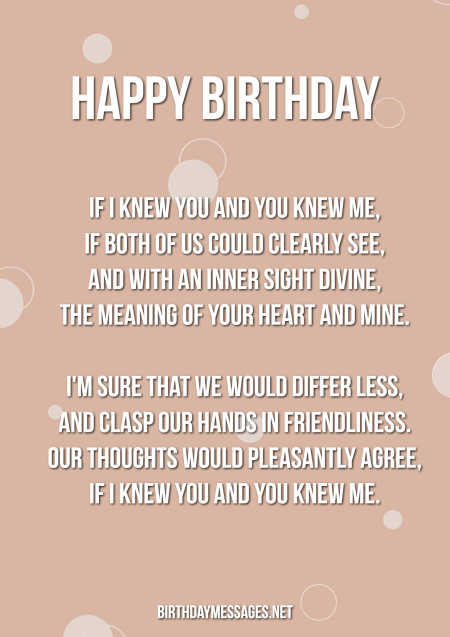 IF I KNEW YOU

By Nixon Waterman
If I knew you and you knew me,
If both of us could clearly see,
And with an inner sight divine,
The meaning of your heart and mine.
I'm sure that we would differ less,
And clasp our hands in friendliness.
Our thoughts would pleasantly agree,
If I knew you and you knew me.

I'm so glad we know each other.
Happy birthday!
---
Romantic
Birthday Poems
Preview
THIS CRAZY LOVE

By Message Guy
It was a spark at first,
A glow I couldn't see,
It flickered in my heart,
This crazy love in me.
It soon became a fire,
A fierce flame so carefree,
Scorching my deep heartache,
This crazy love in me.
Now a blaze of sunshine,
A beam of warmth so true,
A slow, searing, kind burn,
This crazy love is you.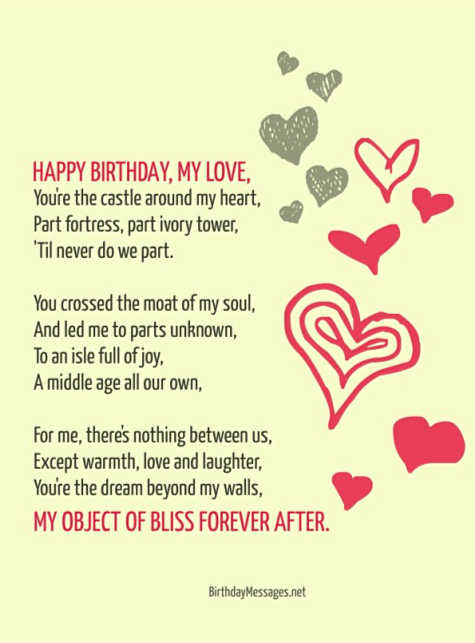 MY OBJECT OF BLISS

By Message Guy
Happy birthday, my love,
You're the castle around my heart,
Part fortress, part ivory tower,
'Til never do we part.
You crossed the moat of my soul,
And led me to parts unknown,
To an isle full of joy,
A middle age all our own.
For me, there's nothing between us,
Except warmth, love and laughter,
You're the dream beyond my walls,
My object of bliss forever after.
MY BEAUTIFUL BIRTHDAY BOY

By Message Guy
Happy birthday!
Sweet like a honey drop,
As loving as can be,
A heart the size of an ocean,
A soul filled with glee.
You're not just a siren song,
You're a lifelong symphony,
Your rhythm moves me,
To rise up, dance and sing.
I'm glad you were born today,
My beautiful birthday boy,
You make my life stunning,
And fill it with such joy.
Message Guy Pick



Why I chose John Lennon's most romantic lyrics...
When you read the verse I adapted from John Lennon's song, Across the Universe, which appears on the album Let It Be by The Beatles, you'll know why I consider it one of the most romantic birthday messages on this site...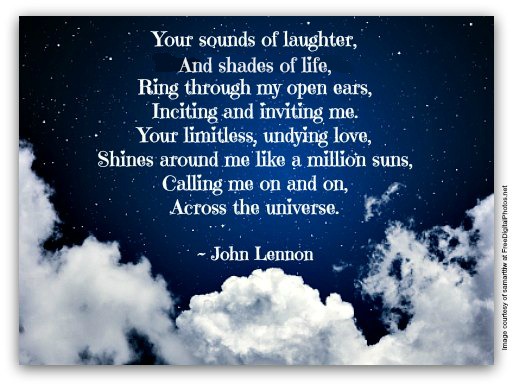 These lyrics will show your "special someone" the depth of your love for him or her...in an elegantly romantic way. Let the birthday Beatle-fest begin!
---
Cool
Birthday Poems
Preview
I WISH YOU LOVE

By Message Guy
It's your birthday again,
Time to wish you good things,
May you see the wonder,
And the joy a birthday brings. 
To you, I wish the best of health,
And the best of luck in all you do,
Mostly I wish you love, 
For a life that's pure and true.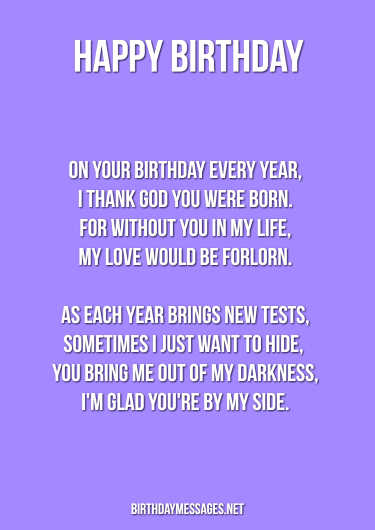 BY MY SIDE

By Message Guy
On your birthday every year,
I thank God you were born.
For without you in my life,
My love would be forlorn.

As each year brings new tests,
Sometimes I just want to hide,
You bring me out of my darkness,
I'm glad you're by my side.

Happy birthday!
---
Happy
Birthday Poems
Preview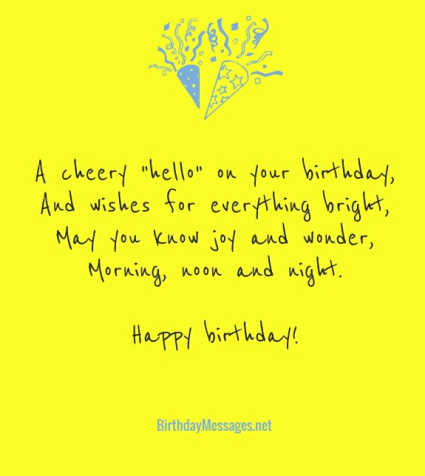 A CHEERY "HELLO"

By Message Guy
A cheery "hello" on your birthday,
And wishes for everything bright,
May you know only joy and wonder,
Morning, noon and night.

Happy birthday!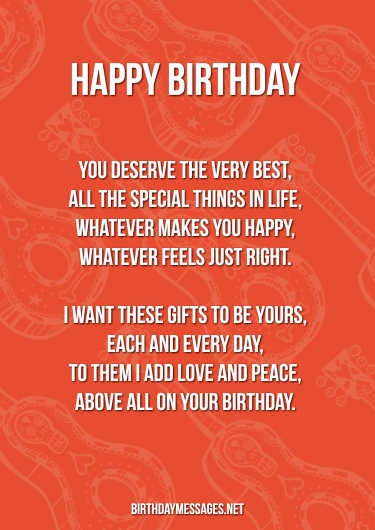 THE VERY BEST
By Message Guy
Happy birthday!

You deserve the very best,
All the special things in life,
Whatever makes you happy,
Whatever feels just right.
I want these gifts to be yours,
Each and every day,
To them I add love and peace,
Above all on your birthday.

---
Message Guy
Creator of this site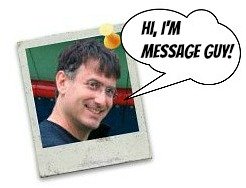 Meet the veteran writer behind every birthday message here
---
---
Check out these
popular pages
CAN'T FIND WHAT YOU NEED?
SEARCH HERE
---
Like this page?


Help me get the message out

Follow this site

 


on Facebook



Be the first to see what's new