Birthday Message Search
Home > Message SiteSearch
---
Welcome to Birthday Message Search. 
Wondering where you can find the best birthday messages by age, person or type? Can't remember which pages feature birthday wishes, birthday quotes, birthday poems, birthday toasts or birthday speeches?
Now you can narrow your search and choose the best birthday messages...from a writer-approved collection of over 6,000 free birthday wishes, quotes, poems, toasts and speeches.
Birthday Message Search makes it easier to find the perfect birthday messages for your family and friends.
It's right below, so get started right now.
Your search starts right here...
Some tips to make your search easier
If you would like to write a funny message, search for, say, funny birthday wishes, funny birthday quotes or funny birthday poems. Need to go the serious route? Look for "inspirational" or "sentimental" birthday messages.

Don't know how to get started? Well, if you're searching for all pages that mention the word "birthday poems" on "BirthdayMessages.net," enter the word "birthday poems" (no quotation marks necessary) into the search box and click Search. It's that easy!

Go ahead! Give it a try! Soon you'll be on your way to making the birthdays of your family and friends more special, even epic, with writer-approved, mistake-free birthday messages.

Watch your favorite celebrity birthdays
---
---
---
Message Guy
Creator of this site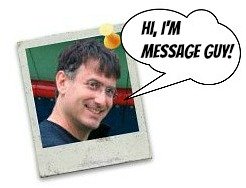 Meet the veteran writer behind every birthday message here
---
---
Check out these popular pages
---



Love what you just read?




Help me get the message out!



Please like this site
Follow this site

 on Facebook



Be the first to see what's new
---