Inspirational Birthday Toasts
---
Great inspirational birthday toasts can turn an average celebration into an unforgettable event! My birthday messages for toasts have this amazing effect.
What makes a great toast? Any good public speaker would be the first to tell you that a great toast comes from the heart. Your heart. Every word of your toast must therefore genuinely reflect how you feel about the birthday girl or boy.
Feel free to use the toasts on this page — as is or as a starting point for one of your own. Whichever one you choose, it should feel right to you. It should feel like it came from your heart. For more helpful hints, refer to my tips below.
Message Guy Tip #58
How to select inspirational birthday toasts
A birthday celebration is the ideal time to show the people you love that you care enough about them to make a toast in their honor. One of the best toasts to make has something everybody loves to hear: inspiring pearls of wisdom. What type of inspirational toast should you choose?
Read more ►
| | | |
| --- | --- | --- |
| With every birthday of yours, may the joy, wonder and love in your heart, like perennials in a summer garden, grow anew, rising to new heights. That said, have a joyful, wonderful and love-filled birthday! | To coin the words of Frank Lloyd Wright, a man of true eloquence and beauty, "The longer I live, the more beautiful life becomes." May you live a long life that becomes even more beautiful with time. Happy birthday! | As you celebrate birthday after birthday, may you have the grace to see that it's not how old you are that makes you happy — it's how you are old. Happy birthday! Here's to growing older gracefully. |
| | | |
| --- | --- | --- |
| Great achievements require great people. We know you have many more great achievements in you! Wishing you only the greatest things in life. Happy birthday! | The world needs more heroes...like you. You're my hero. Happy birthday! | May every moment of your lifetime be as warm, bright and pleasing as a sunny summer day. Happy birthday! |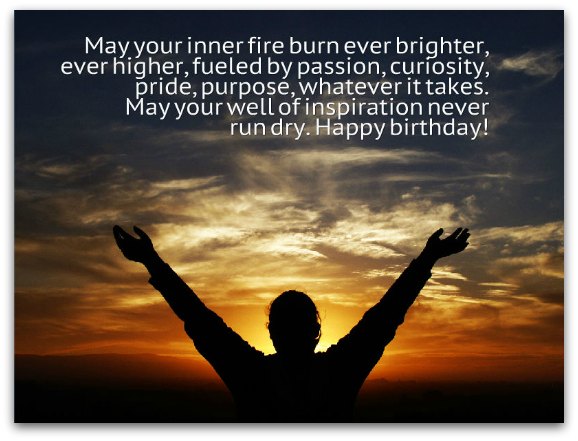 Message Guy Pick
I love inspirational birthday toasts in general, so picking a "favorite" was difficult, but the one below stands out for me because...
Read more ►
| | | |
| --- | --- | --- |
| | Everybody here has an inner light. Some burn like a big torch. Others are consumed by darkness. Yours burns brighter than a million suns. Everything and everyone you touch can feel your burning passion. Here's to you. May you set a shining example for the rest of us...for many, many more birthdays. Happy birthday.  | |
Keep looking for the one!


Find more inspirational birthday toasts here...
| | | |
| --- | --- | --- |
| When you were born, it was a great day in our history. To coin the words of a writer much more eloquent than I will ever be, "Your birthday is the best day the world has ever seen." Our world certainly changed for the better when you came into it. Happy birthday! | In the words of Star Trek's Mr. Spock, "Live long and prosper" and, if I may add, peace be upon you. Happy birthday! | Happy birthday! May you always find joy and peace in living a life that's not about holding every card in the deck, but how you play the cards in your hand. |
Subscribe and get a new video to share every week
| | | |
| --- | --- | --- |
| Inspire Your Loved Ones | | Top 10 Inspirational Quotes  |
| | | |
| --- | --- | --- |
| May your inner fire burn ever brighter, ever higher, fueled by passion, curiosity, pride, purpose, whatever it takes. May your well of inspiration never run dry. Here's to a very happy birthday! | To coin the inspirational words of John Paul Jones, "you have not yet begun to fight the good fight." Do not go gently into anything! May this birthday be Round 1! | May you always be able to distinguish between the weeds and flowers of your life. Here's to a life where love and joy bloom every day. Happy birthday! |
Top of Inspirational Birthday Toasts
| | | |
| --- | --- | --- |
| Let's raise our glasses high to a person who we all hold in high esteem, a person who is a true inspiration to the rest of us. Happy birthday! | May you always remember to forget the troubles behind you...and never forget to remember the blessings just down the road, starting today! Happy birthday! | Every passing year brings new experiences and new avenues of hope for tomorrow. May you continue to have both in abundance all the days of your life. Happy birthday! |
Need some toast pointers?
Get 10 tips for making an unforgettable toast
If you think you need a few pointers on delivering a GREAT toast, check out 10 Tips for Making a Memorable Toast, an article that delivers exactly what its title promises: 10 helpful hints to get you through your toast with flying colors.
---
Message Guy
Creator of this site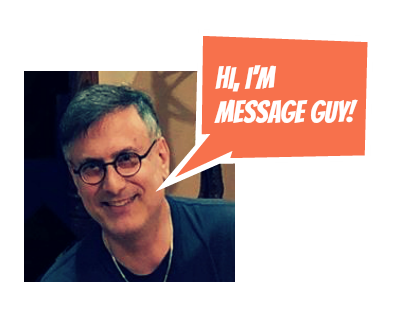 Kevin, the "Message Guy" who writes the birthday wishes, quotes, poems, toasts and speeches for this site, has been a professional writer, editor and translator for more than 25 years. He decided to create BirthdayMessages.net in 2012 to share his passion for famous quotes on the best day of the year — your birthday.

CLICK HERE TO LEARN MORE ABOUT KEVIN (AKA MESSAGE GUY) 
Can't Find
What You Need?
By Kevin (aka "Message Guy")
Copyright © 2013-2020
BirthdayMessages.net.
All rights reserved.
All trademarks and service marks
are the property of their
respective owners.
The copyrights of all birthday
messages on this website
belong to the individual authors.
Site 
Powered By
Solo Build It (SBI)