Birthday Messages
---
Need original, beautifully written birthday messages for cards, texts, Twitter, Facebook or Instagram? You've come to the right place. With 10,000+ examples of birthday wishes, quotes, poems, toasts and speeches to inspire you, write wonderful birthday greetings in seconds. 
BY KEVIN NISHMAS | UPDATED: APRIL 5, 2021

Jump to Birthday Messages

Don't know what to write? For ideas, jump to the section of birthday messages — birthday wishes, quotes, toasts, speeches or videos — you want to see right below, right now. Yep, it's that easy to get started!
QUICK LINKS
SEARCH SITE
---



Birthday Wishes

HAPPY BIRTHDAY MESSAGES

Sick of the overused, unoriginal, badly written birthday messages you see everywhere online? Of course, you are. Get started with the beautifully written birthday wishes right below.
You can use all these birthday messages for your friends, mother, father, son, daughter, grandfather, grandmother, grandson, granddaughter, aunt or uncle...anyone you admire, appreciate and adore.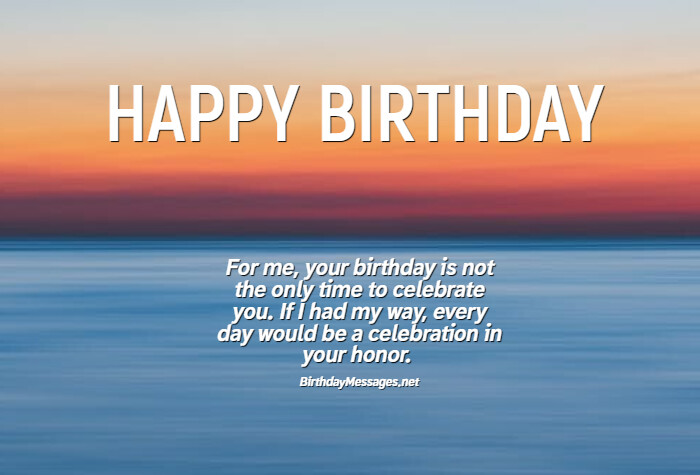 | | | |
| --- | --- | --- |
| For me, your birthday is not the only time to celebrate you. If I had my way, every day would be a celebration in your honor. Happy birthday! | Happy birthday! Life is short, and birthdays are even shorter. Blow out your candles and eat as much birthday cake as you want. Seize this special day.  | Things change but you've managed to stay the same all these years. You're still the same wonderful person you've always been. Happy birthday! |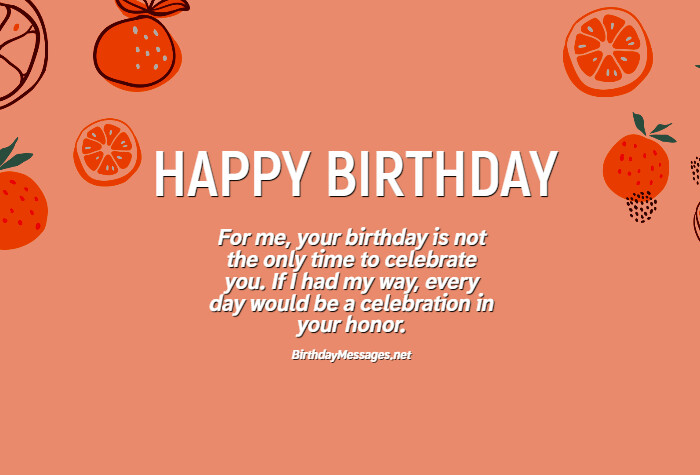 | | | |
| --- | --- | --- |
| For your birthday, I've been thinking about getting you something you'll love. Of course, it doesn't cost me anything to think. So accept this thoughtful message as my gift. Happy birthday! | A bright, warm person like you is like a ray of sunshine after a stormy day, month or year. Happy birthday. | Happy birthday. Don't just make one wish. Make as many wishes as you want and I will hope for each one of them to come true. |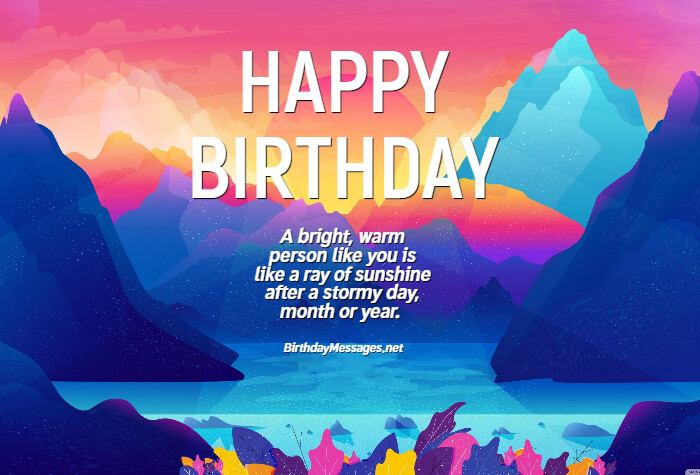 | | | |
| --- | --- | --- |
| Happy birthday! When you blow out the candles on your birthday cake and open your birthday gifts, keep in mind that everybody here thinks that you're a wonderful person. We're lucky to have you in our lives. Enjoy every second of our admiration. | Happy birthday to the life of the party. That's you. Because this is your big day, let [us, me] show you a great time. [I, we] think that you deserve the best birthday celebration ever. | Happy birthday to an amazing [guy, gal]. You're a genuine classic in an average world. May your big day be extraordinary in every way, just like you are. |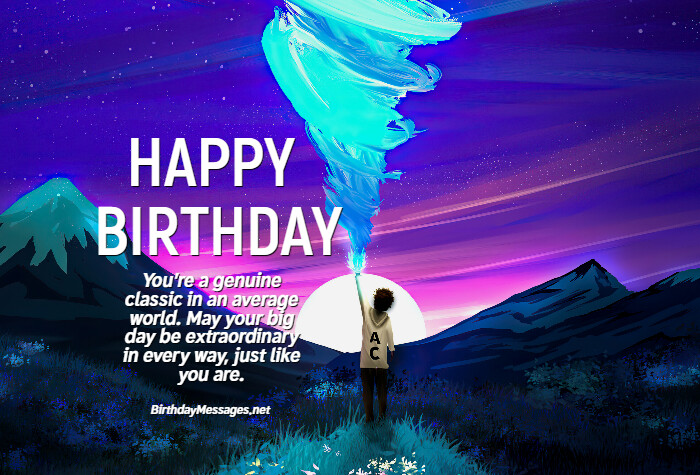 | | | |
| --- | --- | --- |
| Happy birthday. You're truly awesome. It's not a real celebration until you arrive on the scene, especially today because it's you [we're, I'm] celebrating. We think you're simply amazing. | Happy birthday to an incredible person. You're incredible to everybody you know and love. Now it's time to bring you all the joy and kindness you bring everyone all year-round! | Happy birthday. You light up everybody's life. Here's to you: may you only know the brightest of birthdays today and an especially bright year ahead. |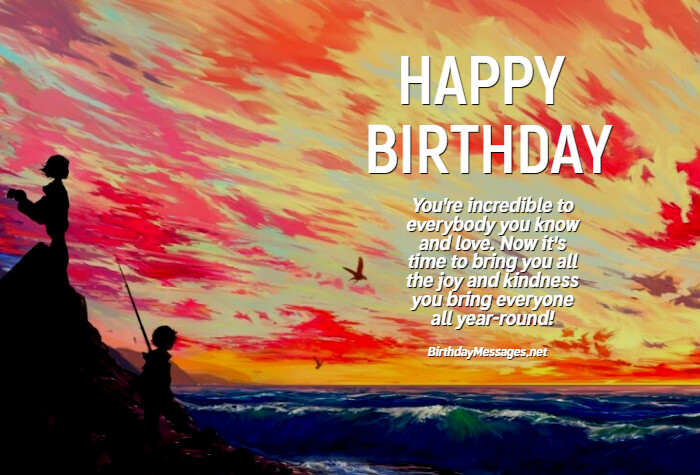 | | | |
| --- | --- | --- |
| To a truly amazing person, happy birthday. Somebody as extraordinary as you deserves a birthday celebration just as amazing! Hope your big day is epic! | Happy birthday. You're a wonderful person who knows how to love, inspire, empower, spoil and appreciate everyone in your life. May everything you bring everybody came back to you a million-fold. | Happy birthday to a truly spectacular individual. You're the shining star in everybody's orbit, now and forever. May your celebration be a shining example of [our, my] love for you. |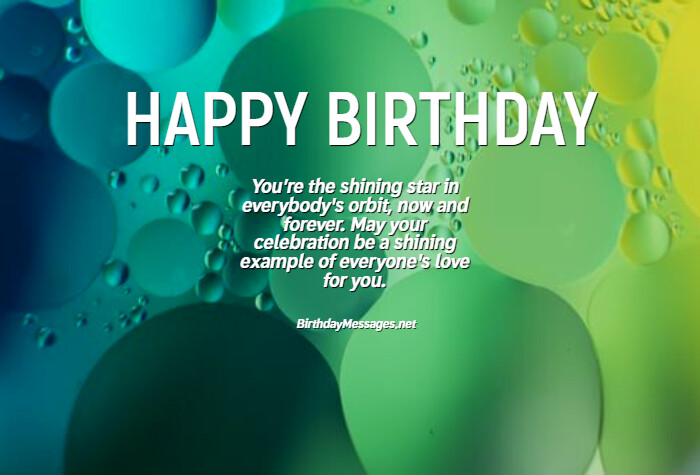 | | | |
| --- | --- | --- |
| Happy birthday. May the joy, kindness, laughter and wonder that you spread each and every day of your life turn your special day into the birthday celebration of the century. | Happy birthday. You deserve all the love, joy, inspiration and adventure that you bring everybody. Wishing you an epic birthday celebration, as extraordinary as you are. | Happy birthday. Don't count the candles on your birthday cake in years. Each one actually represents the light you bring to the lives of your friend and family. You're simply spectacular. |
For more specific examples of birthday wishes (for a certain person, for any age or based on a particular style), jump to the sections of birthday messages below.  

---



Birthday Quotes
FAMOUS BIRTHDAY MESSAGES

Want to use birthday quotes to wish perfect birthday messages to your loved ones? Great idea. Famous birthday quotes make wonderful birthday messages. Below are some quotes you may want to add to a card, eCard, text, whatever.
"Old age, believe me, is a good and pleasant thing. It is true you are gently shouldered off the stage, but then you are given such a comfortable front stall as spectator."


- Confucius

"The great thing about getting older is that you get a chance to tell the people in your life who matter what they mean to you."

- Mike Love

"I think self-knowledge is a key to happiness. We can build happy lives only on the foundation of our own natures, our own values, and our own interests."

- Gretchen Rubin
"The best way to pay for a lovely moment is to enjoy it."


- Richard Bach

"From there to here, and here to there, funny things are everywhere."


- Dr. Seuss

"Happiness can be found, even in the darkest of times, if one only remembers to turn on the light."

- Steven Kloves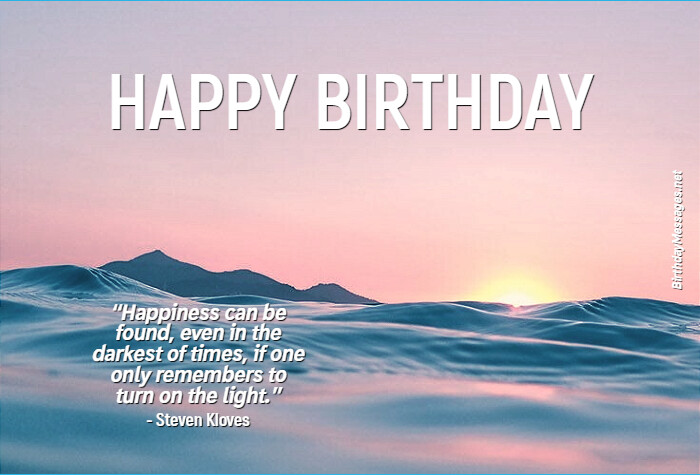 "There is a fountain of youth: it is your mind, your talents, the creativity you bring to your life and the lives of people you love. When you learn to tap this source, you will truly have defeated age."


- Sophia Loren

"You can't help getting older, but you don't have to get old."


 - George Burns

"Maybe happiness didn't have to be about the big sweeping circumstances, about having everything in your life in place. Maybe it was about stringing together a bunch of small pleasures."

 - Ann Brashares
"When the mind is pure, joy follows like a shadow that never leaves."

- Buddha

"I don't think of all the misery, but of the beauty that still remains."

- Anne Frank

"Dare to love yourself as if you were a rainbow with gold at both ends."

- Aberjhani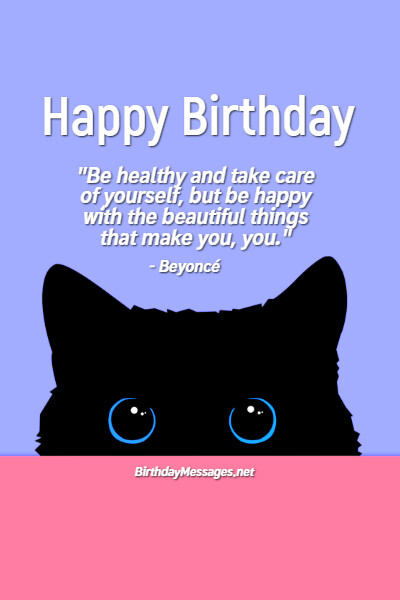 "Find joy in everything you choose to do." 

- Chuck Palahniuk

"Let us dance in the sun, wearing wild flowers in our hair."

― Susan Polis Schutz

"Be healthy and take care of yourself, but be happy with the beautiful things that make you, you."

- Beyoncé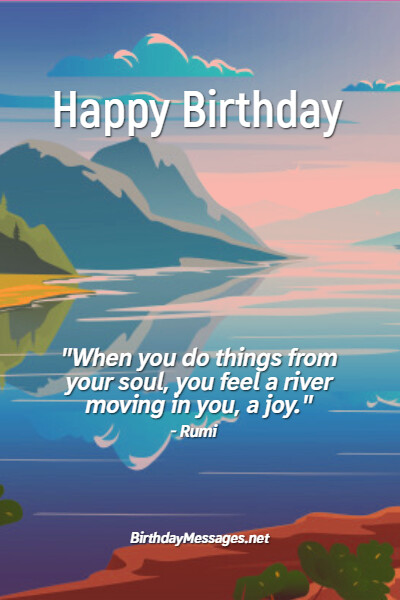 "Happiness comes in waves. It'll find you again."

- Unknown Author

"When you do things from your soul, you feel a river moving in you, a joy."

- Rumi

"The biggest adventure you can ever take is to live the life of your dreams."

- Oprah Winfrey
"Embrace the glorious mess that you are."

- Elizabeth Gilbert

"To live is the rarest thing in the world. Most people just exist."

- Oscar Wilde

"It's the little things that make happy moments, not the grand events. Joy comes in sips, not gulps."

- Sharon Draper
---



Birthday Poems
KEEPSAKE BIRTHDAY MESSAGES

If you feel that simple birthday wishes don't go far enough as birthday messages, birthday poems are a great option for you and your loved ones. Below are poems you may want to add to a card, an eCard, a text message or a Facebook post.
ONE BEAUTIFUL MOMENT

By Kevin Nishmas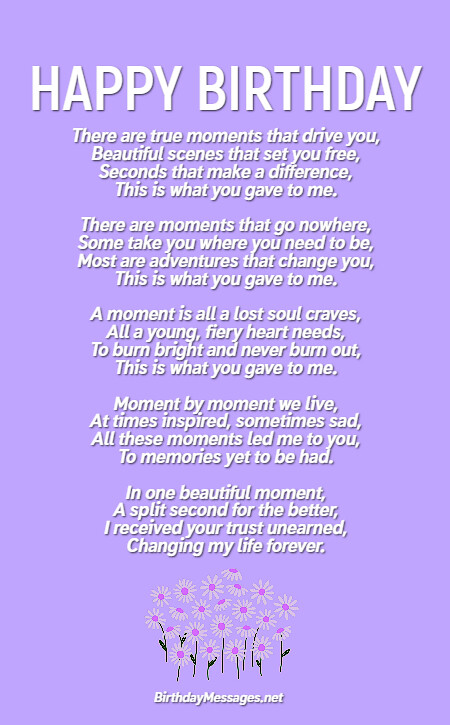 There are true moments that drive you,
Beautiful scenes that set you free,
Seconds that make a difference,
This is what you gave to me.
There are moments that go nowhere,
Some take you where you need to be,
Most are adventures that change you,
This is what you gave to me.
A moment is all a lost soul craves,
All a young, fiery heart needs,
To burn bright and never burn out,
This is what you gave to me.
Moment by moment we live,
At times inspired, sometimes sad,
All these moments led me to you,
To memories yet to be had.
In one beautiful moment,
A split second for the better,
I received your trust unearned,
Changing my life forever.
---
YOU'RE A HERO TO US ALL

By Kevin Nishmas
Getting older is not so bad,
Nor is a wrinkle or two,
Slowing down is relaxing,
Nothing's wrong with you.
You look simply amazing,
Nobody can call you gruff,
You're a hero to us all,
You have the right stuff.
Today is your special day,
It just came out of the blue,
May you always be so blessed,
A very happy birthday to you.
---
BRING OUT THE CAKE

By Kevin Nishmas
Let's get out the balloons,
Let's bring out the cake,
Let's blow out the candles,
Let's really celebrate.
You deserve to be happy,
You have it coming your way,
You deserve to be loved,
Since it's your special day.
Happy birthday!

---
A DAY YOU'LL NEVER FORGET

By Kevin Nishmas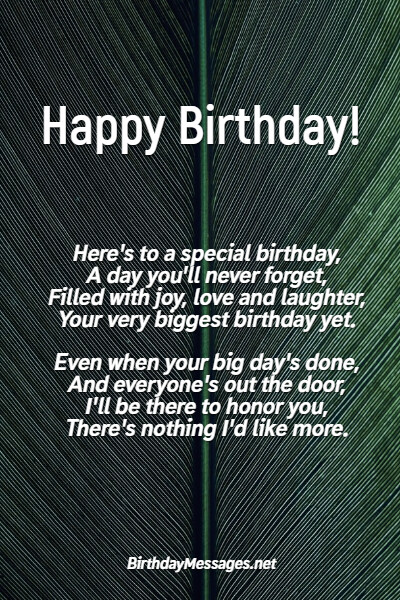 Here's to a special birthday,
A day you'll never forget,
Filled with joy, love and laughter,
Your very biggest birthday yet.
Even when your big day's done,
And everyone's out the door,
I'll be there to honor you,
There's nothing I'd like more.
---





Birthday Toasts



BIRTHDAY MESSAGES FOR TOASTS
The best birthday messages for birthday celebrations with friends and family are birthday toasts. Unless you're the host of the party, you should really stick to short toasts (less than one minute). Below are short birthday toasts you can use.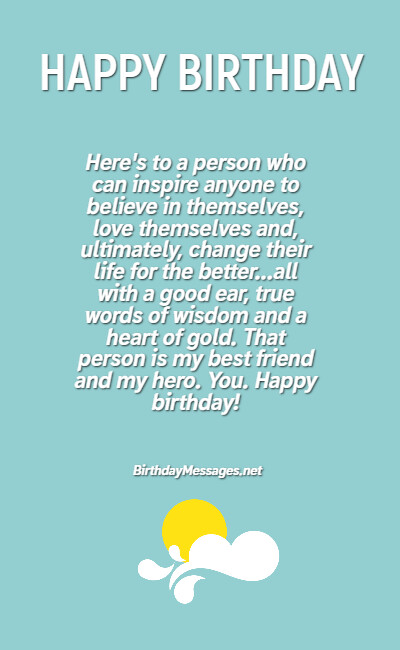 | | | |
| --- | --- | --- |
| If our journey through life is more important than our ultimate destination, I'm glad I had the chance to take to the road with you and see the sights. Happy birthday to the best traveler this world has ever known. | I would like to paraphrase what John Barrymore, a great actor of stage and screen, once said, "Joy frequently comes to you through a door you long forgot you ever left open." You have left so many doors open — so much so you should have never-ending moments of joy day after day. May today bring you the most joy. Happy birthday. | For your toast, I thought I'd do a nice rhyme. Yet when I sat down to write it, I ran out of time.  So I thought I'd quit and just wish you "Happy Birthday." But I could not keep my guilt at bay. I tried again and these very words broke through: "You're finer than the finest this world has to offer. Here's to you." |
| | | |
| --- | --- | --- |
| There are so many ways, in so many languages, to say what you've taught me about love. But the French say it best: "Aimer, ce n'est pas se regarder l'un l'autre, c'est regarder ensemble dans la même direction." (which means "Love doesn't mean gazing at each other, but looking, together, in the same direction." ) So I must love you in the truest sense. Happy birthday! | Here's to a person who can inspire anyone to believe in themselves, love themselves and, ultimately, change their life for the better...all with a good ear, true words of wisdom and a heart of gold. That person is my best friend and my hero. You. Happy birthday! | Wherever you go, you always come bearing gifts. You give hope. You give strength. You give love. You are one of a kind...truly a gift. On behalf of everyone here, I would like to raise my glass and offer a toast: Thank you for your guidance, your wisdom and your love. Happy birthday!  |
---



Birthday Speeches
BIRTHDAY MESSAGES FOR SPEECHES
If you are the host of a upcoming birthday celebration, you may want to prepare a birthday speech for the occasion. Below is, for illustrative purposes, a 50th birthday speech sample for a religious man.
Your birthday speech does not have to be religious in tone or manner, just suitable for the recipient. In fact, you could remove these elements altogether and deliver a speech that still pays tribute to somebody turning 50.
[Delivery Tips]
Italics: Phrases and words that need to be said with emphasis (or in a slow, deliberate way)
[Looking at your audience]
Welcome, everybody. Before I say a few words about my wonderful brother, Peter*, I would like to thank you for helping us celebrate his 50th birthday. We really appreciate that you took the time to be here. Tonight wouldn't be nearly as amazing without you!
[Looking at Peter and around the room]
It is hard to find the right words to express how much Peter has added to my life, all our lives, in fact, for so many years…but that won't stop me from going on and on about him.
Today, Peter celebrates his 50th birthday. Instead of embarking on the proverbial mid-life crisis in which so many of us find ourselves, he is a force of a man. The sparkle in his eyes and the divine love in his heart have not been dulled by the 18,250 days he has lived on this earth. I hope that never changes because it's just one of the many things I admire about him. 

For me, Peter, your 50th birthday is a chance to say proudly that I am so grateful and honored to have you as my brother and as a friend. I think it's fair to say that for me, Mom, our sisters, your wife, your son, your grandson, the whole family and your friends, you've always brought so much joy to all our lives.

The Lord brought you into this world 50 years ago — on a Sunday — spiritually, a day of rest, a day of worship, a day of great joy, a day of solidarity, a gift from God. An important day, to say the least.
Peter's day of birth is worth mentioning since, for him, giving his heart to God has meant a new life, a new purpose, a new sense of self. It has meant washing his earthly worries away, day after day, and trusting in God to guide him. Peter has chosen to trust in God's plan and will. He now knows that no matter what happens, good or bad, God is watching over him and bringing him to where he's supposed to be…at home, around the corner or on the road.
A good man in so many ways, Peter has shown his love for God by observing God's commandments and applying God's principles. And this has not been in vain. By living in harmony with God's guidance, Peter has shown our heavenly Father that he truly appreciates all that he has done for him. And I can definitely say that we here have been the main beneficiaries of Peter's love and kindness.
[Looking at Peter] 

Yes, Peter, today not only marks a major milestone for you, but also for us. I know I speak for everyone here when I say it's such a joy to celebrate you and your life, and wish you the best of health and happiness. And what a celebration it is. I'm sure you must be quite moved by the presence of so many loved ones, a clear sign that you are cherished by many.
Indeed, we are here to celebrate your smile, your patience, your optimism, your caring and, most of all, your steadfastness, which has always been an example of what it means to be the best kind of son, father, grandfather, brother and friend. You have definitely set the "how to be a God-loving man" bar very, very high.

Everybody here has learned so much from you over the years. Along with the immense love, joy and kindness you've brought into our lives, you've taught us all, by example, the real value of love, family, friendship, caring, honesty and the Lord's ever-present care and power in their lives. You've shown us how to appreciate what we have and never take it for granted. You have always been, and always will be, an inspiration to all of us here.

For you, today must be bittersweet. Sweet because you can look back on your 50 years of life with satisfaction and pride, knowing that everyone here, including me, consider you a treasure, a best friend and a man who loves God — and bitter because many of your loved ones are not here to share it with you. But I know you find comfort from knowing they are all in the Lord's loving arms.

For me, well, today is a chance to say thank you on behalf of our family and friends. Thank you for serving as a shining example of God's goodness and grace. Of course, these amazing qualities of yours are timeless and ageless — they radiate from your very essence. They come from your heart and cast a beautiful light around you and us. We have all been lucky to be near enough to step into that light. 

[Facing the audience]
It would be difficult for me to list the many, many ways Peter has graced our lives, so I won't even try. We would be here for hours upon hours, if I did. Suffice to say, we feel so fortunate and honored to have you as family, a friend and, most importantly, our inspiration. Along with your contagious love of life, people and all living things, you've inspired us, by example, to look for every opportunity to bring God's love, immense joy and purpose to our lives. 
More than anything else, we here feel blessed to have you in our lives. You are an amazing soul who never hesitates for even a second to be compassionate and kind. You are so special to everyone in this room. Again, happy 50th birthday, Peter! 
[Turning to your guests] 
Now, everyone, please raise your glasses in a toast to Peter.
[Turning back to Peter] 
Peter, may you celebrate many more birthdays in great health and spirits as you embark upon your retirement years. May you also continue to find solace in God's word, love and His plan for you.

[Turning back to your guests]
Now, everyone, drink up and enjoy the rest of the party!
*Not his real name
SEE MORE BIRTHDAY SPEECH SAMPLES
---



Birthday Videos
BIRTHDAY MESSAGES
VIA VIDEO
Subscribe to Greetingville, my YouTube Channel, home to birthday videos you may want to send to family and friends. Here are just a few previews.
HAPPY BIRTHDAY, MOM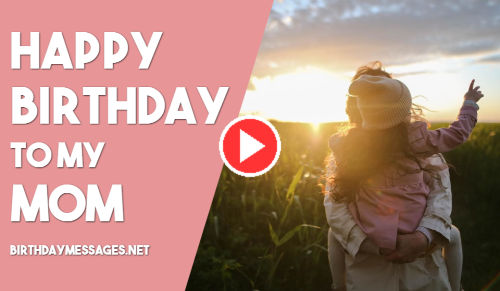 HAPPY BIRTHDAY, DAD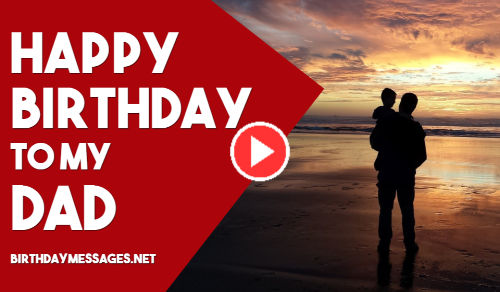 HAPPY BIRTHDAY, MY DEAR DAUGHTER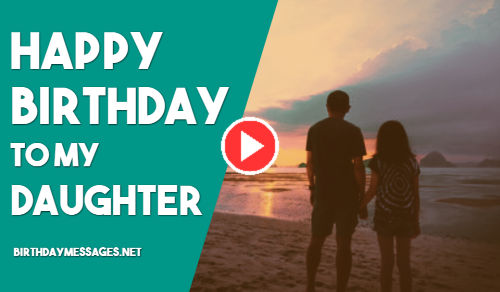 HAPPY BIRTHDAY, MY SON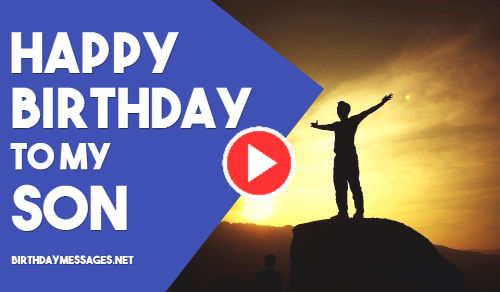 Remember to subscribe to Greetingville, my YouTube channel, for shareable birthday videos that you can send to friends and family.
---




Hints & Tips
When should you choose birthday wishes as birthday messages?
Choosing birthday wishes as your go-to birthday messages over birthday quotes or birthday poems usually comes down to one reason. And it's a very good reason to go this route. What is it?
The main reason is that birthday wishes are more immediately personal. With them, you can really express yourself with the right kind of birthday messages, right away.

Sure, you can be personal with birthday quotes or birthday poems but they don't have the warm, distinctively personal and immediate flavor of a birthday wish.

You can use "as is", combine or change the examples of birthday wishes on this page and throughout this site to write birthday messages for birthday cards, eCards and/or texts, giving you the opportunity to say "Happy Birthday" the way you want and show that you're thinking about your loved ones on their special day.

All in all, there's no better or faster way to show how much you care about family and friends than with original birthday wishes that express your love (or like a lot) for them — and make them feel special. 
When should you choose birthday poems as birthday messages?
Why should you use birthday poems as your go-to birthday messages over birthday wishes or quotes? Sometimes, a poem is a better way to go when you have a certain focus and/or emotion in mind. 
When you want a specific focus, something very personal, or a more emotional tone, something truly and deeply inspirational, for your birthday greeting, birthday poems make the best birthday messages. 
Birthday poems are probably the best way to give your loved ones the "feels" on their birthday. Sure, songs are also full of emotion but they're really just poems set to music. 
Because poems are packed with emotion, you can almost hear music playing in the back of your mind when you read them. Like music, they almost speak to your very soul. That's what makes them such great birthday messages.
Although birthday poems are good birthday messages for cards, eCards and texts, they are absolutely perfect for Facebook, Instagram and Twitter posts. 
For many birthday gals and guys, birthday poems are gifts in themselves, keepsakes to cherish for years and years. Besides, who can resist a poem dedicated to them? Nobody I know.

So when you really want to get personal in a very approachable and emotional way, go for birthday poems.
When should you pick birthday toasts over birthday speeches?

There's a very good time to choose short and sweet birthday toasts over long and deeper birthday speeches. In other words, when do birthday toasts make perfect birthday messages for a birthday celebration?
Personally, I think the best time to use a short and sweet birthday toast (50 words or less) is when you are one of the many guests (say, more than five people) toasting the birthday guy or gal.
When there are two people giving a toast (and nobody expects you to do a speech), use a birthday toast with at least 100 words. If you're the host of the party, you're better off with a birthday speech.
Whether you choose to do a short or long birthday toast, or even a birthday speech, it will be very meaningful for family or friends celebrating their birthday. Plus, they will appreciate the effort you made. And isn't that why you wanted to do a birthday toast or speech in the first place?
---
Be the First to See What's New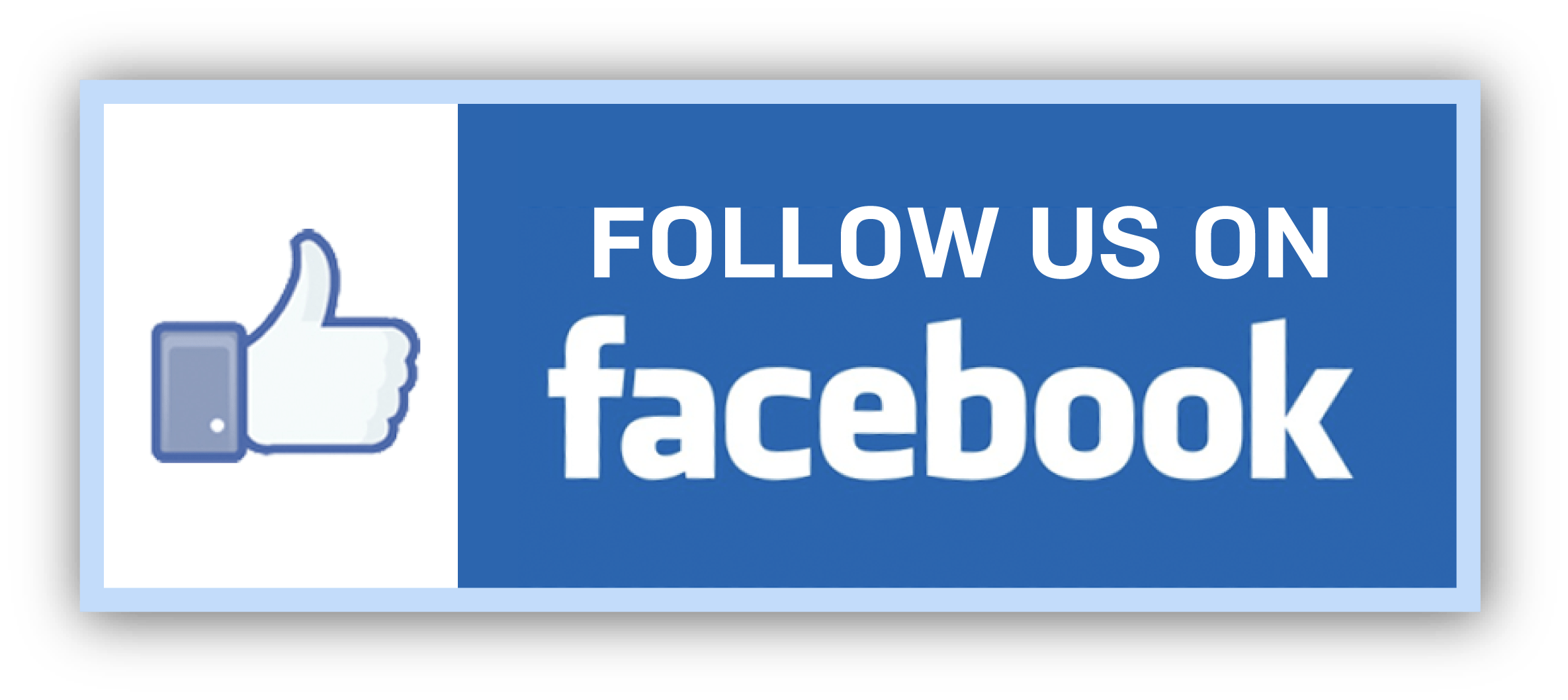 Message Guy
Creator of this site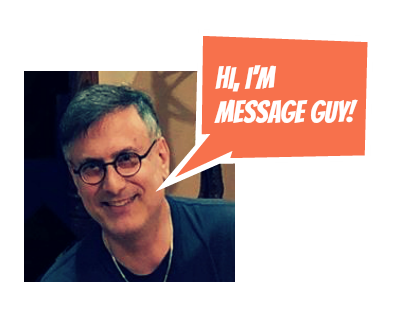 Kevin, the "Message Guy" who writes the birthday wishes, quotes, poems, toasts and speeches on BirthdayMessages.net, has been a content writer since 1993. In 2012, Kevin created this site to share the incredible power of words with birthday well-wishers everywhere.

Can't Find
What You Need?
Follow on FeedBurner
By  Kevin (aka "Message Guy")
Copyright © 2013-2022
BirthdayMessages.net.
All rights reserved. 
All trademarks and service marks
are the property of their
respective owners.
The copyrights of all birthday
messages on this website
belong to the individual authors.
Site 
Powered By
Solo Build It (SBI)
Build Your Own Website