Inspirational Birthday Poems
---
Inspirational birthday poems, like the unique poems for birthdays on this page, are a very powerful, very personal way to inspire the ones you love on their birthday.
Although inspirational poetry is one of the easiest ways to inspire the people you love (and possibly change their lives), you still need to choose the right one to pull off both.
If you would like to glance at some tips on choosing the perfect poem, take a quick look at Message Guy Tip #96 (just below). Yep, it's that simple.
Message Guy Tip #96:
How to select inspirational birthday poems
One of the greatest gifts you can give your loved ones on their birthday is the gift of inspiration. Words that stir the soul or move mountains can have a profound effect on someone special, especially on the day of their birth and particularly in a poem.
Of course, there isn't a one-size-fits-all inspirational poem for every birthday boy or girl. What type of inspiring poetry is right for your loved one? That depends on one very important factor...
Read more ►
---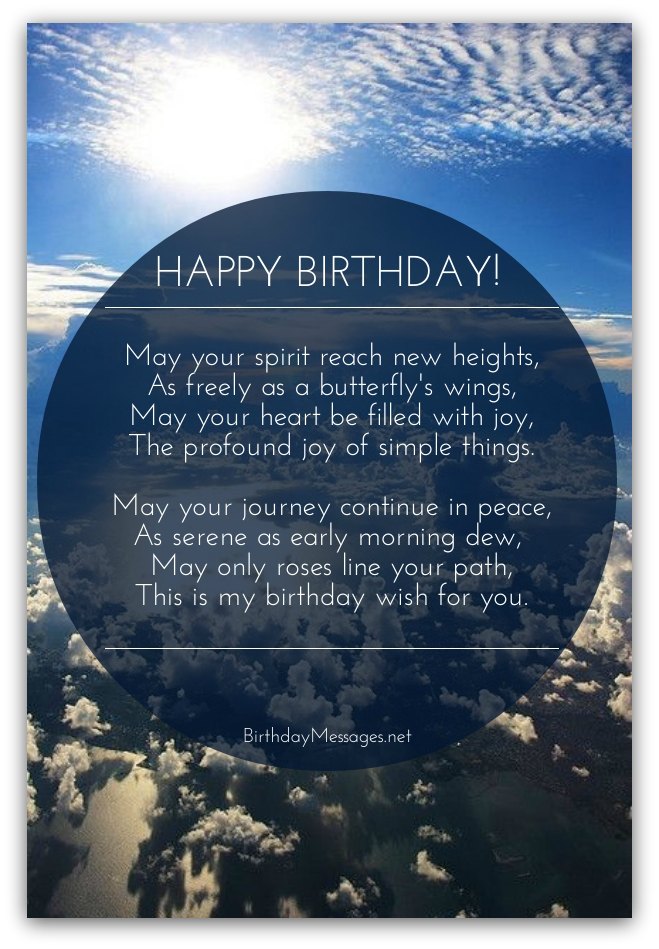 THIS IS MY BIRTHDAY WISH
By Message Guy
May your spirit reach new heights,
As freely as a butterfly's wings,
May your heart be filled with joy,
The profound joy of simple things.
May your journey continue in peace,
As serene as early morning dew, 
May only roses line your path,
This is my birthday wish for you.
---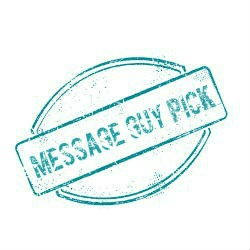 There's a very good reason why I chose the inspirational poem below as a birthday message. That reason is...
Read more ►
TO HAVE SUCCEEDED 
By Ralph Waldo Emerson
"To laugh often and much.
To win the respect of smart people,
And the affection of children,
To earn the approval of honest critics,
And face the betrayal of false friends,
To appreciate beauty,
To find the best in others,
To leave the world a bit better,
Whether by a healthy child,
A garden patch,
Or a redeemed social condition,
To know one life has breathed easier,
Because you have lived,
This is to have succeeded."
---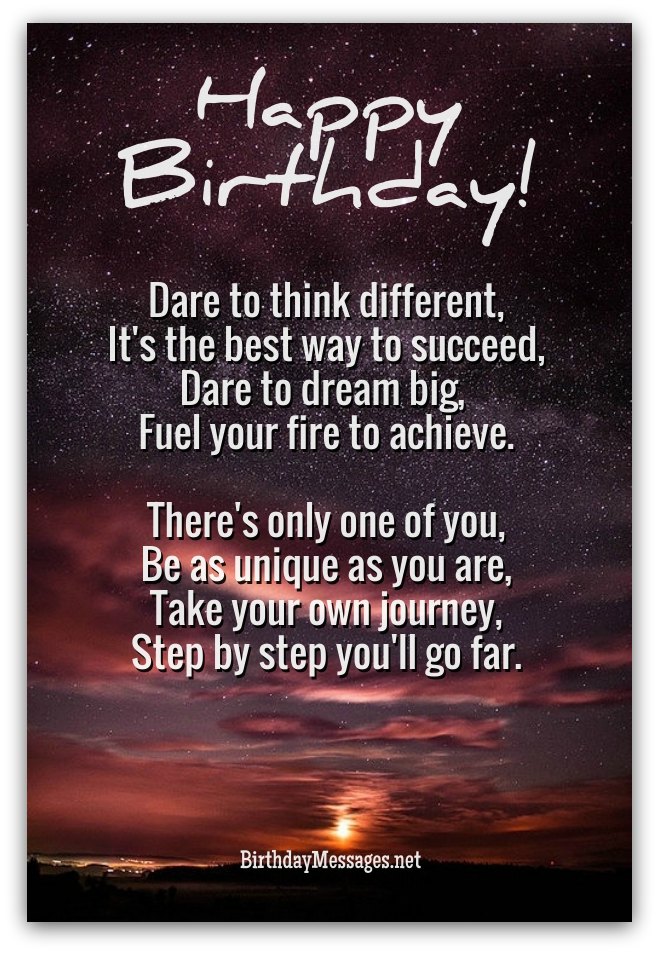 TAKE YOUR OWN JOURNEY
By Message Guy
Dare to think different,
It's the best way to succeed,
Dare to dream big, 
Fuel your fire to achieve.
There's only one of you,
Be as unique as you are,
Take your own journey,
Step by step you'll go far.
---
---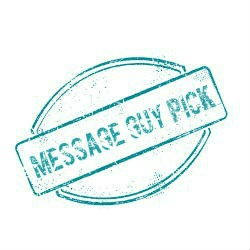 Certain inspirational birthday poems have a knack of telling you something you don't want to hear...in a way that makes it much easier to hear it. The birthday poem below possesses this very important quality. Why?
Read more ►
DON'T QUIT
By Author Unknown
"When things go wrong,
As they sometimes will,
When the road seems all uphill,
When funds are low
And the debts are high,
And you want to smile. 
But you have to sigh, 
When care is pressing you down a bit,
Rest if you must but don't you quit.
Life is queer with its twists and turns,
As every one of us sometimes learns,
And many a failure turns about,
When you might have won
Had you stuck it out,
Don't give up,
Although the pace seems slow,
You may succeed with another blow.
Success is failure turned inside out,
The silver tint of the clouds of doubt,
You never can tell how close you are,
It may be near when it seems so far,
So stick to the fight,
When you're hardest hit,
When things seem worst,
You must not quit."
---
Subscribe and get a new video to share every week
| | | |
| --- | --- | --- |
| Inspire Your Loved Ones | | Top 10 Inspirational Quotes  |
FLY THE DISTANCE
By Message Guy
Spread the wings you have,
Soar ever so strong and high,
Nothing can stop you now,
You can pierce the sky.

You may be against the wind,
But your destination's within sight,
I know you can fly the distance,
As long as you take flight.
---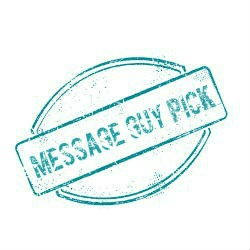 One of the reasons why I like the poem below is its focus on perception (our own perception) and how it can prevent us from trying anything new or different, sealing our fate, so to speak. And not always in a good way. This poem touches upon this idea with care...
Read more ►
THINKING
By Walter D. Wintle
"If you think you are beaten,
You are,
If you think you dare not,
You don't. 
If you like to win,
But think you can't,
It's almost a cinch you won't.

If you think you'll lose,
You're lost,
For out in the world we find,
Success begins with your will,
It's all in the state of mind.

If you think you are outclassed,
You are,
You've got to think high to rise,
You've got to be sure of yourself,
Before you can ever win the prize.

Life's battles don't always go,
To the faster woman or man,
But sooner or later,
The ones who win are,
The ones who think they can."
---
Inspiration is all around you.
See more inspirational birthday poems below...
---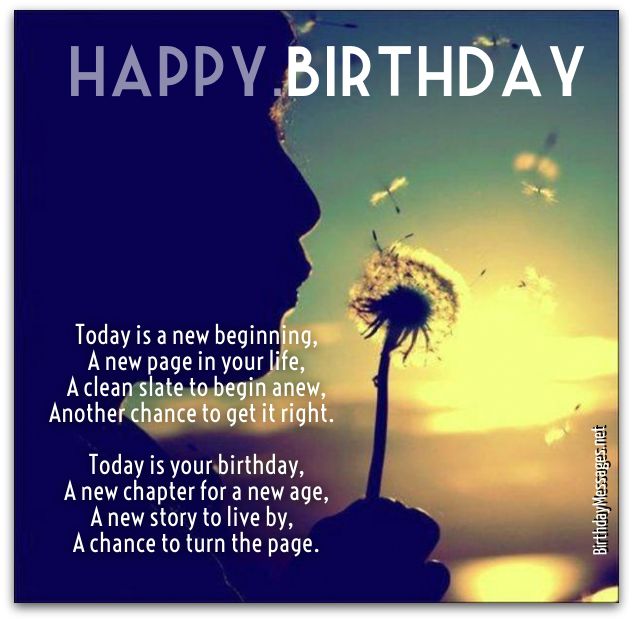 TURN THE PAGE
By Message Guy
Today is a new beginning,
A new page in your life,
A clean slate to begin anew,
Another chance to get it right. 
Today is your birthday,
A new chapter for a new age,
A new story to live by,
A chance to turn the page.
---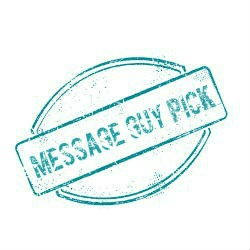 The poem below talks about something that really makes a difference to how you set and achieve your goals, something that all of us possess, something that would be inspiring for any birthday boy or girl...
Read more ►
YOU CAN BE WHATEVER YOU WANT TO BE
By Donna Levine

"There is inside you,
All of the potential,
To be whatever you want to be,
All of the energy,
To do whatever you want to do,
Imagine yourself,
As you would like to be,
Doing what you want to do,
And each day, take one step,
Towards your dream,
And though at times,
It may seem too difficult to continue,
Hold on to your dream,
One morning,
You will awake to find,
You are the person you dreamed of,
Doing what you wanted to do,
Simply because you had the courage, 
To believe in your potential,
And to hold on to your dream."
---
---
THROUGH OUR EYES
By Message Guy
You have a passion for life and love,
A passion you so kindly share all year,
You know how to lift our spirits,
And fill our lives with endless cheer. 

Today's the perfect time to wish you,
All the good you bring to our lives,
Just step inside our shoes for awhile,
And see your gift through our eyes.
---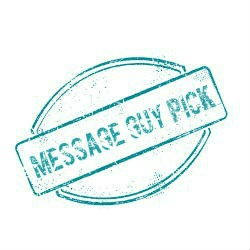 Below is one of the world's most well-known poems. But I wouldn't hold its popularity against it. It's well-known for a simple reason...
Read more ►
THE ROAD NOT TAKEN
By Robert Frost
Two roads diverged in a yellow wood,
And sorry I could not travel both,
And be one traveler, long I stood,
And looked down one,
As far as I could,
To where it bent in the undergrowth,
Then took the other, as just as fair,
And having perhaps the better claim,
Because it was grassy,
And wanted wear,
Though as for that the passing there,
Had worn them about the same,
And both that morning equally lay,
In leaves no step had trodden black,
Oh, I kept the first for another day,
Yet knowing how way leads to way,
I doubted if I should ever come back,
I shall be telling this with a sigh,
Somewhere ages and ages hence:
Two roads diverged in a wood, and I...
I took the one less traveled by,
And that has made all the difference.
---
AS YOU GROW UP
By Message Guy
As you grow up,
May you find...
Hope before despair,
Passion before apathy,
Love before loss,
Joy before sorrow,
Peace before turmoil,
And "Happy Birthdays" ever after.
---
Message Guy
Creator of this site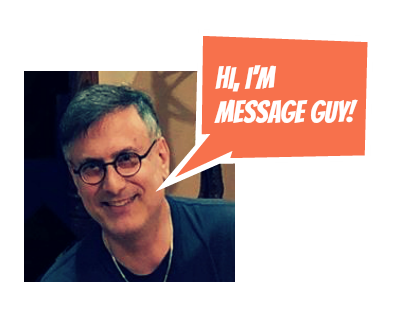 Kevin, the "Message Guy" who writes the birthday wishes, quotes, poems, toasts and speeches for this site, has been a professional writer, editor and translator for more than 25 years. He decided to create BirthdayMessages.net in 2012 to share his passion for famous quotes on the best day of the year — your birthday.

CLICK HERE TO LEARN MORE ABOUT KEVIN (AKA MESSAGE GUY) 
Can't Find
What You Need?
By Kevin (aka "Message Guy")
Copyright © 2013-2020
BirthdayMessages.net.
All rights reserved.
All trademarks and service marks
are the property of their
respective owners.
The copyrights of all birthday
messages on this website
belong to the individual authors.
Site 
Powered By
Solo Build It (SBI)