Inspirational Birthday Poems
---
Inspirational birthday poems are a very powerful, very personal and very simple way to inspire the ones you love on their birthday.
Before you write an inspirational poem for the birthday gal or guy, take a few moments to get inspired by the poetry on this page.

BY KEVIN NISHMAS | UPDATED: APRIL 30, 2020

Inspirational Birthday Poems Make Great Birthday wishes
If you know any birthday guys or gals who need some encouragement on their big day, choose one of the inspirational birthday poems on this page as your birthday wish for them.
Inspirational birthday poems, by themselves, make a great gift: the gift of inspiration.



THIS IS MY BIRTHDAY WISH
By Kevin Nishmas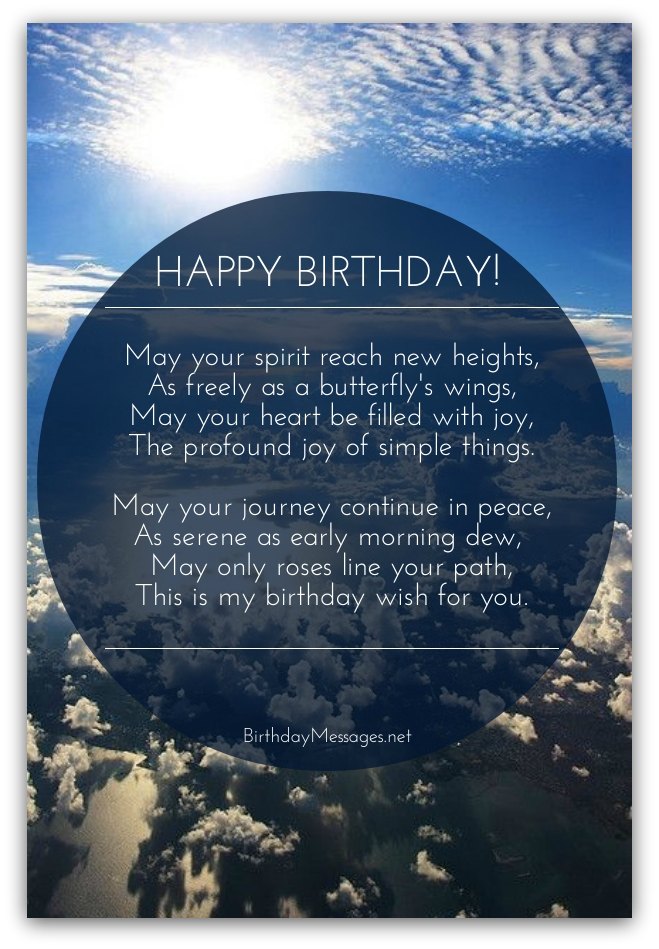 May your spirit reach new heights,
As freely as a butterfly's wings,
May your heart be filled with joy,
The profound joy of simple things.
May your journey continue in peace,
As serene as early morning dew, 
May only roses line your path,
This is my birthday wish for you.
---
TAKE YOUR OWN JOURNEY
By Kevin Nishmas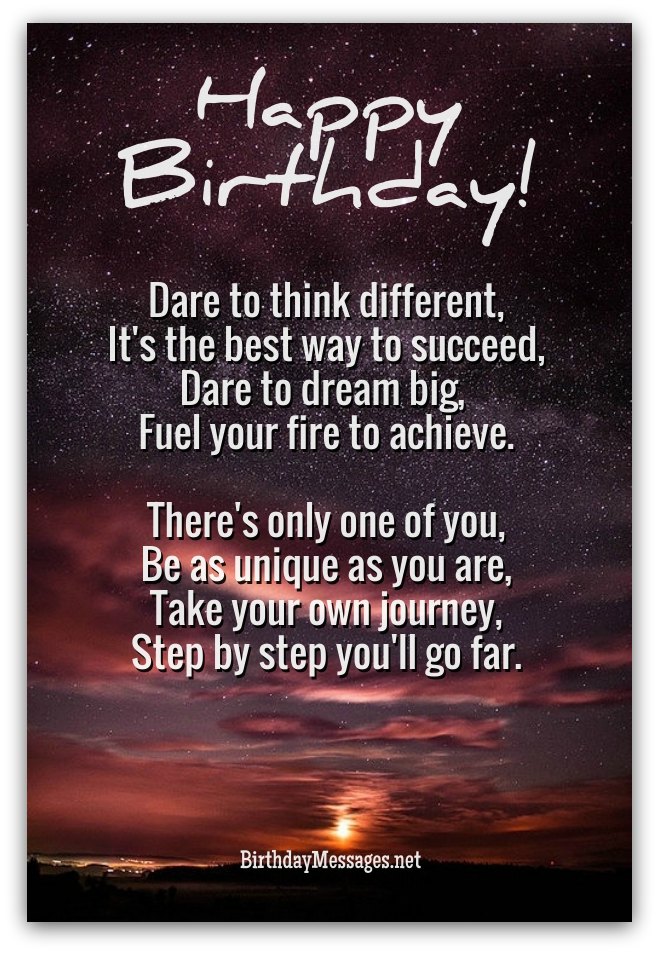 Dare to think different,
It's the best way to succeed,
Dare to dream big, 
Fuel your fire to achieve.
There's only one of you,
Be as unique as you are,
Take your own journey,
Step by step you'll go far.
---
FLY THE DISTANCE
By Kevin Nishmas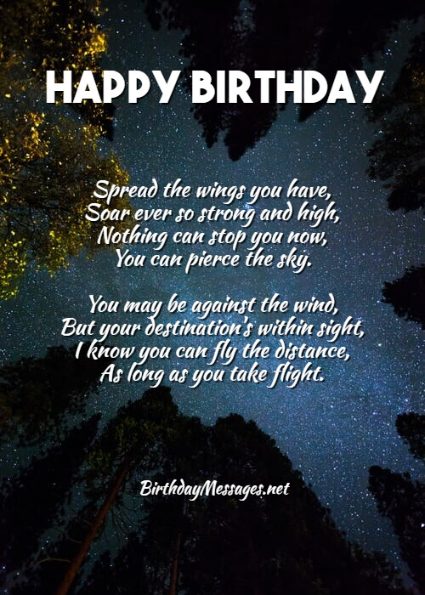 Spread the wings you have,
Soar ever so strong and high,
Nothing can stop you now,
You can pierce the sky.

You may be against the wind,
But your destination's within sight,
I know you can fly the distance,
As long as you take flight.
---
TURN THE PAGE
By Kevin Nishmas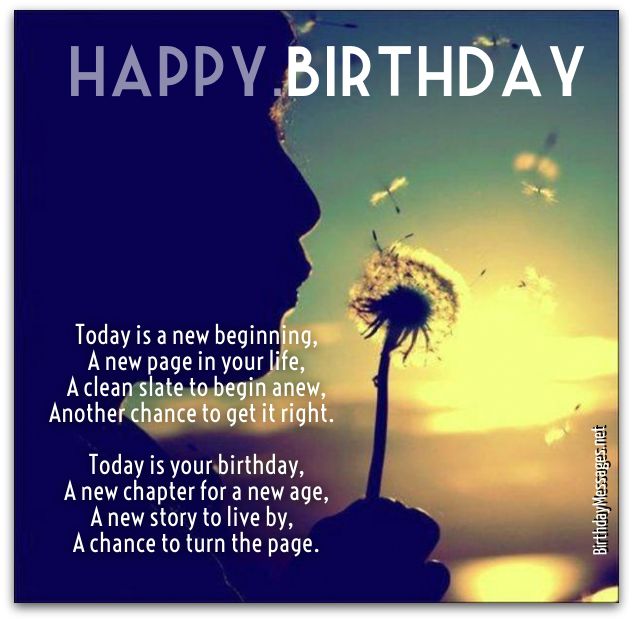 Today is a new beginning,
A new page in your life,
A clean slate to begin anew,
Another chance to get it right. 
Today is your birthday,
A new chapter for a new age,
A new story to live by,
A chance to turn the page.
---
THROUGH OUR EYES
By Kevin Nishmas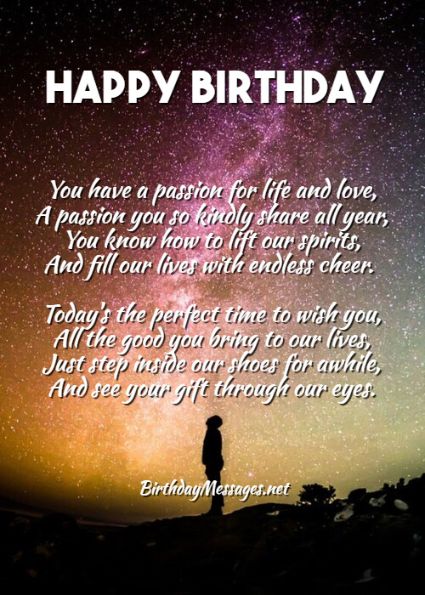 You have a passion for life and love,
A passion you so kindly share all year,
You know how to lift our spirits,
And fill our lives with endless cheer. 

Today's the perfect time to wish you,
All the good you bring to our lives,
Just step inside our shoes for awhile,
And see your gift through our eyes.
---
AS YOU GROW UP
By Kevin Nishmas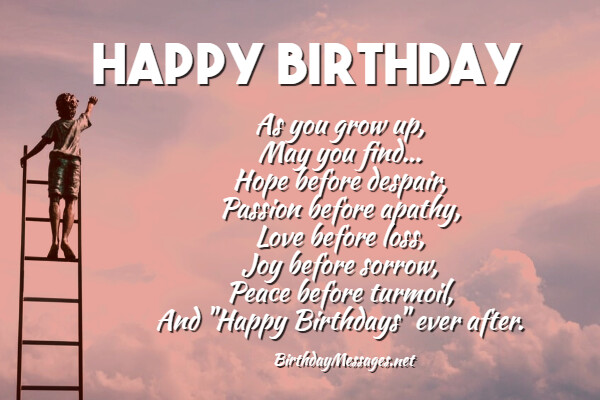 As you grow up,
May you find...
Hope before despair,
Passion before apathy,
Love before loss,
Joy before sorrow,
Peace before turmoil,
And "Happy Birthdays" ever after.
---
MAY YOU ONLY KNOW
By Kevin Nishmas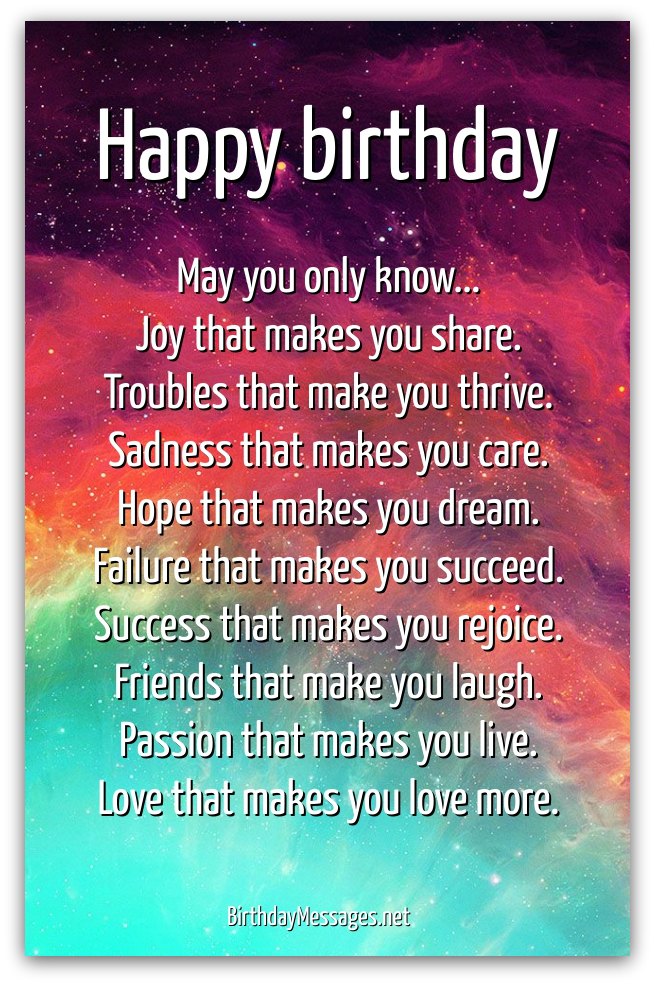 Happy birthday!
May you only know...
Joy that makes you share.
Troubles that make you thrive.
Sadness that makes you care.
Hope that makes you dream.
Failure that makes you succeed.
Success that makes you rejoice.
Friends that make you laugh.
Passion that makes you live.
Love that makes you love more.
---
YOUR HEART CRAVES FLIGHT
By Kevin Nishmas
My birthday wish is a true story,
About my adventure to start anew,
About a voyage into the unknown,
Where your heart can speak to you.

I used to stay in my comfort zone,
Where I could win without fail,
Inside these four walls I took refuge,
My comfort zone had become a jail.
I longed to do so much more,
Things I never entertained,
But I couldn't leave my comfort zone,
So everything stayed the same. 
I always thought I was so smart,
Putting security before my dreams,
I worked, earned, saved and spent,
Still I yearned to be wild and free. 
My life became one long, grey day,
Watching others take wing and fly,
The time had come to break loose,
And leave a trail of fear behind. 
I took a small, unsteady step forward,
With strength I never knew I had,
Then I took many more bold steps,
With a passion some may call mad.
Now I step outside my comfort zone,
Whenever my heart craves flight,
Follow your heart wherever it leads,
For your heart knows what's right. 
---
THERE'S MORE TO YOU
By Kevin Nishmas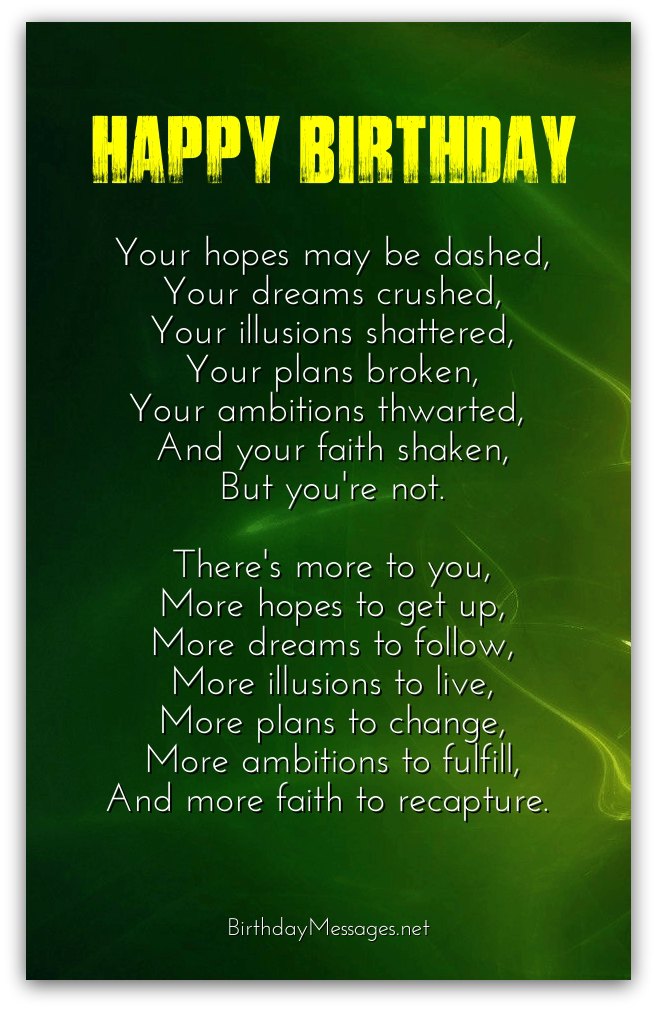 Your hopes may be dashed,
Your dreams crushed,
Your illusions shattered,
Your plans broken,
Your ambitions thwarted, 
And your faith shaken,
But you're not.
There's more to you,
More hopes to get up,
More dreams to follow,
More illusions to live,
More plans to change,
More ambitions to fulfill,
And more faith to recapture. 
Happy birthday!
---
UNPLUG AND PLAY
By Kevin Nishmas
When your world is harsh,
And life drags you down,
Shake off the world,
And cast one last frown.
There's no time to fret,
The next moment's already here,
Another chance to shine,
And hold what you hold dear.
So go off to unplug and play,
You have time on your hands,
Life is full of beauty,
Take all the joy you can.
---
YOUR SONG IS SWEET
By Kevin Nishmas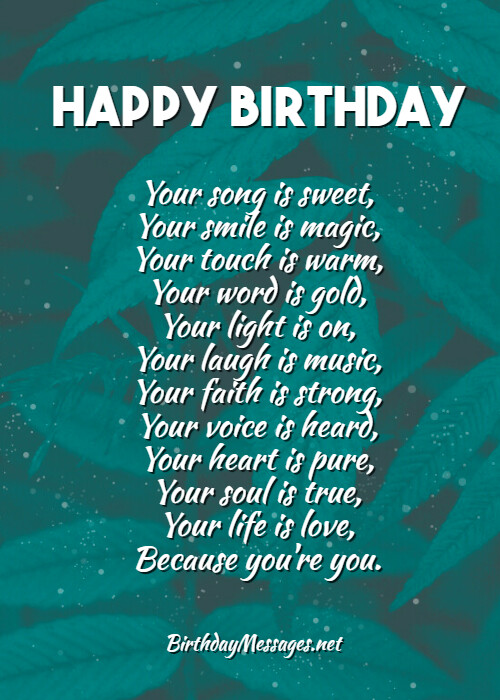 Your song is sweet,
Your smile is magic,
Your touch is warm,
Your word is gold,
Your light is on,
Your laugh is music,
Your faith is strong,
Your voice is heard,
Your heart is pure,
Your soul is true,
Your life is love,
Because you're you.
Happy birthday!
---
FOR ALL TO HEAR
By Kevin Nishmas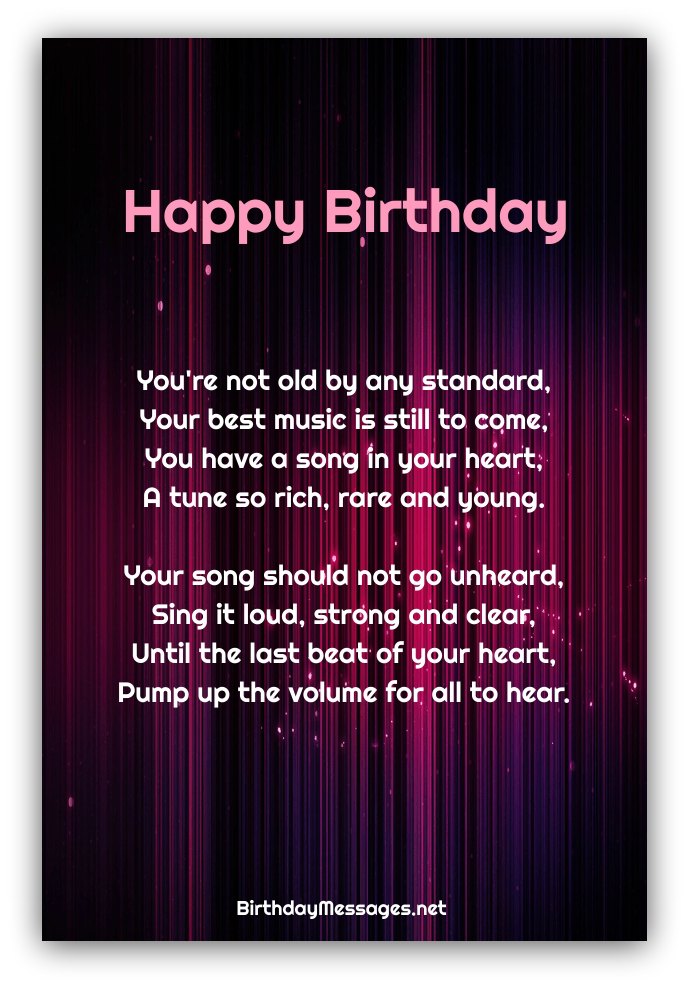 Happy birthday!
You're not old by any standard,
Your best music is still to come,
You have a song in your heart,
A tune so rich, rare and young.
Your song should not go unheard,
Sing it loud, strong and clear,
Until the last beat of your heart,
Pump up the volume for all to hear.
---
DEAR, WONDERFUL YOU
By Kevin Nishmas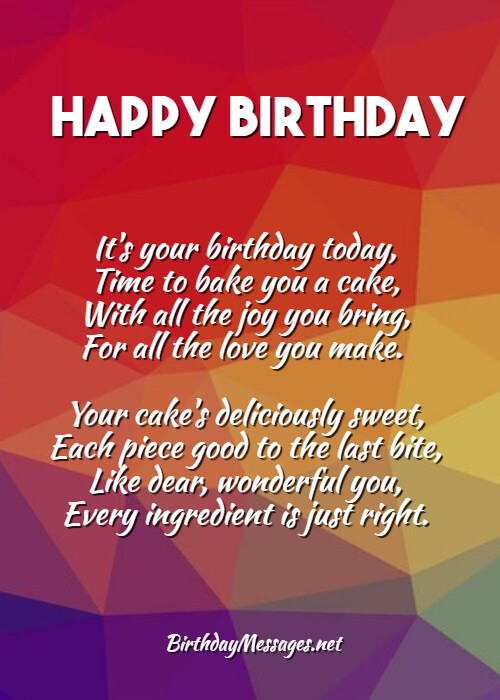 It's your birthday today,
Time to bake you a cake,
With all the joy you bring,
For all the love you make. 
Your cake's deliciously sweet,
Each piece good to the last bite,
Like dear, wonderful you,
Every ingredient is just right.
Happy birthday!
---
BOLDLY BREAK AWAY
By Kevin Nishmas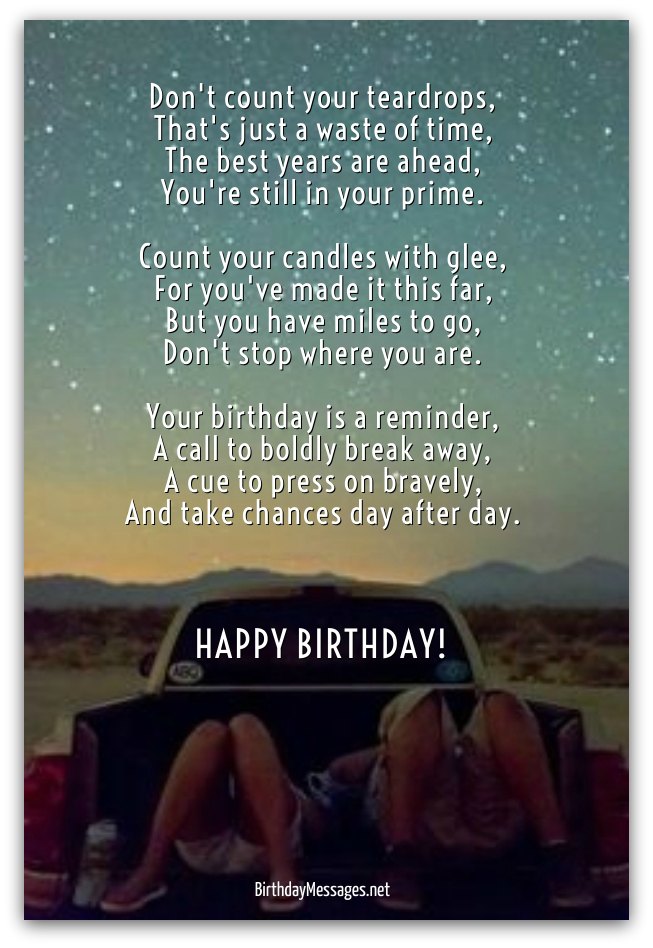 Don't count your teardrops,
That's just a waste of time,
The best years are ahead,
You're still in your prime.
Count your candles with glee,
For you've made it this far,
But you have miles to go,
Don't stop where you are.
Your birthday is a reminder,
A call to boldly break away,
A cue to press on bravely,
And take chances day after day.
---
GO AS FAR AS YOU POSSIBLY CAN
By Kevin Nishmas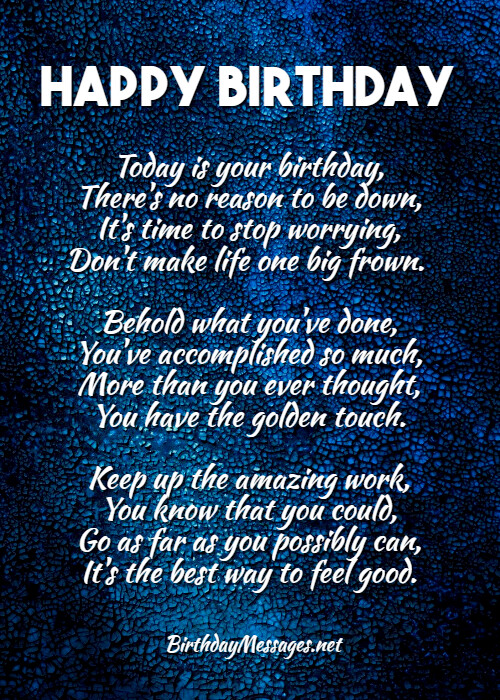 Today is your birthday,
There's no reason to be down,
It's time to stop worrying,
Don't make life one big frown. 
Behold what you've done,
You've accomplished so much,
More than you ever thought,
You have the golden touch.

Keep up the amazing work,
You know that you could,
Go as far as you possibly can,
It's the best way to feel good.
---
MAKE TODAY ALL ABOUT YOU
By Kevin Nishmas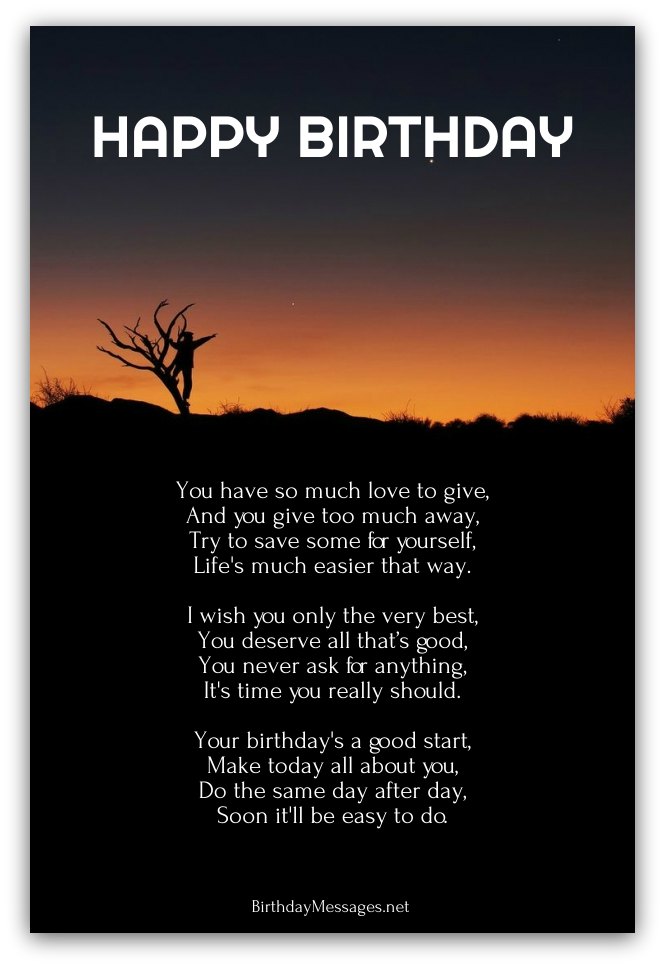 You have so much love to give,
And you give too much away,
Try to save some for yourself,
Life's much easier that way.
I wish you only the very best,
You deserve all that's good,
You never ask for anything,
It's time you really should.
Your birthday's a good start,
Make today all about you,
Do the same day after day,
Soon it'll be easy to do.
---
YOU'RE OUTSTANDING
By Kevin Nishmas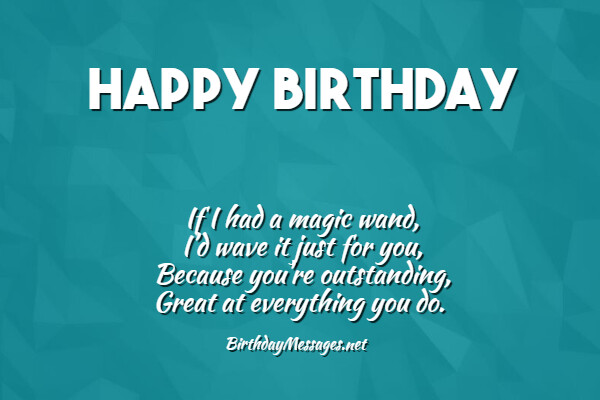 If I had a magic wand,
I'd wave it just for you,
Because you're outstanding,
Great at everything you do. 

Happy birthday!
---
TODAY AND EVERY DAY
By Kevin Nishmas
Hope your birthday's wonderful,
Nice in every single way,
Hope your dreams come true,
Today and every day.
---
AS YOU WALK THROUGH THIS LIFE
By Kevin Nishmas
As you walk through this life,
I wish you joy. 
As you walk through this life,
I wish you prosperity. 
As you walk through this life,
I will walk beside you. 
In case you ever need to rest,
You can stop along this road of life.
You can stop here and there. 
The biggest challenge is still to come,
It's not where you plan to go,
But how you finally get there. 
Whatever direction you take,
Whatever gets in your path,
I just want to be there for you,
With you I will stay. 
Happy birthday!
---
A NEW DECADE IS HERE
By Kevin Nishmas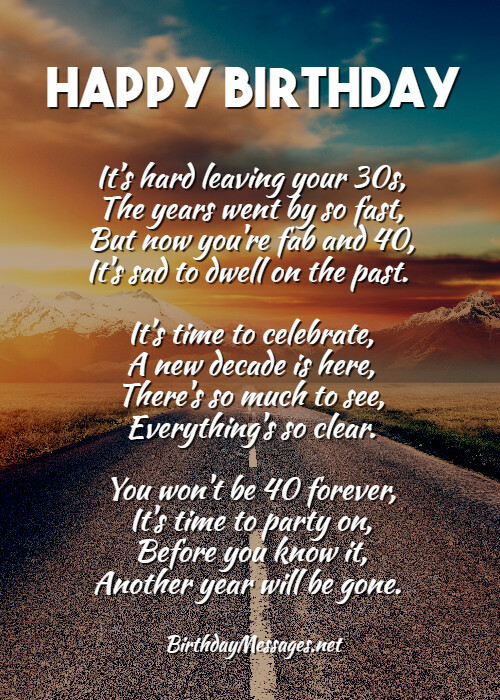 It's hard leaving your 30s,
The years went by so fast,
But now you're fab and 40,
It's sad to dwell on the past. 
It's time to celebrate,
A new decade is here,
There's so much to see,
Everything's so clear.

You won't be 40 forever,
It's time to party on,
Before you know it,
Another year will be gone. 
Happy 40th birthday!
---
YOUR AGE IS JUST A NUMBER
By Kevin Nishmas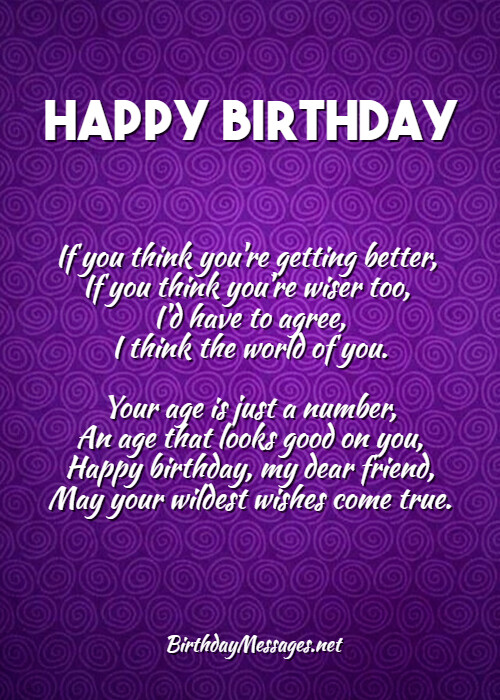 If you think you're getting better,
If you think you're wiser too,
I'd have to agree,
I think the world of you.

Your age is just a number,
An age that looks good on you,
Happy birthday, my dear friend,
May your wildest wishes come true.
Happy birthday!
---
THE YEARS LOOK GREAT ON YOU
By Kevin Nishmas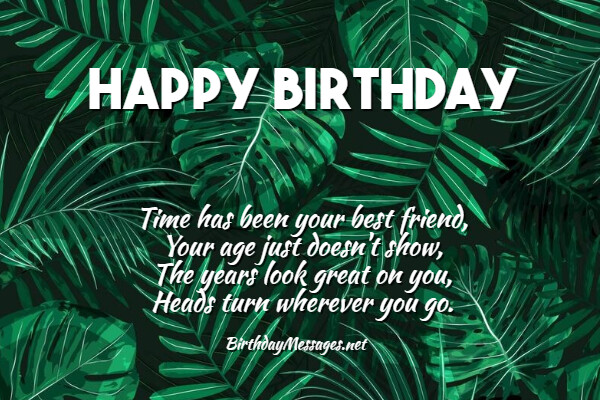 Happy birthday!

Time has been your best friend,
Your age just doesn't show,
The years look great on you,
Heads turn wherever you go.
---
YOURS IS THE PERFECT AGE
By Kevin Nishmas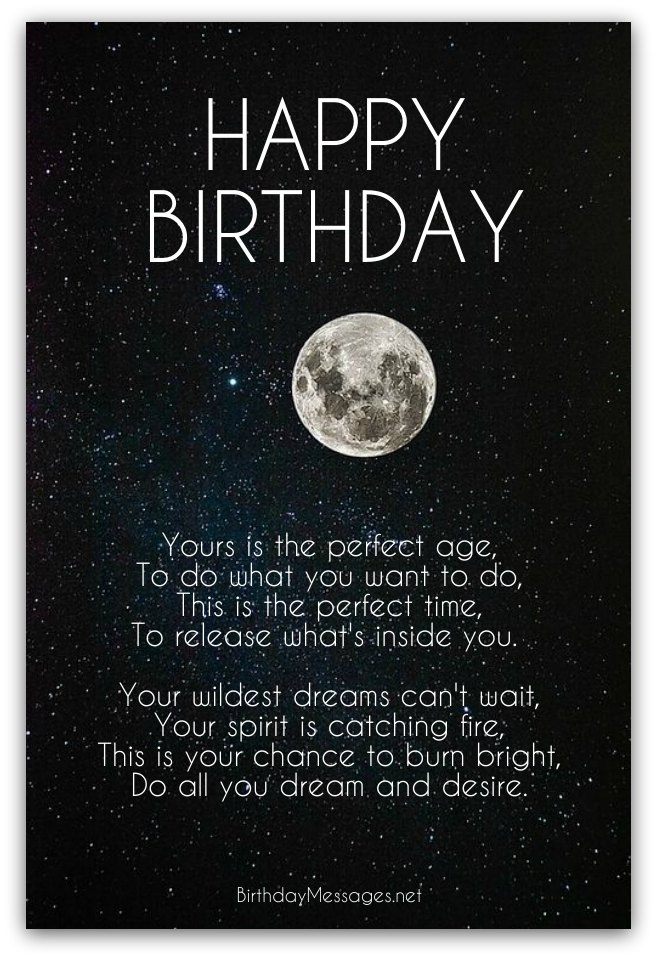 Happy birthday!
Yours is the perfect age,
To do what you want to do,
This is the perfect time,
To release what's inside you. 
Your wildest dreams can't wait,
Your spirit is catching fire,
This is your chance to burn bright,
Do all you dream and desire.
---
AS GOOD AS GOLD
By Kevin Nishmas
Happy birthday!

After years of birthday wishes,
It's probably getting old,
But it needs to be said again: 
You still look as good as gold.
---
WHAT'S IN A NUMBER?
By Kevin Nishmas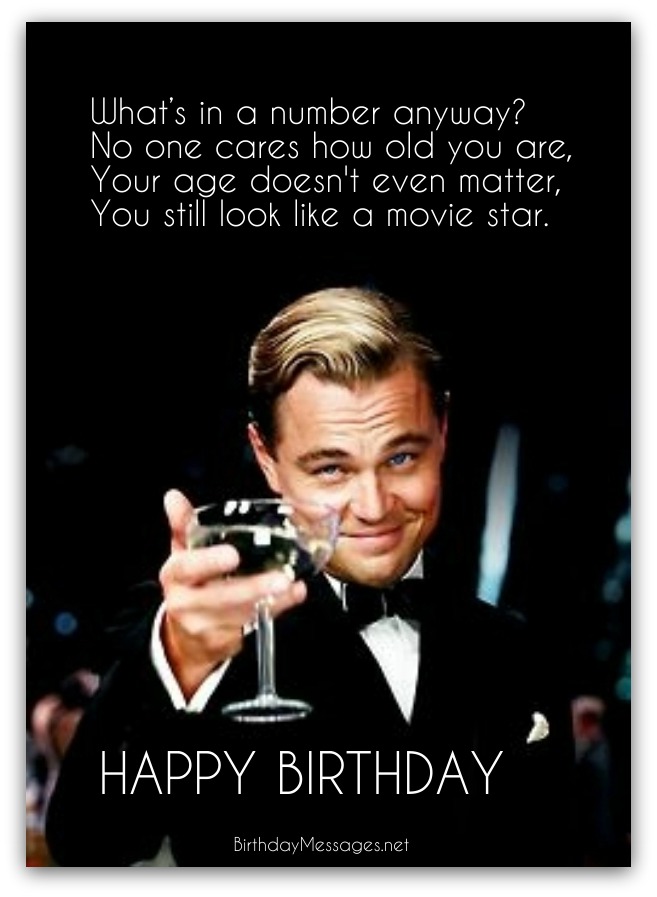 Happy birthday!
What's in a number anyway?
No one cares how old you are,
Your age doesn't even matter,
You still look like a movie star.
---
LOOK FORWARD UNCHECKED
By Kevin Nishmas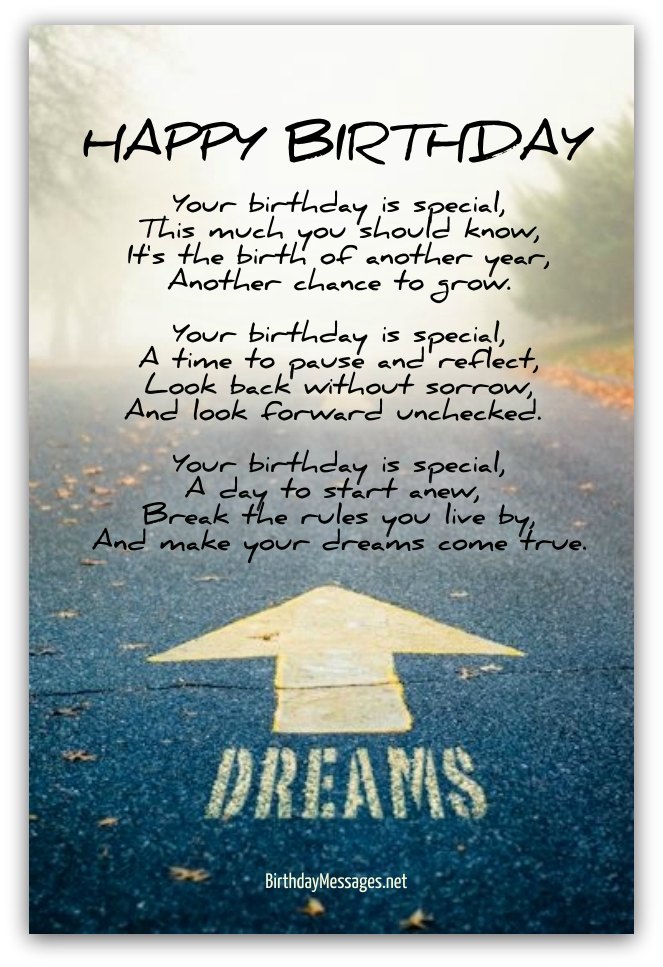 Happy birthday!

Your birthday is special,
This much you should know,
It's the birth of another year,
Another chance to grow.
Your birthday is special,
A time to pause and reflect,
Look back without sorrow,
And look forward unchecked. 
Your birthday is special,
A day to start anew, 
Break the rules you live by,
And make your dreams come true.
---


How do you write inspirational birthday poems?

One of the greatest gifts you can give your loved ones on their birthday is the gift of inspiration — via inspirational birthday poems.
With words that stir the soul or move mountains, inspirational birthday poems can have a profound effect on someone special, especially on the day of their birth.

Of course, there aren't one-size-fits-all inspirational birthday poems for every birthday boy or girl. What type of inspirational birthday poems are right for your loved ones?
The answer to the question above depends on one very important factor: the actual message you would like to convey in your inspirational birthday poems.
Basically, you have over 15 kinds of messages to choose from when you write inspirational birthday poems:
Love
Success
Happiness
Achievement
Imagination
Creativity
Leadership
Peace of mind
Wisdom
Life
Personal growth
Friendship
Relationships
Courage
Work
Ambition
Self-esteem
These messages can easily translate into inspirational birthday poems. All you need to do is write a poem with a theme that matches one of the messages above, a message you want to send to someone special. The only other consideration you may have when creating your inspirational birthday poems is the personality of the birthday boy or girl:
If the birthday boy or girl is a very proud person but still needs some inspiration, write very subtle inspirational birthday poems (less-than-subtle inspirational birthday poems might seem patronizing to this loved one).
If the birthday boy or girl lacks drive and needs a little push to do something that will lead to a considerably better quality of life, opt for more assertive inspirational birthday poems.
If the birthday boy or girl is very insecure, go for highly positive, slightly subtle inspirational birthday poems (so you won't add insult to injury).
If the birthday boy or girl is totally oblivious to what he/she needs to do in life, write more assertive inspirational birthday poems.
If you want more pointers on writing inspirational birthday poems, check out Writing Poetry on dummies.com. It's worth your time.
Bottom line: Write inspirational birthday poems with an uplifting message that expresses your birthday wish the best. 
"Classic" Inspirational Birthday Poems

My Personal Favorites
Here are my personal favorites when it comes to inspirational birthday poems. Each one of these inspirational birthday poems can make a very thoughtful birthday gift for someone special to you.
TO HAVE SUCCEEDED 
By Ralph Waldo Emerson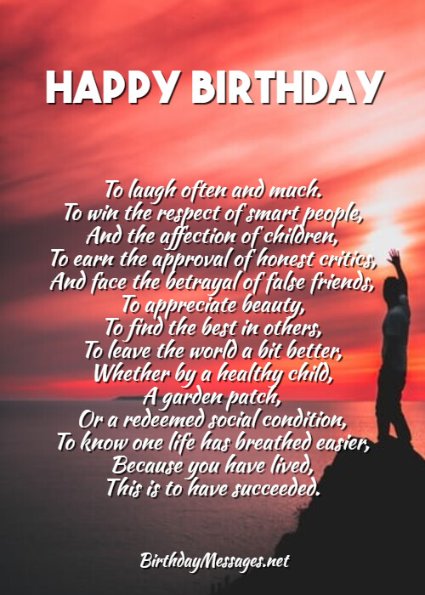 There's a very good reason why I chose this inspirational poem as a birthday message: it redefines the meaning of true success, inspiring us to be better than we are, reach beyond ourselves and truly help our fellow man, woman and child.
To laugh often and much.
To win the respect of smart people,
And the affection of children,
To earn the approval of honest critics,
And face the betrayal of false friends,
To appreciate beauty,
To find the best in others,
To leave the world a bit better,
Whether by a healthy child,
A garden patch,
Or a redeemed social condition,
To know one life has breathed easier,
Because you have lived,
This is to have succeeded.
---
BEFORE YOU
By W
i

ll

i

am Arthur Ward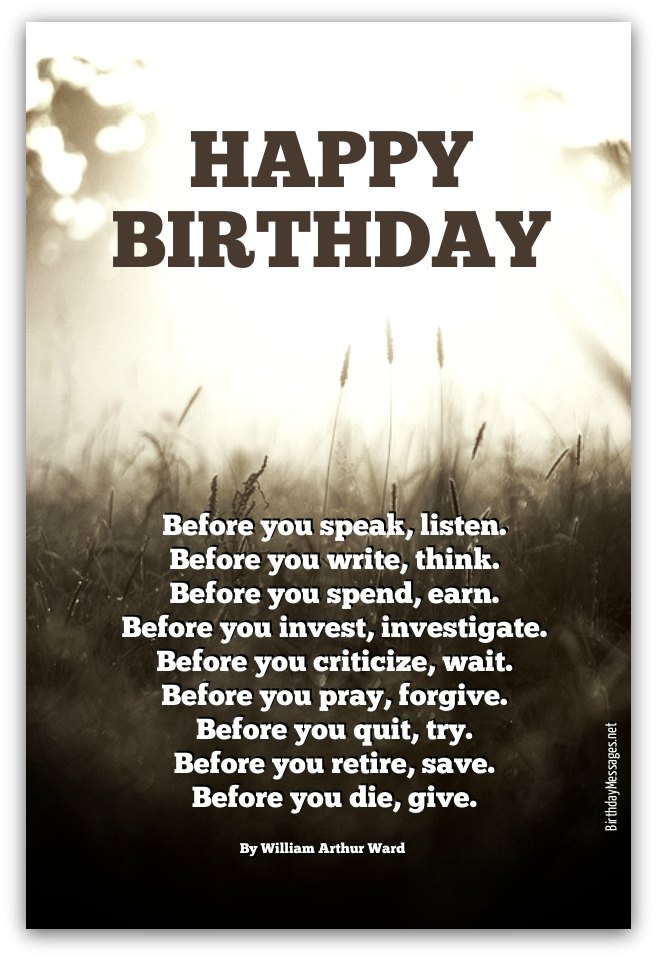 This is one of those inspirational birthday poems with a simple message that can have a major impact on someone's life. 
The message of this inspirational poem, which is to be a good person and take the high road, is simple but has profoundly meaningful ramifications.
This poem is best suited for birthday boys and girls who need a reality check, a message that reminds them about what really matters in life.
Before you speak, listen.
Before you write, think.
Before you spend, earn.
Before you invest, investigate.
Before you criticize, wait.
Before you pray, forgive.
Before you quit, try.
Before you retire, save.
Before you die, give.

---
DON'T QUIT
By Author Unknown
Certain inspirational birthday poems have a knack of telling you something you don't want to hear...in a way that makes it much easier to hear it. The birthday poem below possesses this very important quality. Why? 
This poem touches upon a very sensitive topic: quitting. In a poem, this topic is more palatable and, in the case of this birthday poem, quite uplifting. This is one of those inspirational birthday poems that can truly motivate people to carry on.
When things go wrong,
As they sometimes will,
When the road seems all uphill,
When funds are low,
And the debts are high,
And you want to smile.
But you have to sigh
When care is pressing you down a bit,
Rest if you must but don't you quit.
Life is queer with its twists and turns,
As every one of us sometimes learns,
And many a failure turns about,
When you might have won,
Had you stuck it out,
Don't give up,
Although the pace seems slow,
You may succeed with another blow.

Success is failure turned inside out,
The silver tint of the clouds of doubt,
You never can tell how close you are,
It may be near when it seems so far,
So stick to the fight,
When you're hardest hit,
When things seem worst,
You must not quit.
---
THINKING
By Walter D. Wintle
One of the reasons why I like the poem below is its focus on perception (our own perception) and how it can prevent us from trying anything new or different, sealing our fate, so to speak. And not always in a good way. 
This poem is straight to the point. Its message is relatively simple: if you think you'll never accomplish anything worthwhile, you won't. Your destiny, in other words, depends on what you think.
"Thinking" by Walter D. Wintle is one of those inspirational birthday poems that can cut through all the walls people build to make sure they never fail (or even try) and, along the way, can provide the reader with some hope for success. 
If you think you are beaten,
You are,
If you think you dare not,
You don't. 
If you like to win,
But think you can't,
It's almost a cinch you won't.
If you think you'll lose,
You're lost,
For out in the world we find,
Success begins with your will,
It's all in the state of mind.
If you think you are outclassed,
You are,
You've got to think high to rise,
You've got to be sure of yourself,
Before you can ever win the prize.
Life's battles don't always go,
To the faster woman or man,
But sooner or later,
The ones who win are,
The ones who think they can.
---
YOU CAN BE WHATEVER YOU WANT TO BE
By Donna Levine
The poem below talks about something that really makes a difference to how you set and achieve your goals. It's something that all of us possess. This poem by Donna Levine talks about our potential.
We all have the potential to do great things. To most religions, that potential is actually our life's mission. Psychologists and philosophers refer to it as "our purpose" in life. Whatever you call it, we all have it. This poem reminds us that we are special.
There is inside you,
All of the potential,
To be whatever you want to be,
All of the energy,
To do whatever you want to do,
Imagine yourself,
As you would like to be,
Doing what you want to do,
And each day take one step,
Towards your dream,
And though at times,
It may seem too difficult to continue,
Hold on to your dream,
One morning,
You will awake to find,
You are the person you dreamed of,
Doing what you wanted to do,
Simply because you had the courage,
To believe in your potential,
And to hold on to your dream.
---
THE ROAD NOT TAKEN
By Robert Frost
Below is one of the world's most well-known poems. But I wouldn't hold its popularity against it. It's well-known for a simple reason.
"The Road Not Taken" by Robert Frost hits upon a number of universal challenges that we, as humans, must face nearly every day: being true to yourself, thinking differently, choice, risk, conformity, you name it.
So many people can benefit from this poem. It has an uplifting message for everyone who reads it. This has to be one of the best inspirational birthday poems of all time.
Two roads diverged in a yellow wood,
And sorry I could not travel both,
And be one traveler, long I stood,
And looked down one,
As far as I could,
To where it bent in the undergrowth.
Then took the other, as just as fair,
And having perhaps the better claim,
Because it was grassy,
And wanted wear,
Though as for that the passing there,
Had worn them about the same.
And both that morning equally lay,
In leaves no step had trodden black,
Oh, I kept the first for another day,
Yet knowing how way leads to way,
I doubted if I should ever come back.
I shall be telling this with a sigh,
Somewhere ages and ages hence:
Two roads diverged in a wood, and I...
I took the one less traveled by,
And that has made all the difference.
---
THE VOW
By Malcolm O. Varner

This poem cleverly and powerfully touches upon the kind of promises we make to ourselves in our pursuit of happiness. Who is the best type of person to receive this poem?
Interestingly enough, the name of this poem — "The Vow" — pretty much tells you the type of person who should receive it as a birthday message: anyone who needs to take a vow (by definition, a solemn promise, pledge or personal commitment) to better themselves, no matter what their circumstances are.
When I read this poem, I can't help but hear the "The Little Engine That Could" nursery rhyme playing over and over in my head. That's because this poem is all about moving forward...despite the uphill battle you may face ahead.
No matter how deep the sadness,
Or wide the pain,
I vow to live, 
For a brighter day will come again. 
No matter how many mistakes,
I've made in the past,
I vow to live,
And in the future avoid them,
Surefooted and fast. 

No matter how many tragedies,
Beyond my control take place,
I vow to live,
And stay my course within this race.
No matter how poor or rich,
I may ever be,
I vow to live,
And aspire to search,
For the dignity in simplicity.
No matter how much a lover,
May pierce the core of my heart,
I vow to live,
For like spring I'll get a new start.
No matter how isolated and alone,
I may feel,
I vow to live,
And do something,
For someone else to heal.
No matter how hopeless,
My situation may appear, 
I vow to live,
And reflect,
Until my viewpoint is clear.
No matter what happens in this life,
Good or bad,
I vow to live,
Do my best,
And, just for living, be glad.

---
THE JOY OF LIFE
By Berton Braley
The title of this poem — "The Joy of Life" — says it all. But what brings joy to our lives? That's anybody's guess. In other words, it's pretty much up to interpretation.
According to this poem, taking chances is what makes life livable. 
Who can deny that the "game's in the playing"? Not too many people. Time and time again, life shows us that it's far better to "do something" than "have something" at the end of the day.
Inspirational birthday poems, like this one, are best suited for loved ones who need a quick "pick me up" after a long-drawn-out letdown.
I'd rather risk gamely,
And lose for my trying,
Than grind around tamely,
A cog in the mill.
I'd rather fail greatly,
With courage undying,
Than plod on sedately,
With never a thrill.
The game's in the playing,
And losing or winning,
The fun's in the essaying,
Your bravest and best,
In taking your chances,
While fate's wheel is spinning,
And backing your fancies,
With nerve and with zest. 
Let stodgy folk censure,
And timid folk quaver,
But life sans adventure,
Is weary to bear.
The dangers we're sharing,
Give living its savour,
I'd rather die daring,
Than never to dare.
---
THERE IS STILL TIME
By Author Unknown
Don't dwell on what might have been,
Or the chances you have missed,
Or the lonely nights that lie,
Between the last time lovers kissed. 
Don't grasp too hard,
Memories of things that never came,
The door that did not open,
Or the wind that killed the flame.
There is still time enough to live…
And time enough to try again. 
---
LOVE AFTER LOVE
By Derek Walcott
"Love after Love" is all about accepting yourself just the way you are. It's about loving and respecting yourself, so you have the capacity to love and respect others.
This poem shows us, quite creatively, why we need to love ourselves before we can love others. It's the perfect poem for a loved one who needs a large, persuasive dose of self-love.
What a perfect birthday message to send someone who lacks self-esteem. What a lovely birthday gift.
The time will come,
When, with elation,
You will greet yourself arriving,
At your own door,
In your own mirror,
And each will smile,
At the other's welcome,
And say,
Sit here,
Eat.
You will love again,
The stranger who was yourself,
Give wine,
Give bread,
Give back your heart,
To itself,
To the stranger,
Who has loved you all your life,
Whom you ignored for another,
Who knows you by heart.

Take down,
The love letters from the bookshelf,
The photographs,
The desperate notes,
Peel your own image from the mirror,
Sit,
Feast on your life.
---
THE INVITATION (EXCERPT)
By Oriah Mountain Dreamer
What I love about this poem is its "I dare you" challenge. It's the kind of challenge that can inspire someone in dire need of a wake-up call. And not just any type of wake-up call.
This is one of those inspirational birthday poems that literally dares the reader to ache, dream, risk, love, act like a fool, even embark on an adventure. 
In other words, live every moment to the fullest. 
It doesn't interest me,
What you do for a living,
I want to know,
What you ache for,
And if you dare to dream,
Of meeting your heart's longing.
It doesn't interest me,
How old you are,
I want to know,
If you will risk,
Looking like a fool,
For love,
For your dream,
For the adventure of being alive.
It doesn't interest me,
If the story you are telling me is true,
I want to know if you can,
Disappoint another,
To be true to yourself,
If you can bear,
The accusation of betrayal,
And not betray your own soul.
---
IF YOU CAN STOP ONE HEART FROM BREAKING (ADAPTED)
By Emily Dickinson
Here's a reminder that there's tremendous value in helping others. By replacing "I" with "you" throughout this poem, Emily Dickinson's intended message becomes even clearer: Leading a meaningful life starts with doing good.
If you can stop one heart from breaking,
You shall not live in vain,
If you can ease one life the aching,
Or cool one pain,
Or help one fainting robin,
Unto his nest again,
You shall not live in vain.
---





Jump to 300+



Birthday Poems
on This Site
---
Be the First to See What's New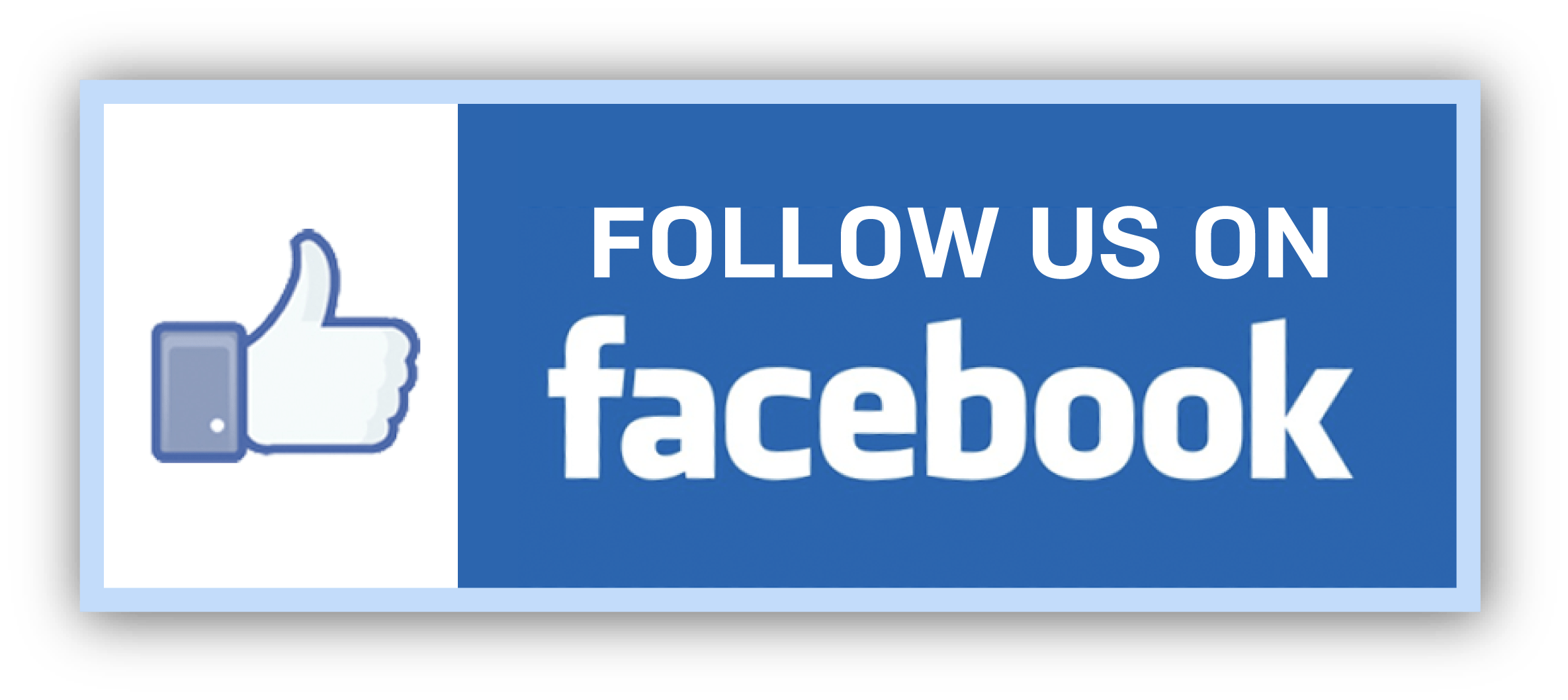 Message Guy
Creator of this site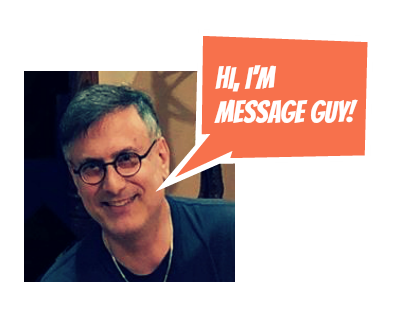 Kevin, the "Message Guy" who writes the birthday wishes, quotes, poems, toasts and speeches on BirthdayMessages.net, has been a content writer since 1993. In 2012, Kevin created this site to share the incredible power of words with birthday well-wishers everywhere.

Can't Find
What You Need?
Follow on FeedBurner
By  Kevin (aka "Message Guy")
Copyright © 2013-2023
BirthdayMessages.net.
All rights reserved. 
All trademarks and service marks
are the property of their
respective owners.
The copyrights of all birthday
messages on this website
belong to the individual authors.
Site 
Powered By
Solo Build It (SBI)
Build Your Own Website