Funny Birthday Poems
---
Great funny birthday poems don't just give birthday boys and girls a BIG laugh — they also leave them with a BIG smile that can last all day.
How do you know if what you're reading is indeed a "great" funny poem? Generally speaking, it depends on your sense of humor. It also depends on the funny bone of the birthday boy and girl. So, I would say that it depends on, like most decisions in life, striking a fine balance.
If you really want to know what makes poetry appropriately funny for someone's special day of the year, be sure to read the Message Guy Tip below. 
Message Guy Tip #74:
How to select funny birthday poems...
Funny birthday messages, like birthday wishes, birthday quotes, birthday poems and birthday toasts, are only
funny
if they make the ones you love laugh at themselves in a certain way. What way?
Read more ►
---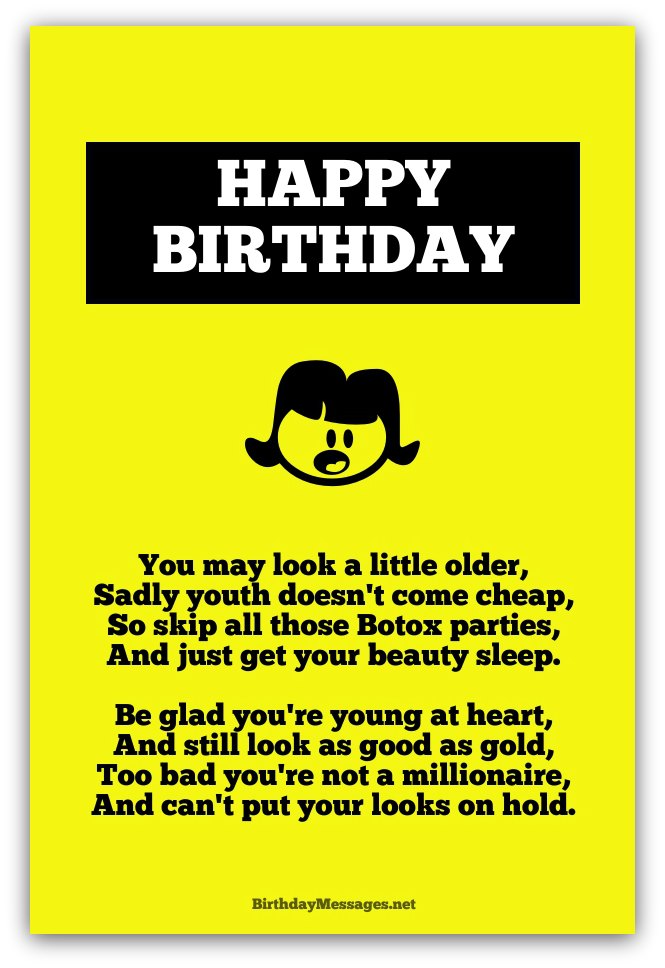 BEAUTY AND THE BOTOX
By Message Guy
Happy birthday!
You may look a little older,
Sadly youth doesn't come cheap,
So skip all those Botox parties,
And just get your beauty sleep.
Be glad you're young at heart,
And still look as good as gold,
Too bad you're not a millionaire,
And can't put your looks on hold.
---
BELATED
By Message Guy
This birthday wish may be late,
And it may be over in a flash, 
But its message is good anytime,
Because it comes with lots of cash.
A belated happy birthday!
---
---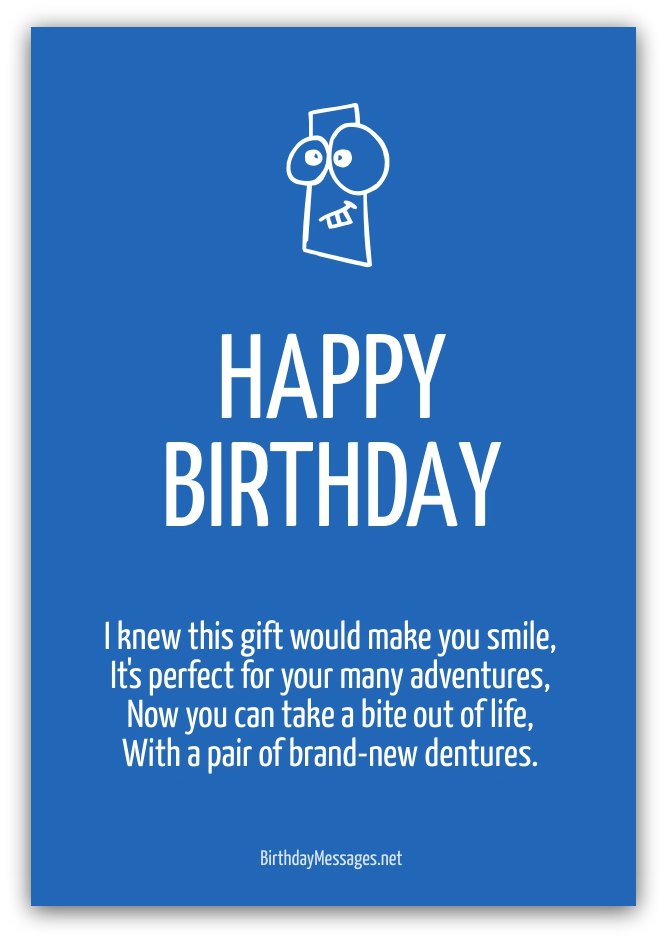 THE PERFECT GIFT
By Message Guy
I knew this gift would make you smile,
It's perfect for your many adventures,
Now you can take a bite out of life,
With a pair of brand-new dentures.
Happy birthday, old fart!

---
ROCK STAR
By Message Guy
Happy birthday to you!
You live like a rock star,
Singing songs forever sung,
You move like Mick Jagger,
But sound like William Hung.
---
BITE ME
By Message Guy
Happy birthday!
I don't want to burst your bubble,
Yet it's time to tell you the truth,
You may still have your own teeth,
But you're getting long in the tooth.
---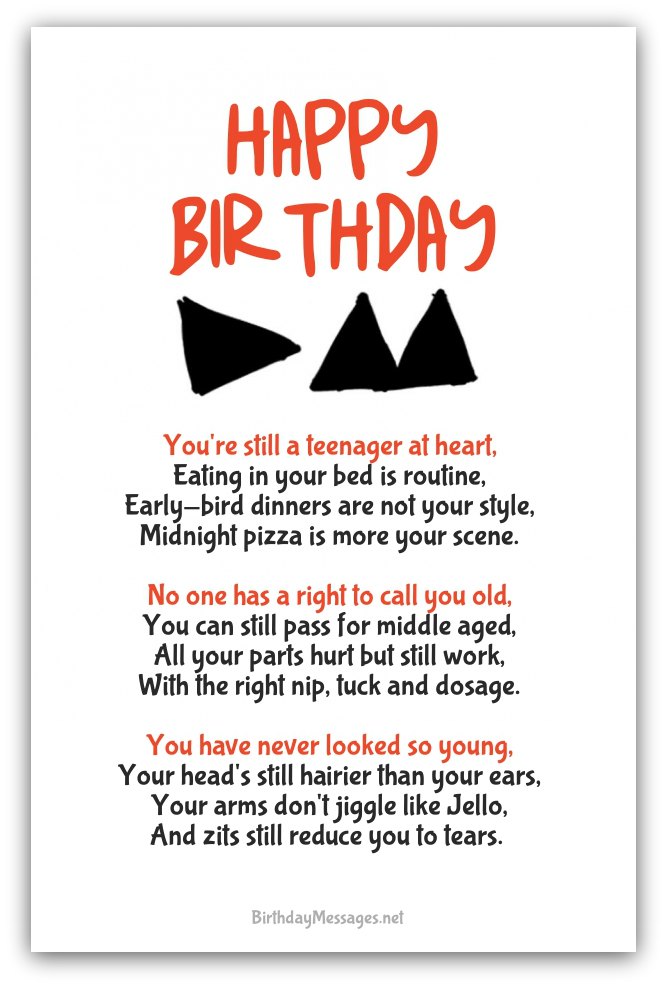 MIDNIGHT PIZZA
By Message Guy
Happy birthday!
You're still a teenager at heart,
Eating in your bed is routine,
Early-bird dinners are not your style,
Midnight pizza is more your scene.
No one has a right to call you old,
You can still pass for middle aged,
All your parts hurt but still work,
With the right nip, tuck and dosage.
You have never looked so young,
Your head's still hairier than your ears,
Your arms don't jiggle like Jello,
And zits still reduce you to tears.
---
Still seeking the perfect poem?
Find more funny birthday poems below...
---
SO WHAT
By Message Guy
Happy birthday!
So what if you're a little bit older,
So what if you ache from head to toe,
So what if your ears are full of hair,
So what if you got no get up and go. 
So what if you have laugh lines,
So what if you have arms of Jello,
So what if you suddenly feel decrepit,
Your decrepitude started long ago!
---
GETTING RIPE
By Message Guy
Today is your birthday,
And you feel pretty good,
Your body's still working,
You should really touch wood. 
Your hair is just a bit grey,
Your wrinkles few and far between,
You may not look 18 anymore, 
Still you get pimples like a teen. 
I'm glad you feel as fresh as ever,
Despite the fact you're getting ripe,
You say you have 20/20 vision,
Yet you read books with large type.
In your mind's eye you're still young,
But your vigour is up for debate,
It doesn't really matter anyhow,
You still get the senior discount rate.
---
SOME-TIMERS
By Message Guy
Another milestone birthday is here,
And your precious brain still stirs,
You imagine yourself Albert Einstein,
But you think like Keith Richards.
You don't have Alzheimer's,
Just "some-timers" all your own,
Sometimes you remember,
Sometimes you just don't.
You remember you forgot something,
But can't remember what you forgot,
Start to plan your own surprise party,
If your mind goes any more to pot.
---
ZERO TO 60
By Message Guy
May you be granted no memory,
Of the people you wished took a hike,
May your luck hold out for decades,
Bringing you only the folks you like,
May your eyes never fail you,
When you need to tell the difference,
May your walker go from zero to 60,
So you could stay at a safe distance.
---
Message Guy
Creator of this site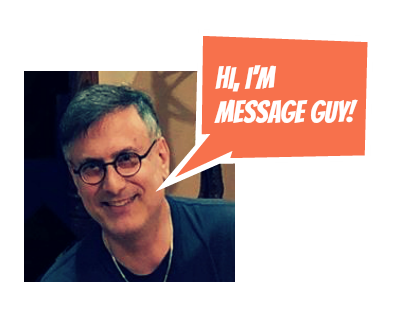 Kevin, the "Message Guy" who writes the birthday wishes, quotes, poems, toasts and speeches for this site, has been a professional writer, editor and translator for more than 25 years. He decided to create BirthdayMessages.net in 2012 to share his passion for birthday and "unbirthday" quotes on the best day of the year — your birthday.

CLICK HERE TO LEARN MORE ABOUT KEVIN (AKA MESSAGE GUY) 
Jump to
these Popular Pages
Can't Find
What You Need?
Make Your Own
Birthday Happy Again
By Kevin (aka "Message Guy")
Copyright © 2013-2019
BirthdayMessages.net.
All rights reserved.
All trademarks and service marks
are the property of their
respective owners.
The copyrights of all birthday
messages on this website
belong to the individual authors.
Site 
Powered By
Solo Build It (SBI)