Funny Birthday Poems
---
Funny birthday poems are more than lighthearted rhymes. The best ones poke fun at life, love and everything in between. Choose from the best now.

Choosing the right poem depends on striking the right balance between your sense of humor and the funny bone of the birthday boy or girl. 
To get started, take a look at the examples of funny poems below. 
BY KEVIN NISHMAS | JANUARY 1, 2020
Choose from These
Funny Birthday Poems
Use, combine or change the funny birthday poems below to wish a hilarious "Happy Birthday" to someone special. 

---



BEAUTY AND THE BOTOX
By Kevin Nishmas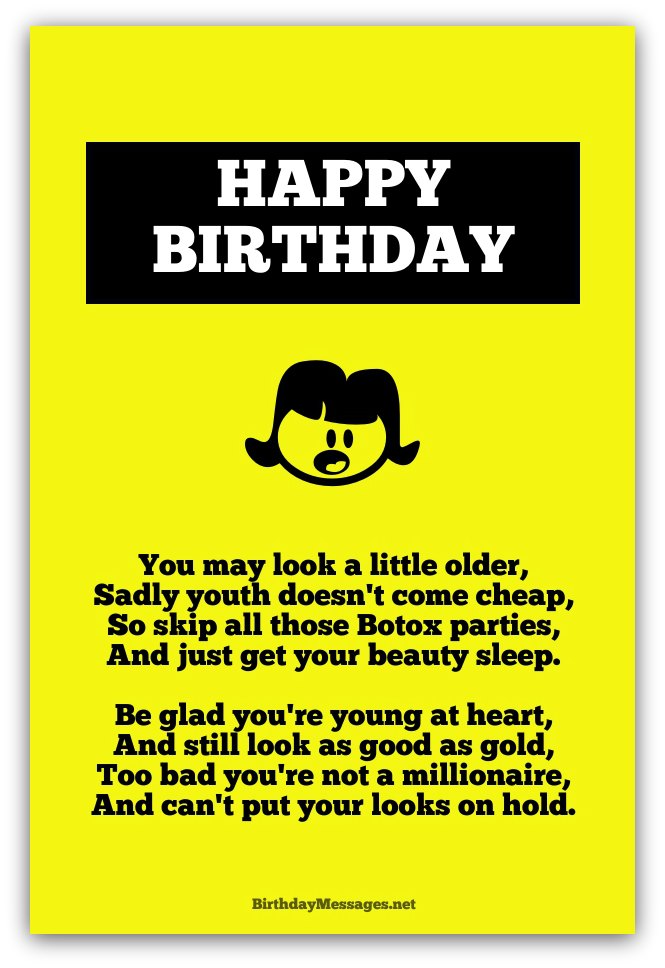 Happy birthday!
You may look a little older,
Sadly youth doesn't come cheap,
So skip all those Botox parties,
And just get your beauty sleep.
Be glad you're young at heart,
And still look as good as gold,
Too bad you're not a millionaire,
And can't put your looks on hold.
---



A BELATED "HAPPY BIRTHDAY"
By Kevin Nishmas
Happy birthday!

This special birthday wish may be late,
And it may not make you very wise, 
But it's still good enough to send,
Because it won't strain your tired eyes.
It may not be the best birthday wish,
And it may not even be on time,
But I think it's better than nothing,
For no other reason than it rhymes.
---



THE PERFECT GIFT
By Kevin Nishmas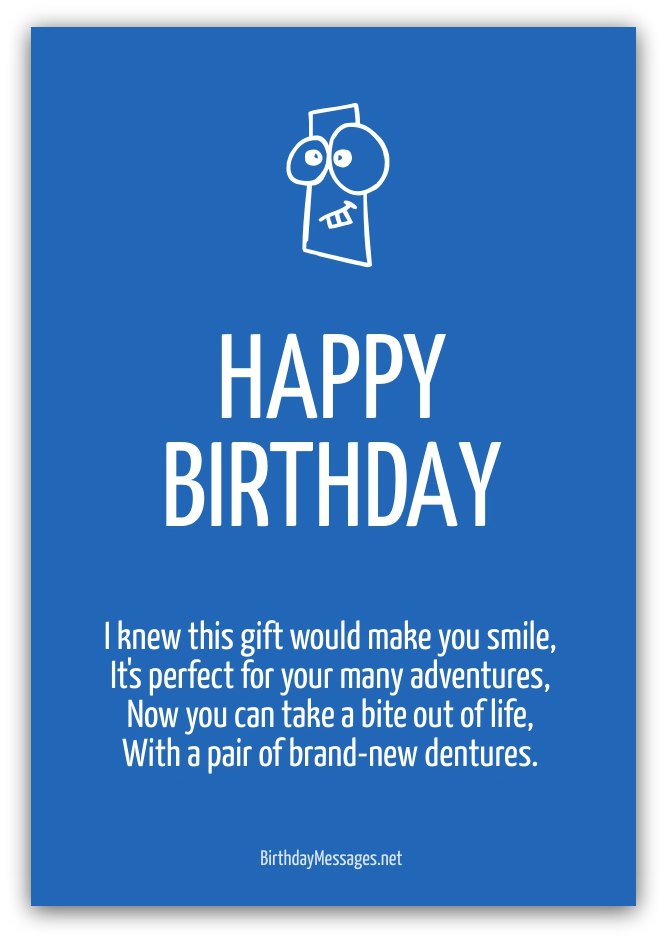 I knew this gift would make you smile,
It's perfect for your many adventures,
Now you can take a bite out of life,
With a pair of brand-new dentures.
Happy birthday!

---



ROCK STAR
By Kevin Nishmas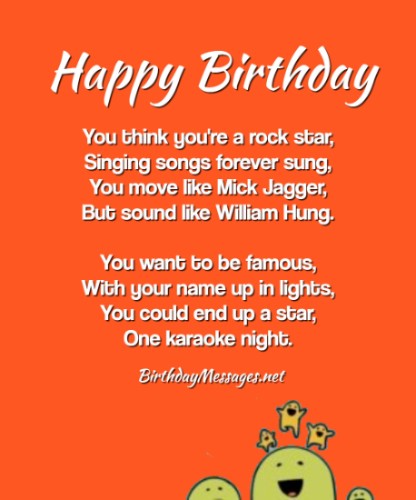 Happy birthday!
You think you're a rock star,
Singing songs forever sung,
You move like Mick Jagger,
But sound like William Hung.
You want to be famous,
With your name up in lights,
You could end up a star,
One karaoke night.
---



LONG IN THE TOOTH
By Kevin Nishmas
Happy birthday!
I don't want to burst your bubble,
Yet it's time to tell you the truth,
You may still have your own teeth,
But you're getting long in the tooth.
You'll never win a gold medal,
Your athletic prowess falls short,
You'll never be on a Wheaties box,
Unless channel surfing's a sport.
---



MIDNIGHT PIZZA
By Kevin Nishmas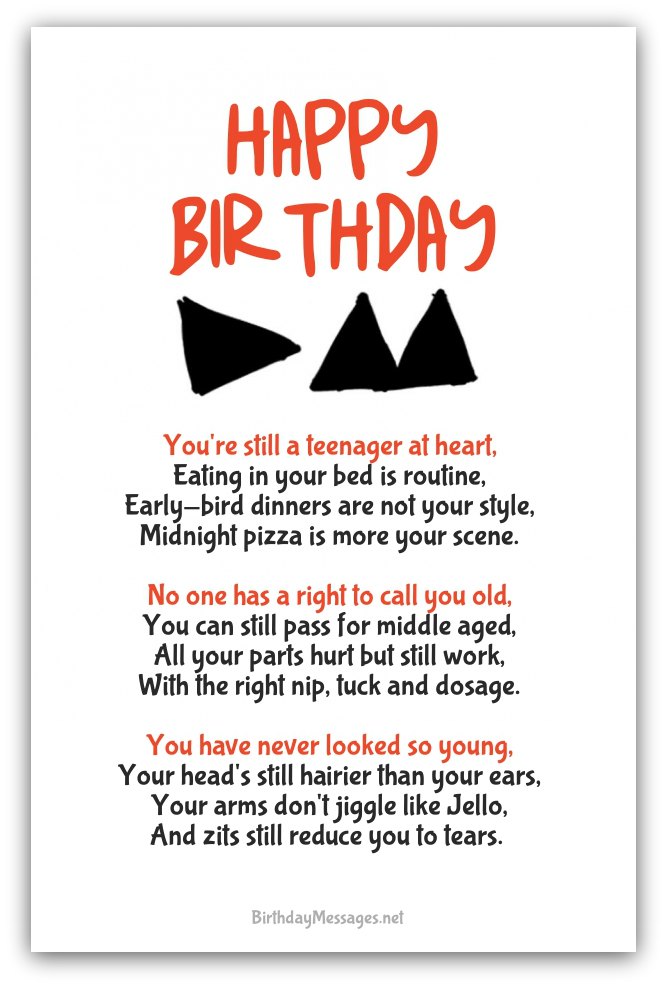 Happy birthday!
You're still a teenager at heart,
Eating in your bed is routine,
Early-bird dinners are not your style,
Midnight pizza is more your scene.
No one has a right to call you old,
You can still pass for middle aged,
All your parts hurt but still work,
With the right nip, tuck and dosage.
You have never looked so young,
Your head's still hairier than your ears,
Your arms don't jiggle like Jello,
And zits still reduce you to tears.
---



SO WHAT
By Kevin Nishmas
Happy birthday!
So what if you're a little bit older,
So what if you ache from head to toe,
So what if your ears are full of hair,
So what if you got no get up and go. 
So what if you have laugh lines,
So what if you have arms of Jello,
So what if you suddenly feel decrepit,
Your decrepitude started long ago!
---



A FUNNY BIRTHDAY POEM
FOR SOMEONE SPECIAL

VIDEO
Subscribe to Greetingville, my YouTube Channel, home to birthday videos you can share with family and friends. Here is my latest.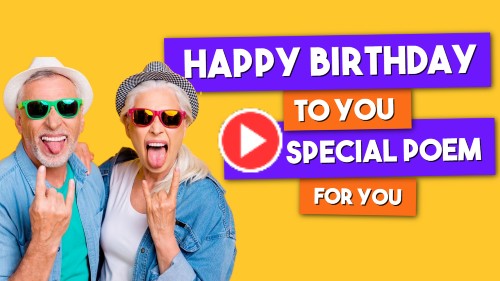 ---



GETTING RIPE
By Kevin Nishmas
Happy birthday!
Today is your birthday,
And you feel pretty good,
Your body's still working,
You should really touch wood. 
Your hair is just a bit grey,
Your wrinkles few and far between,
You may not look 18 anymore,
Still you get pimples like a teen. 

I'm glad you feel as fresh as ever,
Despite the fact you're getting ripe,
You say you have 20/20 vision,
Yet you read books with large type.
In your mind's eye you're still young,
But your vigor is up for debate,
It doesn't really matter anyhow,
You still get the senior discount rate.
---



SOME-TIMERS
By Kevin Nishmas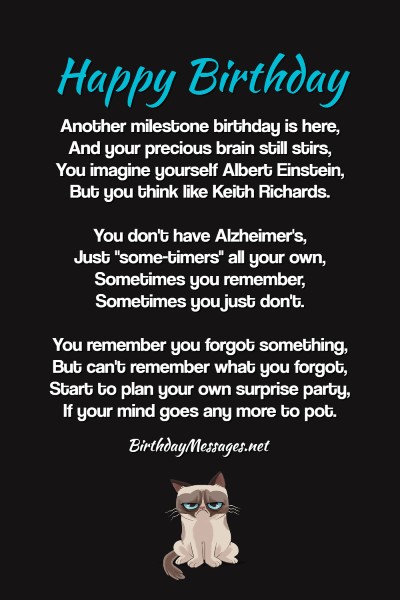 Happy birthday!
Another milestone birthday is here,
And your precious brain still stirs,
You imagine yourself Albert Einstein,
But you think like Keith Richards.
You don't have Alzheimer's,
Just "some-timers" all your own,
Sometimes you remember,
Sometimes you just don't.
You remember you forgot something,
But can't remember what you forgot,
Start to plan your own surprise party,
If your mind goes any more to pot.
---



ZERO TO 60
By Kevin Nishmas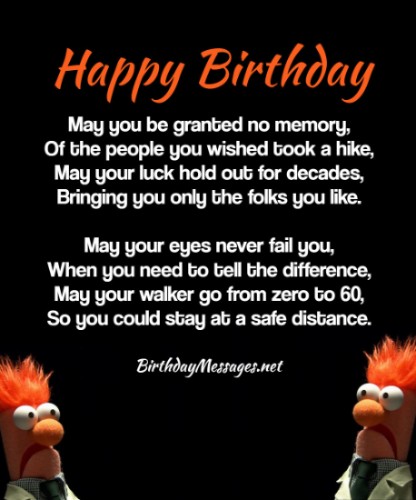 Happy birthday!
May you be granted no memory,
Of the people you wished took a hike,
May your luck hold out for decades,
Bringing you only the folks you like.
May your eyes never fail you,
When you need to tell the difference,
May your walker go from zero to 60,
So you could stay at a safe distance.
---



THE BEST FACE
By Kevin Nishmas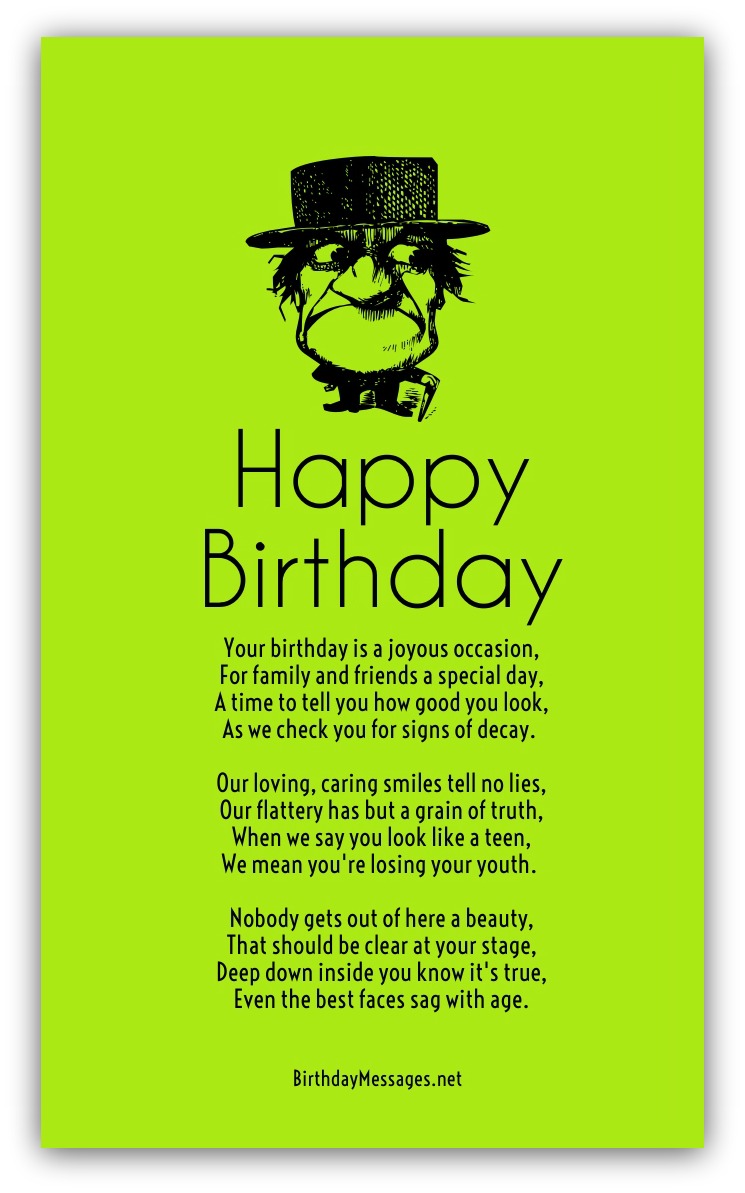 Happy birthday!
Your birthday is a joyous occasion,
For family and friends a special day,
A time to tell you how good you look,
As we check you for signs of decay. 
Our loving, caring smiles tell no lies,
Our flattery has but a grain of truth,
When we say you look like a teen,
We mean you're losing your youth. 
Nobody gets out of here a beauty,
That should be clear at your stage,
Deep down inside you know it's true,
Even the best faces sag with age.
---



SEE THE GLASS HALF FULL
By Kevin Nishmas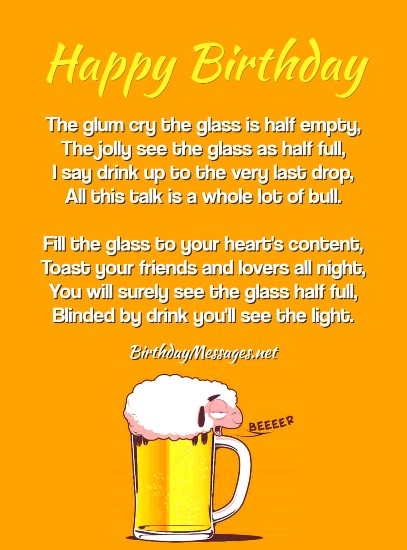 Happy birthday!
The glum cry the glass is half empty,
The jolly see the glass as half full,
I say drink up to the very last drop,
All this talk is a whole lot of bull.
Fill up the glass to your heart's content,
Toast your friends and lovers all night,
You will surely see the glass half full,
Blinded by drink you'll see the light.
---



DOLLARAMA
By Kevin Nishmas
Happy birthday!

Money has gotten a little scarce,
You might say times are hard,
So I went to the local Dollarama,
And bought you this birthday card.
---



60 IS THE NEW 50...ISH
By Kevin Nishmas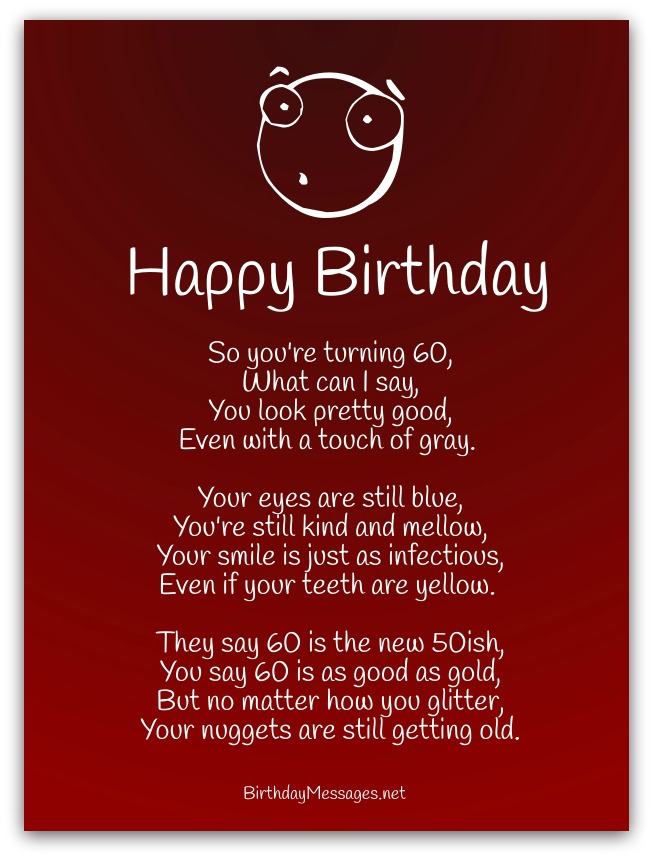 Happy birthday!
So you're turning 60,
What can I say,
You look pretty good,
Even with a touch of gray. 
Your eyes are still blue,
You're still kind and mellow,
Your smile is just as infectious,
Even if your teeth are yellow. 
They say 60 is the new 50ish,
You say 60 is as good as gold,
But no matter how you glitter,
Your nuggets are still getting old.
---



THE PORCELAIN LORD
By Kevin Nishmas
Happy birthday!

Because it's your birthday party,
You should pray to the porcelain lord,
So if you decide to drink too much,
The super bowl will be your reward.
---



BIRTHDAYS SUCK
By Kevin Nishmas
Roses are red,
Violets are blue,
Birthdays suck,
If they're not for you.
Happy birthday!
---



THIS IS YOUR GIFT
By Kevin Nishmas
Roses are red,
Violets are blue,
This is your birthday gift,
It sucks to be you.
Happy birthday!

---



THE FIRST ROUND
By Kevin Nishmas
Roses are red,
Violets are blue,
Now that you're 21,
The first round's on you.
Happy birthday!

---



BOO HOO HOO
By Kevin Nishmas
Roses are red,
Violets are blue,
I'm still younger,
So boo hoo hoo. 
Happy birthday!

---



LOOK WHO'S TURNING 100
By Kevin Nishmas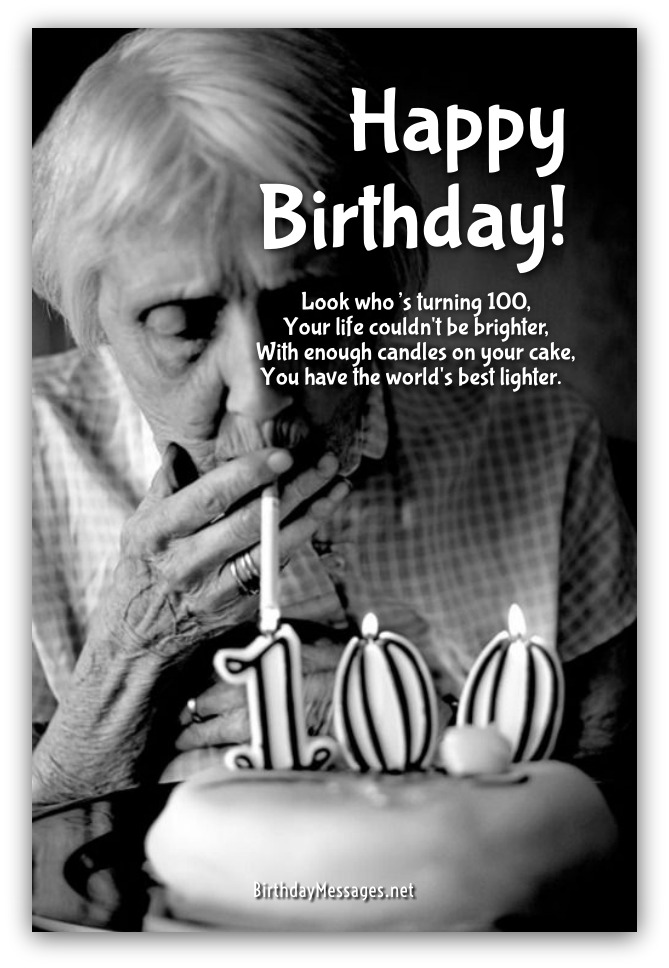 Happy birthday!
Look who's turning 100,
Your life couldn't be brighter,
With enough candles on your cake,
You have the world's best lighter.
---



"OLD PERSON" SMELL
By Kevin Nishmas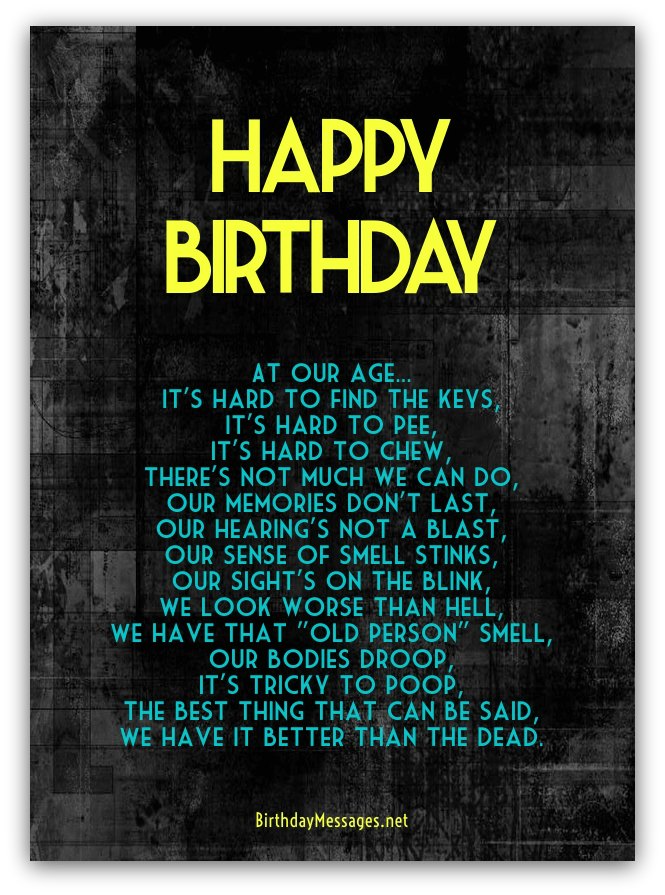 Happy birthday!
At our age...
It's hard to find the keys,
It's hard to pee,
It's hard to chew,
There's not much we can do.
Our memories don't last,
Our hearing's not a blast,
Our sense of smell stinks,
Our sight's on the blink.
We look worse than hell,
We have that "old person" smell,
Our bodies droop,
It's tricky to poop.
The best thing that can be said,
We have it better than the dead.
---



AGING GRACELESSLY
By Kevin Nishmas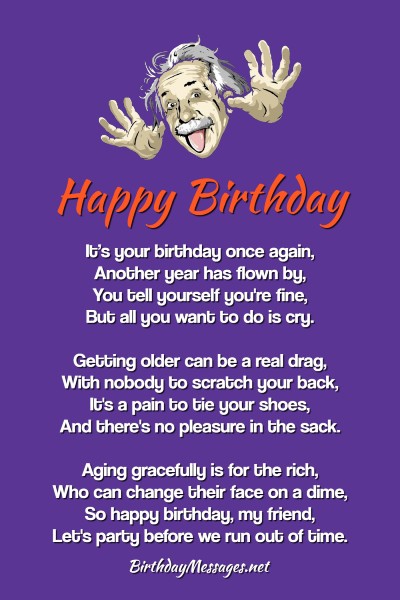 Happy birthday!

It's your birthday once again,
Another year has flown by,
You tell yourself you're fine,
But all you want to do is cry.
Getting older can be a real drag,
With nobody to scratch your back,
It's a pain to tie your shoes,
And there's no pleasure in the sack.
Aging gracefully is for the rich,
Who can change their face on a dime,
So happy birthday, my friend,
Let's party before we run out of time.
---



FROM A SLOUCH
By Kevin Nishmas
Happy birthday, Mom,
There's no one quite like you,
You cooked all my meals,
And cleaned each inch of my room.
You don't know how great you are,
And this is coming from a slouch,
I want to be more like you,
If I could just get off the couch.
So enjoy your special day,
You deserve a break,
I'll do everything I can,
But first can you make me a steak?
---



IT'S YOU I WANT TO THANK
By Kevin Nishmas
Happy birthday, Dad,
It's you I want to thank,
I'd act more like a grown up,
If you weren't always my bank.
I will try to be better,
I want be just like you,
Truehearted, loving and loyal,
Someone who makes a mean BBQ. 
So enjoy your day, Dadio,
It's my turn to take out the trash,
I'll even take you out to dinner,
But first can I borrow some cash?
---



DON'T YOU WORRY
By Kevin Nishmas
Happy birthday!

When things start to shrivel,
When they start to wear down,
Don't you worry about it.
Don't you feel down. 
You have many special days,
And lots of lovely nights ahead,
It may just take a little longer,
For you to get out of bed. 
---



CLUTCH
By Kevin Nishmas
Happy birthday!

You know you're getting older,
When you clutch the rail on the stairs,
Just as long as you go up and down,
Nobody really cares. 
---



BEST SISTER EVER
By Kevin Nishmas
Happy birthday, Sis,
Best friends we will forever be,
You're the best sister ever,
Right after amazing me.
I can't help that I'm so popular,
A girl so superb and insanely pretty,
You could be too if you were nicer,
And not that other word for witchy.
---



AGING CAN BE SO FUN
By Kevin Nishmas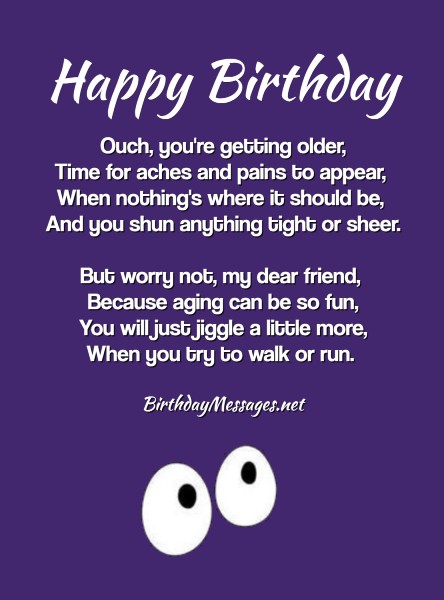 Happy birthday!

Ouch, you're getting older,
Time for aches and pains to appear,
When nothing's where it should be,
And you shun anything tight or sheer.
But worry not, my dear friend,
Because aging can be so fun,
You will just jiggle a little more,
When you try to walk or run. 
---



REVOLVING DOORS
By Kevin Nishmas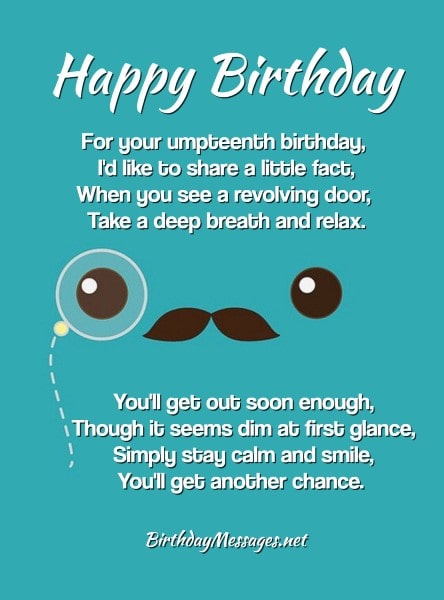 For your umpteenth birthday,
I'd like to share a little fact,
When you see a revolving door,
Take a deep breath and relax.
You'll get out soon enough,
Though it seems dim at first glance,
Simply stay calm and smile,
You'll get another chance.

Happy birthday!
---



How do you write funny birthday poems?
Funny birthday poems are humorous only if they make the ones you love laugh at themselves in a certain way. 
What way? The best funny birthday poems make birthday girls and boys feel special, even when the joke is at their expense.
Composing funny poetry, as a result, is no easy feat. As with most humor, the impact of your funny birthday poems rests more with the recipient's sense of humor than yours.

Although you may think one of your funny birthday poems is hilarious, it may not be humorous at all to the birthday boy or girl. It may just be offensive. 
With funny birthday poems, you have the opportunity to write lighthearted birthday messages that are funnier for the birthday girl or boy than any simple birthday wish could ever be. But there's a fine line between humor and ridicule.
There's no guarantee that the funny poem you choose as a birthday message will hit the mark. After all, funny birthday poems, like any poetry, are a totally subjective choice.
But I can guarantee that your funny poem will be a success if it will have two things in common with other hilarious poetry: It makes you laugh and it will very likely make the birthday boy or girl laugh.
For this reason, the three rules of thumb for choosing or writing funny birthday poems are as follows: 
Rule #1: You must be 100% certain that your funny birthday poems are actually humorous and cannot possibly be taken the wrong way.
Rule #2: You are absolutely sure that anyone would find your funny birthday poems hilarious.
Rule #3: You are 100% convinced that the birthday boy or girl would find your funny birthday poem humorous.
The key here is to use discretion. Don't just write or pick any funny birthday poem. Choose carefully, after some consideration.

Perfect funny birthday poems always get a chuckle and/or a smile from the birthday guy or gal, plus make him or her feel special. That's basically all you need to know to pick the right funny birthday poems.

Bottom line: Select or compose funny birthday poems that best bring out your sense of humor and will truly tickle the funny bone of the birthday girl or boy. Birthdays are an insult-free zone.
What's funny?
What may be funny to you could be crass to somebody else. Humor, like many things in life, is subjective. It depends on who you ask.
According to one Psychology Today article, Charles Darwin considered humor a "tickling of the mind" and Sigmund Freud suggested that "humor is the release of tension." 
Want to learn more about what's funny and what isn't, read the article now. This could help you write or choose funny birthday poems for your loved ones.
---





Jump to 300+



Birthday Poems
on This Site
---
Be the First to See What's New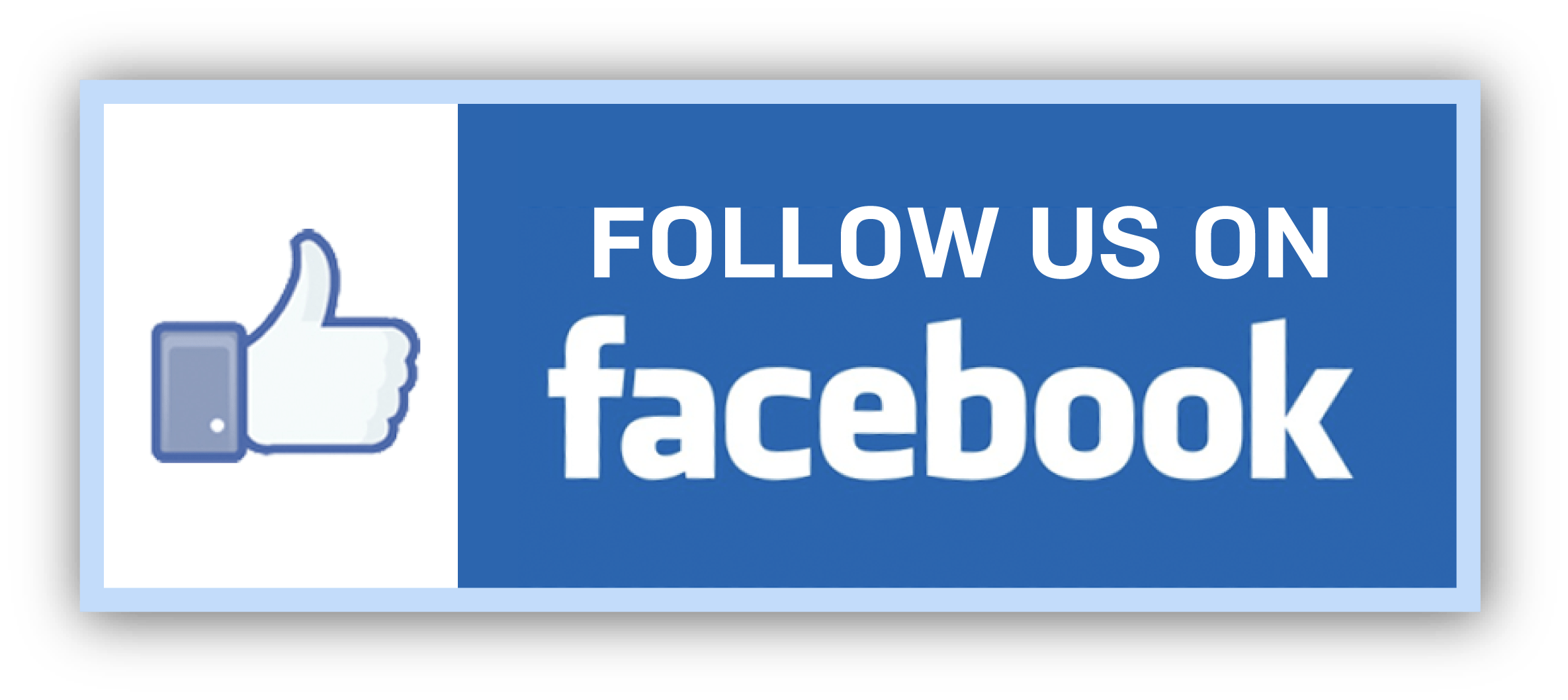 Message Guy
Creator of this site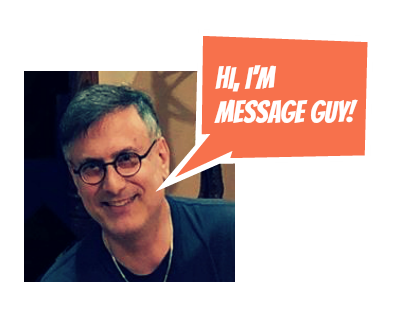 Kevin, the "Message Guy" who writes the birthday wishes, quotes, poems, toasts and speeches on BirthdayMessages.net, has been a content writer since 1993. In 2012, Kevin created this site to share the incredible power of words with birthday well-wishers everywhere.

Can't Find
What You Need?
Follow on FeedBurner
By  Kevin (aka "Message Guy")
Copyright © 2013-2023
BirthdayMessages.net.
All rights reserved. 
All trademarks and service marks
are the property of their
respective owners.
The copyrights of all birthday
messages on this website
belong to the individual authors.
Site 
Powered By
Solo Build It (SBI)
Build Your Own Website