Clever Birthday Poems
---
With clever birthday poems, give your friends and family the gift of a beautifully thoughtful birthday keepsake. Need ideas? Don't know what to write? No problem. Get inspired by a wide choice of clever poems for birthdays on this page.
BY KEVIN NISHMAS | UPDATED: OCT. 30, 2020

Search for Clever Birthday Poems Here
FOR OUR SOULS TO DWELL
By Kevin Nishmas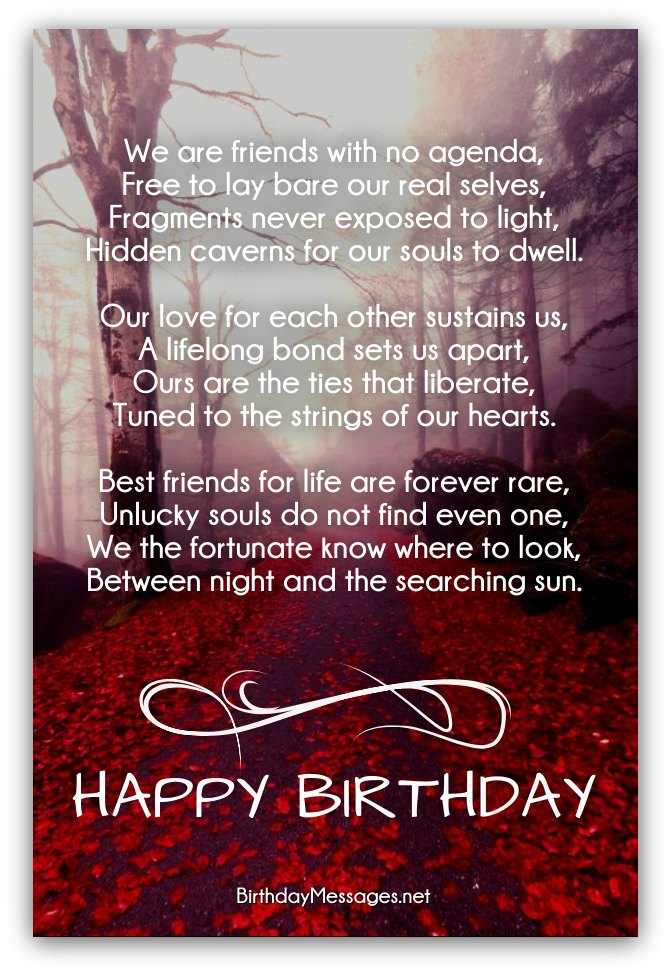 We are friends with no agenda,
Free to lay bare our real selves,
Fragments never exposed to light,
Hidden caverns for our souls to dwell.
Our love for each other sustains us,
A lifelong bond sets us apart,
Ours are the ties that liberate,
Tuned to the strings of our hearts.
Best friends for life are forever rare,
Unlucky souls do not find even one,
We the fortunate know where to look,
Between night and the searching sun.
Happy birthday!
---
THE SUN STILL SHINES ON YOU
By Kevin Nishmas
Happy birthday!
Your petals are slightly wilted,
But the sun still shines on you,
Your stem has withered somewhat,
Still your stature comes right through.
Although your roots are showing,
You yourself aren't six feet under,
And even if you're ripening,
Your sweet fruit is like no other.
---
ONE MORE CANDLE
By Kevin Nishmas
Happy birthday!
One more candle on your cake,
That's no reason to frown or pout,
You have the strength to make a wish,
And blow all your candles out.
---
A DESTINATION FOR YOU ALONE
By Kevin Nishmas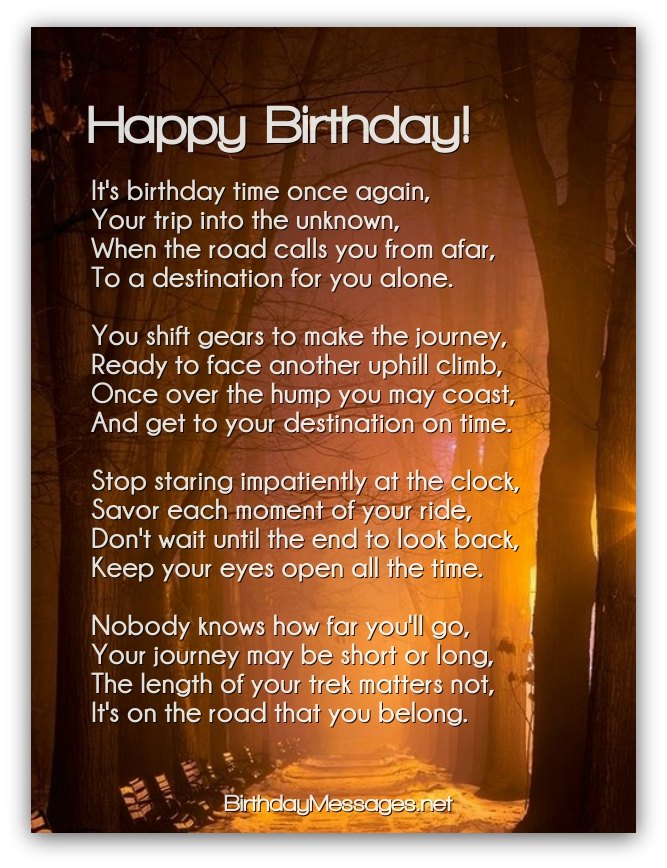 It's birthday time once again,
Your trip into the unknown,
When the road calls you from afar,
To a destination for you alone.
You shift gears to make the journey,
Ready to face another uphill climb,
Once over the hump you may coast,
And get to your destination on time.
Stop staring impatiently at the clock,
Savor each moment of your ride,
Don't wait until the end to look back,
Keep your eyes open all the time.
Nobody knows how far you'll go,
Your journey may be short or long,
The length of your trek matters not,
It's on the road that you belong.
Happy birthday!

---
TRUE NET WORTH
By Kevin Nishmas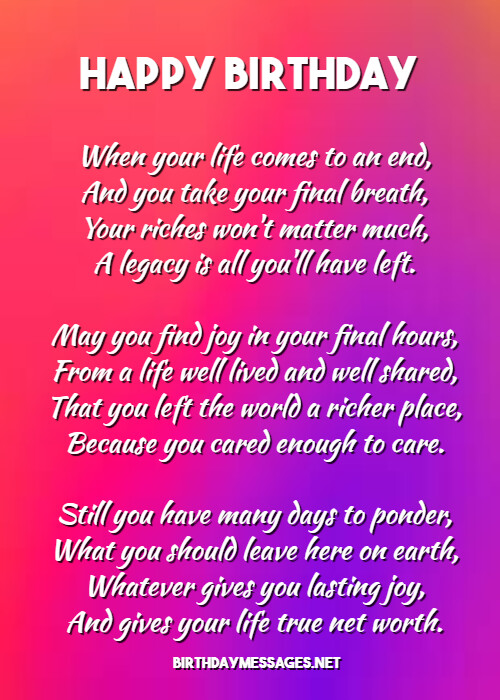 When your life comes to an end,
And you take your final breath,
Your riches won't matter much,
A legacy is all you'll have left.
May you find joy in your final hours,
From a life well lived and well shared,
That you left the world a richer place,
Because you cared enough to care.

Still you have many days to ponder,
What you should leave here on earth,
Whatever gives you lasting joy,
And gives your life true net worth.
Happy birthday!

---
GIVE THANKS WITH A SMILE
By Kevin Nishmas
I wish you bright mornings,
And warm, sunny days,
Soft shade to cool you,
From sweltering rays,
Raindrops, a few,
From some cloud floating by,
Rainbows thereafter,
To color your sky,
Rambling rivers,
And great shining seas,
Mountains and forests,
With towering trees,
Hillsides and valleys,
All flower-festooned,
Nature that nurtures,
Whomever's attuned,
A faithful companion,
Who'll stay by your side,
Children to care for,
To love and to guide,
Enough work to do,
With enough time for play,
Then restful sleep,
At the close of the day,
Friends when you need them,
And when they need you,
Something to spend,
Just as much as will do,
A heart full of laughter,
Perhaps a few tears,
Faith you can follow through,
All of your years,
Then, fearlessly,
Facing your last setting sun,
As you contemplate all,
The deeds you have done,
Recalling a life,
That's been more than worthwhile,
Perhaps you will pause,
And give thanks with a smile.
Happy birthday!
---
LIKE YOU
By Kevin Nishmas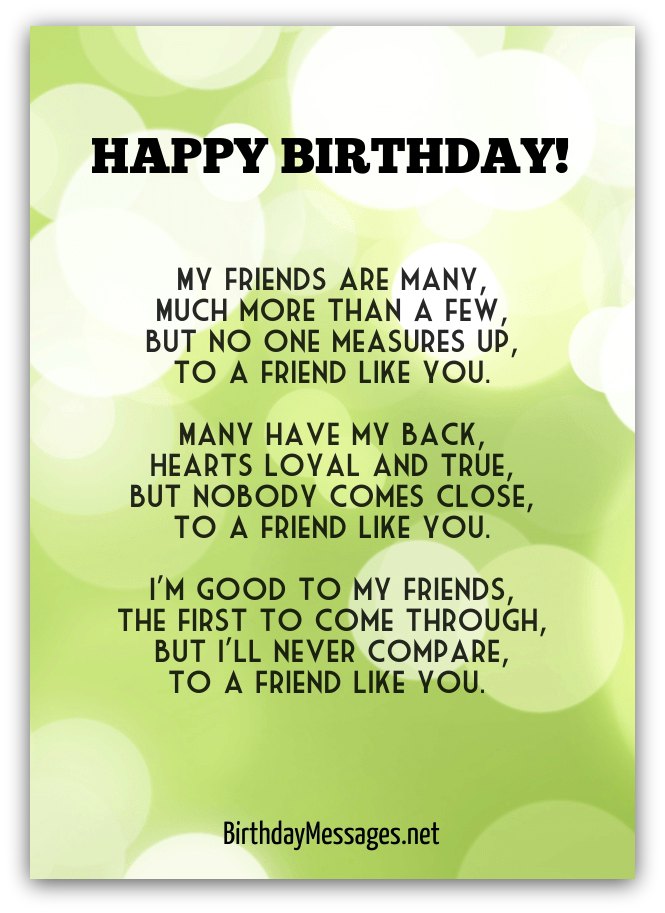 My friends are many,
Much more than a few,
But no one measures up,
To a friend like you.
Many have my back,
Hearts loyal and true,
But nobody comes close,
To a friend like you.
I'm good to my friends,
The first to come through,
But I'll never compare,
To a friend like you.
Happy birthday!

---
Keep scrolling! See more clever birthday poems below!
STEP BY STEP, YOU AND ME
By Kevin Nishmas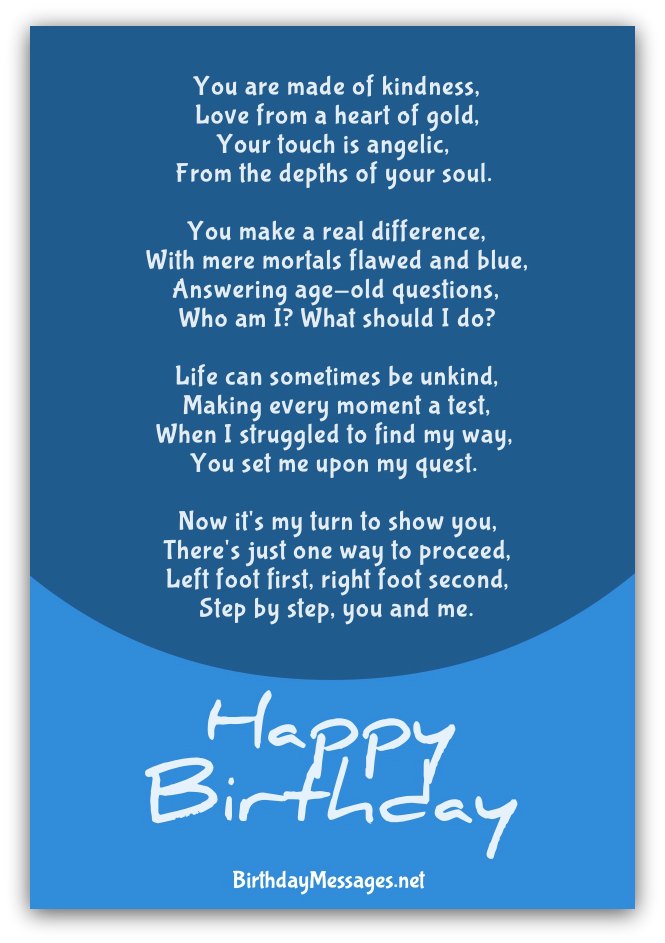 You are made of kindness,
Love from a heart of gold,
Your touch is angelic, 
From the depths of your soul. 
You make a real difference,
With mere mortals flawed and blue,
Answering age-old questions,
Who am I? What should I do?
Life can sometimes be unkind,
Making every moment a test,
When I struggled to find my way, 
You set me upon my quest. 
Now it's my turn to show you,
There's just one way to proceed,
Left foot first, right foot second,
Step by step, you and me.
Happy birthday!
---
THERE FOR YOU
By Kevin Nishmas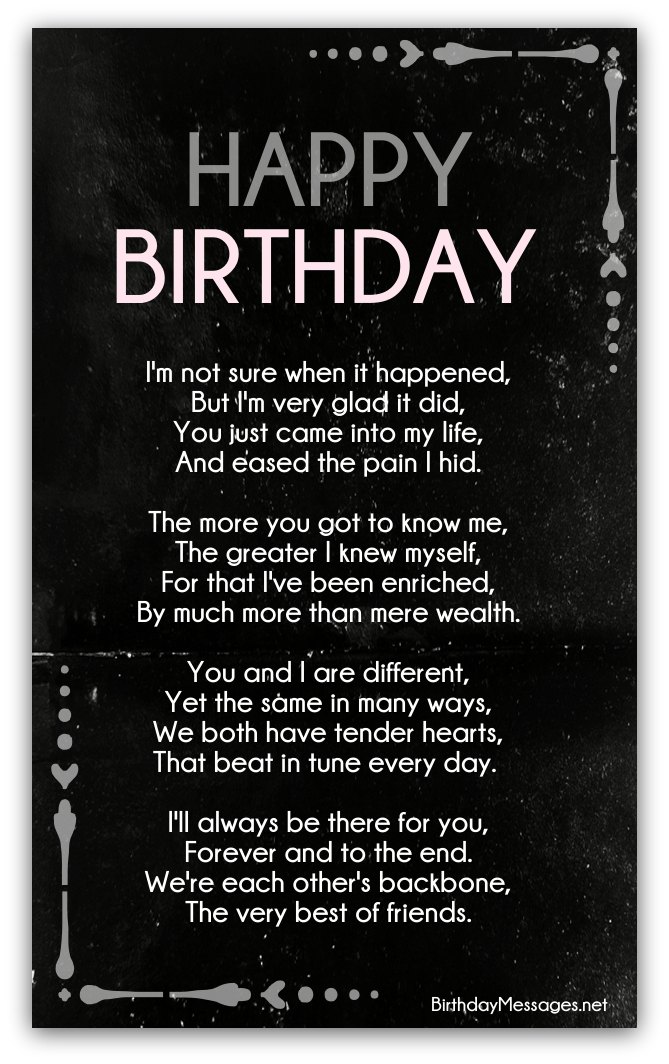 I'm not sure when it happened,
But I'm very glad it did,
You just came into my life,
And eased the pain I hid.
The more you got to know me,
The greater I knew myself,
For that I've been enriched,
By much more than mere wealth.
You and I are different,
Yet the same in many ways,
We both have tender hearts,
That beat in tune every day. 
I'll always be there for you,
Forever and to the end.
We're each other's backbone,
The very best of friends.
Happy birthday!
---
AS IT SHOULD BE
By Kevin Nishmas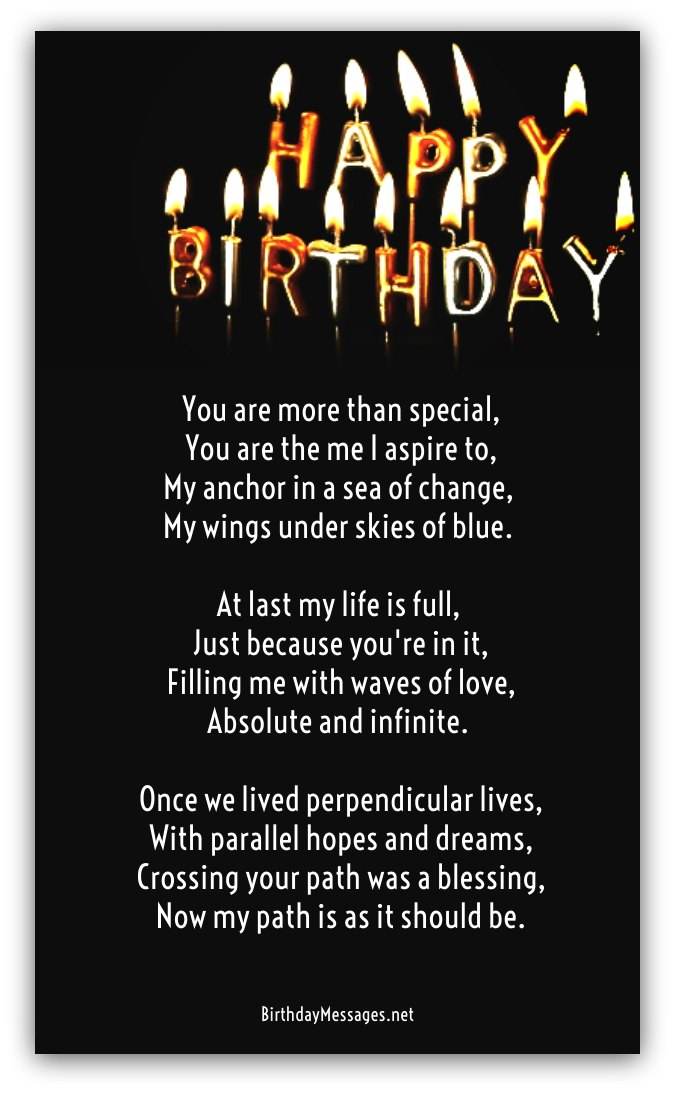 Happy birthday!
You are more than special,
You are the me I aspire to,
My anchor in a sea of change, 
My wings under skies of blue. 
At last my life is full, 
Just because you're in it,
Filling me with waves of love,
Absolute and infinite. 
Once we lived perpendicular lives,
With parallel hopes and dreams,
Crossing your path was a blessing,
Now my path is as it should be.
---
BEFORE IT'S TOO LATE
By Kevin Nishmas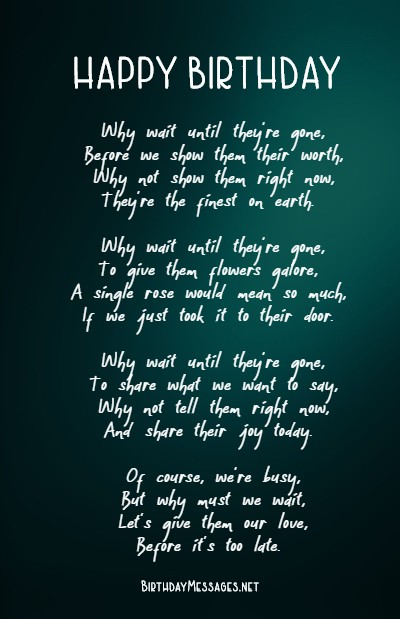 Why wait until they're gone,
Before we show them their worth,
Why not show them right now,
They're the finest on earth. 
Why wait until they're gone,
To give them flowers galore, 
A single rose would mean so much, 
If we just took it to their door. 
Why wait until they're gone,
To share what we want to say,
Why not tell them right now,
And share their joy today. 
Of course, we're busy,
But why must we wait,
Let's give them our love,
Before it's too late. 
I love you. Happy birthday.

---



"Classic"
Clever Birthday Poems
MY PERSONAL FAVORITES
A PRICELESS GIFT
By Helen Steiner Rice
Friendship is a priceless gift,
That can't be bought or sold,
But its value is far greater,
Than a mountain made of gold. 
For gold is cold and lifeless,
It cannot see nor hear,
And in your times of trouble,
It is powerless to cheer. 
It has no ears to listen,
No heart to understand,
It cannot bring you comfort,
Or reach out a helping hand. 
So when you ask God for a gift,
Be thankful that he sends,
Not diamonds, pearls or riches,
But the love of a real, true friend.
Why "A Priceless Gift" is one of my favorites: This poem is "a priceless gift" for your friends. It's a wonderful way to let them know just how special they are to you. This poem does not really cover new ground. Its "friendship is more important than money" message has been expressed in many other clever birthday poems before and after Helen Steiner Rice wrote "A Priceless Gift" but she manages to make it sentimental enough for a greeting card. That alone makes this poem extremely clever...and an excellent poem to give to a dear friend as a birthday message.
---
ANOTHER CHANCE
By Helen Steiner Rice
Often we wish for another chance,
To make a fresh beginning,
A chance to blot out our mistakes,
And change failure into winning.
It does not take a new day,
To make a brand new start,
It only takes a deep desire,
To try with all our heart.
To live a little better,
And to always be forgiving,
And to add a little sunshine,
To the world in which we're living.
So never give up in despair,
And think that you are through,
For there's always a tomorrow,
And the hope of starting new.
Happy birthday!
Why "Another Chance" is one of my favorites: Essentially, I felt compelled to pick "Another Chance" as one of my favorite clever birthday poems for this section. And there's a good reason for this choice. As its name clearly suggests, this poem is all about getting another chance to live a better, more joyful, more meaningful life. It even tells the reader how to get another chance: "It only takes a deep desire." This is one of my favorite clever birthday poems because it takes a rather serious issue (starting fresh) and turns it into a truly incredible "life is beautiful" birthday message.
---
IF I KNEW YOU
By Nixon Waterman
If I knew you and you knew me,
If both of us could clearly see,
And with an inner sight divine,
The meaning of your heart and mine.
I'm sure that we would differ less,
And clasp our hands in friendliness,
Our thoughts would pleasantly agree,
If I knew you and you knew me.
Why "If I Knew You" is one of my favorites: This is one of the best clever birthday poems because it lets you tell estranged friends or family you want to fix your broken relationship or friendship with them. In other words, it's an olive branch, a peace offering, a way to show that you want to fix things. "If I Knew You" cleverly offers a first step toward resolving what could be a very contentious situation. As a birthday message, it has double or even triple the power because birthdays tend to make even the most stubborn people introspective enough to grasp the meaning of clever birthday poems like this one.
---
LOOKING BACK*
By Edgar A. Guest
I haven't built much of a fortune,
To leave those who carry my name,
And nothing I've done entitles me,
To a place on the tablets of fame.
But I've loved the blue sky,
I've lived with the birds and trees,
I've turned from silver and gold,
To share in such pleasures as these.
I've given my time to my children,
Together we've romped and played,
And I wouldn't swap a single hour,
For the money I might have made.
I chose to be known by the few,
And was deaf to the plaudits of men,
And I'd make the very same choice,
If I could live my life over again.
I've shared the joy of my friends,
Known sorrow with all of its tears,
Reaped much from my acres of life,
Tho' some say I've wasted my years.
What's fine has been mine to enjoy,
And I think I have lived to my best,
I have no regrets as I near the end,
For the gold I might have possessed.
* Abridged version
Why "Looking Back" is one of my favorites: This is one of those clever birthday poems that just scream "have no regrets" to willing ears. That's why I love this poem. It offers a true definition of success for young and old, even though poet Edgar A. Guest writes as a man or woman close to death. The definition? Don't regret anything if you've lived a life full of love for nature, family and friends (not only if you've accumulated piles of gold and silver).
---
NEW BEGINNINGS
By Gertrude B. McClain
It's only the beginning now,
A pathway yet unknown,
At times the sound of other steps,
Sometimes we walk alone.
The best beginnings of our lives,
May sometimes end in sorrow,
But even on our darkest days,
The sun will shine tomorrow.
So we must do our very best,
Whatever life may bring,
And look beyond the winter chill,
To smell the breath of spring.
Into each life will always come,
A time to start anew,
A new beginning for each heart,
As fresh as morning dew.
Although the cares of life are great,
And hands are bowed so low,
The storms of life will leave behind,
The wonder of a rainbow.
The years will never take away,
Our chance to start anew,
It's only the beginning now,
So dreams can still come true.
Why "New Beginnings" is one of my favorites: People like clever birthday poems for their ingenuity, their play on words, their twists. This poem is clever because it cleverly transforms scenes from nature into a allegory about change — specifically, knowing when it's time for a new beginning, even when following your heart can be a treacherous journey, fraught with the unknown, dark days and winter chills. "New Beginnings" is perfect for anybody who needs to start anew.
---
LIFE DOESN'T FRIGHTEN ME AT ALL
By Maya Angelou
Shadows on the wall,
Noises down the hall,
Life doesn't frighten me at all.
Bad dogs barking loud,
Big ghosts in a cloud,
Life doesn't frighten me at all
 Mean old Mother Goose,
Lions on the loose,
They don't frighten me at all. 
Dragons breathing flame,
On my counterpane,
That doesn't frighten me at all.
 I go boo,
Make them shoo,
I make fun,
Way they run,
I won't cry,
So they fly,
I just smile,
They go wild,
Life doesn't frighten me at all.
Tough guys fight,
All alone at night,
Life doesn't frighten me at all.
 Panthers in the park,
Strangers in the dark,
No, they don't frighten me at all.
 That new classroom where,
Boys all pull my hair,
Kissy little girls,
With their hair in curls,
They don't frighten me at all.
 Don't show me frogs and snakes,
And listen for my scream,
If I'm afraid at all,
It's only in my dreams.
 I've got a magic charm,
That I keep up my sleeve,
I can walk the ocean floor,
And never have to breathe.
Life doesn't frighten me at all,
Not at all,
Not at all,
Life doesn't frighten me at all.
Why "Life Doesn't Frighten Me At All" is one of my favorites: When clever birthday poems have a title like "Life Doesn't Frighten Me At All," you figure that the poet behind it has their tongue planted firmly in their cheek or is trying to cleverly make a point. When the poet is Maya Angelou, you can count on both. This poem's ingenious way of showing our inner child that believing in ourselves is the best way to ward off the fearsome, paralyzing images we summon in the dark. Like most clever birthday poems, it takes on a tricky topic with such dignity, grace and cleverness that you can't help but be charmed by it.
---




Hints & Tips
How do you write clever birthday poems?
Nothing does "clever" quite like clever birthday poems. By its very nature, poetry is clever all on its own, so the choice is endless (when you really think about it).
But what makes clever birthday poems clever? I believe that you need to include a mixture of joy and wonder: joy for the "happy" in your happy birthday and wonder for the "clever" side of life, which makes you think about life in a different way.
With clever birthday poems, you may not want to be too clever. It's never a good idea to merely impress the birthday boy or girl with your cleverness. You probably want to make him or her feel special and excited by your clever birthday poems.
So what's too clever? First, you need to keep in mind that most people do not like a "smarty pants" — least of all on their birthday. In addition, nobody likes to be outsmarted...any day of the year. But people do like brain teasers.
According to the article, Why Doing Puzzles Makes You Happy, "bringing order to a pile of chaos can have an incredibly calming and relaxing effect." Nevertheless, as I mentioned above, we need to temper brain teasing with some regular, old-fashioned birthday cheer.
So how do you know if you've written a birthday poem that's too clever? That's easy. Here's how:
Rule 1: If you think the birthday boy or girl has average intelligence, a cryptic poem (a poem with many hidden meanings) is too clever. Go for clever birthday poems that cleverly <i>and</i> clearly convey the message you want to express.
Rule 2: If you think the birthday girl or boy has above-average intelligence, a cryptic poem (a poem with many hidden meanings) is clever enough.</li>
Rule 3: If you do not know the intelligence level of the birthday boy or girl, follow Rule 1.</li>
At the same time, you must remember to write clever birthday poems that are not merely clever — in other words, write a poem that also makes the birthday girl or boy feel very special. 

You can easily make the birthday boy or girl feel great with a poem that also includes an inspirational or sentimental component. Bottom line: You should always express your true feelings for the birthday boy or girl with just the right dose of cleverness and birthday cheer, sentimentality or inspiration.
---





Jump to 300+



Birthday Poems
on This Site
---
Be the First to See What's New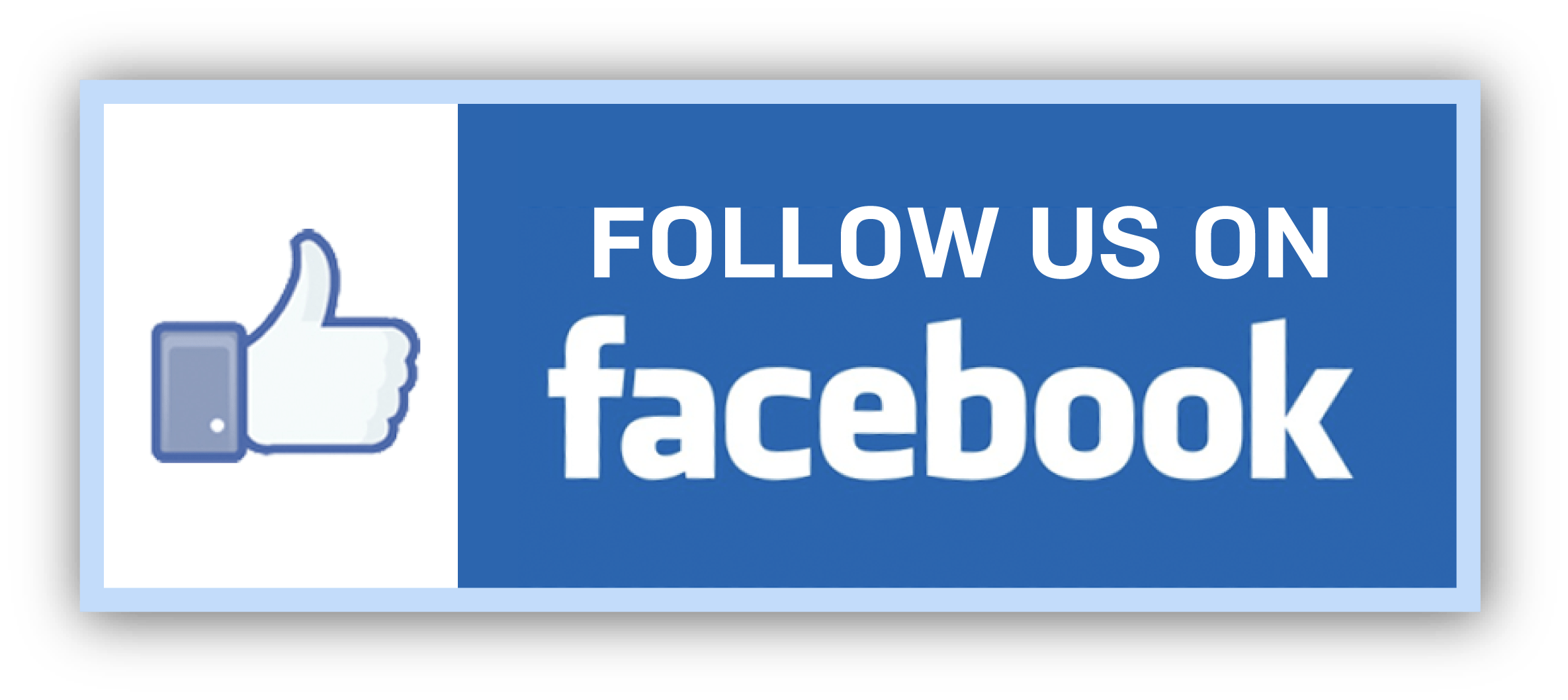 Message Guy
Creator of this site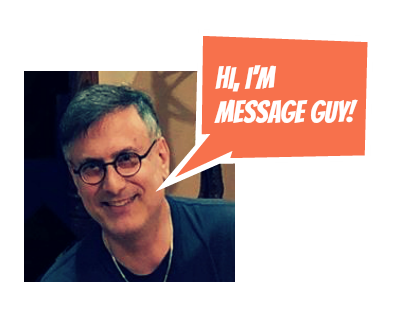 Kevin, the "Message Guy" who writes the birthday wishes, quotes, poems, toasts and speeches on BirthdayMessages.net, has been a content writer since 1993. In 2012, Kevin created this site to share the incredible power of words with birthday well-wishers everywhere.

Can't Find
What You Need?
Follow on FeedBurner
By  Kevin (aka "Message Guy")
Copyright © 2013-2023
BirthdayMessages.net.
All rights reserved. 
All trademarks and service marks
are the property of their
respective owners.
The copyrights of all birthday
messages on this website
belong to the individual authors.
Site 
Powered By
Solo Build It (SBI)
Build Your Own Website