Cute Birthday Poems
---
Cute birthday poems, at their cutest, have birthday messages with the perfect dose of cuteness for your loved one's birthday card, eCard, Facebook page and more — just like the poems for birthdays here.
On this page, no two poems are alike when it comes to their cuteness factor, so you will need to read each one, looking for the verse with the right amount of cuteness for you (because you need to like what you're giving as a birthday message) and, of course, the birthday girl or boy (since he/she is the recipient of your birthday wishes).
If you would like some helpful hints on choosing cute poems as birthday messages, take a moment to read the Message Guy Tip below.
Message Guy Tip #93:
How to pick cute birthday poems
Cute birthday poetry can make a nice birthday gift for anyone. Picking the right poem, unfortunately, is harder than you may think. Here's why...
Read more ►
---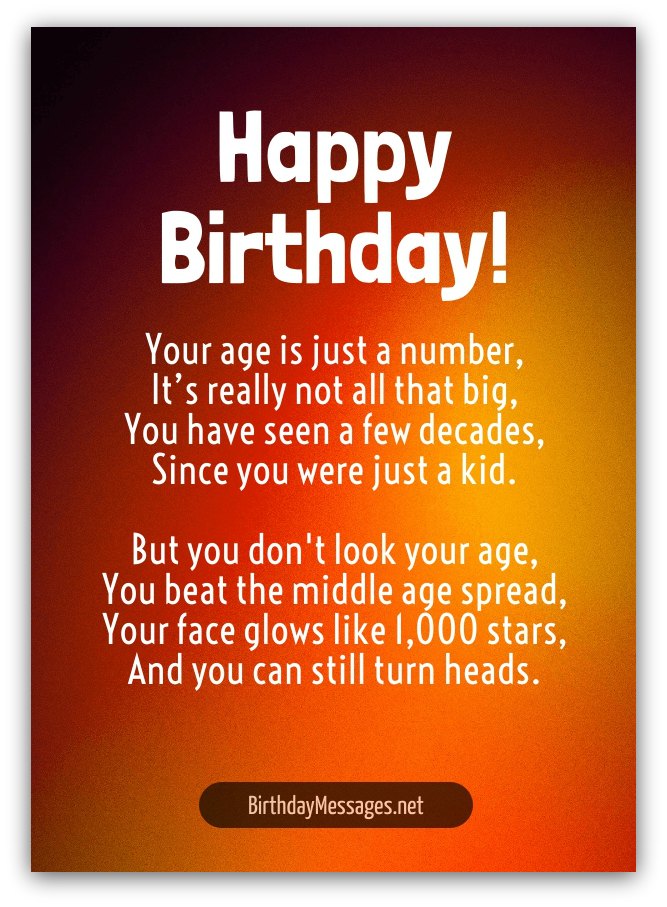 MY SCOOBY SNACK


By Deandré Haughton


Guest Poet

You're like a Scooby snack,
And I'm your Scooby-Doo,
You're trapped in a haunted house,
And I want to save you,
I know I can find you fast,
I just have to follow the clues,
Because you're my Scooby snack,
And I'm your Scooby-Doo. 

Happy birthday to Rooooo!
---
AGE IS JUST A NUMBER


By Message Guy

Your age is just a number,
It's really not all that big,
You have seen a few decades,
Since you were just a kid.

But you don't look your age,
You beat the middle age spread,
Your face glows like 1,000 stars,
And you can still turn heads.

Best wishes and happy birthday!
---
STILL YOUNG AT HEART


By Message Guy

All those nasty birthday cards,
That make fun of older folk,
Don't they know you're fragile?
They really shouldn't joke.

Sure, you may lack iron,
And vitamins A and D,
But you're still young at heart,
Younger than I'll ever be. 

Happy birthday!
---
BLOW OUT YOUR CANDLES


By Message Guy

Hurry, blow out your candles,
And wish for your heart's desire,
With so many years to celebrate,
Your birthday cake may catch fire! 


Best wishes on your birthday!
---
---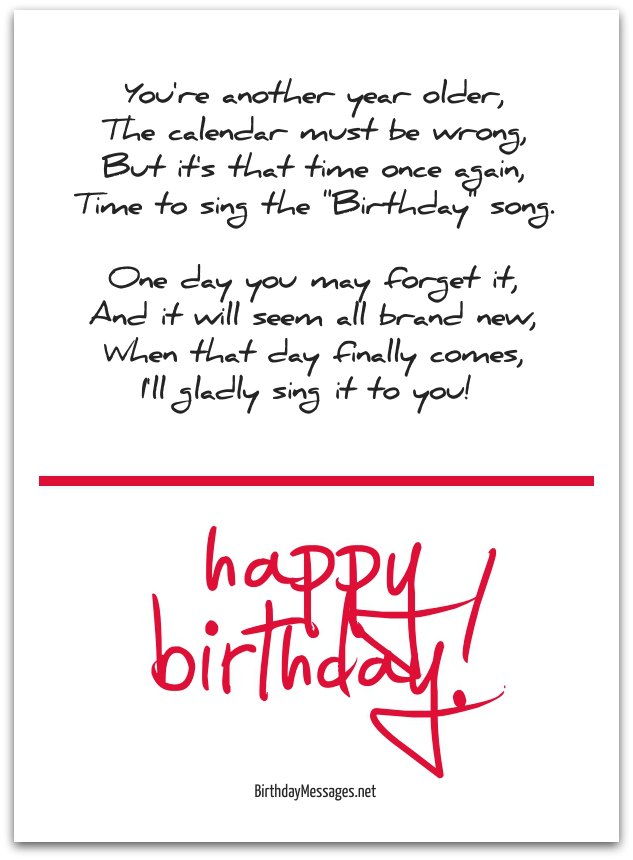 THE "BIRTHDAY" SONG


By Message Guy

You're another year older,
The calendar must be wrong,
But it's that time once again,
Time to sing the "Birthday" song.

One day you may forget it,
And it will seem all brand new,
When that day finally comes,
I'll gladly sing it to you! 


Happy birthday!
---
MY FAVORITE


By Message Guy

You've always been my favorite,
I like you much more than anyone,
You bring out my inner child,
Now it's your turn to have fun.

May your birthday bring you joy,
And smiles all day through,
Only the best for my favorite,
Nothing's too good for you.

Happy birthday!
---
THE PERFECT DAY


By Message Guy

May your birthday be special,
May everything go your way,
May you only receive warm wishes,
May you have the perfect day.
---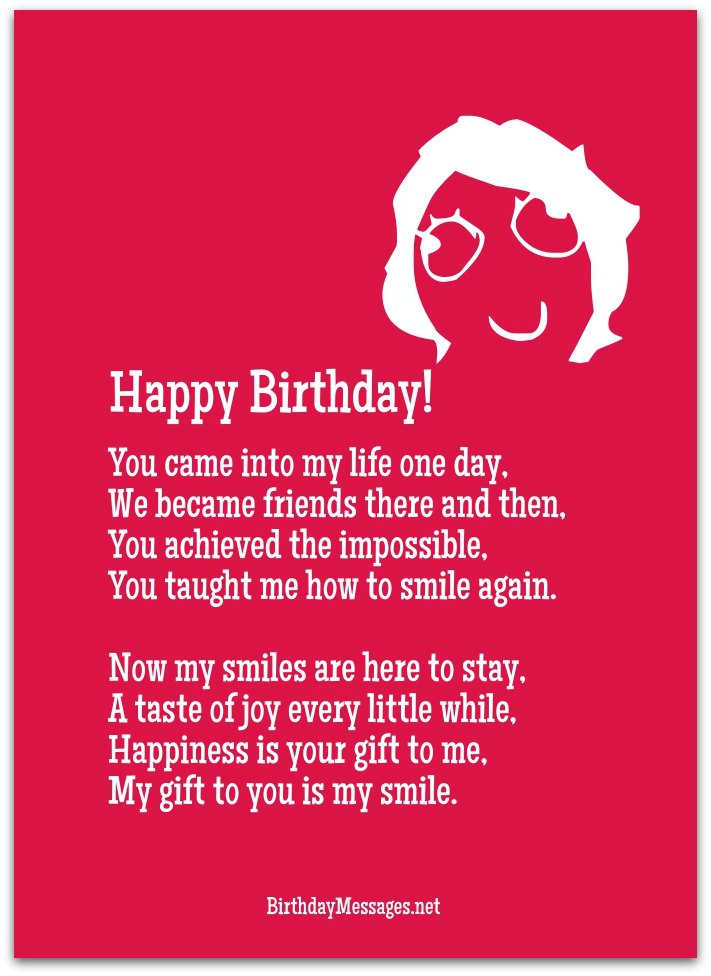 MY SMILE


By Message Guy

You came into my life one day,
We became friends there and then,
You achieved the impossible,
You taught me how to smile again. 

Now my smiles are here to stay,
A taste of joy every little while,
Happiness is your gift to me,
My gift to you is my smile.

Happy birthday!
---
MAGIC HAPPENS


By Message Guy

Happy birthday!

Hope you get what you wish for,
And all your dreams come true,
You deserve a truly magical day,
When magic happens just for you.
---
Message Guy Pick
From a "cuteness" perspective, I love this poem. Its appeal is universal, so you can send it to just about anyone. What makes it so cute? Well...
Read more ►
---
OODLES OF BIRTHDAY CHEER


By Message Guy

Let's have fun from morning 'til night,
Since birthdays come once a year,
Today should be special for you,
With oodles of birthday cheer. 

I'll fill a room with 1,000 balloons,
A birthday cake with icing galore,
Rows of candles to light up your day,
And piles of gifts that you'll adore.
---
Message Guy
Creator of this site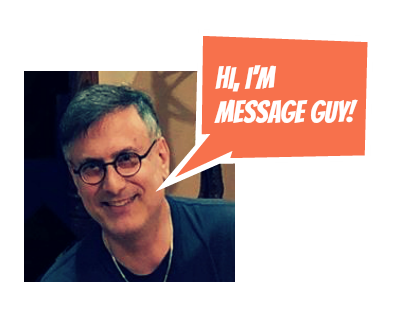 Kevin, the "Message Guy" who writes the birthday wishes, quotes, poems, toasts and speeches on BirthdayMessages.net, has been a content writer since 1993. He created this site in 2012 to share the power of words with you on one of the best days of the year — the birthday of a loved one.

Can't Find
What You Need?
By Kevin (aka "Message Guy")
Copyright © 2013-2020
BirthdayMessages.net.
All rights reserved.
All trademarks and service marks
are the property of their
respective owners.
The copyrights of all birthday
messages on this website
belong to the individual authors.
Site 
Powered By
Solo Build It (SBI)
Build Your Own Website