Cool Birthday Toasts
---
It's not easy to find cool birthday toasts but it's simple here. The toasts on this page are as cool as they come — and are free to use. Now that's cool!
Before you search for a cool toast below, however, keep in mind that the best kind of toasts also include a short, heartwarming message.
Remember, you don't have pick one that's too sentimental for your taste — it just needs to be heartfelt enough to make the birthday boy or girl feel as special as he or she is to you.
| | | |
| --- | --- | --- |
| The next time you become too serious about getting older, remember that life is much too short and way too important to take seriously. Happy birthday! | May trouble shadow you the rest of your days, but never cast a shadow over you. Have a wonderful birthday! | Here's to your destiny. May yours allow you to live a wonderful life of your own making. Happy birthday! |
| | | |
| --- | --- | --- |
| You're an angel. Even though you don't wear any wings, you wear a heart so strong on your sleeve it could melt the hearts of everybody you know. And you wear a smile that just makes the world want to smile back at you. You make angels of us all. We love you because heaven on earth is a choice you always make every day. Here's to the precious angel in our midst. Happy birthday! | Here's a toast to your coffin. May it be made from the finest of a 100-year-old oak tree. And may we plant this very tree together...tomorrow. Happy birthday! To your long life! | You have the power to make the weak strong, make the blind see and make the sad happy — and you use it so willingly without hesitation. May you be a beacon of strength, vision and joy for many birthdays to come. Here's to you. Here's to your birthday, a day as special as you. |

Quick Links
See everyone's favorite birthday messages
Keep searching for the coolest message!
You'll find even more cool birthday toasts...
| | | |
| --- | --- | --- |
| Today is the beginning of another year-long journey around the sun for you. Enjoy every day of the trip, especially the first one...your birthday! | Here's to you and yours and mine and ours. And if mine and ours ever come across you and yours, I hope you and yours will do as much for mine and ours, as mine and ours have done for you and yours! All this to say, happy birthday! | May your life, from immaturity to experience, youth to age, and expectation to accomplishment, be full of extremes. Happy birthday! May you live long and extremely. |
| | | |
| --- | --- | --- |
| Here's a tip from an old and wise sage: you do honor to your opportunity and reflect credit to your years. Happy birthday. | A toast to your health. You make age jealous, time furious — and all of us envious. Live long and beautiful. Happy birthday! | The mission of life: live, love, learn and leave a legacy. May you leave a life filled with love that we can all learn from.  Happy birthday! You are a true inspiration! |
Top of Cool Birthday Toasts
| | | |
| --- | --- | --- |
| May you live to be a hundred—and take up skydiving. Happy birthday! | Here's to your health. May the days of your birth never be measured by the span of your girth! Happy birthday! | May the clouds in your life be only a backdrop for a lovely sunset. Here's to your birthday! |
| | | |
| --- | --- | --- |
| May your hours of reminiscence be filled with moments of peace, days of good cheer, weeks of bliss and years of joyous memories. Happy birthday! | To your health! If all birthdays treated us half as kindly as yours, we would all celebrate them, too. May you live long in such youthful happiness. Happy birthday! | Let birthdays come and let birthdays go — but may your joy and wonder continue on forever. Happy birthday! |
---
<<Previous     1    2
---
Message Guy
Creator of this site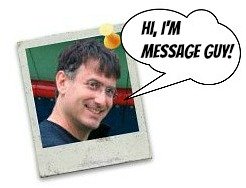 Meet the veteran writer behind every birthday message here
---
---
Check out these
popular pages
CAN'T FIND WHAT YOU NEED?
SEARCH HERE
---
Like this page?


Help me get the message out

Follow this site

 


on Facebook



Be the first to see what's new