Cute Birthday Poems
---
The best cute birthday poems, like the ones here, have birthday messages that can appeal to anyone, even people you wouldn't expect to like anything cute.
But you will need to determine the right dose of cuteness for you (since you need to like the birthday message you're going to send) and the birthday boy or girl (since too much cuteness tends to turn off certain people).
My advice for picking a winner? Just trust your inner cuteness barometer — it will tell you how much cuteness is the right dose.
A GIGANTIC WISH
By Message Guy
Happy birthday!
Blow out all your candles,
Make a gigantic wish,
I'll make them all come true,
And give you a huge kiss.
---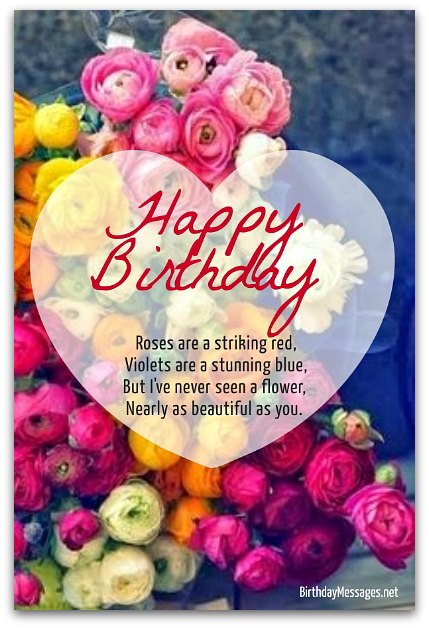 AS BEAUTIFUL AS YOU
By Message Guy
Roses are a striking red,
Violets are a stunning blue,
But I've never seen a flower, 
Nearly as beautiful as you.

Happy birthday.
---
A WONDERFUL DAY
By Message Guy
Birthdays are even more special,
When everything's going your way,
And everyone makes every moment,
Add up to a wonderful day.
Happy birthday.
---
---
YOUR CELEBRATION
By Message Guy
Have a happy birthday,
I wish you only the best,
Let's start your celebration,
And make today truly blessed.
---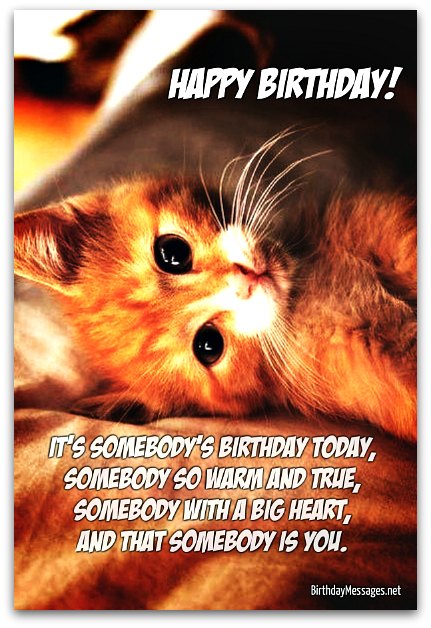 A BIG HEART
By Message Guy
It's somebody's birthday today,
Somebody so warm and true,
Somebody with a big heart,
And that somebody is you.
Happy birthday.
---
---
Your search isn't over!
There are more cute birthday poems below...
---
JUST HAVE FUN
BY Message Guy
It's your birthday,
So just have fun,
It's a special day,
Your very first one.

Happy birthday.
---
RIGHT ON TIME
By Message Guy
The bell started ringing,
Everybody's right on time,
Let's celebrate your birthday,
Let's get out all the wine.
Happy birthday. 
---
RIGHT BY MY SIDE
By Message Guy
Right by my side or miles apart,
You'll always be my best friend,
Today, tomorrow or decades away,
Our dear friendship will never end,

Your birthday is finally here to enjoy,
We'll party all day, just you and me,
Each moment will be so wonderful,
There's nowhere else I'd rather be.
Happy birthday.
---
PLUG INTO JOY 
By Message Guy
Each year brings all kinds of gifts,
Maybe a few wrinkles and some flab,
Just be glad you have your health,
There's just no point in feeling bad.
You need to find your happy place,
You need to plug into joy and play,
Birthdays remind us to celebrate life,
All the very best for your birthday.
---
<<Previous    1    2    3    Next>>  
Message Guy
Creator of this site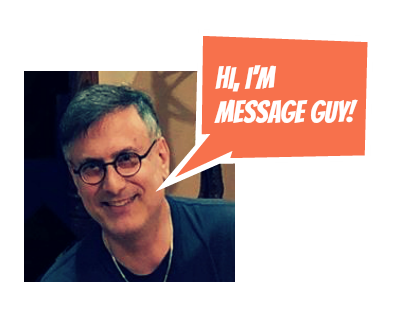 Kevin, the "Message Guy" who writes the birthday wishes, quotes, poems, toasts and speeches on BirthdayMessages.net, has been a content writer since 1993. He created this site in 2012 to share the power of words with you on one of the best days of the year — the birthday of a loved one.

Can't Find
What You Need?
By Kevin (aka "Message Guy")
Copyright © 2013-2020
BirthdayMessages.net.
All rights reserved.
All trademarks and service marks
are the property of their
respective owners.
The copyrights of all birthday
messages on this website
belong to the individual authors.
Site 
Powered By
Solo Build It (SBI)
Build Your Own Website