Cute Birthday Poems
---
The greatest cute birthday poems, like the poems for birthdays here, have the cutest, birthday messages that can make anyone smile and feel special.
Before you send your birthday wishes, be sure to determine how much cuteness is right for you (because you should really like what you're sending) and the birthday boy or girl (since you want him or her to be tickled by your message's cuteness, not nauseated by it). 
Need some help selecting the best cute poems? Click here right now to read my Message Guy Tip for great "how-to-choose-poem" tips. 
---
SO TRIM AND FIT
By Message Guy
Happy birthday!

You still look amazing,
You haven't aged a bit,
You've defied all odds,
You look so trim and fit.
The years have come and gone,
And we know what time can do,
But you've done the impossible,
Those years look just fine on you.
---
LOOKING BETTER
By Message Guy
Look who's another year older,
Looking better than anyone should,
Years from now when I'm your age,
I truly hope I look as good!

Happy birthday!
---
FUN, FUN, FUN, FUN
By Message Guy
Happy birthday!
So you've finally hit middle age,
That's great news to everyone,
Now we have a reason to party,
And have fun, fun, fun, fun.
---
---
DON'T WASTE TIME
By Message Guy
Birthdays come and go,
All the while our hair goes grey,
Don't waste time splitting hairs,
Make every day a good hair day. 
Happy birthday.
---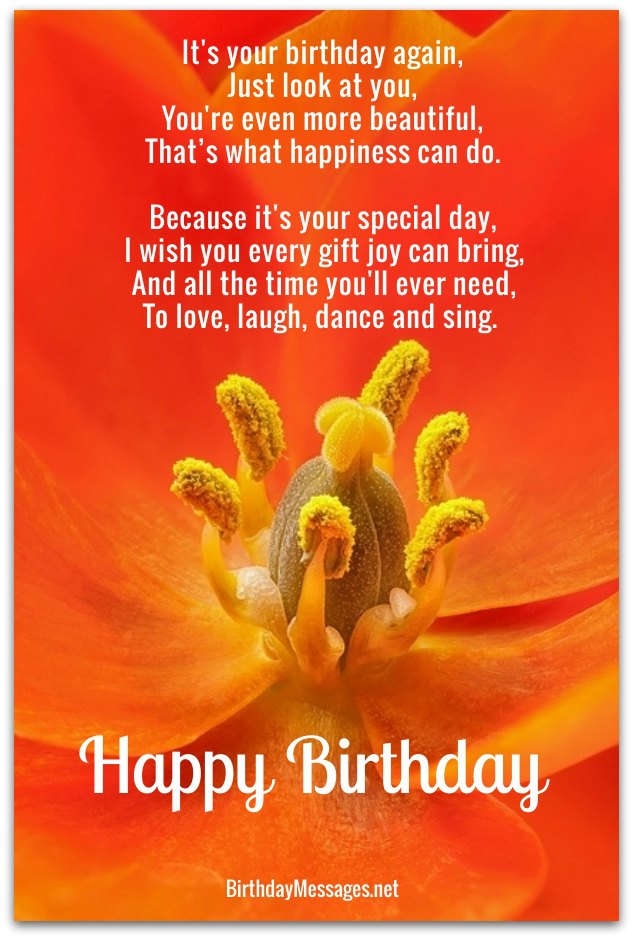 EVERY GIFT JOY CAN BRING
By Message Guy
It's your birthday again,
Just look at you,
You're even more beautiful,
That's what happiness can do.
Because it's your special day,
I wish you every gift joy can bring,
And all the time you'll ever need,
To love, laugh, dance and sing.
Happy birthday.
---
---
AS GOOD AS YOU
By Message Guy
When I get older,
I hope I look as good as you,
You better tell me how, 
I need to know what to do.

You make everything look easy,
That's just your way,
Though I know you work hard,
To be your best every day.
Happy birthday!

---
You don't have to stop searching!
Look at the cute birthday poems below...
---
HAPPY IN YOUR OWN SKIN
By Message Guy
When you see the lines on your face,
Be happy in your own skin,
Move forward gracefully,
Stop caring where you've been.
Happy birthday!
---
YOUR BIRTHDAY AT LAST
By Message Guy
Smile bigger than you ever smiled,
Laugh harder than you ever laughed,
This is a very special day for you,
Yay, it's your birthday at last.
There's no better day of the year,
No better gift of love, joy and peace,
And it's all for you,
May your birthday never cease.
---
ROCK THIS BIRTHDAY
By Message Guy
There's a time in everyone's life,
When your heart and soul rejoice,
A time to lend an ear to yourself,
And hear your glorious voice. 

Belt out your own tune,
Sing your favorite song,
Rock this birthday,
Make your voice loud and strong!
---
<<Previous    1    2    3  
Message Guy
Creator of this site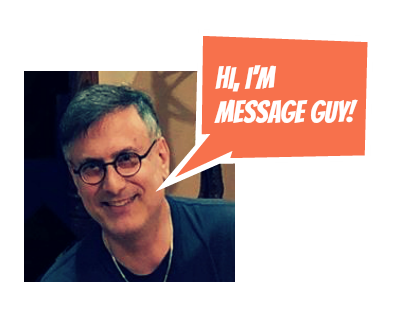 Kevin, the "Message Guy" who writes the birthday wishes, quotes, poems, toasts and speeches on BirthdayMessages.net, has been a content writer since 1993. He created this site in 2012 to share the power of words with you on one of the best days of the year — the birthday of a loved one.

Can't Find
What You Need?
By  Kevin (aka "Message Guy")
Copyright © 2013-2020
BirthdayMessages.net.
All rights reserved.
All trademarks and service marks
are the property of their
respective owners.
The copyrights of all birthday
messages on this website
belong to the individual authors.
Site 
Powered By
Solo Build It (SBI)
Build Your Own Website