Funny Birthday Poems

---
Perfect funny birthday poems get a chuckle and a smile from birthday guys and gals, plus make them feel perfectly happy the rest of their special day. That's the kind you'll get here.
You'll know when one of the funny poems on this page is perfect right away, if it has these two important qualities:
You find it funny.
You're pretty sure that the birthday boy or girl will find it funny.
Basically, it that's simple to find the right funny verse for your loved ones. For more tips, click the "Message Guy Tip" link right below.
Message Guy Tip:
How to choose funny birthday poems
If you need a few helpful hints to set you on the path to the best funny poems, click here to check out Message Guy Tip #74. It takes less than a minute to read but could lead to a poem with everlasting appeal.
---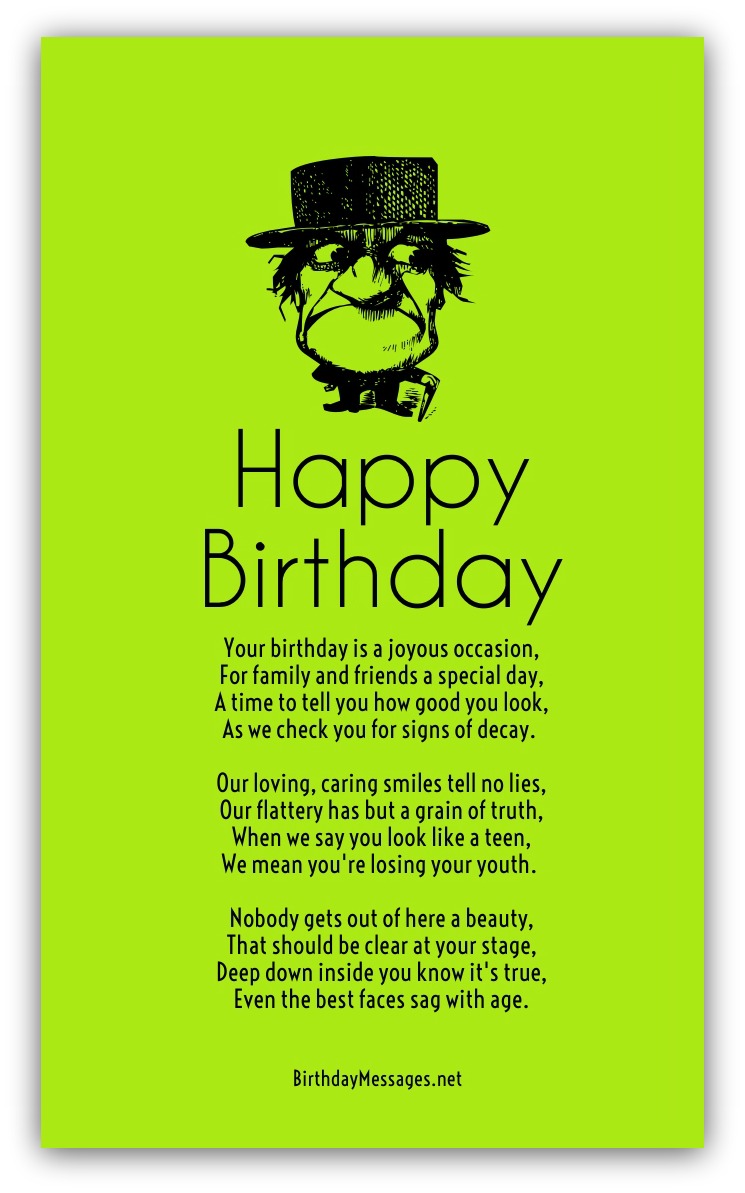 THE BEST FACES
By Message Guy
Your birthday is a joyous occasion,
For family and friends a special day,
A time to tell you how good you look,
As we check you for signs of decay. 
Our loving, caring smiles tell no lies,
Our flattery has but a grain of truth,
When we say you look like a teen,
We mean you're losing your youth. 
Nobody gets out of here a beauty,
That should be clear at your stage,
Deep down inside you know it's true,
Even the best faces sag with age.
---
THE GLASS
By Message Guy
The glum cry the glass is half empty,
The jolly see the glass as half full,
I say drink up to the very last drop,
All this talk is a whole lot of bull.
---
DOLLARAMA
By Message Guy
Money has gotten a little scarce,
You might say times are hard,
So I went to the local Dollarama,
And bought you this birthday card.
---
---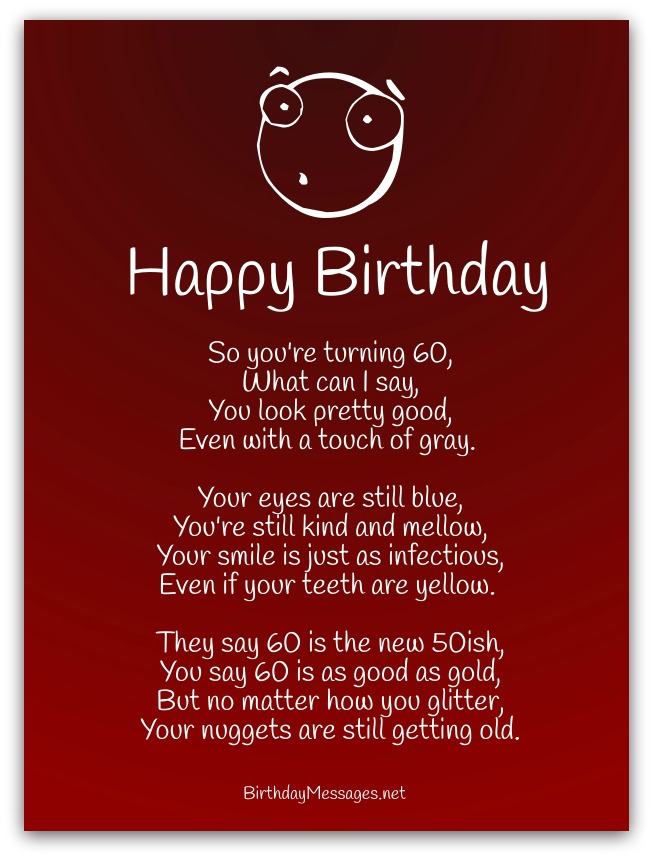 60 IS THE NEW 50-ISH
By Message Guy
So you're turning 60,
What can I say,
You look pretty good,
Even with a touch of gray. 
Your eyes are still blue,
You're still kind and mellow,
Your smile is just as infectious,
Even if your teeth are yellow. 
They say 60 is the new 50ish,
You say 60 is as good as gold,
But no matter how you glitter,
Your nuggets are still getting old.
---
THE PORCELAIN LORD
By Message Guy
Because it's your birthday party,
You should pray to the porcelain lord,
So if you decide to drink too much,
The super bowl will be your reward.
---
BIRTHDAYS SUCK
By Message Guy
Roses are red,
Violets are blue,
Birthdays suck,
If they're not for you.
Happy birthday!
---
Need more options?

Check out the funny birthday poems here...
---
THIS IS YOUR GIFT
By Message Guy
Roses are red,
Violets are blue,
This is your birthday gift,
It sucks to be you.
---
THE FIRST ROUND
By Message Guy
Roses are red,
Violets are blue,
Now that you're 21,
The first round's on you.
---
YOUNGER
By Message Guy
Roses are red,
Violets are blue,
I'm still younger,
So boo hoo hoo. 
---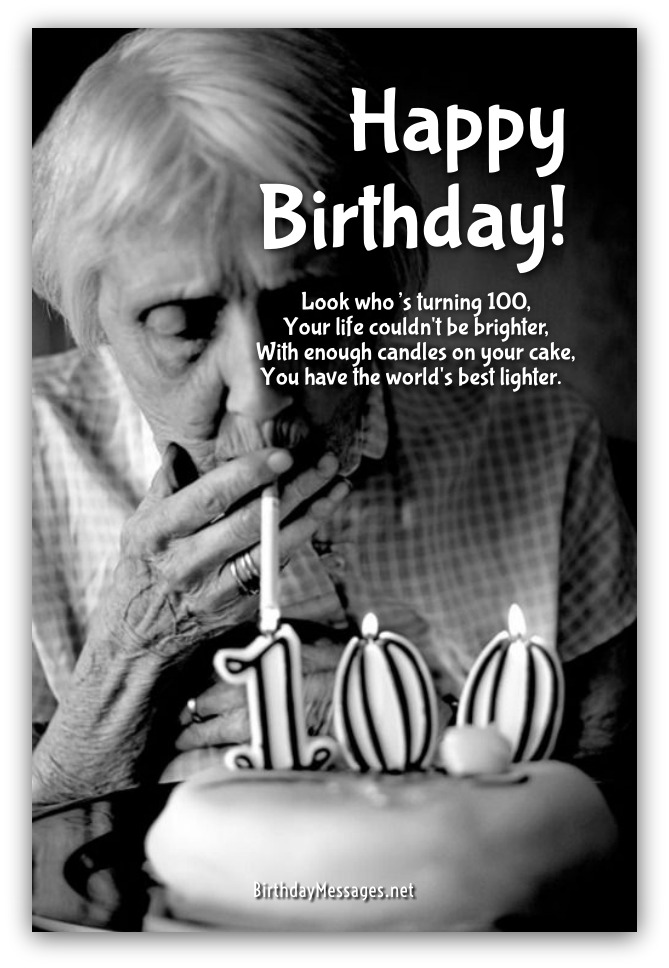 LOOK WHO'S TURNING 100
By Message Guy
Happy birthday!
Look who's turning 100,
Your life couldn't be brighter,
With enough candles on your cake,
You have the world's best lighter.
---
Message Guy
Creator of this site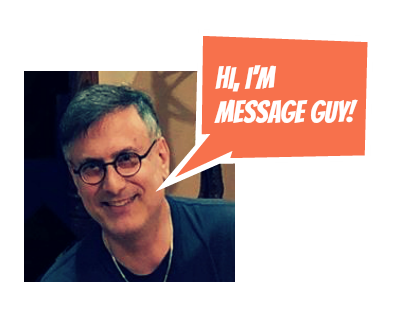 Kevin, the "Message Guy" who writes the birthday wishes, quotes, poems, toasts and speeches for this site, has been a professional writer, editor and translator for more than 25 years. He decided to create BirthdayMessages.net in 2012 to share his passion for birthday and "unbirthday" quotes on the best day of the year — your birthday.

CLICK HERE TO LEARN MORE ABOUT KEVIN (AKA MESSAGE GUY) 
Can't Find
What You Need?
By Kevin (aka "Message Guy")
Copyright © 2013-2019
BirthdayMessages.net.
All rights reserved.
All trademarks and service marks
are the property of their
respective owners.
The copyrights of all birthday
messages on this website
belong to the individual authors.
Site 
Powered By
Solo Build It (SBI)