Funny Birthday Poems

---
With funny birthday poems, like the funny poems for birthdays here, you have funny birthday messages that are so much funnier for the birthday girl or boy than any simple birthday verse could ever be.
I can't predict the funny poem you'll end up choosing as a birthday message — that's totally a subjective choice — but I can tell you that it will have two things in common with other hilarious poetry: It makes you laugh and it will very likely make the birthday boy or girl laugh.
That's basically all you need to know to pick the right poem. If you need more helpful hints, just click the "Message Guy Tip" right below.
---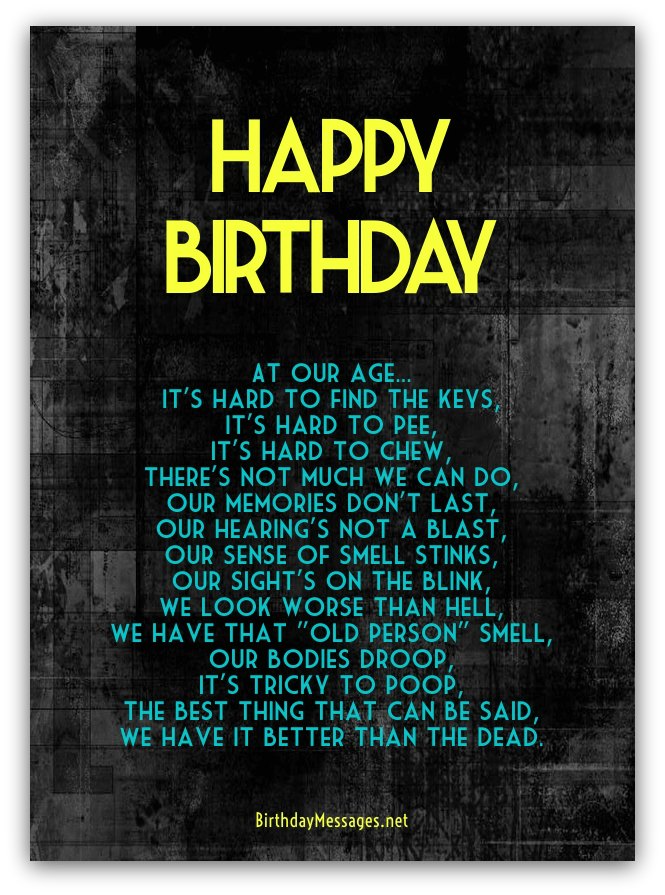 "OLD PERSON" SMELL
By Message Guy
At our age...
It's hard to find the keys,
It's hard to pee,
It's hard to chew,
There's not much we can do,
Our memories don't last,
Our hearing's not a blast,
Our sense of smell stinks,
Our sight's on the blink,
We look worse than hell,
We have that "old person" smell,
Our bodies droop,
It's tricky to poop,
The best thing that can be said,
We have it better than the dead.
---
AGING GRACELESSLY
By Message Guy
It's your birthday once again,
Another year has flown by,
You tell yourself you're fine,
But all you want to do is cry.
Getting older can be a real drag,
With nobody to scratch your back,
It's a pain to tie your shoes,
And there's no pleasure in the sack.
Aging gracefully is for the rich,
Who can change their face on a dime,
So happy birthday, my friend,
Let's party before we run out of time.
---
---
FROM A SLOUCH
By Message Guy
Happy birthday, Mom,
There's no one quite like you,
You cooked all my meals,
And cleaned each inch of my room.
You don't know how great you are,
And this is coming from a slouch,
I want to be more like you,
If I could just get off the couch.
So enjoy your special day,
You deserve a break,
I'll do everything I can,
But first can you make me a steak?
---
IT'S YOU I WANT TO THANK
By Message Guy
Happy birthday, Dad,
It's you I want to thank,
I'd act more like a grown up,
If you weren't always my bank.
I will try to be better,
I want be just like you,
Truehearted, loving and loyal,
Someone who makes a mean BBQ. 
So enjoy your day, Dadio,
It's my turn to take out the trash,
I'll even take you out to dinner,
But first can I borrow some cash?
---
DON'T YOU WORRY
By Message Guy
When things start to shrivel,
When they start to wear down,
Don't you worry about it.
Don't you feel down. 
You have many special days,
And lots of lovely nights ahead,
It may just take a little longer,
For you to get out of bed. 
---
---
There's still more to see!
See the funny birthday poems below...
---
CLUTCH
By Message Guy
You know you're getting older,
When you clutch the rail on the stairs,
Just as long as you go up and down,
Nobody really cares. 
---
BEST SISTER EVER
By Message Guy
Happy birthday, Sis,
Best friends we will forever be,
You're the best sister ever,
Right after amazing me.
I can't help that I'm so popular,
A girl so superb and insanely pretty,
You could be too if you were nicer,
And not that other word for witchy.
---
AGING CAN BE SO FUN
By Message Guy
Ouch, you're turning 50,
Time for aches and pains to appear,
When nothing's where it should be,
And you shun anything tight or sheer.
But worry not, my dear friend,
Because aging can be so fun,
You will just jiggle a little more,
When you try to walk or run. 
---
REVOLVING DOORS
By Message Guy
For your 50th birthday,
I'd like to share a little fact,
When you see a revolving door,
Take a deep breath and relax.
You'll get out soon enough,
Though it seems dim at first glance,
Simply stay calm and smile,
You'll get another chance.

Happy 50th birthday!
---
<< Previous     1    2    3
Message Guy
Creator of this site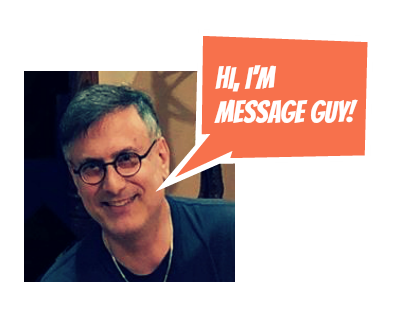 Kevin, the "Message Guy" who writes the birthday wishes, quotes, poems, toasts and speeches for this site, has been a professional writer, editor and translator for more than 25 years. He decided to create BirthdayMessages.net in 2012 to share his passion for birthday and "unbirthday" quotes on the best day of the year — your birthday.

CLICK HERE TO LEARN MORE ABOUT KEVIN (AKA MESSAGE GUY) 
Jump to
these Popular Pages
Can't Find
What You Need?
Make Your Own
Birthday Happy Again
By Kevin (aka "Message Guy")
Copyright © 2013-2019
BirthdayMessages.net.
All rights reserved.
All trademarks and service marks
are the property of their
respective owners.
The copyrights of all birthday
messages on this website
belong to the individual authors.
Site 
Powered By
Solo Build It (SBI)