Happy Birthday Poems
---
When you send happy birthday poems, like the happy poems for birthdays here, you're sending happy birthday messages that can make loved ones find their happy.
Because happy birthday verses combine every kind of birthday message — from sentimental and inspirational wishes to cute and funny greetings — they are undoubtedly the "go-to" birthday wish when you're not sure what type you want to send. 
Like any poems, happy birthday poetry is in the eye of the beholder. With such a huge choice of birthday poems here, you're sure to find the perfect one for your family and friends.
Message Guy Tip:
How to pick happy birthday poems
Need some advice on picking the best happy poems for the ones you love? Simply click here to check out Message Guy Tip #95. You'll just need less than a minute to read it!
---
AS STRONG AS STEEL
By Message Guy
On your birthday every year,
I thank the stars you were born,
With you as my best friend,
My life's all candy and popcorn. 

As each year brings new tests,
I know how glad I feel,
You've got my back every day,
Our friendship's as strong as steel.
Birthdays come and birthdays go,
Another year of yours has just begun,
This message is sent to let you know,
In the Friends department, you're #1.
---
CHEERFUL AND BRIGHT
By Message Guy
I wish you an amazing birthday,
A day that's cheerful and bright,
For you have a big, giving heart,
Full of joy from morning to night. 
May every moment be wonderful,
Hope many gifts come your way,
The greatest gifts life has to offer,
Making your birthday an amazing day.
---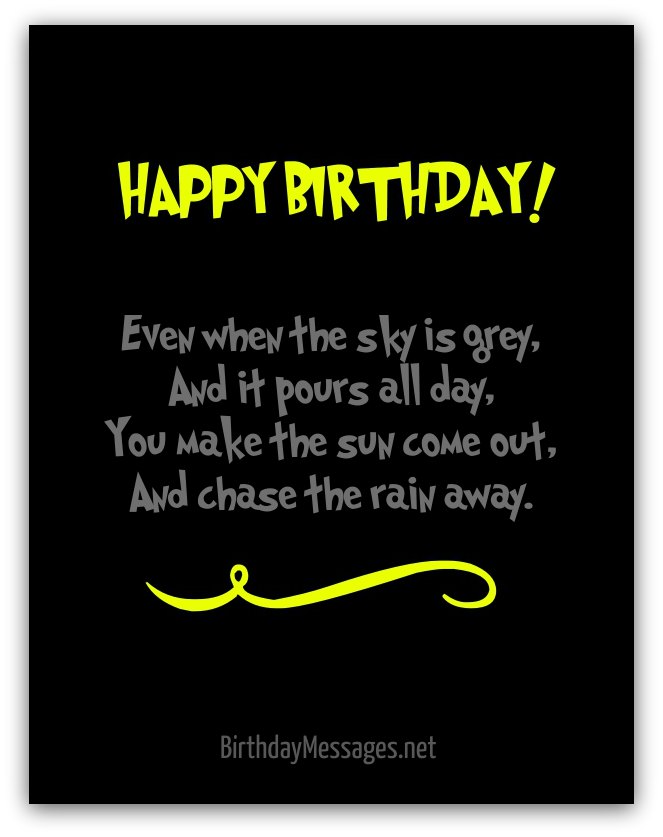 CHASE THE RAIN AWAY
By Message Guy
Happy birthday.

Even when the sky is grey,
And it pours all day,
You make the sun come out,
And chase the rain away.
---
ONE OF A KIND
By Message Guy
Your birthday is here once again,
And it seems like only yesterday,
You first graced our world,
Bringing so much joy our way.

Now let me give you your greetings,
I hope you get them just on time...
I wish you a happy, happy birthday,
And day that's truly one of a kind. 

---
Happy trails

!



Here's the path to more happy birthday poems...
FOR EVERYTHING BRIGHT
By Message Guy
A cheery "hello" on your birthday,
And wishes for everything bright,
To keep you completely contented,
And happy from morning till night.

---
TRULY SPECIAL THINGS
By Message Guy
Happy birthday to my best friend,
You deserve the best of the best,
All the truly special things in life,
Whatever makes you the happiest.
---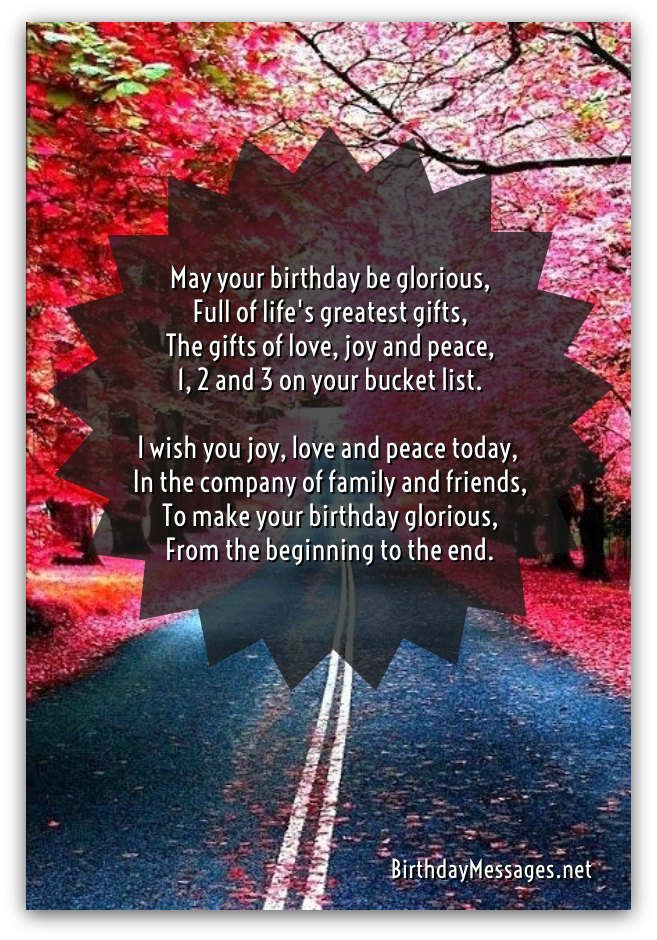 GLORIOUS
By Message Guy
May your birthday be glorious,
Full of life's greatest gifts,
The gifts of love, joy and peace,
1, 2 and 3 on your bucket list.
I wish you joy, love and peace today, 
In the company of family and friends,
To make your birthday glorious,
From the beginning to the end.
---
<<Previous     1    2    3  
Message Guy
Creator of this site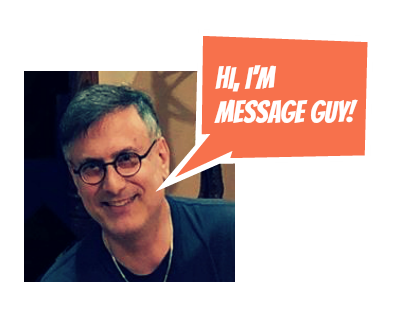 Kevin, the "Message Guy" who writes the birthday wishes, quotes, poems, toasts and speeches for this site, has been a professional writer, editor and translator for more than 25 years. He decided to create BirthdayMessages.net in 2012 to share his passion for birthday and "unbirthday" quotes on the best day of the year — your birthday.

CLICK HERE TO LEARN MORE ABOUT KEVIN (AKA MESSAGE GUY) 
Can't Find
What You Need?
By Kevin (aka "Message Guy")
Copyright © 2013-2019
BirthdayMessages.net.
All rights reserved.
All trademarks and service marks
are the property of their
respective owners.
The copyrights of all birthday
messages on this website
belong to the individual authors.
Site 
Powered By
Solo Build It (SBI)