Happy Birthday Poems
---
The best thing about happy birthday poems? Their guaranteed-to-make-you-smile birthday messages. That's what makes the happy poems for birthdays here the best.

Happy-go-lucky poems are, of course, the cheerful way to celebrate the birthdays of the ones you love...and are guaranteed to put a smile on anyone's face. 
But did you know that these birthday poems are also the safest way to go? It's true! It's virtually impossible to offend anyone with a happy poem.
Message Guy Tip #95:
How to choose happy birthday poems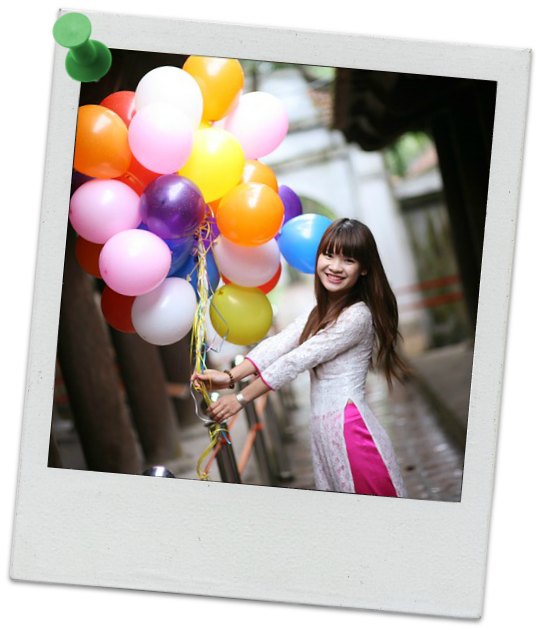 Out of all the birthday messages you can send to a love one, happy poems are the safest. Why? Two reasons. First...
Read more ►
---
A VERY HAPPY BIRTHDAY
By Message Guy
May you have a very happy birthday,
A celebration with family and friends,
Filled with whatever brings you joy,
The kind of joy that never ends.
---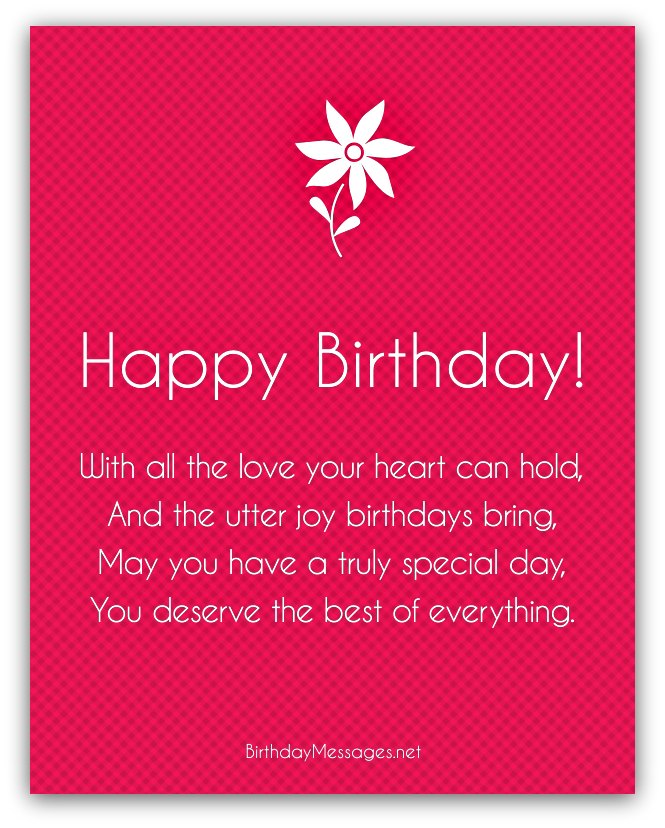 THE BEST OF EVERYTHING
By Message Guy
With all the love your heart can hold,
And the utter joy birthdays bring,
May you have a truly special day,
You deserve the best of everything.
---
---
FULL OF LOVE AND LIFE
By Message Guy
Let's raise a glass and make a toast,
Wishing joy, peace and health to you,
May your birthday be truly happy,
Full of love and life all day through.
---
BIG WISHES FOR YOU
By Message Guy
Today is your special birthday,
I have three big wishes for you,
I wish you peace, joy and love,
All day and all year through.
---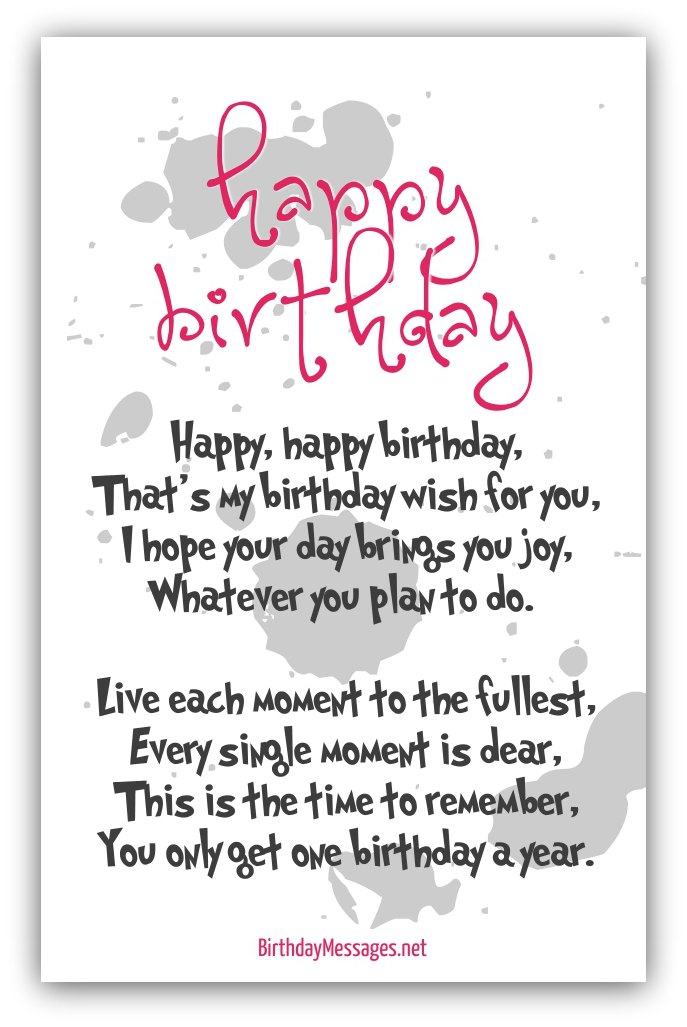 LIVE EACH MOMENT
By Message Guy
Happy, happy birthday,
That's my birthday wish for you,
I hope your day brings you joy,
Whatever you plan to do. 
Live each moment to the fullest,
Every single moment is dear,
This is the time to remember,
You only get one birthday a year.
---
FULL OF CHEER
By Message Guy
May you have a special day,
May your heart be full of cheer,
May love and laughter find you,
May your smiles be ear to ear. 
May your joy be everlasting,
May only good things come your way,
May all your prayers be answered,
May you be blessed on your birthday.
---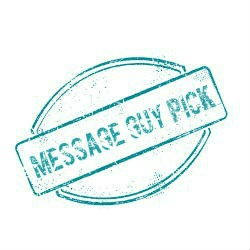 WISH FOR THE VERY BEST
By Message Guy
Close your eyes and make a wish,
Give it wings and let it fly,
Beyond the highest mountain tops,
Up into the clear blue sky.
Aim high when you make your wish,
This is no time to retreat or hide,
Wish for the very best in life,
Now blow out your candles and try.
Happy birthday!

---
Find your happy

!



Find more happy birthday poems here...
HAPPY MAY YOU BE
By Message Guy
My very best wishes,
For the very best day,
Happy may you be,
In every possible way.
Morning, noon and night,
And every hour in between,
May your day be special,
As only birthdays can be. 

Let's get this party started,
It's time to celebrate,
It's never too early to have fun,
Let's groove 24 hours straight.
---
JUST WHAT I FEEL
By Message Guy
This birthday wish is for you,
I hope you like what I wrote,
It took me many hours to do it,
The words were stuck in my throat.
At first my mind was a total blank,
I didn't know what to say to you,
So I will wish you what's in my heart:
May your wildest dreams come true.

And happy birthday, of course!
---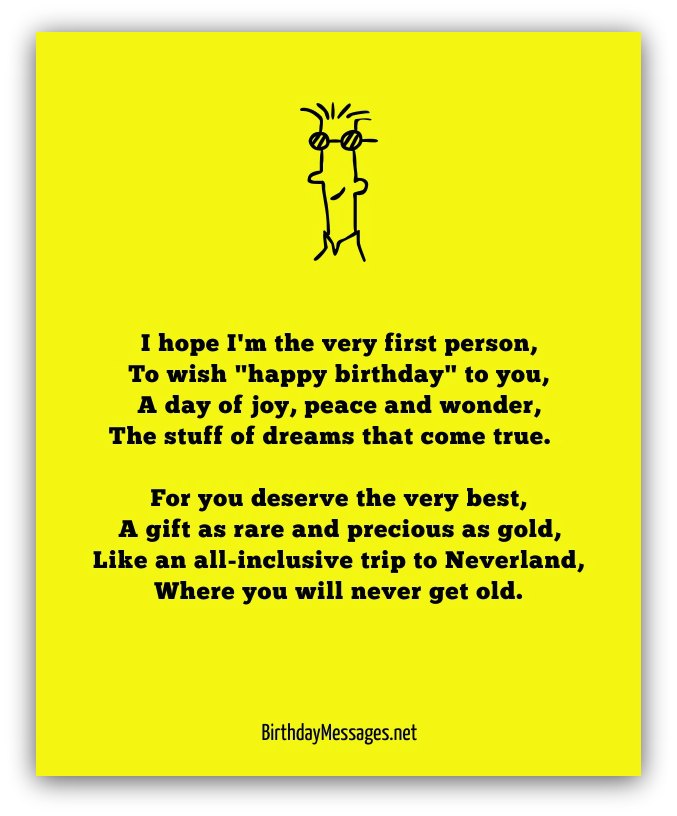 JOY, PEACE AND WONDER
By Message Guy
I hope I'm the very first person,
To wish "happy birthday" to you,
A day of joy, peace and wonder,
The stuff of dreams that come true. 
For you deserve the very best,
A gift as rare and precious as gold,
Like an all-inclusive trip to Neverland,
Where you will never get old.
---
Message Guy
Creator of this site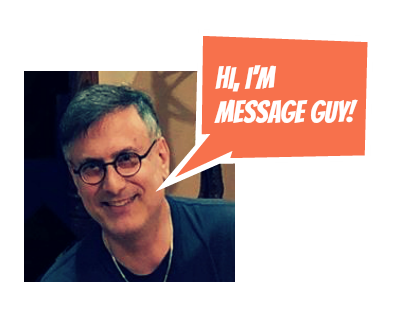 Kevin, the "Message Guy" who writes the birthday wishes, quotes, poems, toasts and speeches for this site, has been a professional writer, editor and translator for more than 25 years. He decided to create BirthdayMessages.net in 2012 to share his passion for birthday and "unbirthday" quotes on the best day of the year — your birthday.

CLICK HERE TO LEARN MORE ABOUT KEVIN (AKA MESSAGE GUY) 
Jump to
these Popular Pages
Can't Find
What You Need?
Make Your Own
Birthday Happy Again
By Kevin (aka "Message Guy")
Copyright © 2013-2019
BirthdayMessages.net.
All rights reserved.
All trademarks and service marks
are the property of their
respective owners.
The copyrights of all birthday
messages on this website
belong to the individual authors.
Site 
Powered By
Solo Build It (SBI)