Inspirational Birthday Poems
---
With the unique inspirational birthday poems here, wish the ones you love a "Happy Birthday" and inspire them to shine their brightest, starting with their birthday.
The words you choose to show loved ones that you truly care about them can go a long way toward inspiring them. If you need some help with finding the right words, take a moment to look at the Message Guy Tip below.
Message Guy Tip:
How to choose inspirational birthday poems
---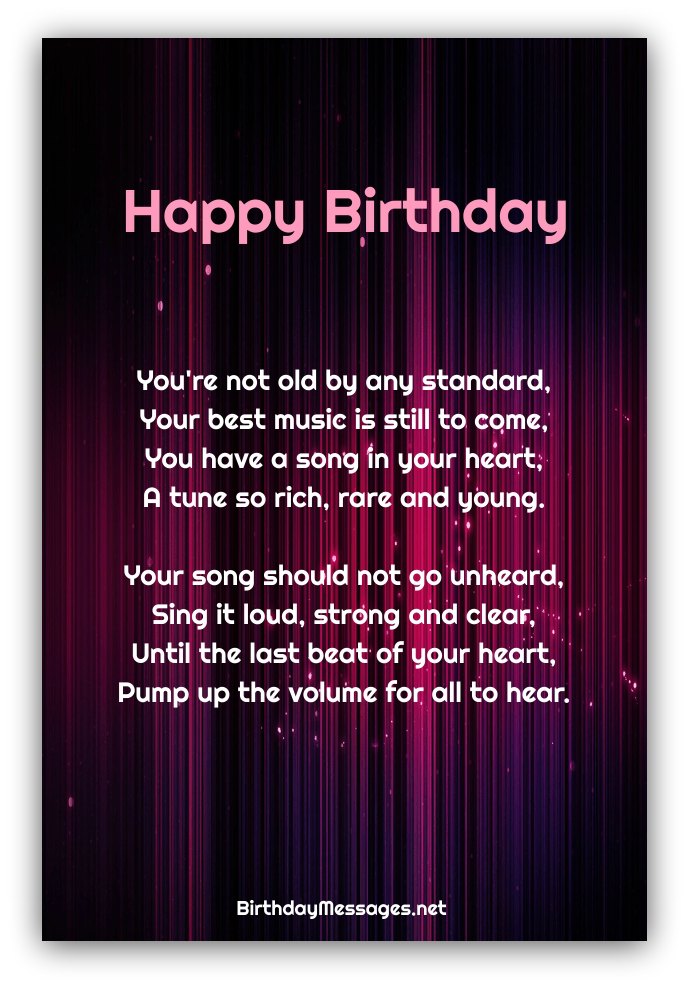 FOR ALL TO HEAR
By Message Guy
Happy birthday!
You're not old by any standard,
Your best music is still to come,
You have a song in your heart,
A tune so rich, rare and young.
Your song should not go unheard,
Sing it loud, strong and clear,
Until the last beat of your heart,
Pump up the volume for all to hear.
---
DEAR, WONDERFUL YOU
By Message Guy
It's your birthday today,
Time to bake you a cake,
With all the joy you bring,
For all the love you make. 
Your cake's deliciously sweet,
Each piece good to the last bite,
Like dear, wonderful you,
Every ingredient is just right.
Happy birthday!
---
---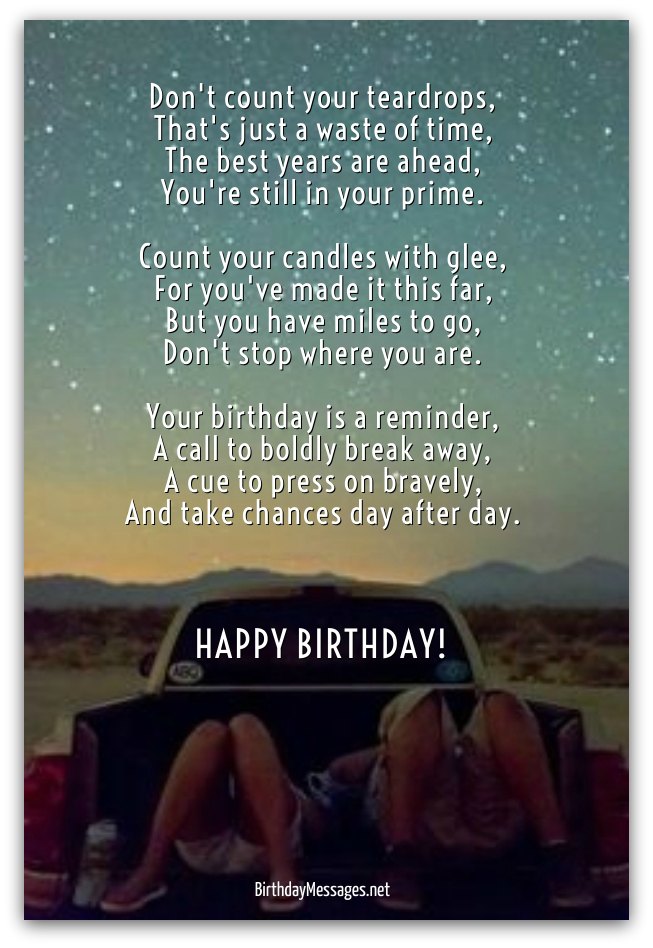 BOLDLY BREAK AWAY
By Message Guy
Don't count your teardrops,
That's just a waste of time,
The best years are ahead,
You're still in your prime.
Count your candles with glee,
For you've made it this far,
But you have miles to go,
Don't stop where you are.
Your birthday is a reminder,
A call to boldly break away,
A cue to press on bravely,
And take chances day after day.
---
GO AS FAR AS YOU POSSIBLY CAN
By Message Guy
Today is your birthday,
There's no reason to be down,
It's time to stop worrying,
Don't make life one big frown. 
Behold what you've done,
You've accomplished so much,
More than you ever thought,
You have the golden touch.

Keep up the amazing work,
You know that you could,
Go as far as you possibly can,
It's the best way to feel good.
---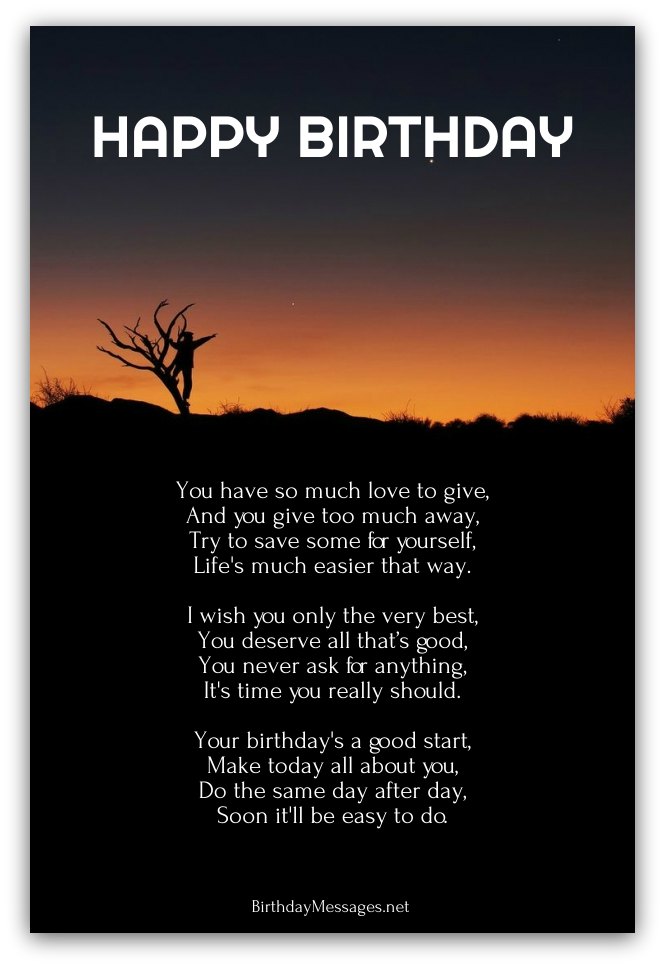 MAKE TODAY ALL ABOUT YOU
By Message Guy
You have so much love to give,
And you give too much away,
Try to save some for yourself,
Life's much easier that way.
I wish you only the very best,
You deserve all that's good,
You never ask for anything,
It's time you really should.
Your birthday's a good start,
Make today all about you,
Do the same day after day,
Soon it'll be easy to do.
---
YOU'RE OUTSTANDING
By Message Guy
If I had a magic wand,
I'd wave it just for you,
Because you're outstanding,
Great at everything you do. 

Happy birthday!
---
---
TODAY AND EVERY DAY
By Message Guy
Hope your birthday's wonderful,
Nice in every single way,
Hope your dreams come true,
Today and every day.
---
Still looking for inspiration?
Look at the inspirational birthday poems below
Find more inspirational birthday poems for the ones you love right below. You'll be happy you spent some time hunting for the best poems here.
---
AS YOU WALK THROUGH THIS LIFE
By Message Guy
As you walk through this life,
I wish you joy. 
As you walk through this life,
I wish you prosperity. 
As you walk through this life,
I will walk beside you. 
In case you ever need to rest,
You can stop along this road of life.
You can stop here and there. 
The biggest challenge is still to come,
It's not where you plan to go,
But how you finally get there. 
Whatever direction you take,
Whatever gets in your path,
I just want to be there for you,
With you I will stay. 
Happy birthday!
---
A NEW DECADE IS HERE
By Message Guy
It's hard leaving your 30s,
The years went by so fast,
But now you're fab and 40,
It's sad to dwell on the past. 
It's time to celebrate,
A new decade is here,
There's so much to see,
Everything's so clear.

You won't be 40 forever,
It's time to party on,
Before you know it,
Another year will be gone. 
Have a great 40th birthday!
---
YOUR AGE IS JUST A NUMBER
By Message Guy
If you think you're getting better,
If you think you're wiser too,
I'd have to agree,
I think the world of you.

Your age is just a number,
An age that looks good on you,
Happy birthday, my dear friend,
May your wildest wishes come true.
---
<<Previous    1    2    3    4    Next>>  
Message Guy
Creator of this site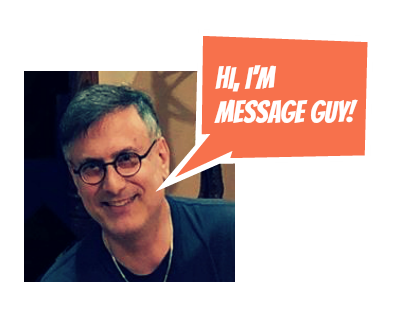 Kevin, the "Message Guy" who writes the birthday wishes, quotes, poems, toasts and speeches for this site, has been a professional writer, editor and translator for more than 25 years. He decided to create BirthdayMessages.net in 2012 to share his passion for famous quotes on the best day of the year — your birthday.

CLICK HERE TO LEARN MORE ABOUT KEVIN (AKA MESSAGE GUY) 
Can't Find
What You Need?
By Kevin (aka "Message Guy")
Copyright © 2013-2020
BirthdayMessages.net.
All rights reserved.
All trademarks and service marks
are the property of their
respective owners.
The copyrights of all birthday
messages on this website
belong to the individual authors.
Site 
Powered By
Solo Build It (SBI)