Romantic Birthday Poems
---
The one you love more than anyone or anything in the world deserves the best romantic birthday poems in the world.
As British romance novelist Elinor Glyn once wrote, "Romance is the glamour which turns the dust of everyday life into a golden haze." So true, so true.
Romantic love makes us do the craziest things, things that are wonderfully unforgettable. It makes us feel more alive.
Now that you're in love, you understand what I mean. You understand why well-chosen romantic poetry is the best kind of gift for your special someone. It's the gift of love.
You'll find that wonderful, amazing, romantic gift right here.
Message Guy Tip:
How to pick romantic birthday poems
Just a click away are helpful hints that will make it much easier for you to find the right romantic poems for your sweetheart. Click here to read Message Guy Tip #94 right now and, in a minute or less, you'll be closer than ever to the perfect poem choice.
---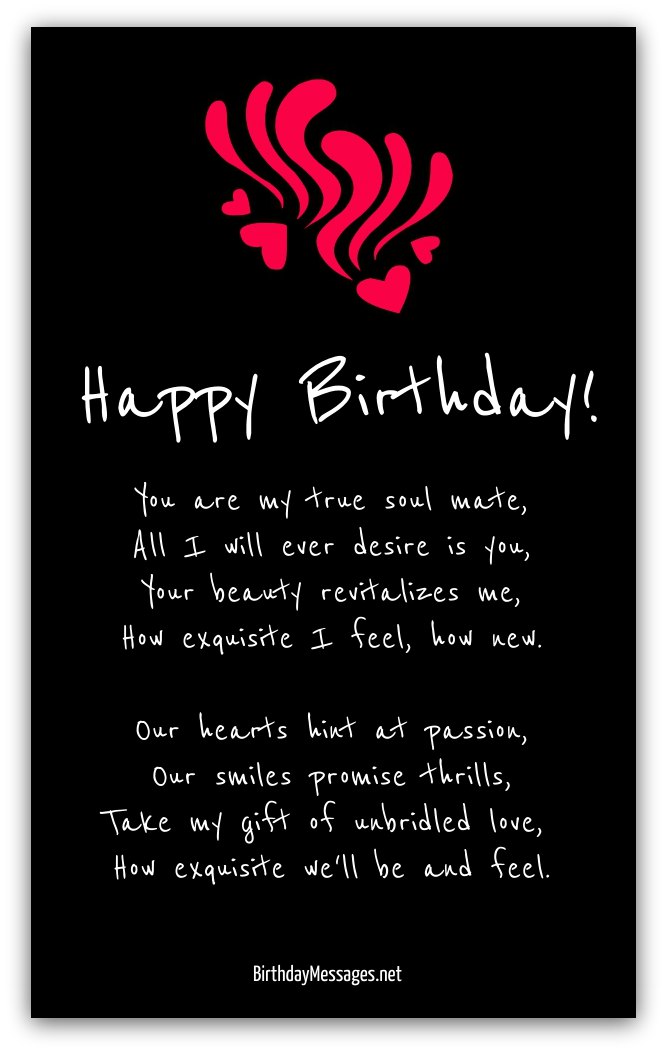 HOW EXQUISITE
By Message Guy
Happy birthday.
You are my true soul mate,
All I will ever desire is you,
Your beauty revitalizes me,
How exquisite I feel, how new.
Our hearts hint at passion,
Our smiles promise thrills,
Take my gift of unbridled love, 
How exquisite we'll be and feel.
---
THE TENDER FLAME I HOLD
By Message Guy
Happy Birthday!
I wish you only the very best,
From the bottom of my heart,
A gift of love wrapped in yearning,
And a gentle kiss with lips apart.
You can feel it on my burning skin,
The tender flame I hold for you,
With your special day upon us,
Let my love set you on fire too.
---
---
THAT'S ALL I NEED
By Message Guy
To stay with you,
To hear your voice,
To see your smile,
To walk with you,
To talk to you,
And laugh with you awhile.
That's all I need,
To make my days as happy as can be,
Because I love you,
You truly mean everything to me. 
Happy birthday!
---
MY MATCH
By Message Guy
You are my match.
One look from you can light a flame,
One of your smiles can start a fire,
One touch by you can set love ablaze,
One kiss of yours burns with desire! 
Happy birthday!
---
THE DEEPEST LOVE
By Message Guy
Happy birthday!
No birthday wish wishes more joy,
Mine is full of all my heart bestows,
My tender hug, warm kiss, soft touch,
And the best love you'll ever know. 
---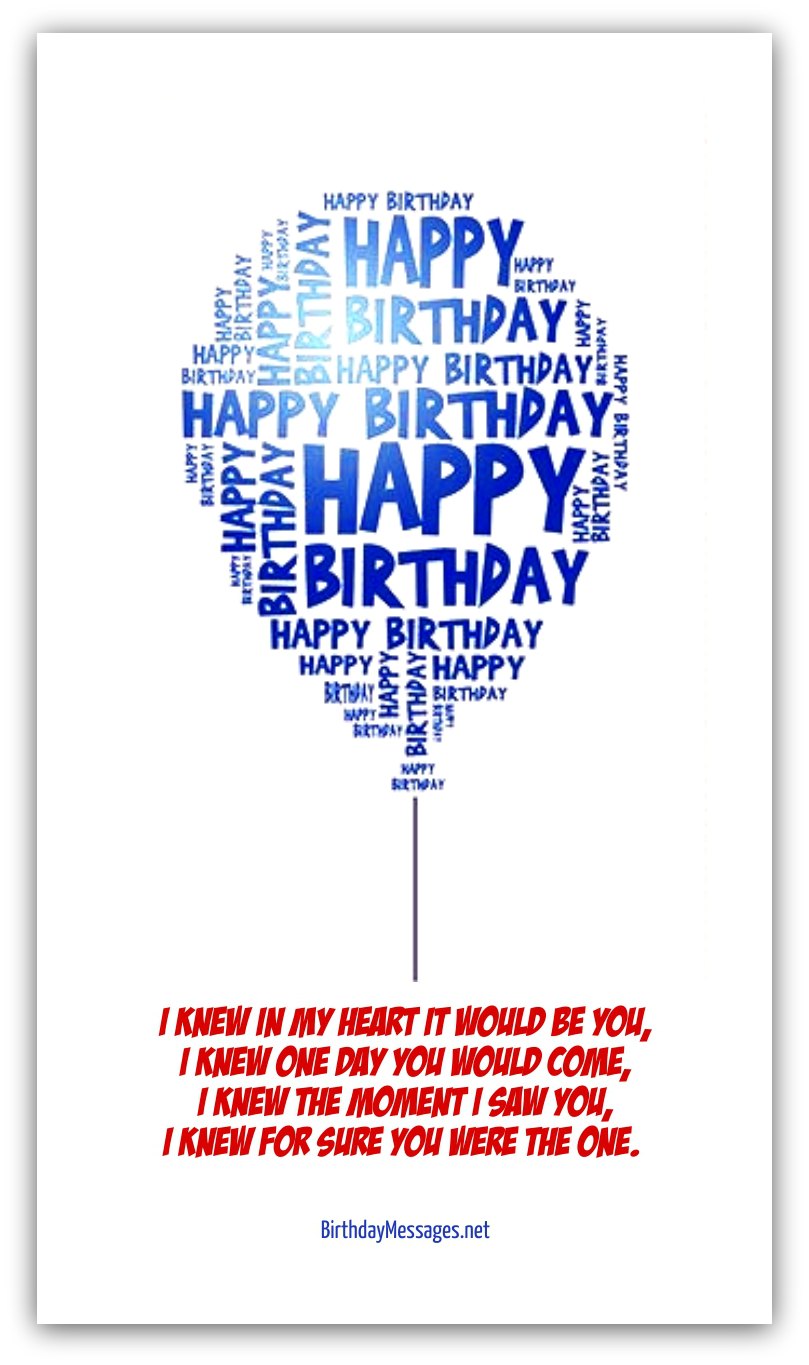 I KNEW
By Message Guy
I knew in my heart it would be you,
I knew one day you would come,
I knew the moment I saw you,
I knew for sure you were the one. 
Happy birthday!
---
---
Your search should not end here!
Find more romantic birthday poems below...
I LOVE YOU
By Message Guy
I would like to say "I love you" today,
But you object to those words,
The last time I said them went badly,
So I'll just keep my heart unheard. 

How the words echo within me,
A song I must struggle to sing alone,
A tune I must dance to without you,
A poem that I must read on my own. 

Your heart is a wall I cannot scale,
Yet won't abandon, nor leave behind,
I would like to say "I love you" today,
So I've written you this loving rhyme.
---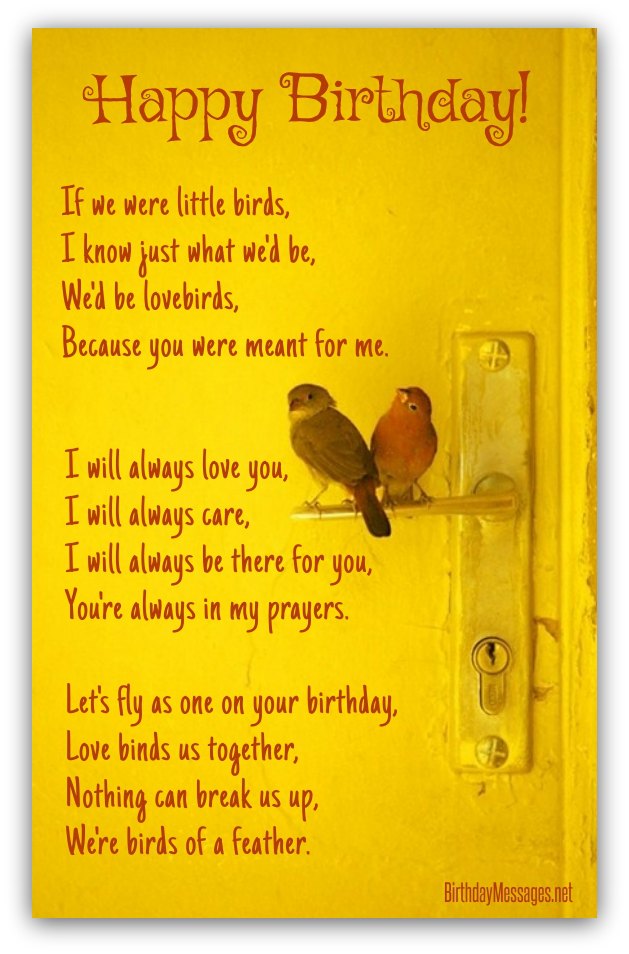 LOVEBIRDS
By Message Guy
If we were little birds,
I know just what we'd be,
We'd be lovebirds,
Because you were meant for me.
I will always love you,
I will always care,
I will always be there for you,
You're always in my prayers.
Let's fly as one on your birthday,
Love binds us together,
Nothing can break us up,
We're birds of a feather.
---
THAT SPECIAL SOMEONE
By Message Guy
I knew when I met you,
I knew from the start,
You would be that special someone,
Who would steal my heart. 
Love and best wishes
on your birthday!
---
ALL MY TIME WITH YOU
By Message Guy
When we have to be miles apart,
I have to admit I just don't feel right,
I love spending all my time with you, 
Every morning, noon and night. 
Happy birthday, sweetheart!
---
<<Previous     1    2    3    4     Next>>
Message Guy
Creator of this site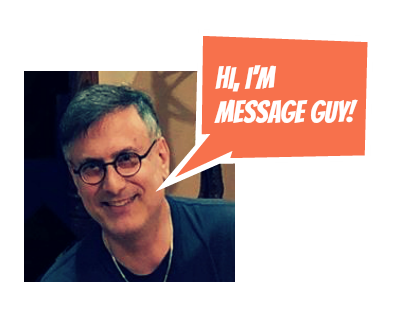 Kevin, the "Message Guy" who writes the birthday wishes, quotes, poems, toasts and speeches on BirthdayMessages.net, has been a content writer since 1993. He created this site in 2012 to share the power of words with you on one of the best days of the year — the birthday of a loved one.

Can't Find
What You Need?
By Kevin (aka "Message Guy")
Copyright © 2013-2020
BirthdayMessages.net.
All rights reserved.
All trademarks and service marks
are the property of their
respective owners.
The copyrights of all birthday
messages on this website
belong to the individual authors.
Site 
Powered By
Solo Build It (SBI)
Build Your Own Website