Romantic Birthday Poems
---
Give your sweetheart perfectly romantic birthday poems, the kind with beautifully written birthday messages of endless love and joy — the kind you'll find here.
Because romantic love has inspired some of the most beautiful and passionate poetry, there are so many (maybe too many) to choose from.
Here, I've narrowed the field somewhat and written and picked "birthday" poems for romancing your special someone.
If you're ready to select a poem packed with heartfelt passion for your fiancé, lover, girlfriend, boyfriend, husband or wife, get started right below.
Message Guy Tip:
How to pick romantic birthday poems
It never hurts to have a little help when it comes to choosing romantic poems for your sweetheart's birthday. That's why you should spend a minute or less reading my helpful hints on this very subject. Interested? Just click here to read Message Guy Tip #94. Then, you'll be a pro at selecting romantic birthday poems!
---
SO DEEPLY
By Message Guy
You light me up all day and night,
I'm mad for your soft, loving touch,
I never thought I'd love someone,
So deeply, so purely, so much.

Happy birthday!
---
I'M SO HAPPY
By Message Guy
Like jalapenos, you're very hot,
Like berries, you're incredibly sweet,
I'm so happy to be part of your life,
You make my life truly complete. 
Happy birthday!
---
MY NEVERENDING SERENADE
By Message Guy
There are days I want to hug you,
Just hold you in my arms,
There are days I want to kiss you,
And mesmerize you with my charm.
But today is different,
It's all about you,
It's all about celebrating,
Everything you do.
You are my sunshine,
My reason for living,
You're what makes me better,
The reason I'm so giving.
So now I want to give to you,
Something I know you'll love,
A birthday present you'll adore,
A gift that you can take hold of.
It's my everlasting devotion,
My neverending serenade,
I love you, I love you, I love you.
Happy birthday!
---
---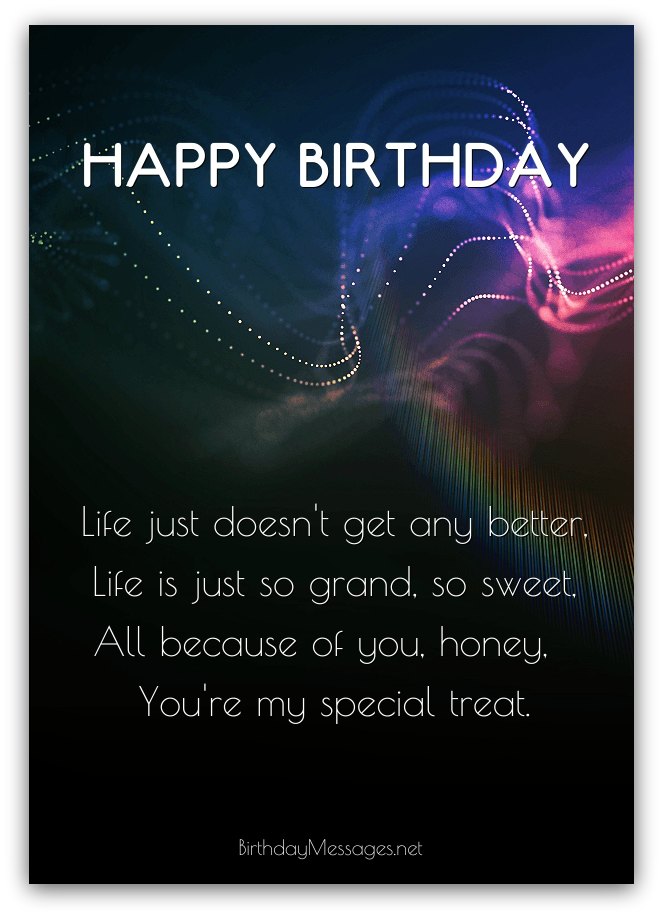 BECAUSE OF YOU
By Message Guy
Life just doesn't get any better,
Life is just so grand, so sweet,
All because of you, honey,
You're my special treat.
Happy birthday, sweetheart!

---
YOU'RE THE BEST
By Message Guy
Happy birthday, honey!
What would life be without you?
I don't ever want to know,
I need you more and more every day,
My love for you continues to grow. 
Your pure beauty astounds me,
One look at you tells me I'm blessed,
I know how lucky I am,
I know you're the best.
---
---
I'M SO LUCKY
By Message Guy
With patience, love and caring,
You always know exactly what to do,
You know how to love me madly,
I'm just so lucky to have you. 
Happy birthday, darling!
---
A HEART FULL OF WISHES
By Message Guy
When you hug me so tightly,
There's no place I'd rather be,
I love when you kiss my lips,
You mean the world to me. 
On your birthday, honey,
My love I send to you,
With a heart full of wishes,
May all your dreams come true.
---
THERE'S NO OTHER LOVE
By Message Guy
If I was to search everywhere,
The whole world through,
There's no other love I'd find,
As special and wonderful as you. 
Happy birthday, my love!
---
Don't stop searching

!



See more romantic birthday poems below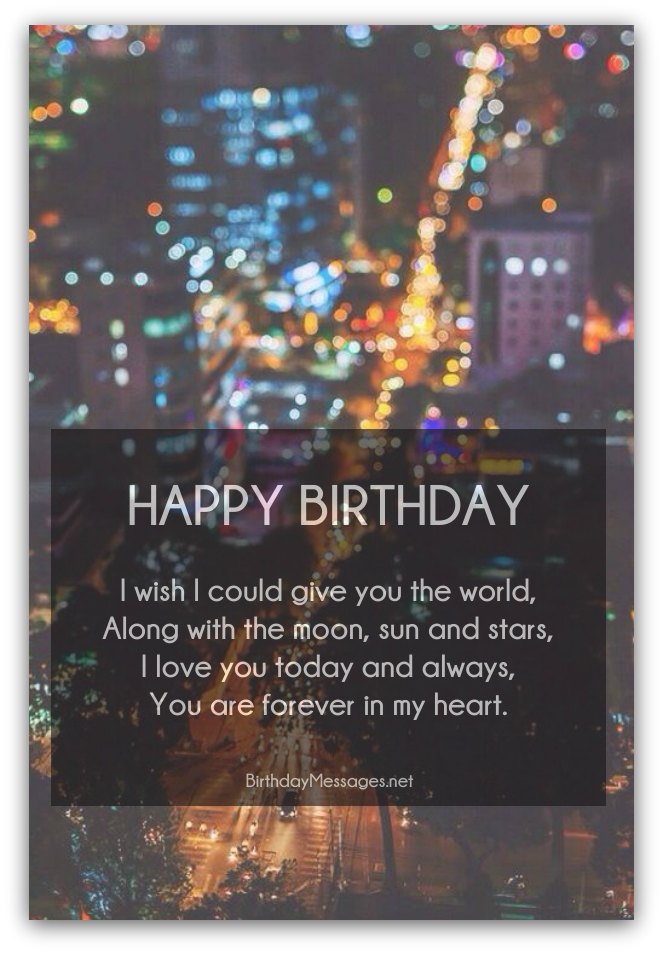 THE MOON, SUN AND STARS
By Message Guy
Happy birthday, sweetheart, 
I wish I could give you the world,
Along with the moon, sun and stars,
I love you today and always,
You are forever in my heart.
---
SO PERFECT 
By Message Guy
If I searched the world over,
I know I would never find,
Someone as wonderful as you,
I'm so very glad you're mine,

You're just so perfect for me,
You're everything I adore,
Happy birthday, darling,
I couldn't ask for more.
---
YOU'RE SO VERY PRECIOUS
By Message Guy
Some say that life is rough,
The path is not always clear,
But one thing I can tell you,
It makes no difference, dear.

Your love is most important,
You're so very precious to me,
As long as you're by my side,
That's all I really need.
Happy birthday, sweetheart! 

---
NOTHING WILL EVER CHANGE
By Message Guy
It's not just that you're beautiful,
It's not just your gorgeous smile,
Everything about you is so right,
You drive me wonderfully wild.
Nothing will ever change,
My love will never fade,
I'll always be here for you,
 True to the promises I've made.
Happy birthday!
---
CRAZY IN LOVE
By Message Guy
When each day is over,
And I'm cuddling with you,
This is where I want to be,
There's nothing I'd rather do,

When I hear your sweet voice,
And look into your beautiful face,
I'm crazy in love with you,
You make my heart race.
Happy birthday, honey!
---
<<Previous     1    2    3    4     Next>>  
Message Guy
Creator of this site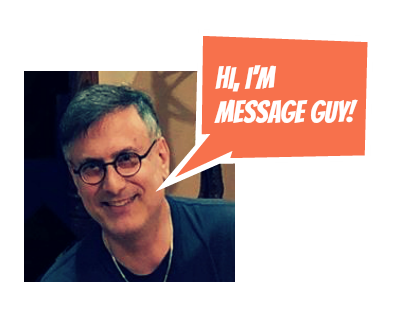 Kevin, the "Message Guy" who writes the birthday wishes, quotes, poems, toasts and speeches on BirthdayMessages.net, has been a content writer since 1993. He created this site in 2012 to share the power of words with you on one of the best days of the year — the birthday of a loved one.

Can't Find
What You Need?
By Kevin (aka "Message Guy")
Copyright © 2013-2020
BirthdayMessages.net.
All rights reserved.
All trademarks and service marks
are the property of their
respective owners.
The copyrights of all birthday
messages on this website
belong to the individual authors.
Site 
Powered By
Solo Build It (SBI)
Build Your Own Website