Romantic Birthday Toasts
---
Great romantic birthday toasts have one thing in common: heart...and lots of it.
Make your toast a tender gift of love wrapped in the heartfelt words right from this page.
Whatever toast you choose, it'll be a great way to kick off the birthday celebration for your girlfriend, boyfriend, fiancé, lover, husband or wife, who is sure to fall under the spell of your romantic toast. What a wonderful gift of love to give him or her.
And it's easy to get started here. Just pick one of the examples below. You can use them "as is" or add your own romantic thoughts to them. You can even add two or more of them together to make a long toast.
| | | |
| --- | --- | --- |
| To me, you are completely intoxicating, more delectable than the finest wine. You are ravishing, more beautiful than a orange, gold and crimson sunset. And you are exquisite, lovelier than a million kisses. Here's to you, my dearest. Happy birthday! | May we love to live a lifetime and live to love a lifetime. Happy birthday, darling! | I love you absolutely, abundantly, achingly, adventurously, angrily, anxiously and audaciously. You are my very greatest love. Happy birthday, dear! |

Quick Links
| | | |
| --- | --- | --- |
| | Let's drink to your birthday, which is everything, because it's all about you. Let's drink to love, which is nothing, unless it's with you too. | |
| | | |
| --- | --- | --- |
| Here's to moderation in everything we do — except when it comes to love. That's our motto, darling. Happy birthday! I love you without end! | The world is filled with so many beautiful things, but none more beautiful than you. Everything and everyone you love is touched by your beauty. You're so beautiful to me. Happy birthday! | With each year, I love you more. Remember that your best years are still ahead of you and I'll be there for every up and down and everything in between. I love you. Happy birthday! |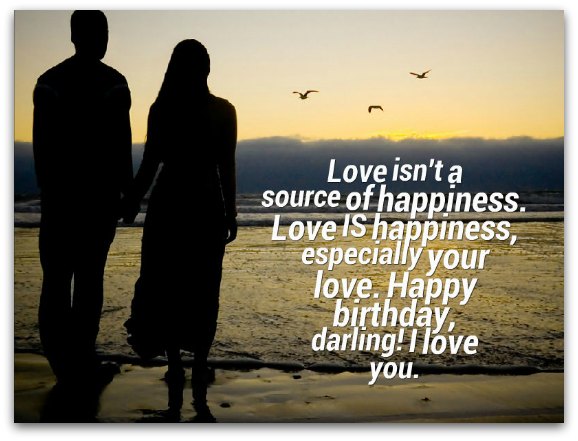 See everyone's favorite birthday messages
| | | |
| --- | --- | --- |
|  Here's a toast to my soulmate! I love you more today than yesterday, more than every day since the moment I met you, but not as much as tomorrow or every day until the end of time. Happy birthday, sweetheart! | Here's to my one and only love. May you always remember that you and you alone are — and will forever be — the center of my attention, the sole focus of my love. Happy birthday, honey! | Here's to you, my sweetheart, my fortress in adversity, my window to hope and the foundation of my joy. Happy birthday! |
| | | |
| --- | --- | --- |
| Love isn't a source of happiness. Love IS happiness, especially your love. Happy birthday, darling! I love you. | My beautiful wife, we are all gathered here to celebrate someone we love dearly: you.  I'm here because I feel the same way...multiplied by a trillion! Happy birthday, honey bunch! | Year after year, everything and everyone we know and love in our lives changes...and you keep changing for the better in every way. Here's to you, darling! Happy birthday! I love you! |
| | | |
| --- | --- | --- |
| I know I don't say it as often as I should — but I'm crazily and hopelessly in love with you! This is the one day of the year I get to tell you how much I care about you. You deserve all the love in the world. You have mine lock, stock and barrel. Hope you have an amazing birthday, my love! | There's only one thing I can say to you: I'm fully, entirely, extremely, utterly, unequivocally, perfectly, exclusively and, more than ever, wholeheartedly in crazy, mad love with you! Happy birthday, my precious love. | May the everlasting love I give you warm your soul, as yours does to mine. Happy birthday! |
---
<<Previous     1    2
---
Message Guy
Creator of this site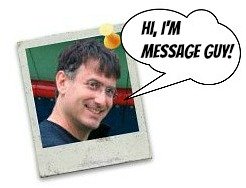 Meet the veteran writer behind every birthday message here
---
---
Check out these
popular pages
CAN'T FIND WHAT YOU NEED?
SEARCH HERE
---
Like this page?


Help me get the message out

Follow this site

 


on Facebook



Be the first to see what's new