Sentimental Birthday Poems

---
Sentimental birthday poems, at their best, can take your loved ones on a sentimental journey. Let the tender birthday poems here start that journey for them.
What should you look for in a sentimental birthday message? Make sure that the sentimental birthday verse you choose has just the right dosage of sentimentality for the birthday boy or girl — not too much, not too little. You want to pick one that fits the personality of your loved one perfectly.
---
NOBODY'S FINER THAN YOU
By Message Guy
Happy birthday, my dearest friend,
To me, you're heaven sent,
No matter what comes my way,
You're there to the fullest extent.
I've never known a kinder soul,
Your spirit is brighter than ever,
You have the grace of an angel,
Even through the stormiest weather.
A better friend I've never had,
Your word is tried and true,
So today I say with all my love,
There's nobody finer than you.
---
FOR ALL YOU DO
By Message Guy
"Happy birthday" means I love you,
And you're very special to me,
It means you make me so proud,
There's nothing you cannot be. 
"Happy birthday" means I'm thankful,
For all you do and who you are,
It means you need only call my name,
And I'll be there for you near or far.
---
GRANDPA
By Message Guy
Grandpa, you're simply amazing,
You're gentle, loving and kind,
You're there when I need you,
I'm so very glad you're mine. 
Happy birthday, Grandpa!
You are one in a billion.
The only true hero for me,
And all your grandchildren. 
---
---
FROM THE HEART
By Message Guy
Birthday wishes are from deep down,
Mine is from the bottom of my heart,
I wish you the happiest of birthdays,
Full of love and joy from the start.
Hope your special day is truly special,
May it be your best celebration yet,
With lots of laughs and looking back,
A party too amazing to ever forget!
---
A REWARDING LIFE
By Message Guy
Hope you live a rewarding life,
Full of joy, wonder and health,
With riches that go beyond gold,
And trinkets the least of your wealth. 
May every wish you've ever made,
Make all your dreams come true,
May the love you give return tenfold,
Bringing the birthday gifts you're due.
---
THE VERY BEST
By Message Guy
May your special day be sunny,
Not a cloud in the sky all day long,
May all you wish for today go right,
And nothing you need go wrong. 

Happy birthday, my beloved friend,
You deserve the very best in life,
May you be given the perfect day,
With no stress, no pain and no strife.
---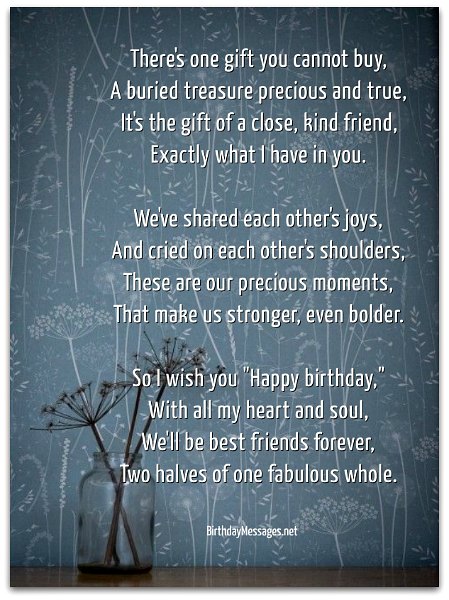 BEST FRIENDS FOREVER
By Message Guy
There's one gift you cannot buy,
A buried treasure precious and true,
It's the gift of a close, kind friend,
Exactly what I have in you.

We've shared each other's joys,
And cried on each other's shoulders,
These are our precious moments,
That make us stronger, even bolder.
So I wish you "Happy birthday,"
With all my heart and soul,
We'll be best friends forever,
Two halves of one fabulous whole.
---
WHAT WE HAVE
By Message Guy
To you I just want to say,
Happy birthday, my dearest friend,
You are truly my partner in joy,
What we have here will never end.
---
WRAPPED WITH A BOW
By Message Guy
You make me smile,
Even when I'm blue,
You can change night into day,
With the magic that you do.
So I wish you a special day,
And gift after gift filled with glee, 
May they come wrapped with a bow,
For a birthday so alive and free.
---
Message Guy
Creator of this site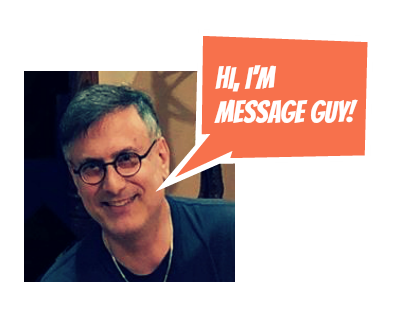 Kevin, the "Message Guy" who writes the birthday wishes, quotes, poems, toasts and speeches on BirthdayMessages.net, has been a content writer since 1993. He created this site in 2012 to share the power of words with you on one of the best days of the year — the birthday of a loved one.

Can't Find
What You Need?
By Kevin (aka "Message Guy")
Copyright © 2013-2020
BirthdayMessages.net.
All rights reserved.
All trademarks and service marks
are the property of their
respective owners.
The copyrights of all birthday
messages on this website
belong to the individual authors.
Site 
Powered By
Solo Build It (SBI)
Build Your Own Website