Sentimental Birthday Poems

---
The best kind of sentimental birthday poems bring back happy memories and create new ones. Find only the best sentimental poems for birthdays right here.
All you need to do now is pick the right sentimental birthday verse for your loved ones, who may like their birthday messages with a spoonful, cupful or bucketful of sugar. Just how much sugar depends on their personality.
To give you the best choice of birthday poems, I've written many of them, with varying degrees of sentimentality. Just find the one that best matches the temperament of birthday boy or girl. 
---
JUST LIKE YOU
By Message Guy
There's something very sad,
A very upsetting thought indeed,
For those without a true friend,
Just like you are to me.
Happy birthday!

---
ANYTHING YOU NEED
By Message Guy
I will tend your garden,
I will pull out the weeds,
I will make your birthday special,
I will do anything you need.

I will send you my warmest wishes,
So all your wildest dreams come true,
There's nothing I wouldn't give,
To a wonderful person like you.

Happy birthday!
---
YOU SHOULD KNOW
By Message Guy 
You know me so well,
But you like me anyway,
You have always stuck by me,
And only had nice things to say.
Now I want to return your love,
And tell you why you're so cool,
It's because you're a great friend,
A rock when the world is cruel.

You're the best friend I've ever had,
You make me laugh when I'm low,
Now that it's your special birthday,
I just thought you should know.

Happy birthday!
---
A BEST FRIEND LIKE YOU
By Message Guy
My mother always told me,
What to say and what to do,
But my mother never told me,
I'm guessing she never knew,
What joy and peace it would bring,
To have a best friend like you.
Happy birthday!
---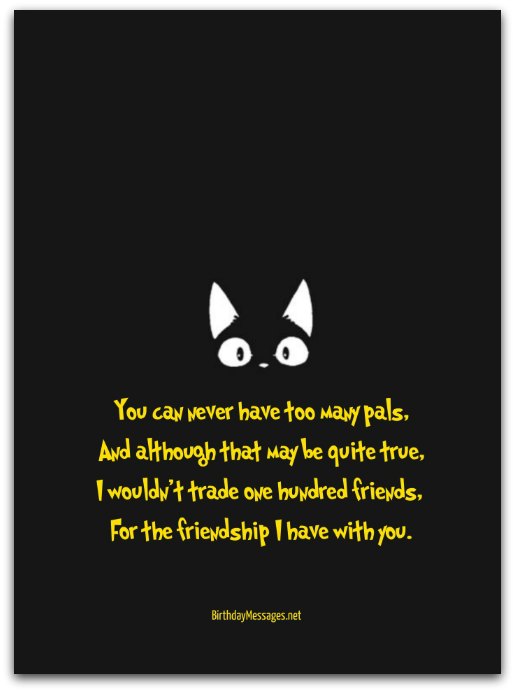 WHAT I HAVE WITH YOU
By Message Guy
You can never have too many pals,
And although that may be quite true,
I wouldn't trade one hundred friends, 
For the friendship I have with you.

Best wishes on your birthday.

---
SO VERY BRIGHT
By Message Guy
I can't believe you're older than me, 
Your face glows so very bright,
You look amazing for your age,
You must be doing something right.

Have a wonderful birthday!

---
YOUR KINDNESS
By Message Guy
Thank you for all the good times,
May life bless everything you do,
I will always cherish your kindness, 
Happy, happy birthday to you.

---
A BIG THANKS
By Message Guy
Happy birthday, Mom.
This message is just for you.
I want give you a big thanks,
For everything you do.
---
IT'S YOUR BIRTHDAY
By Message Guy
You cuddled me when I was small,
Picked me up when I would fall,
Showered me with love and praise,
I love you more every day,
Now it's time to celebrate,
The best Dad in every way.
Happy birthday.
---
MY TRUE HERO
By Message Guy
You've had my respect forever,
And my admiration for all you do,
Happy birthday, my true hero,
Nobody is quite like you.
---
Message Guy
Creator of this site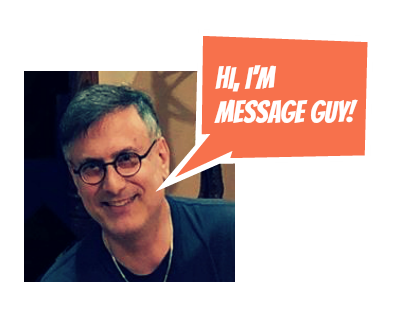 Kevin, the "Message Guy" who writes the birthday wishes, quotes, poems, toasts and speeches on BirthdayMessages.net, has been a content writer since 1993. He created this site in 2012 to share the power of words with you on one of the best days of the year — the birthday of a loved one.

Can't Find
What You Need?
By Kevin (aka "Message Guy")
Copyright © 2013-2020
BirthdayMessages.net.
All rights reserved.
All trademarks and service marks
are the property of their
respective owners.
The copyrights of all birthday
messages on this website
belong to the individual authors.
Site 
Powered By
Solo Build It (SBI)
Build Your Own Website