Sentimental Birthday Toasts

---
Perfect sentimental birthday toasts are perfect for one reason: their incredible ability to make the eyes of everyone in the room well up with tears. That's exactly what the toasts on this page can do for the birthday boy or girl.
The key to writing and picking a great sentimental birthday message for a toast is exactly the same: you need a sentimental birthday wish with three important ingredients: love, compassion and nostalgia.
Just how much love, compassion and nostalgia should be in your toast is up to you (and what you think your loved ones will appreciate on their special day).
| | | |
| --- | --- | --- |
| May you lead an amazing life that only becomes more amazing with each passing day...beginning on your birthday, a celebration of the first day you came into this world, amazing everyone! | Here's to you, old friend! May you live one thousand years. And may I live one thousand, less one day, because I couldn't bear knowing  you'd passed away. Happy birthday! | I want to raise a toast to a loving father, a supportive brother, a caring son, a loyal friend and one heck of a man, who deserves only the best in life. Happy birthday! |
| | | |
| --- | --- | --- |
| | When I was asked to do this toast, I jumped at the chance...and I'm not even all that comfortable doing one. I jumped at the chance because you deserve to be toasted. You are the best brother anyone can ever have. Even when any sane brother would be fed up with the likes of me, you've always been there (and always will be). As much as I pushed you away, you've pushed yourself right back into my life. You're special, you're relentlessly kind, and I want everyone in this room to know it. Here's to you. Here's to many more birthdays together. I love you.  | |
| | | |
| --- | --- | --- |
| May you live respected and die regretted. Happy birthday, old friend. | May the very worst of your tomorrows be far better than the very best of your yesterdays. Happy birthday! | May your life be filled with journeys that nourish your soul, experiences that broaden your mind and love that fills your heart, starting today. Happy birthday! |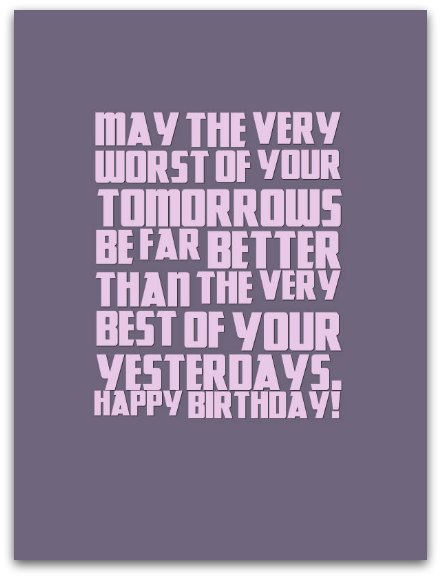 Keep up your sentimental search!
There are more sentimental birthday toasts here...
| | | |
| --- | --- | --- |
| I would like to make a toast. It's not just to the amazing friend you've always been — it's also to the amazing friendship we will always have and the amazing memories we will continue to make together! Happy birthday! | Here's a birthday toast to my old friend and the good old days, which we are still having right now! Happy birthday! | May you always savor the warmth of good wine, good friends and good memories. Happy birthday! |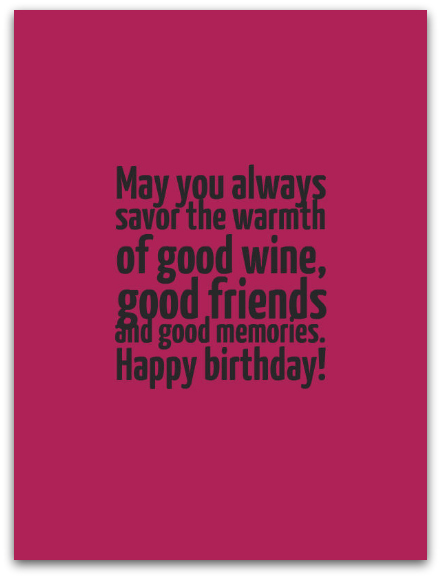 | | | |
| --- | --- | --- |
| May we both be alive, well and living large on this special day in a decade from now, only to make this very same toast. Happy birthday, old friend! | Here's to an incredible birthday of an incredible person who has been an incredible friend I've made incredible memories with. | Here's to you, my good friend...May your birthday and every other day of your lifetime be filled with everything you need to keep you warm on cold evenings and cool on hot nights.  |
Top of Sentimental Birthday Toasts
| | | |
| --- | --- | --- |
| I'd like to raise a glass not only to you and your special day, but also to your friendship. I've been through many ups and downs in my life but you've always been there to keep my head above water. Thanks. You're a real friend. Happy birthday! | I would like to toast you in celebration of your birthday. You've always been a kind, humble and generous colleague. I hope you're having a truly special day. | Old wine is the best to drink. It's even better when you drink it with old friends. And better still when you toast your best friend with it. Here's to you! Happy birthday. |
---
<<Previous     1    2
Message Guy
Creator of this site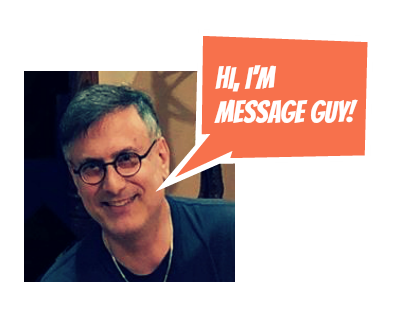 Kevin, the "Message Guy" who writes the birthday wishes, quotes, poems, toasts and speeches for this site, has been a professional writer, editor and translator for more than 25 years. He decided to create BirthdayMessages.net in 2012 to share his passion for famous quotes on the best day of the year — your birthday.

CLICK HERE TO LEARN MORE ABOUT KEVIN (AKA MESSAGE GUY) 
Can't Find
What You Need?
By Kevin (aka "Message Guy")
Copyright © 2013-2020
BirthdayMessages.net.
All rights reserved.
All trademarks and service marks
are the property of their
respective owners.
The copyrights of all birthday
messages on this website
belong to the individual authors.
Site 
Powered By
Solo Build It (SBI)