Advertisement
13th Birthday Wishes
---
Home > Birthday Wishes > 13th Birthday Wishes
Kids new to the teens can be grumpy. Great 13th birthday wishes (like the birthday messages on this page) can make even the grumpiest 13 year old feel amazing.

Advertisements
Message Guy Tip #40:


How to select 13th birthday wishes
What you choose as a 13th birthday message matters. 13 is a major milestone birthday. For boys and girls, it signifies the beginning of the teen years...and all the wonderful things that come with it, like angst, insecurities, attitude, exploration, you name it.
So be careful when you're choosing 13th birthday wishes. How should you proceed? You should...
Read more ►
| | | |
| --- | --- | --- |
| Happy 13th birthday! It's time to take your medicine! You are a teenager today, so you're ready for a major dose of adolescence. | Happy birthday! You only get to turn 13 years old once, so you should have the greatest and grandest celebration ever! | Happy 13th birthday! Welcome to the teens. It's going to be a bumpy, yet exciting ride you'll never forget or regret (well, maybe you'll regret a few things you're about to do). |
| | | |
| --- | --- | --- |
| Happy 13th birthday! There's no denying it! You're a teenager now, so you are ready for the most important thing in life: a smartphone. | Happy 13th birthday! It's time to face the music...and be a Belieber! | Happy 13th birthday! Happy coming of age. Not. |
Message Guy Pick
The wish below hits upon a few important facts of life for teens, making... Read more ►
| | | |
| --- | --- | --- |
| | Happy 13th birthday! You're traveling through another dimension, a dimension not only of acne and anxiety but of voice change; a journey into a wondrous land whose boundaries are that of puppy love. Your next stop...the Adolescence Zone. | |
| | | |
| --- | --- | --- |
| Happy birthday! You're finally 13...and you know what that means! Yes, you're getting more and more beautiful every day! | Happy 13th birthday to a girl who will out-teenage the "teenagest" of teenagers. | Hope your 13th birthday is as wonderful as you are...and that's more wonderful than anything or anyone in the world! |
Top of 13th Birthday Wishes
Keep looking for that special message!
There are more 13th birthday wishes below...
| | | |
| --- | --- | --- |
| Congratulations on officially becoming a teenager (or, as it's otherwise known to your parents, the blunder, drunker and wonder years). | Happy birthday to my favorite 13 year old! May your teenage years be everything you expect them to be...and much less painful than they will actually be!  | Happy 13th birthday! Now that you've entered the wonderful world of adolescence, you're ready for you-know-what (that subject nobody likes to discuss in public)... acne! |

| | | |
| --- | --- | --- |
| This is the first year of seven as a teenager. I hope it's as wondrous as you want it to be.  Happy 13th birthday! | Happy 13th birthday! Yahoo, you're a teenager now. This means you have permission to irritate your parents to no end.  | Happy birthday to the coolest and funniest teen this side of adolescence. |
---
Advertisement
---
Get FREE eCards here 
(hundreds of designs)

---
Message Guy
Creator of this site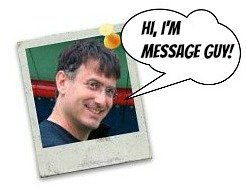 Meet the veteran writer
behind every message 
---
Click here to easily
create your own site
(and work for yourself)
---
---
Check out these popular pages
---
Help me get the message out


Please "like" this site below



Follow
BirthdayMessages.net


on Facebook
Follow this site on Facebook
---
Check out these popular pages
---
---
By Kevin - Message Guy 
Copyright © 2013-2015
BirthdayMessages.net.
All rights reserved.
All trademarks and service marks
are the property of their
respective owners.
The copyrights of all poems
on this website
belong to the individual authors.