60th Birthday Wishes
---
Home > Birthday Wishes > 60th Birthday Wishes

Quick Links
Perfect 60th birthday wishes can make turning 60 a little easier and a lot more special.
On this page, find only "perfect" birthday messages for 60 year olds. It's as easy as scrolling down the page an inch.
What is the quintessential "perfect" 60th birthday greeting? It does what every birthday verse should do at the beginning of any birthday decade: put simply, it makes the birthday girl or boy feel better about getting older. This may call for humour or inspiration. The route you take is, of course, up to you.
Fortunately, you have many funny and inspirational 60th birthday messages to choose from, making it easier than ever for you to find the right one.
Message Guy Tip #41:
How to choose 60th birthday wishes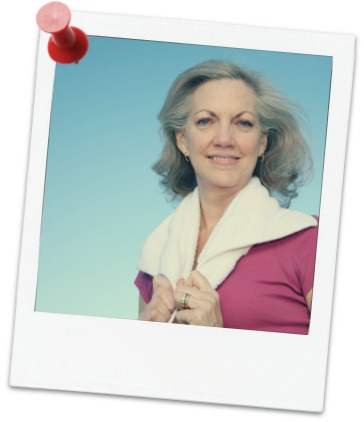 When people turn 60, a major milestone birthday, their reaction can be positive or negative. Don't automatically assume that everyone dreads the big 6-0.
The reaction of the birthday girl or boy depends, as always, on their temperament and outlook. So figuring out what message to send can be hard. Should it be clever? Inspirational? Funny? It depends...
Read more ►
| | | |
| --- | --- | --- |
| Happy birthday! Who says you're only fab at 50? You're fabulously fabulous at 60.  | Wishing you the most amazing of special days for your 60th birthday. | Happy birthday! Heck, you're not 60 years old — you're 60 years of vintage goodness, all rolled up in one amazing person. |
| | | |
| --- | --- | --- |
| Happy birthday! 60 is an amazing age. You're more amazing now than you ever were before. | Happy birthday! Turning 60 is not the end of the world — who knows, it could be the beginning of something new, something you've always wanted to do, something magical! | Happy birthday! At 60, you've definitely been around the block a few times — let alone the entire neighborhood — but you look DAMN GOOD doing it! |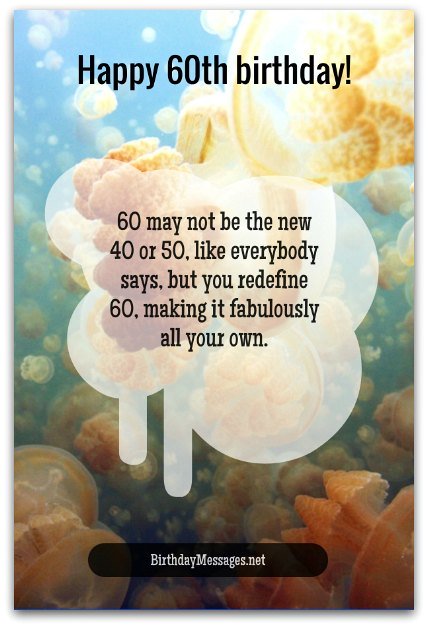 Amazon Birthday Central
One stop for 60th birthday gifts, cards, party supplies & deals
I've put all the Amazon links you'll ever need in one place — right below — so you don't have to spend hours online searching for the perfect gifts, cards or party supplies. Choosing something great for a 60-year-old birthday boy or girl has never been so easy.
PLUS:
Message Guy Pick
The 60th birthday wish below is perfect for a 60 year old. Mostly, that's because it has a certain quality that will appeal to your average 60 year old. What is it? Well...
Read more ►
| | | |
| --- | --- | --- |
| | 60 may not be the new 40 or 50, like everybody says, but you redefine 60, making it fabulously all your own. Happy 60th birthday! | |
Don't stop your search!


Choose from more 60th birthday wishes below
| | | |
| --- | --- | --- |
| Happy birthday! You're not turning 60. You're turning into an undeniable classic that can't be matched. | Happy birthday! You're not 60. You're 60…and sensationally sexy. | May your 60th birthday be as sensational, awesome and fascinating as you are.  |
| | | |
| --- | --- | --- |
| 60 is a great number — it's the number of years you've blessed this world with your presence, kindness, sense of humor and love. | Happy birthday! One of the perks of turning 60 is the fact that you can dress for comfort, not for fashion, not for success, not for even dignity…and nobody notices or cares. | Happy 60th birthday! 60 years ago, you were a baby. At 60, you're simply babilicious. |
Top of 60th Birthday Wishes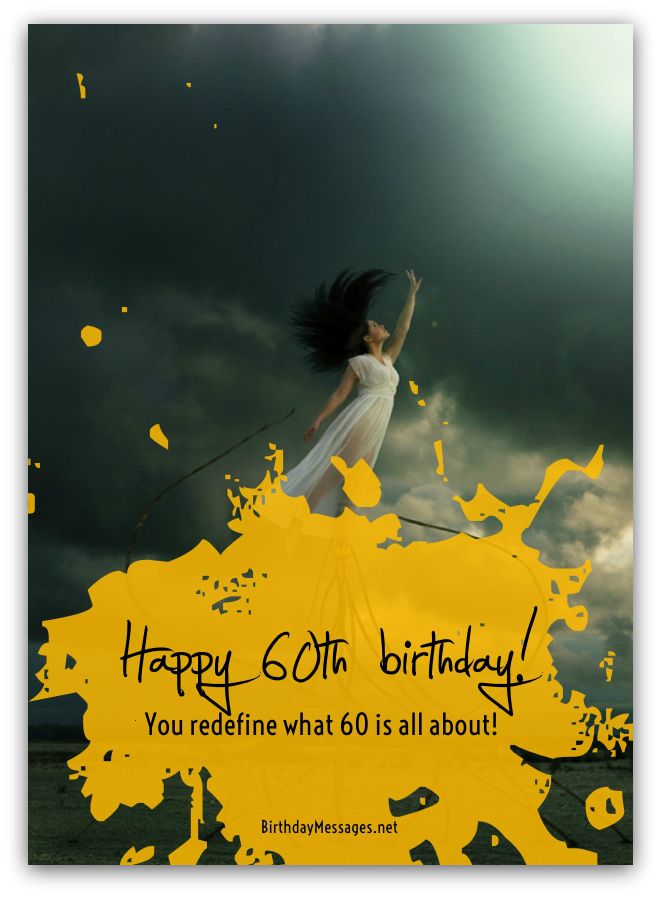 Happy birthday! 
Welcome to Club 60. Membership has full privileges and access to all activities. No old at heart permitted.

Happy birthday! 60 is just 40 with 20 years of life-changing, mood-altering, mind-blowing, soul-shifting, perspective-modifying, death-defying experience.


Happy birthday to a truly amazing 60 year old who makes 60 look easy and incredibly great.

Want to add inspiring thoughts to your wish?
Here are 60 ideas for your 60th birthday wishes

!
If you want to add your personal touch to any of the 60th birthday wishes on this page, click here to check out 60 inspiring ideas in a Huffington Post article I just found.
---
---
---
Message Guy
Creator of this site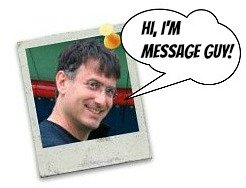 Meet the veteran writer behind
every birthday message here
---
Share a birthday message
Share a smile today
---
Check out these popular pages
---
Help me get the message out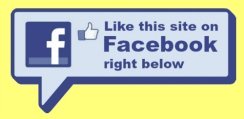 A big THANK YOU to all my Facebook fans!
Follow
BirthdayMessages.net


on Facebook
---

By Kevin - Message Guy 
Copyright © 2013-2017 
BirthdayMessages.net.
All rights reserved.
All trademarks and service marks
are the property of their
respective owners.
The copyrights of all poems
on this website
belong to the individual authors.