80th Birthday Wishes
---
Home > Birthday Wishes > 80th Birthday Wishes
80th birthday wishes should honor your loved one's eight decades on this planet — no easy feat. My birthday messages for 80 year olds pay the right tribute.
Message Guy Tip #45
80 is a major milestone birthday. For some 80 year olds, every ache is cause for concern. For others, there is only contentment. In other words, some see the glass half-empty and some half-full. The best message to write depends on how your birthday boy or girl sees life.
For "glass half-empty" octogenarians (people in their eighties), a little bit of cynicism can go a long way.
Read more ►
| | | |
| --- | --- | --- |
| Wishing you an absolutely amazing 80th birthday (amazing just like you). | It only took you 80 years to look so good, so happy and so young. Happy 80th birthday! | Happy 80th birthday! You seem so young that I can honestly believe you're turning 20 for the fourth time. |
| | | |
| --- | --- | --- |
| Hope your 80th birthday is a wonderful celebration of the amazing you.  | Happy 80th birthday. You don't look a day over your 70th birthday, let alone a decade. | Happy birthday! Time definitely flies when you're having the time of your life. I bet you can't believe you're already 80. I definitely can't — you look and act so young for your age. |
Message Guy Pick

When I turn 80, I want to receive this wish. Why? Read more ►



Happy 80th birthday!
You're the best example of
80 being the new 60.
| | | |
| --- | --- | --- |
| You look fabulous at 80. I just know you'll make the 80s look fabulous, too! Happy 80th birthday! | Happy 80th birthday to my bottomless fountain of youth. When I'm with you, I can't help but feel the joy of my younger years. | Happy 80th birthday! To the world, you may be 80 years old. To me, though, you're eight decades young. |
Top of 80th Birthday Wishes
| | | |
| --- | --- | --- |
| Happy birthday to an 80 year old who acts half his age (that's a good thing, by the way).  | Wishing you all the best for your 80th birthday...and every day you continue to bless this planet. | Happy 80th birthday! When I look at you, I don't see an 80 year old. I only see the gleam in your eyes — and the look of pure joy on your face. |
May your 80th birthday be as unforgettable as your first kiss, your wedding day or the birth of your children and grandchildren (in other words, as unforgettable as you).

Happy 80th birthday! 
Hoping your second 40th birthday is more exciting than your first 40th (minus the mid-life crisis, of course).

So what if you're 80 now! It could be much worse. If you were a dog, you would be 560 years old today! Happy 80th birthday!

---
---
---
Message Guy
Creator of this site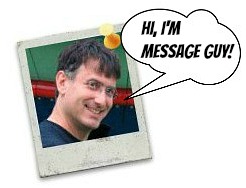 Meet the veteran writer
behind every message 
Read the Smilebox review by Message Guy
Like this site?


Share a smile today!