Brother Birthday Wishes
---
Home > Birthday Wishes > Brother Birthday Wishes

Quick Links
Brother birthday wishes, like brothers, can be awesome or lots of trouble. The birthday messages for brothers on this page are just awesome (even if your bro isn't). Scroll down and find out for yourself.
What you'll find below are birthday greetings for brothers that do what they're supposed to do: pay tribute to one of the best male friends you'll ever have, no matter how much you squabble with him, no matter how much he irritates you. I know. I have three brothers who sometimes irritate the heck out of me (and vice versa, I'm sure), but they're all my buds for life. 
And brother birthday messages don't have to be funny or sentimental. You can choose any type of birthday wish for your brother...whatever you think expresses your love for a BFF who just happens to be your bro. It's a good thing you have a bunch of styles to choose from.
A blast from the past! Your typical 1970s family. Great times with my Mom, Dad and brothers/BFFs.
Message Guy Tip #36:


How to choose brother birthday wishes...
A brother, despite the arguments and hassles you may have with him, is your buddy for life.
Older brothers can be your best supporters, mentors and friends. Younger brothers, who can instantly become your proteges, will have your back for life.
So what's the best type of birthday message for your brother?
Personally speaking...
Read more ►
You're my favorite person after myself, my lover, my friends and my pet dog, but you're definitely my favorite brother.

You've never deserted me.
You're always there for me.
Happy birthday, bro!

| | | |
| --- | --- | --- |
| We are brothers and best friends for life. Happy birthday, bro! | Everything important that I've learned about life, I have learned from you (and your mistakes). Happy birthday, bro! | Happy birthday to a wonderful  guy, a guy who always has my back, a guy I can rely on, a guy who inspires me....My brother and best bud. |
Need more insight into your brother's personality?
Here are three articles with some answers...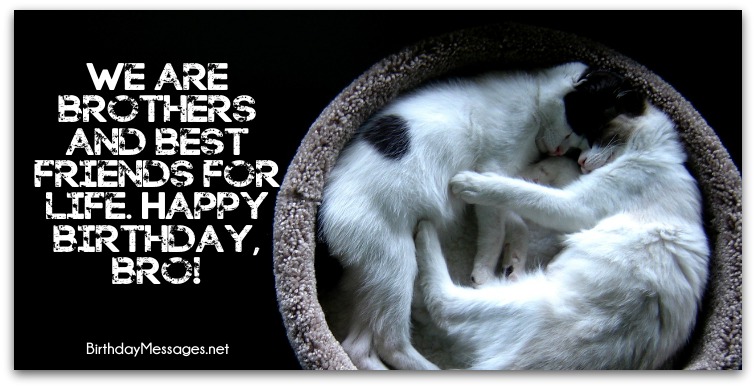 | | | |
| --- | --- | --- |
| Happy birthday to my favorite brother (for the moment). This is subject to change without notice. Just kidding! You're my favorite (person to tease). Happy birthday! | There's no brother better than you. Of course, you're the only brother I've ever had, so I wouldn't know the difference. Actually, I know you're the best. Happy birthday, bro! | With this birthday, bro, you're beginning to look and act like Rod Stewart...the older version who looks an awful lot like Dad. Seriously, you look great. Happy birthday! |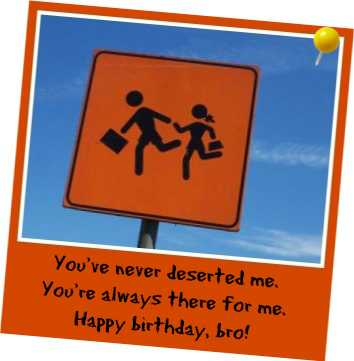 Message Guy Pick
My reason for picking the message on the birthday photo above as one of my favorite brother birthday wishes is personal, but I'll share it with you!
Read more ►
| | | |
| --- | --- | --- |
| On your special day, forget about our differences. Forget about our fights. Just remember one thing: I love and respect you so much! Happy birthday, bro! | Happy birthday to the world's best brother. No, happy birthday to the solar system's best brother. Actually, happy birthday to the universe's best brother.  | I'm so proud to call you my brother, especially when you're nice to me (which is all the time, of course). Happy birthday! |
Top of Brother Birthday Wishes
Keep searching!
See more brother birthday wishes just below...
| | | |
| --- | --- | --- |
| On your special day and every day, a brother like you deserves the best....a brother like me! Happy birthday, bro! | Without you in my life, I wouldn't be afraid of the dark (from the show Dark Shadows), afraid of small spaces (like the dryer) or afraid of bugs (like spiders in my bed)! Thanks for the memories! Happy birthday! | A party with your favorite friends and family. Tons of freedom. Only blissful moments and thoughts. Plus, total relaxation. That's my birthday wish for you!  |
| | | |
| --- | --- | --- |
| Hoping you spend your birthday doing your favorite things. The best for the best. That's you, bro! Happy birthday! | Most people don't have the courage to say what they really think of you...to your face. I'm a blunt person, so I will tell you the truth. Here it is: You're my hero. Happy birthday, bro! | To me, bro, there's nobody finer than you. You're the best, as far as I'm concerned. If I wasn't Mom and Dad's favorite, you would certainly be (for sure). Happy birthday! |
---
---
---
Message Guy
Creator of this site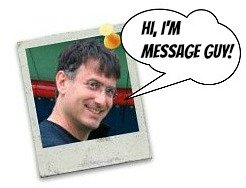 Meet the veteran writer behind
every birthday message here
---
Share a birthday message
Share a smile today
---
Check out these popular pages
---
Help me get the message out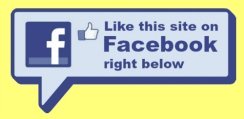 A big THANK YOU to all my Facebook fans!
Follow
BirthdayMessages.net


on Facebook
---

By Kevin - Message Guy 
Copyright © 2013-2017 
BirthdayMessages.net.
All rights reserved.
All trademarks and service marks
are the property of their
respective owners.
The copyrights of all poems
on this website
belong to the individual authors.