Romantic Birthday Quotes
---
Home > Birthday Quotes > Romantic Birthday Quotes
Here, the romantic birthday quotes, combined with romantic birthday messages (written by me), can make for a very romantic birthday. Pick one of our quote-wish combos below and let the romance begin!
Message Guy Tip #39
Birthday quotes with a touch of romance make the perfect birthday messages for your husband, wife, girlfriend or boyfriend.
With the famous "love" quotes here, plus the personal birthday wishes (written by me, Message Guy), you can make your girlfriend's heart flutter, sweep your wife off her feet, turn your boyfriend into a modern-day Romeo and give your husband's inner Casanova new life.
Read more ►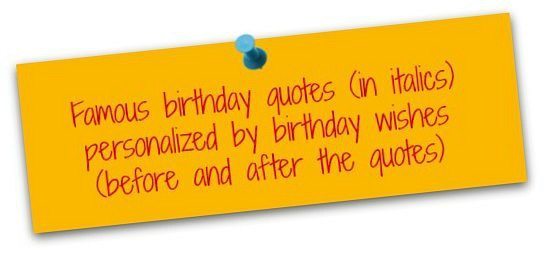 I love to spend every second with you...

"Whatever with the past has gone, the best is always yet to come."

~ Lucy Larcom

What better way to celebrate our future together than with your birthday. Happy birthday, dear!

You are my sweetest pleasure.

"Fly free and happy beyond birthdays and across forever, and we'll meet now and then when we wish, in the midst of the one celebration that never can end."

~ Richard Bach

Let's celebrate our love on your special day...and every day. Happy birthday, sweetheart!

Our love is like wine...It just gets better with time.

"Let us celebrate the occasion with wine and sweet words."

~ Plautus

You make me drunk with love. Happy birthday, sweetie!
You are unforgettable.

"It is lovely, when I forget all birthdays, including my own, to find that somebody remembers me."

~ Ellen Glasgow

I would never forget your birthday. You're just too special to me.

You make every morning special.

"Morning without you is a dwindled dawn."

~ Emily Dickinson

Let's make your birthday the most special day of all!

You are my everything.

"For it was not into my ear you whispered, but into my heart. It was not my lips you kissed, but my soul."

~ Judy Garland

You make everything better. I love you. happy birthday!






Message Guy Pick

Want to know why I like this one the most? Read more ►



My greatest desire has a name now...

"All my life, my heart has yearned for a thing I cannot name."

~ Andre Breton

Now I know what it is. It's you. Happy birthday to the love of my life.
You've shown me what love is all about.

"Love is the beauty of the soul."

~ Saint Augustine

You are my soul, my everything. Happy birthday, honey!

I always think about you.

"Romance is thinking about your significant other, when you are supposed to be thinking about something else."

~ Nicholas Sparks

On your special day, I think about you twice as much! Happy birthday, sweetie!

I'm stupid for you.

"Love is being stupid together."

~ Paul Valery

Stupid feels great. I love being stupid with you. Let's be really stupid on your birthday!  
Top of Romantic Birthday Quotes
I see you...

"Sometimes the heart sees what is invisible to the eye."

~ H. Jackson Brown, Jr.

And I love what I see. I love you. Happy birthday! 

You are always in my heart.

"Keep love in your heart. A life without it is like a sunless garden when the flowers are dead."

~ Oscar Wilde

My flowers are in full bloom all year-round, especially on your special day. Happy birthday, lover.

My love for you has grown stronger every year we've been together. As Erich Fromm once said:

"Immature love says I love you because I need you. Mature love says I need you because I love you."

 ~ Erich Fromm

I really couldn't have said it any better myself. Really. Anyway, I love you and I need you. Happy birthday, honey!
Can't find any romantic birthday quotes?
If you need some tips on choosing the best romantic birthday quotes, you'll find them here.
My life is full of love.

"Where there is love, there is life."

~ Mahatma Gandhi

Where is life, there is my love for you. Happy birthday, dear!

I never miss anything with you.

"Love is life. And if you miss love, you miss life."

~ Leo Buscaglia

I would only miss you. I love you. Happy birthday, my love!

The power of love has changed me.

"Love is a force more formidable than any other. It is invisible - it cannot be seen or measured, yet it is powerful enough to transform you in a moment, and offer you more joy than any material possession could."

~ Barbara de Angelis

You have changed my life, making everything in it so beautiful. Let's celebrate you on your birthday!
You mean so much to me.

"If you live to be a hundred, I want to live to be a hundred minus one day, so I never have to live without you."

 ~ A. A. Milne

That's how much you mean to me. I love you. 
Happy birthday!

I know the best thing...

"The best thing to hold onto in life is each other."

~ Audrey Hepburn

The best thing is you. Have the best birthday!

This is the best deal I can offer you.

"Come live in my heart, and pay no rent."

~ Samuel Lover

I want to live with you always. Happy birthday!
---
---
---
Message Guy
Creator of this site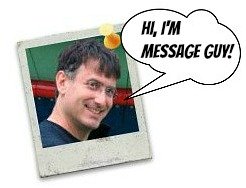 Meet the veteran writer
behind every message 
---
Create a site like mine with SBI
Like this site?
Please show your support


for Message Guy
Follow
BirthdayMessages.net
on Facebook
---
Check out these popular pages...
---
---
Check out these popular pages...
---
By Kevin - Message Guy 
Copyright © 2013-2015
BirthdayMessages.net.
All rights reserved.
All trademarks and service marks
are the property of their
respective owners.
The copyrights of all poems
on this website
belong to the individual authors.