100th Birthday Wishes
---
100th birthday wishes mark a major milestone — even heads of state, from Queens and Kings to Presidents and Prime Ministers, get into the act and send birthday messages to 100 year olds.
The birthday greetings here do great honor to this uniquely amazing occasion. If you're looking for 100th birthday messages that celebrate the life of our greatest treasures, you've come to the right place. To me, there's something magical about the people reaching this milestone. They are truly incredible in more ways I could ever list on this page.

Therefore, this section is reserved only for birthday messages that respectfully and lovingly sing the praises of 100 year olds everywhere. See for yourself.
| | | |
| --- | --- | --- |
| Wishing the best of birthdays to the best 100 year old I know. | Happy 80th birthday for the 20th time. | Happy 100th birthday! This is an incredible milestone, but not nearly as incredible as you are.  |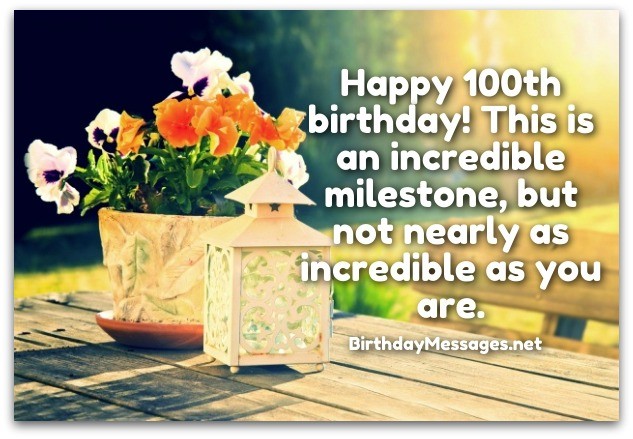 | | | |
| --- | --- | --- |
| Happy 100th birthday! If we just get better with age, you must be nearly perfect. | Happy 100th birthday! With 100 candles on your birthday cake, I can honestly say that your celebration was the brightest part of my day! | Happy 100th birthday! With 100 years of priceless moments under your belt, your heart must be full of joy. You deserve every precious memory.  |
Message Guy Tip #29:


How to pick 100th birthday wishes...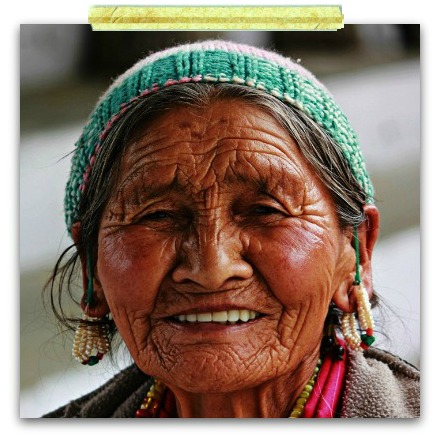 Turning 100 is THE biggest milestone birthday. You want to go all out with your 100th birthday wish. The best birthday message for a 100 year old is something thoughtful that celebrates and honors his or her amazing life, plus expresses how you feel about him or her.
What type of birthday message is right for you and your loved one? This is easy — you just have to...
Read more ►
| | | |
| --- | --- | --- |
| For your 100th, I wish you the happiest, healthiest, sweetest, luckiest, tastiest, brightest, sunniest and best of birthdays. | You are truly blessed — you have lived 100 years and have 10 decades of great memories. Happy 100th birthday! | Happy 100th birthday! This is when you say to the world, "I've done my part," and the fun begins. You deserve only the best. |
| | | |
| --- | --- | --- |
| You don't look your age at all. What are you...90? 95? 99? I think you can get away with robbing the cradle. I think it's time to get yourself an 80-year-old hottie. | Hoping you only experience an abundance of happiness, wonder and health on your 100th birthday. You've certainly earned it. | It isn't every day day somebody turns a century old. I'm so glad you are one of the lucky few. It's such a blessing to have you in my life. Happy 100th birthday! I love you. |

Quick Links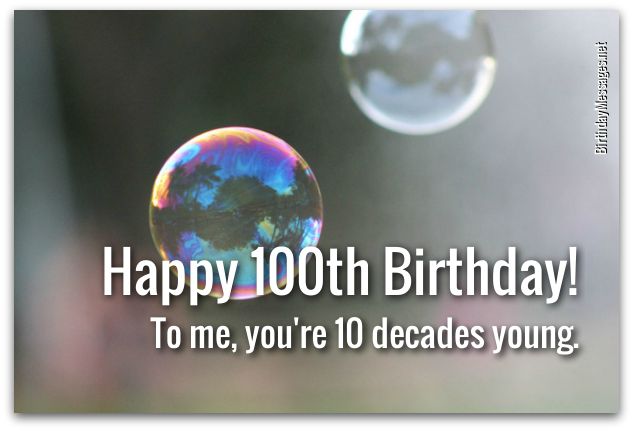 Message Guy Pick
I chose the wish below for obvious reasons. Not obvious to you?
Read more ►
| | | |
| --- | --- | --- |
| | Welcome to the centenarian club. Very few people get into this exclusive group. For most, the initiation fee is just too steep. I always knew you were unique. You've always stood out in my life. Happy 100th birthday! | |
Keep searching for the right message

!




See even more 100th birthday wishes below
| | | |
| --- | --- | --- |
| To me, you're 10 decades young. When I look at you, I don't see a 100 year old. I see someone who inspires me to love every trial and tribulation of life. | You shouldn't only be congratulated for reaching 100, an amazing milestone in itself. You should be praised for the love, caring and wisdom you've given so generously every day for 100 years. Happy 100th birthday! | May your special day be filled with sunshine, smiles, laughter and love...exactly what you've brought the world for 10 decades. Have a very happy 100th birthday. |
See everyone's favorite birthday messages
Message Guy Tip #30:


How to get heads of state to send your loved one a 100th birthday wish 
Did you know you can ask heads of
state to personalize 100th birthday wishes
for your loved ones? Here's how... Read more ►
Top of 100th Birthday Wishes
| | | |
| --- | --- | --- |
| May every minute of your 100th birthday be filled with the immense joy you've shared with your loved ones for 100 years. Happy birthday! | Wishing you many more years of good health, overwhelming happiness, amazing grace and perfect peace of mind. Happy 100th birthday! | You're a very special person, and not just because you've lived 100 years. Mostly, you're special because, whether you've faced bad or good times, you have always been a loving presence and kind hand for everyone around you. I wish you a 100th birthday as special as you. |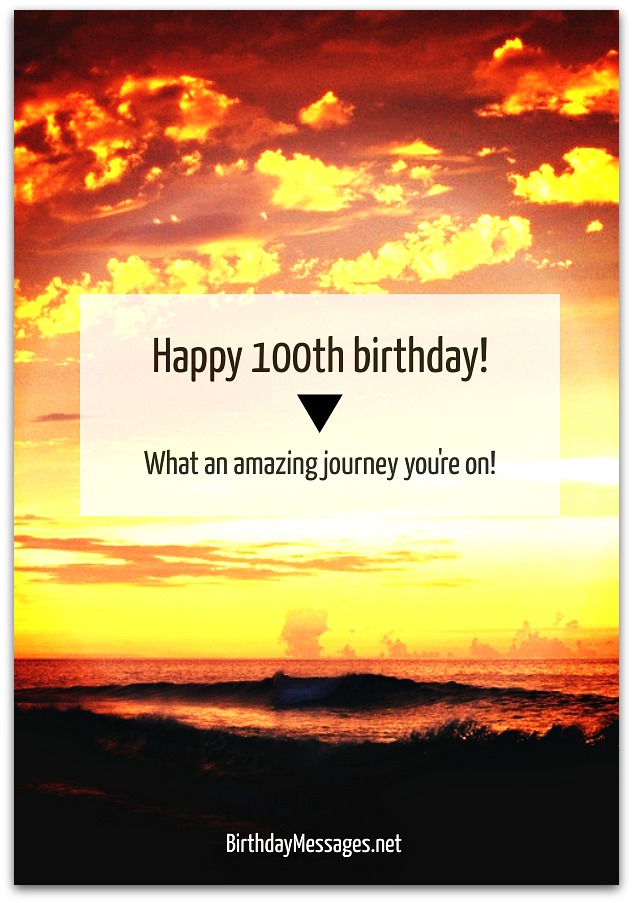 | | | |
| --- | --- | --- |
| 100 warm wishes, hugs and kisses on your 100th birthday. You deserve it, so you'll have to sit still when we all give them to you. Happy 100th birthday! | May your 100th birthday bring you more than all the joy, wisdom, hope and love you've always given away so freely. Happy 100th birthday! | You deserve a standing ovation! You've always been a superstar. Now that you're in Act III of your life, we just want you to know you have always had a talent for being so wonderful. We love you. Happy 100th birthday! |
---
---
Message Guy
Creator of this site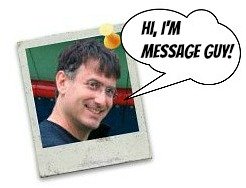 Meet the veteran writer behind every birthday message here
---
---
Check out these
popular pages
CAN'T FIND WHAT YOU NEED?
SEARCH HERE
---
Like this page?


Help me get the message out

Follow this site

 


on Facebook



Be the first to see what's new