13th Birthday Wishes
---
With beautifully written 13th birthday wishes — like the birthday messages on this page — you can make the birthday of any 13 year old even more unforgettable.
Nothing succeeds more with boys and girls entering teens than a true understanding of what they're going through. When you send 13th birthday messages that tap into their world and inspire them to feel good about themselves, you've gone a long way toward making their birthdays truly a special day.
The 13th birthday greetings here have all the right ingredients for making the soon-to-be 13-year-old birthday boy or girl in your life feel incredible about turning 13.
Happy 13th birthday! Welcome to a brand new chapter in your life...the teenage years. These will be the most wonderfully 
adventurous years of your lifetime. 

Jump for joy, laugh it up, shout it out loud and let the party begin. You're a teenager now! Happy 13th birthday!


Happy 13th birthday! Regardless of your age, you will be our little bundle of love forever. We adore you.

| | | |
| --- | --- | --- |
| Happy 13th birthday to a person who was once a cute child and is now a beautiful teenager (yes, you can be beautiful and a teenager at the same time). | Happy 13th birthday! You are a teenager now — the adventure of your lifetime is just beginning! Now everything's going to be cool, fun and edgy! | There's nothing better than turning 13 and finding out that the teenage years are not so bad after all. Happy 13th birthday! |
| | | |
| --- | --- | --- |
| Happy 13th birthday! Welcome to adolescence, a world filled with strange creatures...other teenagers. But we think you will survive the terror. You are no ordinary teenager — you are special! | Have a wonderful 13th birthday! May you always get what you want out of life! Most of all, may you get happiness and love from all!  | Happy birthday! May your 13th birthday be unique and memorable...just like you!  |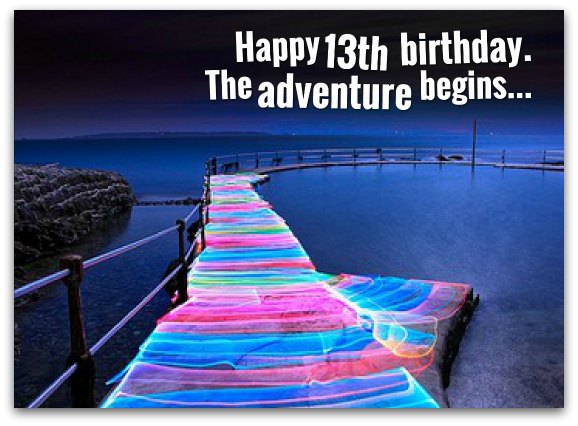 There's more to see!
More 13th birthday wishes...
| | | |
| --- | --- | --- |
| Hoping your 13th birthday is as special as you are! May everyone around you fill this special day with love and laughter.  | Happy birthday to a wonderful 13 year old. Welcome to your teens! It will be an exciting experience — and we will be here to guide you through it, every step of the way.  | Wish for what you want out of your life and you will get it because I have sent your wishes to the big guy upstairs (you know, your father)! Happy 13th birthday! |
Top of 13th Birthday Wishes
| | | |
| --- | --- | --- |
| May you never forget your 13th birthday! May it be memorably wonderful! Wishing a very happy birthday.  | Wishing you an extremely cool and wonderful 13th birthday!  | Happy 13th birthday to the greatest teenager in this world, in this galaxy, in this universe! You are truly a unique 13-year-old.  |
| | | |
| --- | --- | --- |
| Happy 13th birthday! May your special day be full of fun and may you grow up to be a wonderful human being, because we (the world) need more heroes!  | Happy 13th birthday! Welcome to adolescence. Only teenagers are allowed into this special realm. Have lots of fun while you're there.  | Happy 13th birthday! You will make a super teenager! May all your wishes be fulfilled in a super way! |
---
<<Previous    1    2    3    Next>>  
Message Guy
Creator of this site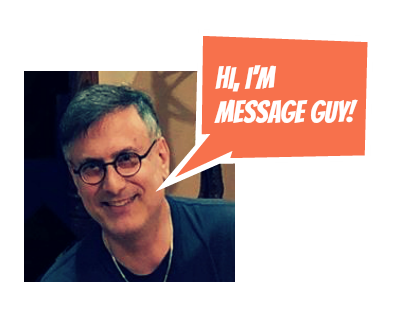 Kevin, the "Message Guy" who writes the birthday wishes, quotes, poems, toasts and speeches for this site, has been a professional writer, editor and translator for more than 25 years. He decided to create BirthdayMessages.net in 2012 to share his passion for famous quotes on the best day of the year — your birthday.

CLICK HERE TO LEARN MORE ABOUT KEVIN (AKA MESSAGE GUY) 
Can't Find
What You Need?
By Kevin (aka "Message Guy")
Copyright © 2013-2020
BirthdayMessages.net.
All rights reserved.
All trademarks and service marks
are the property of their
respective owners.
The copyrights of all birthday
messages on this website
belong to the individual authors.
Site 
Powered By
Solo Build It (SBI)