13th Birthday Wishes
---
Great 13th birthday wishes can make any 13 year old feel, well, great. The birthday messages on this page come in only one variety — great.
What makes some birthday wishes for 13 year olds so great? They perfectly blend all the right teenager ingredients — kindness, understanding, support, acceptance, commitment, inspiration, clarity and, most of all, love — into a beautifully written, original birthday message.
To different degrees, the 13th birthday greetings here have the same mix, offering you a wide range to choose from, making it easier for you to pick the one that's perfect your 13-year-old birthday girl or boy.
| | | |
| --- | --- | --- |
| Happy 13th birthday! Now that you're a teenager, you're about to find out something that will make you sad and happy at the same time: your parents are not cool at all (they only think they are).  | Happy 13th birthday! Cringing whenever your parents say anything about you to your friends is one of the worst things you must endure as a teenager. A close second: whenever your parents say anything. | Happy 13th birthday! You do realize you're only one day older than you were yesterday? But what a day. In the last 24 hours, you've crossed over into the mysterious world of teenagers. BEWARE! |
| | | |
| --- | --- | --- |
| Happy 13th birthday. Despite what you've been told about the teens, try to enjoy every moment, starting with this special day of yours, so you won't have to look back years from now and kick yourself for wasting this precious time. | Happy 13th birthday! I wish you joy every day of your life, starting today, your special day! | Happy 13th birthday! I never thought teenagers could be so wonderful. I still don't think so, but you're wonderful. That's what makes you one-of-a-kind. |
| | | |
| --- | --- | --- |
| Happy 13th birthday! May your teenage years and the decades ahead be as special and unforgettable as you are to me. | Happy 13th birthday! May you always have the wisdom to know the difference between right and wrong! If not, you'll be grounded if we ever find out you did something wrong! | Happy 13th birthday! You're a teenager now — the best and worst years of your life are just around the corner! |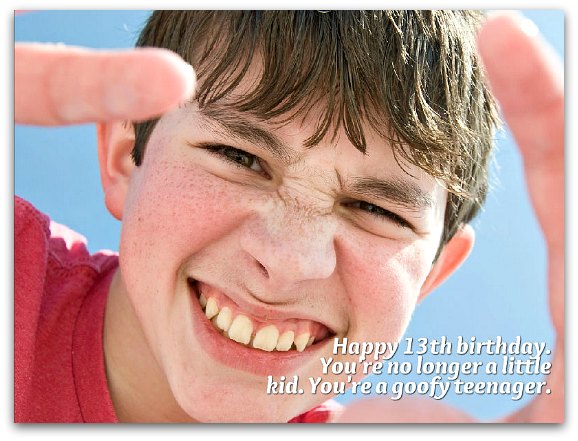 | | | |
| --- | --- | --- |
| Happy 13th birthday! You're no longer a little boy — you're a goofy teenager. | Happy 13th birthday! You're no longer a little girl — you're a teenager who is FREAKING OUT RIGHT NOW (OMG)! | Happy 13th birthday! Welcome to the teens. Hope for the best and expect the worst! Both are about to happen to you. |
Top of 13th Birthday Wishes
| | | |
| --- | --- | --- |
| Happy 13th birthday to a girl who agrees with everything her parents tell her but does what she wants anyhow. In other words, a teenager! | Have an amazing 13th birthday. May all your dreams come true (or at least the ones your parents agree to buy you).  | Wishing you a fun and incredible 13th birthday! |
| | | |
| --- | --- | --- |
| Happy 13th birthday to the most (and probably the only) wonderful teenager in the world! | Happy 13th birthday to a super teenager (there aren't many of you around, so we think you're priceless)! | Happy 13th birthday! Cool teenagers don't come any cooler than you. You're so cool that I wish I was a teenager again, just to hang out with you. |
---
<<Previous    1    2    3   
Message Guy
Creator of this site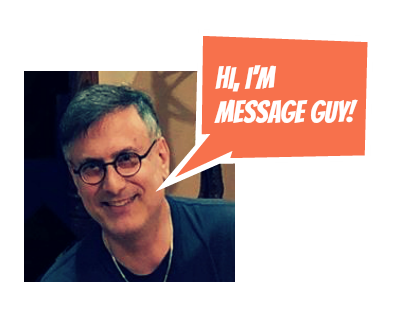 Kevin, the "Message Guy" who writes the birthday wishes, quotes, poems, toasts and speeches for this site, has been a professional writer, editor and translator for more than 25 years. He decided to create BirthdayMessages.net in 2012 to share his passion for famous quotes on the best day of the year — your birthday.

CLICK HERE TO LEARN MORE ABOUT KEVIN (AKA MESSAGE GUY) 
Can't Find
What You Need?
By Kevin (aka "Message Guy")
Copyright © 2013-2020
BirthdayMessages.net.
All rights reserved.
All trademarks and service marks
are the property of their
respective owners.
The copyrights of all birthday
messages on this website
belong to the individual authors.
Site 
Powered By
Solo Build It (SBI)