18th Birthday Wishes
---
Great 18th birthday wishes can make the birthday boy or girl laugh or weep with joy. The birthday messages for 18 year olds on this page do both, paying a very warm, sometimes humorous tribute to this major milestone.
And there are many ways to celebrate the 18th birthday of someone special in words. Because many countries, for example, permit 18 year olds to legally become adults with "adult" privileges — from drinking alcohol to voting — 18th birthdays give you an opportunity to tease the birthday boy or girl about their drinking or inspire them to act responsibly.
No matter what 18th birthday greeting you choose, you need to remember that this a BIG milestone, so seriously consider your birthday message options. Don't know where to start? Check out Message Guy Tip #28 for the right route to take here!
| | | |
| --- | --- | --- |
| I hope your 18th birthday is so much fun that it becomes an annual event. Let's act like we're 18 for the rest of our lives. Happy 18th birthday! | We think you're so special. You mean so much to us. Wishing you all our love and best wishes. Hope your birthday is very special! Happy 18th birthday! | At 18, you may not feel like an adult but you have to start acting like one. Not because you should grow up — no, no — because your parents now have the legal right to throw you out of the house. |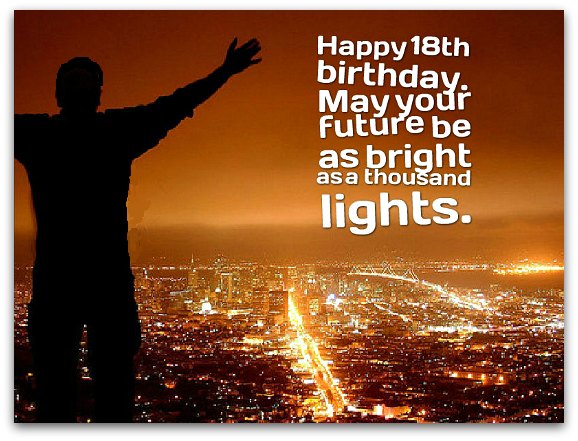 | | |
| --- | --- |
| Happy 18th birthday! I have one piece of advice for you. Whenever somebody gives you life advice, don't just ignore it. Think about it, then ignore it. | Stay young and optimistic your whole life. Wealth and wisdom are nice but youth and hope are your best friends! Happy 18th birthday! |
| | | |
| --- | --- | --- |
| Happy 18th anniversary of your birth. It's not the silver or golden anniversary — it's the start-to-act-like-a- grownup-or-else anniversary…starting now! | As your parent, I have the legal obligation (and the incredible pleasure) of officially recognizing you as a grownup. (Son, Daughter), I hereby certify you as "old" and sentence you to years of decrepitude. Happy 18th birthday! | You're only 18 once, so let's make your birthday epic. Heck, let's make your birthday the first of countless special days this year. Any excuse for a party, right? Happy 18th birthday! |
Top of 18th Birthday Wishes
May you easily climb the ladder of success. We will support you every rung of the way. Happy 18th birthday!


Happy 18th birthday! 
Wishing you the best in life.  That's why it's my duty to tell you that you won't get it...unless you wake up before noon. 

May every single day of yours be a celebration like today. Happy 18th birthday! 

| | | |
| --- | --- | --- |
| Turning 18 is the best reason to have a party. But not too much...because you're old enough to get thrown into jail. Happy (sort of) 18th birthday!  | An amazing life is coming your way. You're on the path to immense joy, adventure and prosperity. Have a happy 18th birthday!  | You've been waiting 18 years to be legal. Happy 18th birthday and welcome to adulthood. It's your time to fly! |
| | | |
| --- | --- | --- |
| At 18, you officially become a woman and embark on a journey we older women call "life" — otherwise known as the get-married-older-fatter-wrinkled-divorced-facelift ride. | Wishing you all the luck and prosperity you can handle — and all the health and happiness you'll need — in the future. Happy 18th birthday! | At 18, you can start making every dream you have come true. Hoping you have the strength and courage (because you already have lots of love from us) to take this decisive step toward true happiness. Happy 18th birthday! |
---
<<Previous     1    2
Message Guy
Creator of this site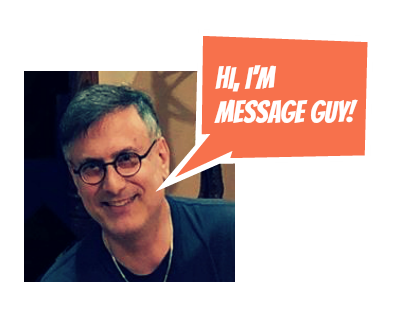 Kevin, the "Message Guy" who writes the birthday wishes, quotes, poems, toasts and speeches on BirthdayMessages.net, has been a content writer since 1993. He created this site in 2012 to share the power of words with you on one of the best days of the year — the birthday of a loved one.

Can't Find
What You Need?
By  Kevin (aka "Message Guy")
Copyright © 2013-2021
BirthdayMessages.net.
All rights reserved. 
All trademarks and service marks
are the property of their
respective owners.
The copyrights of all birthday
messages on this website
belong to the individual authors.
Site 
Powered By
Solo Build It (SBI)
Build Your Own Website