1st Birthday Wishes
---
Choose from 1st birthday wishes with birthday messages that are as lovable, sweet, playful and unique as the birthday boy or girl. Pick the one that feels just right for this child's first big day — and his or her parents, who will be reading it to him or her. 
1st Birthday Wishes
| | | |
| --- | --- | --- |
| Wishing you a Onederfully, Onederful birthday full of Oneder. | Wow, I can't believe you've already turned one. You're so (beautiful, handsome). Happy 1st birthday! | One is more Onederful than you ever Onedered. Happy 1st birthday! |
| | | |
| --- | --- | --- |
| Happy 1st birthday! At your age, life is full of so many opportunities...to throw food at grown-ups. | Eating with your hands is a privilege and duty at your age. Time to get down and dirty. Happy 1st birthday! | Happy 1st birthday! Remember that there's more to life than birthday cake, balloons and presents. There's also ice cream. |
| | | |
| --- | --- | --- |
| I want to be the 1st person to wish "happy 1st birthday" to the 1st baby in the family.   | This is just the first of many "happy birthdays" for you. Have a deliciously fun 1st birthday, little cutie!  | Turning 1 is a big deal! It's time to rattle and roll! Happy 1st birthday! |
Message Guy Pick
Below is my top pick because it's the epitome of what a 1st birthday wish should be.
Read more ►
| | | |
| --- | --- | --- |
| | My little darling, may every year of your life be as happy-go-lucky as your first one. Happy 1st birthday! | |
| | | |
| --- | --- | --- |
| You're growing up so fast. Wow, you're now 2 feet tall. Happy 1st birthday, big <boy, girl>. | Now that you're 1, I have some important advice for you: don't eat the sand in the sandbox. You can do everything else. Happy 1st birthday! | Turning 1 means never having to say you're sorry. Just cry and only stop when your Mom and Dad have forgiven you. Enjoy the good times, while they last! |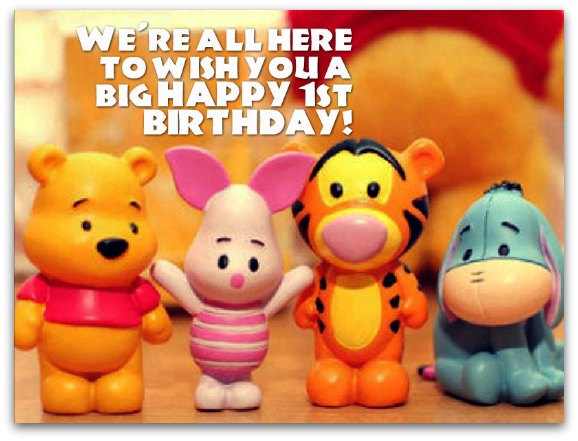 | | | |
| --- | --- | --- |
| Happy birthday to a magical one year old who has put me deep under <his, her> spell. | It's so much fun when you turn 1. Happy 1st birthday, my little sweetheart! Enjoy every moment! | I want to give you a big hug, my precious little bug. Happy birthday, my love! |
| | | |
| --- | --- | --- |
| You've grown up so much already, my little one. Happy birthday! | You can do whatever you care to do because you're turning one today. So have as much fun as you want. Happy 1st birthday! | Happy birthday to an incredibly great-looking one year old (considering your genes). |
| | | |
| --- | --- | --- |
| Happy 1st birthday to the cutest little scamp of a kid I've ever known! | Hoping you have a great start in life, my precious, little darling. Let's start with your 1st birthday! Hope it's so happy! | You've turned one today, so you may have your cake and eat it — with your hands, feet, face, whatever. You're only one once! Happy birthday! |
| | | |
| --- | --- | --- |
| Happy 1st birthday to my favorite 1 year old. You're so special that even the birds sing when they see you come their way.  | Happy 1st birthday to my favorite rolly polly of love, my honey bunch of joy. | Blow out your candle, make a wish and I will give you a gigantic, juicy kiss. So be swift because you know what comes next. That's right, your gifts. Happy 1st birthday! |
| | | |
| --- | --- | --- |
| Happy 1st birthday to a super-cute bundle of joy so full of energy. Lots and lots of energy! | It's so hard to believe that you came into our lives only 12 months ago — now we can't even imagine our days and nights without you and your wonderful, toothless smile. Happy 1st birthday, sweetie! | Exactly 365 sleepless nights ago, you made your presence very known to your parents. As your grandparents, we wouldn't have it any other way. Happy 1st birthday, sweet pea! |
| | | |
| --- | --- | --- |
| Yahooooo! We finally get to celebrate your 1st birthday! So let's party until the last piece of birthday cake is eaten. Happy birthday! | Yay, it's your very 1st birthday with your 1st birthday candle on your 1st birthday cake. Even better, it's your 1st year of birthday gifts. | Hoping you shake, rattle and roll every second of your first birthday! |
| | | |
| --- | --- | --- |
| Happy 1st birthday to the world's dearest, little man (our beautiful boy). | Your first birthday is the best one. It's the only time in your life you get to eat cake with your hands and feet! Have a yummy, messy 1st birthday! | Enjoy your 1 year old because, pretty soon, your little darling will yell, for all to hear, you have yucky breath and giggly arms. Happy 1st birthday! |
| | | |
| --- | --- | --- |
| It seems like only yesterday you were crawling everywhere your little hands and feet would take you. Now you're running circles around everyone. Keep it up, champ! Happy 1st birthday! | When you turn 1, it's just about time to stand on your own two feet and see the world differently — two feet off the ground. Happy 1st birthday! | With your Bette Davis eyes, Mona Lisa smile and Shirley Temple dimples, you're going to be the next (name of pretty celebrity)! Have a wonderful 1st birthday, beautiful! |




What are the best 1st birthday wishes?
You would think that writing 1st birthday wishes for the 1-year-old boys and girls of family and friends is easy to do, but it isn't. Why is it so difficult? Because you may be focusing on the wrong recipient.
When we look at 1st birthday wishes, we think of the birthday girl or boy, not the parents of these wonderful children. That's not the right approach. It's not the child who will be reading your message. 
One-year-old kids, unless they're geniuses, can't read, so you should really focus on Mom and Dad. As soon as you start checking out 1st birthday wishes, it's very important to ask yourself this question: will Mom and Dad like this 1st birthday message?
If you want to make it a little easier on yourself, pick 1st birthday wishes that best express just how cute, sweet, playful and unique this baby is to you. You can't go wrong with flattery. Every parent likes to hear that their child is the belle or beau of the ball.
You can also be funny, poking fun at all the changes junior has brought to the lives of his or her parents. A little laughter never hurt anyone, especially mothers and fathers who may still be deprived of sleep or laughter (or both).
---
Message Guy
Creator of this site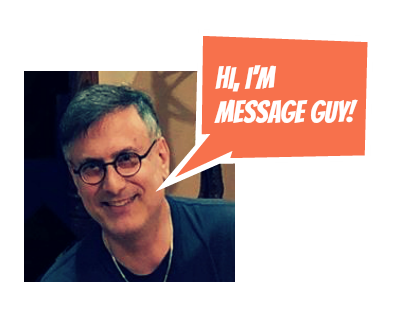 Kevin, the "Message Guy" who writes the birthday wishes, quotes, poems, toasts and speeches for this site, has been a professional writer, editor and translator for more than 25 years. He decided to create BirthdayMessages.net in 2012 to share his passion for birthday and "unbirthday" quotes on the best day of the year — your birthday.

CLICK HERE TO LEARN MORE ABOUT KEVIN (AKA MESSAGE GUY) 
Jump to
these Popular Pages
Can't Find
What You Need?
Make your own
birthday happy again
By Kevin (aka "Message Guy")
Copyright © 2013-2019
BirthdayMessages.net.
All rights reserved.
All trademarks and service marks
are the property of their
respective owners.
The copyrights of all birthday
messages on this website
belong to the individual authors.
Site 
Powered By
Solo Build It (SBI)