21st Birthday Wishes
---
When you come across great 21st birthday wishes, you know it instantly — they have just the right birthday message for a 21 year old. That's the kind I have here.
The only kind of 21st birthday messages you should send have the umph to pay proper tribute to everything about turning 21: legal-age drinking, responsibility, privilege, honor, pride, courage, you name it. Your birthday wish should celebrate what it must feel like for the birthday boy or girl to finally lay their hands on the keys to the city of adults.
In other words, whatever 21st birthday greeting you pick must reflect the excitement, joy and mystery of turning 21 and laying claim to all the benefits that come with it.
Need some assistance with your birthday message search? Feel free to check out all the helpful hints that come with Message Guy Tip #68.
| | | |
| --- | --- | --- |
| Happy 21st birthday! Ignore the distance you've traveled in years. Instead, map out your future and look forward to what's down the road.  | You and I have had some crazy times. There's no reason we should stop now. We're still young, so let's live it up and make your 21st birthday the craziest ever! | Hoping you find your mission in life and make the most of your time on Earth, starting on your 21st birthday. |
| | | |
| --- | --- | --- |
| Enjoy your 21st special day and start having the time of your life! Happy birthday! | Happy birthday! It seems like only yesterday you were just a clueless kid. Now you are 21 and have the legal right to act like a clueless kid. | Happy 21st birthday! Yes, you're getting older, but you're still young enough to say anything you want and get away with it...because nobody takes you seriously at your age! |
| | | |
| --- | --- | --- |
| Happy 21st birthday! This special day is the most special one you've ever had — and should not go unnoticed and uncelebrated. It's time to call out reinforcements and mark this milestone in your life with the right amount of reverence! | Happy 21st birthday! You've reached a major juncture in your life. Say goodbye to childish things. Say hello to the world of grownups! Let the adventure begin! | Happy birthday! One of the most important days in your life is finally here — you're 21 now. It's time to strike the perfect balance between being an adult at life, a child at play and a romantic at heart. I know you can do it! |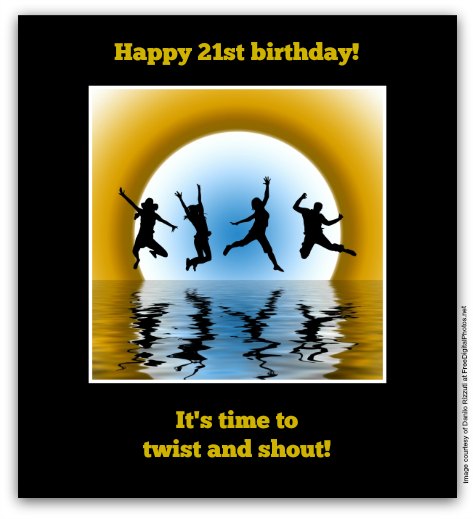 | | | |
| --- | --- | --- |
| Watch out, world. The 21 club has a new member who's poised to be a superstar. Yep, I'm talking about you. I can't wait to see you really shine! Happy 21st birthday! | Wishing you all the best — drinks and luck at the casino — on your 21st birthday.  | Happy 21st birthday. Now we can go to Vegas, gamble all day, party all night...and you have the legal right to pick up the whole tab! |
Still searching!
Check out these 21st birthday wishes...
| | | |
| --- | --- | --- |
| Do you believe in magic? I do. You're magic! You can cast a spell over anyone! Happy 21st birthday! | Happy 21st birthday! You might not have all the answers — now or ever — but it won't matter anyway. Keep asking questions and you'll do just fine. | Happy 21st birthday! Let's make your party a celebration you'll never remember (in a good way). |
| | | |
| --- | --- | --- |
| Happy 21st birthday! You'll know you're doing the right thing on your special day...if it makes you feel good! | There's no reason to behave today. It's your 21st birthday, so have fun, fun, fun until Daddy takes your credit card away. | Happy 21st birthday, my dear child. You're the reason I get up early every day. I have to — you'd flunk out of every university course if I didn't get you out of bed and off to class every morning. |
---
<<Previous     1    2    3    4
Message Guy
Creator of this site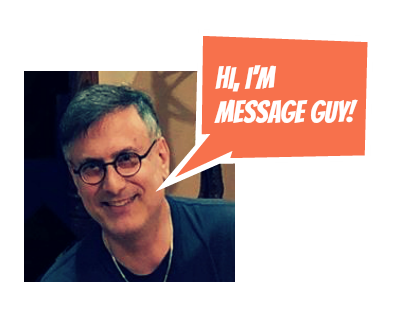 Kevin, the "Message Guy" who writes the birthday wishes, quotes, poems, toasts and speeches on BirthdayMessages.net, has been a content writer since 1993. He created this site in 2012 to share the power of words with you on one of the best days of the year — the birthday of a loved one.

Can't Find
What You Need?
Follow on FeedBurner
By  Kevin (aka "Message Guy")
Copyright © 2013-2021
BirthdayMessages.net.
All rights reserved. 
All trademarks and service marks
are the property of their
respective owners.
The copyrights of all birthday
messages on this website
belong to the individual authors.
Site 
Powered By
Solo Build It (SBI)
Build Your Own Website