21st Birthday Wishes
---
When you need to choose 21st birthday wishes, try to keep in mind that turning 21 is a milestone — so your birthday message should be milestone worthy. Fortunately, that's the only type I have on this page.
What makes a birthday greeting milestone worthy? For a 21-year-old birthday girl or boy, this means that you need to pick 21st birthday messages that bring a sense of pride, inspiration, confidence, comfort and joy to him or her. "Drinking" jokes won't cut it.
At the age of 21, it's quite hard to navigate the world of young adulthood. A sense of pride, inspiration, confidence, comfort and joy could make all the difference. Accordingly, choose a birthday greeting that can do it all. 
Message Guy Tip #68:


How to pick 21st birthday wishes 
When someone turns 21, they legally become an adult in many countries, with the legal right, for example, to buy and drink alcohol, gamble, vote, even rent a car.
At 21, many boys and girls also have the money and desire to indulge in these activities. This can make hitting 21 a mixed blessing for them, especially if they indulge a little too much.
This mixed blessing, though, is what makes this milestone terrific fodder for a funny or serious birthday message. Which route should you take? It depends...
Read more ►
| | | |
| --- | --- | --- |
| When I turned 21, the times were simpler, slower...and boooring! Today, 21 is your ticket to a new and exciting world. It's time to celebrate! Happy 21st birthday! | Bravo, you're 21 and legal! Time to throw out your collection of fake IDs. Happy 21st birthday! | Now that you're 21, you've got plenty of catching up to do in the drinking department. Happy 21st birthday! |
| | | |
| --- | --- | --- |
| Congratulations on turning 21. Now you're old enough to pay for your own drinks. | May your 21st birthday be even more wonderful than you ever expected. If there's anyone who deserves a truly special day, it's someone as special as you. | Although you're 21 now, you still can't wait to blow out your candles, eat your birthday cake and open your gifts. It looks like you already have your priorities straight. Happy 21st birthday! |
Message Guy Pick
There's a reason why the message below resonates with me. It's because...
Read more ►
| | | |
| --- | --- | --- |
| | When you were a kid, you couldn't wait to grow up, be an adult and do whatever you wanted. Today, you're 21, all grown up, an adult and able to do whatever you want.  Now what? | |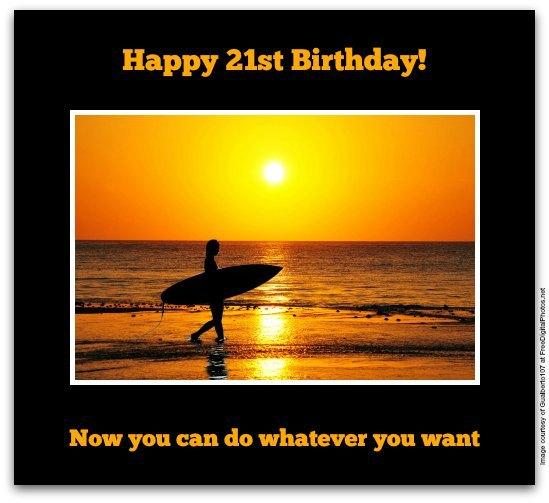 | | | |
| --- | --- | --- |
| At your age, you have the rest of your amazing life right in the palm of your hands...along with a stiff drink and a one-arm bandit slot machine. Happy 21st birthday! | May you live long, prosper early, laugh heartily and love deeply. Happy 21st birthday! | You've just turned 21. Your whole life is ahead of you. Take the road less traveled and stop along the way to enjoy the scenery. Happy 21st birthday! |
Top of 21st Birthday Wishes
Keep looking!
You'll find more 21st birthday wishes below...
| | | |
| --- | --- | --- |
| At 21, you have the legal right to drink, gamble, rent a car and get your parents to pay for it all. Happy 21st birthday! | At 21, a whole new era, filled with adventures, mishaps and life lessons, is about to start. Enter with your eyes and heart open. Happy 21st birthday! | Wishing you a happy 21st birthday welcome to a world of drunken nights, lost weekends and wild spring breaks!  |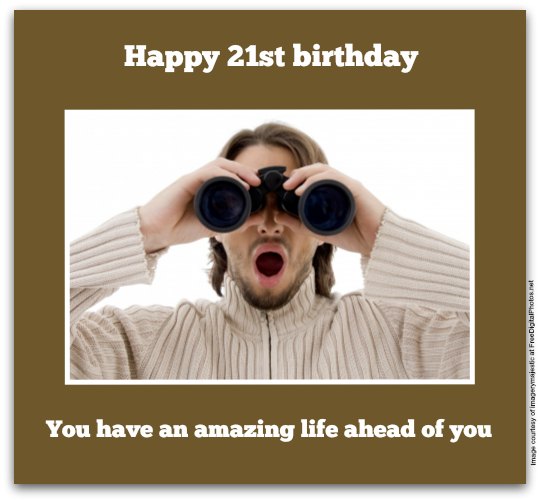 | | | |
| --- | --- | --- |
| Your life is just about to pick up speed and blast off into the stratosphere. Wear a seat belt and be sure to enjoy the journey. Happy 21st birthday! | Wow, you're 21. You can do so much now. But don't do everything all at once. Spread it out — you have many years and hangovers ahead of you! Happy birthday! | Happy birthday! Started making 21st birthday wishes yet? Don't forget to wish for more love, peace and happiness than you and the world will ever need. |
---
Message Guy
Creator of this site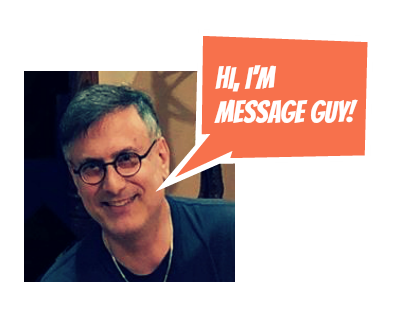 Kevin, the "Message Guy" who writes the birthday wishes, quotes, poems, toasts and speeches on BirthdayMessages.net, has been a content writer since 1993. He created this site in 2012 to share the power of words with you on one of the best days of the year — the birthday of a loved one.

Can't Find
What You Need?
Follow on FeedBurner
By  Kevin (aka "Message Guy")
Copyright © 2013-2021
BirthdayMessages.net.
All rights reserved. 
All trademarks and service marks
are the property of their
respective owners.
The copyrights of all birthday
messages on this website
belong to the individual authors.
Site 
Powered By
Solo Build It (SBI)
Build Your Own Website