2nd Birthday Wishes
---
2nd birthday wishes, like any 2 year old, can sometimes be terrible…but not mine. Here, you'll only find cute birthday messages for the precious toddlers in your life.
Each birthday greeting on this page is ideal not only for the birthday boy or girl, but also for the parents of this wonderful tike, the ones who will appreciate your thoughtfulness more than anyone else (since little Jack or Jill can't read a word yet).
Because Mom and Dad are the only ones who will read your birthday verse, the best 2nd birthday messages mostly cater to them and are, as a result, full of joy, wonder and innocence...just like any 2 year old. 
See everyone's favorite birthday messages
Birthday verses as cute as the toddler you adore
| | | |
| --- | --- | --- |
| Snow White, Sleeping Beauty and Cinderella don't hold a candle to you, little girl. You are by far the most beautiful princess anywhere. Happy 2nd birthday! | You're even more super than Superman, Batman, Spiderman, Aquaman and Flash put together. Happy 2nd birthday, my super, little hero! | On your special day, you will be given the "Cutest Kid Ever Award" for extraordinary cuteness (and I have the photos to prove it). Happy 2nd birthday, cutie pie! |
| | | |
| --- | --- | --- |
| Turning 2 years old is twice as great as the greatest things in the world. Happy 2nd birthday! | Happy 2nd birthday to a 2-year-old boy who has changed what I consider "super-duper." As far as I'm concerned, you're Superman! | Happy 2nd birthday to a 2-year-old girl who has given new meaning to the word "wonderful" around here. You are our own little Wonder Woman! |

Quick Links
| | | |
| --- | --- | --- |
| Whatever you decide to be when you grow up, we can tell right now you'll do just fine. You're already a champion in our eyes. Happy birthday, sweetie! | This special birthday message is for someone very special — our little <prince, princess>, our life. Loving you has brought us joy we never thought possible. Happy birthday, precious! | This is your special day. You're now 2 years old and have so much to enjoy, from your 2nd birthday party today to days, weeks and months of fun, adventure and games. Appreciate every second of it. |
Top of 2nd Birthday Wishes
| | | |
| --- | --- | --- |
| I hope you loved every second of every day of your first two years as our favorite little <boy, girl>. Now everything is about to change — it's just going to get better and better. Hooray! | Your special day is all about blowing out your birthday candles, eating lots of birthday cake, getting presents and, best of all, kissing and hugging the world's greatest 2 year old (that's you, silly).  | For a little <guy, girl>, you have a big heart — big enough to bring tons of love into the lives of everyone who adores you. |
Don't stop here!
Find even more 2nd birthday wishes right here...
| | | |
| --- | --- | --- |
| Just a little smile from you makes a big difference in my day. All of a sudden, I feel great. You're one powerful little <guy, girl>. | Wishing the most super little <fella, gal> a super-duper birthday! Hoping you have the greatest party ever! | Wow, you've grown so much! You're no longer a little baby — you're such a big <boy, girl> now. Keep it up! Happy 2nd birthday! |
| | | |
| --- | --- | --- |
| Wishing you a lifetime of the love, warmth and joy you've brought us the first two years of your precious life. | It's your special day and you know what that means — yep, more presents and, yuck, hugs and kisses from everyone who loves you. Happy 2nd birthday! | Since you came into this world, every day is sunny, even when it's raining cats and dogs outside (not real cats and dogs...That's just what grownups say when it rains a lot)! Happy 2nd birthday, our little bundle of sunshine! |
---
<<Previous   1    2  
---
Message Guy
Creator of this site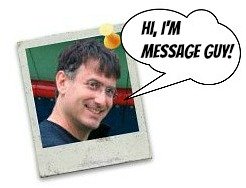 Meet the veteran writer behind every birthday message here
---
---
Check out these popular pages
CAN'T FIND WHAT YOU NEED?
SEARCH HERE
---
Like this page?


Help me get the message out