30th Birthday Wishes
---
The 30th birthday wishes here should do the trick! By "trick" I mean that they will make your birthday boy or girl feel okay about turning 30.

Unlike anyone over 30, you can trust the great birthday greetings right below. Rest assured you'll find only original, beautifully written birthday messages for the 30 year olds in your life.
Turning 30, at least for me, was slightly traumatic, so my advice is to choose 30th birthday messages that alleviate the pain of entering the thirtysomething club. This means picking birthday greetings that poke fun at turning 30 or come with very inspirational words about the decade ahead.
For more tips, be sure to check out Message Guy Tip #31 below.
Message Guy Tip #31
How to choose 30th birthday wishes
30 is a milestone birthday we like to celebrate in a really big way. But it's not as notable as turning, say, 21, 40 or 50, so figuring out what message to send can be hard.
Should you pick something serious? Inspiring? Funny? As always, it depends on the feelings you want to express and, of course, the personality of the message's recipient.
Read more ►
| | | |
| --- | --- | --- |
| To me, you're still a wide-eyed kid — with three decades of hard knocks and easy pickings to call yourself 30. Happy 30th birthday! | Wow, you're 30 now. There's no better time in your life to celebrate with friends or family…except if you're 29 or younger. Happy 30th! | Now that you're in your 30s (even if it's just for a few hours), you're actually nearer to the big 4-0 than the smaller 2-0. Yep, you're officially old. Happy birthday! |
30th birthday wishes for 30 somethings
| | | |
| --- | --- | --- |
| At 30, you suddenly become more mature, more responsible, more self-disciplined, more reliable, more grown-up: just like your parents. Happy 30th birthday! | At 30, it's time to start acting your age. Na! Let's party until we can't remember how old we are. Happy 30th birthday! | 30 is as good as any age — if not more so — to start making your dreams come true! Have a great 30th birthday! Here's hoping it's the start of something really big! |
Message Guy Pick
When I chose the birthday wish below, I had one thing in mind...
Read more ►
| | | |
| --- | --- | --- |
| | You're 30 and, gasp, unmarried, so you may feel like you've been left out in the cold. Don't. Things are just starting to heat up. The 30s are going to be your hottest years. Happy 30th birthday. | |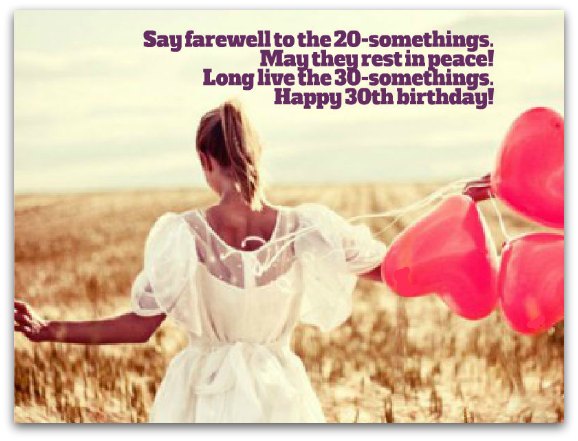 Top of 30th Birthday Wishes
| | | |
| --- | --- | --- |
| Wishing you the most amazing of greetings to your third decade. It's going to be just, well, amazing. Happy 30th birthday! | Happy 30th birthday! Don't look so sad! Turning 30 is not so bad. It's actually pretty cool. I think you'll like the 30s. | Say farewell to the 20-somethings. May they rest in peace! Long live the 30-somethings. Happy 30th birthday!  |
Message Guy Picks




My favorite funny 30th birthday wishes...



Want to see 10 really, really, really
funny 30th birthday wishes for family and friends?
They're right here! Click here to see them ►
| | | |
| --- | --- | --- |
| Wishing you all the happiness, health and success you deserve...A lot. Have an fantastic 30th birthday!  | Now that you're 30, you know what you have to do...start counting down to your 40s. Happy 30th birthday!  | Everything worth knowing I learned after I was 30. Here's to a decade of incredible wisdom. Happy 30th birthday! |
| | | |
| --- | --- | --- |
| I'm in the unpleasant duty of telling you that your 20s have lost the battle against time. From now on, the 30s are in command of your hopes and dreams. Happy 30th birthday! | 30 is only a number that's close to 29 but, as a rule, never quite gets there. Happy 29th birthday...again! | After 30, your body has a mind of its own. Welcome to old age. Happy 30th birthday! |
Want to add some
inspiring thoughts to your wishes?
Here are some great 30th birthday ideas...
If you would like to add a few inspiring thoughts to your 30th birthday wishes, read a minimalists.com article I just found, called 30 Life Lessons from 30 Years. It's full of incredible insights that will inspire your 30-year-old birthday boy or girl. 
Here are my five favorite lessons:
"Happiness is not for sale in any store."
"Growth and contribution is the meaning of life."
"Health is more important than most of us treat it."
"Finding your passion is important."
"I'm still trying to figure it all out."
Want to see the other 25 lessons? Click here to read the article right now.

---
Message Guy
Creator of this site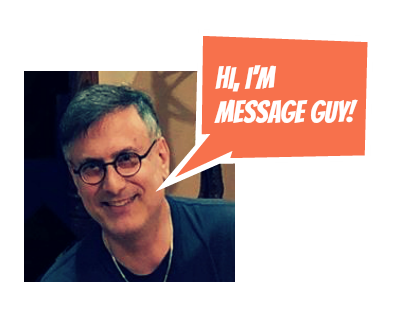 Kevin, the "Message Guy" who writes the birthday wishes, quotes, poems, toasts and speeches for this site, has been a professional writer, editor and translator for more than 25 years. He decided to create BirthdayMessages.net in 2012 to share his passion for birthday and "unbirthday" quotes on the best day of the year — your birthday.

CLICK HERE TO LEARN MORE ABOUT KEVIN (AKA MESSAGE GUY) 
Jump to
these Popular Pages
Can't Find
What You Need?
Make your own
birthday happy again
By Kevin (aka "Message Guy")
Copyright © 2013-2019
BirthdayMessages.net.
All rights reserved.
All trademarks and service marks
are the property of their
respective owners.
The copyrights of all birthday
messages on this website
belong to the individual authors.
Site 
Powered By
Solo Build It (SBI)