4th Birthday Wishes
---
4th birthday wishes can be tricky — since 4 year olds are neither babies nor big kids.
Here, nothing's tricky. It's easy to find the right birthday messages for your 4-year-old birthday boy or girl.
All the 4th birthday greetings on this page have all the ingredients the Moms and Dads of 4 year olds look for: just the right amount of humor, joy, wonder and innocence any 4-year-old boy or girl can relate to.
Message Guy Tip #83:
How to choose 4th birthday wishes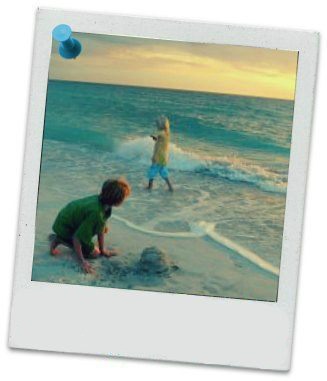 You could probably get away with choosing any type of birthday message for a 4 year old. After all, many 4 year olds can't read very well or at all, so it's tempting to avoid all the fuss that comes with selecting the right birthday greeting for them. I think you should always go to the trouble of picking out birthday greetings, no matter how young or old someone is, because...
Read more ►
| | | |
| --- | --- | --- |
| Hoping this year's birthday is the very best a super 4 year old — like you — can ever have! Happy 4th birthday! | Hoping your birthday cake is four times bigger than the biggest cake in the world. That's the only way to celebrate the birthday of my favorite 4 year old in the world. Happy 4th birthday! | You should have four of the world's brightest candles to blow out — because you've made the world a much brighter place to live for four whole years. Happy 4th birthday! |
| | | |
| --- | --- | --- |
| Happy 4th birthday. Now you are four times as beautiful as you were at birth. | When you reach the age of 4, everything you love about the world gets four times as wonderful. Happy 4th birthday.  | The number "4" is magical. Know why? Because you're 4 years old today. Happy 4th birthday, sweetheart. |

Quick Links
Message Guy Pick
| | | |
| --- | --- | --- |
| Rule #1: All 4 year olds to have fun on their birthday...and every other day of the year. Rule #2: Do not break Rule #1. Happy 4th birthday! | It's time to find out how many pieces of birthday cake you must eat before you can call yourself a true 4 year old. Happy 4th birthday! | For the next 12 months, you get to be the greatest thing in the world…4 years old. Make sure you enjoy every one of the next 365 days! Jump in puddles, get messy, spill milk, have fun! Happy 4th birthday! |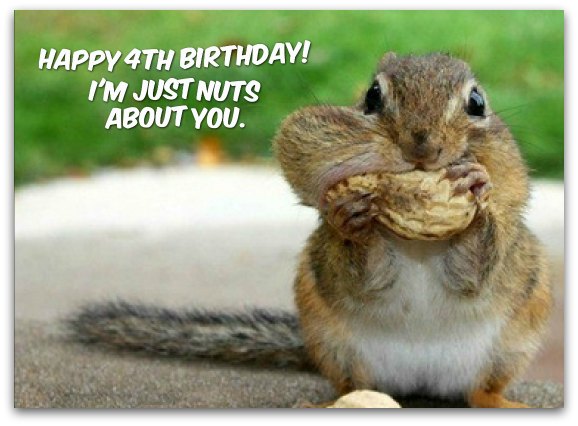 | | | |
| --- | --- | --- |
| For each of your four birthday candles on your birthday cake, I grant you a birthday wish.  Hoping all four of your birthday wishes come true. Happy 4th birthday! | This is your special day. Every second today is for you. After all, it's your birthday, so let's hear you roar, I'm 4, I'm 4 and I'm 3 no more! Happy 4th birthday! | You are 4. 4 is fun. 4 is fantastic. 4 is fab. 4 is freaky. But 4 goes fast, so you should really adore 4! Happy 4th birthday! |
See everyone's favorite birthday messages
Keep going!
You'll see more 4th birthday wishes below...
| | | |
| --- | --- | --- |
| Break out the boom, boom, boom, boom. Let's zoom, zoom, zoom, zoom! Because it's time to celebrate a very special birthday…Yours. Happy 4th birthday to my favorite four year old! | At 4 years old, you turn into a magical wizard. Not really, but you're magical to me. Happy birthday to the cutest 4 year old I know and love! | You're 4 years old today and I only have four things to say to you: Happy 4th birthday, sweetie! |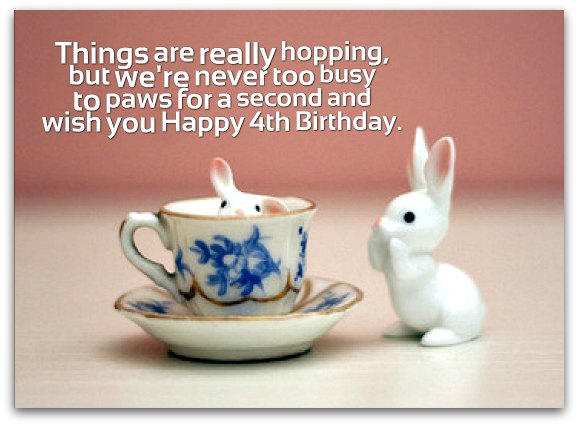 Top of 4th Birthday Wishes
| | | |
| --- | --- | --- |
| Your birthday candles are four times brighter this year. Your cake is four times bigger. It's a good thing…because somebody who is four times more special than everyone else is 4 years old today. That special someone is YOU! Happy 4th birthday! | 1, 2, 3, 4, may your 4th birthday be better than any birthday before. Happy 4th birthday, my precious, I've loved you since you were born! | Today is your 4th birthday, so you get to make four birthday wishes. I hope every single one comes true. Happy 4th birthday! |
| | | |
| --- | --- | --- |
| When your friends tell you that turning four is super duper, you tell them it's actually super, super, super, super duper! Happy 4th birthday! | When you turn 4 years old, you have a special job to do. All 4 year olds must do it. No 4 years old can get out of doing it. At 4, your job is to be happy and have fun, starting with your birthday party! Happy 4th birthday! | Wow, you're 4. Before you know it, you're going to be old…you know, 5 years old. Better have fun while you're 4. Happy 4th birthday! |
---
---
Message Guy
Creator of this site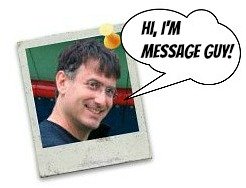 Meet the veteran writer behind every birthday message here
---
---
Check out these
popular pages
CAN'T FIND WHAT YOU NEED?
SEARCH HERE
---
Like this page?


Help me get the message out

Follow this site

 


on Facebook



Be the first to see what's new