60th Birthday Wishes
---
Perfect 60th birthday wishes can make turning 60 a little easier and a lot more special. On this page, find only "perfect" birthday messages for 60 year olds. It's as easy as scrolling down this page.
What is the quintessential "perfect" 60th birthday greeting? It does what every birthday verse should do at the beginning of any birthday decade: it makes the birthday girl or boy feel better about getting older. This may call for some humor or lots of inspiration. The route you take is, of course, up to you.

Fortunately, you have many funny and inspirational 60th birthday messages to choose from, making it easier than ever for you to find the right one for your loved ones.
Message Guy Tip #41:
How to choose 60th birthday wishes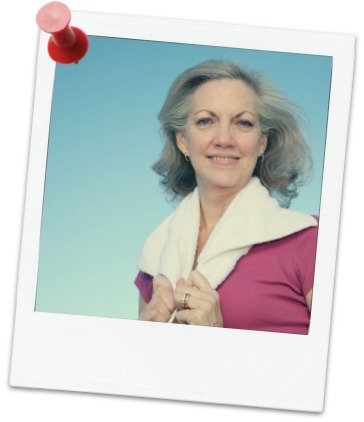 When people turn 60, a major milestone birthday, their reaction can be positive or negative. Don't automatically assume that everyone dreads the big 6-0.
The reaction of the birthday girl or boy depends, as always, on their temperament and outlook. So figuring out what message to send can be hard. Should it be clever? Inspirational? Funny? It depends...
Read more ►
| | | |
| --- | --- | --- |
| Life is a beautiful struggle. Sometimes, it's beautiful, sometimes just a struggle. Make beautiful memories when you can. Happy 60th birthday! | At 60, let go of the past, seize the present and take hold of the future. It's never too late to be happier. Happy birthday. | Your mind may tell you you're 60 but your heart and soul say otherwise. Happy birthday to the youngest 60 year old I know. |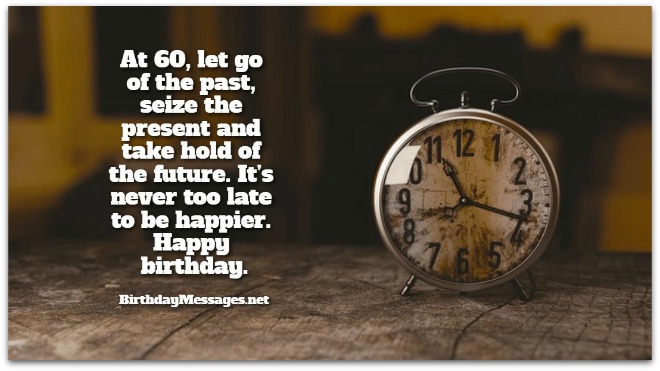 | | | |
| --- | --- | --- |
| Yes, you've lived an incredible six decades. May the next six be just as incredible. Happy 60th birthday! | Happy 60th birthday. Even though your body may prove you wrong from time to time, you're still as young as you feel. You must feel great! | At 60, there's no time to take yourself too seriously — especially when everyone under 60 takes you seriously anyway. Happy 60th birthday. |
| | | |
| --- | --- | --- |
| Congrats on turning 60. Don't turn so fast, though — you may hurt your back. Happy 60th birthday. | There's no running away from the fact you're 60. Besides, running is for the younger folks now. Happy 60th birthday. | Turning 60 hasn't slowed you down one bit. You're still as fit as you ever were. Happy 60th birthday. |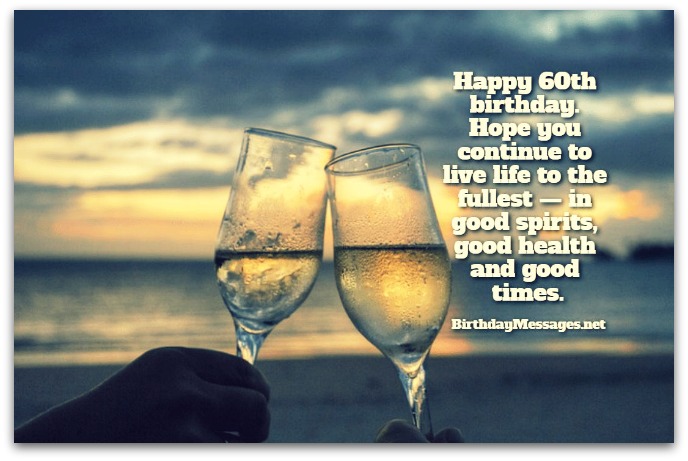 | | | |
| --- | --- | --- |
| When I turn 60, I hope I'm as happy, healthy and successful as you are. Happy 60th birthday. | Happy 60th birthday. Hope you continue to live life to the fullest — in good spirits, good health and good times. | Turning 60 may add wrinkles to your face, dark circles under your eyes and pounds to your tummy, but it will never take away your beautiful outlook on life (and that's what counts, anyway). Happy 60th birthday. |
| | | |
| --- | --- | --- |
| No matter how many times the world's greatest scientists have tried to figure out the secret to eternal youth, they've always come up short — but you haven't, just by being yourself. Happy 60th. | I love your outlook on life — you are truly inspirational. Don't stop believing in miracles. Happy 60th birthday. | You may look and act like a 60 year old but always remember this important fact: A happy person at 60 is much better off, healthier and wiser than a sad sack at 30. Happy 60th birthday. |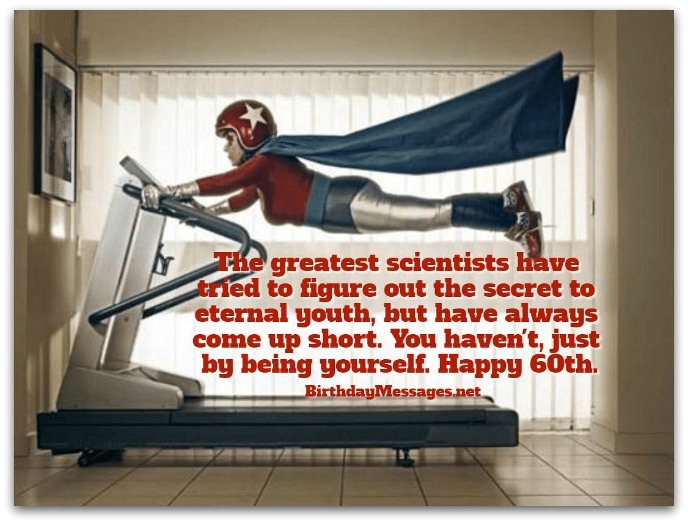 | | | |
| --- | --- | --- |
| Happy birthday! Who says you're only fab at 50? You're fabulously fabulous at 60.  | Wishing you the most amazing of special days for your 60th birthday. | Happy birthday! Heck, you're not 60 years old — you're 60 years of vintage goodness, all rolled up in one amazing person. |
| | | |
| --- | --- | --- |
| Happy birthday! 60 is an amazing age. You're more amazing now than you ever were before. | Happy birthday! Turning 60 is not the end of the world — who knows, it could be the beginning of something new, something you've always wanted to do, something magical! | Happy birthday! At 60, you've definitely been around the block a few times — let alone the entire neighborhood — but you look DAMN GOOD doing it! |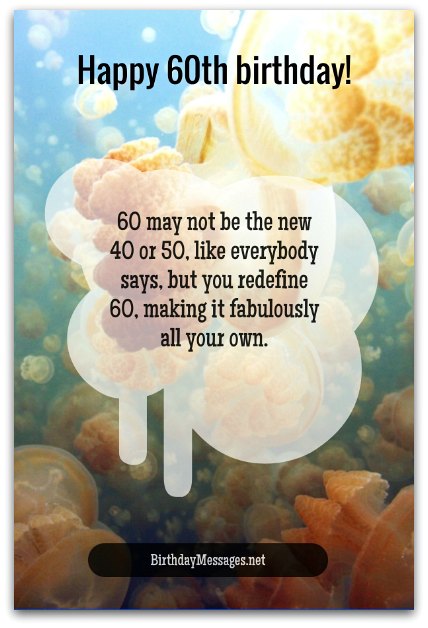 Message Guy Pick
The 60th birthday wish below is perfect for a 60 year old. Mostly, that's because it has a certain quality that will appeal to your average 60 year old. What is it? Well...
Read more ►
| | | |
| --- | --- | --- |
| | 60 may not be the new 40 or 50, like everybody says, but you redefine 60, making it fabulously all your own. Happy 60th birthday! | |
Don't stop your search!


Choose from more 60th birthday wishes below
| | | |
| --- | --- | --- |
| Happy birthday! You're not turning 60. You're turning into an undeniable classic that can't be matched. | Happy birthday! You're not 60. You're 60…and sensationally sexy. | May your 60th birthday be as sensational, awesome and fascinating as you are.  |
| | | |
| --- | --- | --- |
| 60 is a great number — it's the number of years you've blessed this world with your presence, kindness, sense of humor and love. | Happy birthday! One of the perks of turning 60 is the fact that you can dress for comfort, not for fashion, not for success, not for even dignity…and nobody notices or cares. | Happy 60th birthday! 60 years ago, you were a baby. At 60, you're simply babilicious. |
Top of 60th Birthday Wishes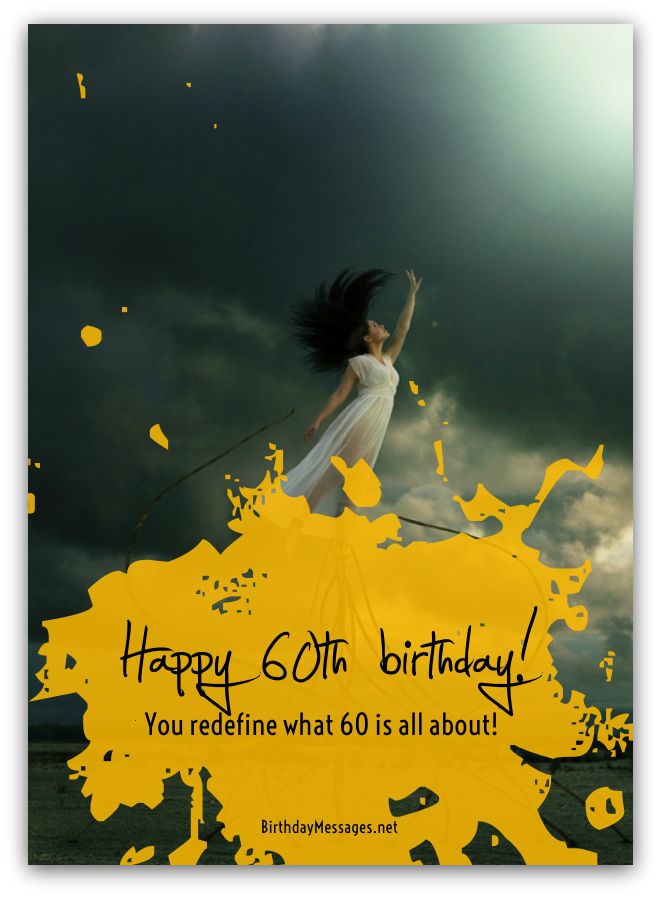 Happy birthday! 
Welcome to Club 60. Membership has full privileges and access to all activities. No old at heart permitted.

Happy birthday! 60 is just 40 with 20 years of life-changing, mood-altering, mind-blowing, soul-shifting, perspective-modifying, death-defying experience.


Happy birthday to a truly amazing 60 year old who makes 60 look easy and incredibly great.

Want to add inspiring thoughts to your wish?
Here are 60 ideas for your 60th birthday wishes

!
If you want to add your personal touch to any of the 60th birthday wishes on this page, click here to check out 60 inspiring ideas in a Huffington Post article I just found.
---
Message Guy
Creator of this site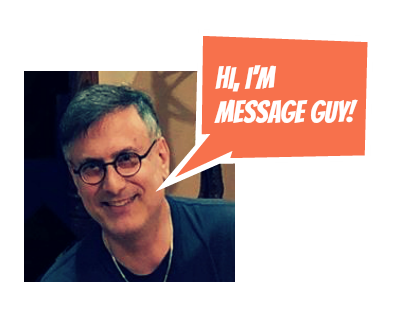 Kevin, the "Message Guy" who writes the birthday wishes, quotes, poems, toasts and speeches on BirthdayMessages.net, has been a content writer since 1993. He created this site in 2012 to share the power of words with you on one of the best days of the year — the birthday of a loved one.

Can't Find
What You Need?
By Kevin (aka "Message Guy")
Copyright © 2013-2020
BirthdayMessages.net.
All rights reserved.
All trademarks and service marks
are the property of their
respective owners.
The copyrights of all birthday
messages on this website
belong to the individual authors.
Site 
Powered By
Solo Build It (SBI)
Build Your Own Website