70th Birthday Wishes & Quotes
---
Writing great 70th birthday wishes is not as easy as you may think. That's because turning 70 is a major, emotionally tricky milestone to reach for many sixty-somethings.
Don't know what to write? Get inspired by the original examples of 70th birthday messages on this page.
BY KEVIN NISHMAS | UPDATED: SEPT. 12, 2021

Jump to These Sections
Don't have the time to scan the entire page for the ideal birthday greetings? Just jump to the section with the kind of birthday messages you need, right below!
QUICK LINKS



70th Birthday Wishes
- Short & Sweet -
When you just want to write 70th birthday wishes that are short and sweet, because you or the birthday guy or gal are not the overly sentimental type or have a short attention span, here's the place to start.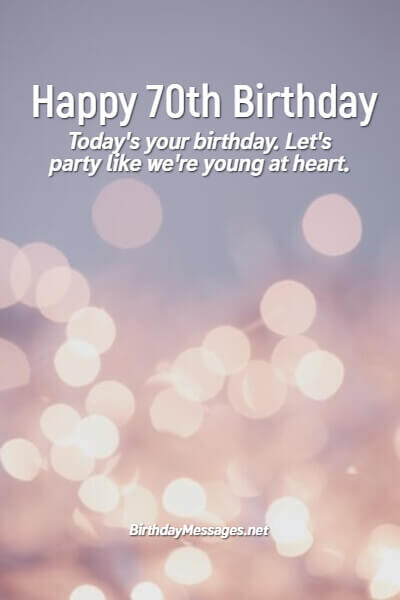 | | | |
| --- | --- | --- |
| Happy 70th birthday! Life's long. Keep taking chances. | Today's your birthday. Let's party like we're young at heart. | Wishing you a happy birthday today and many more all your tomorrows. |
| | | |
| --- | --- | --- |
| Happy 70th birthday. May you only know joy today. | Happy 70th birthday. Let's celebrate the day you entered this world. | Happy 70th birthday. Wishing you wishes guaranteed to come true. |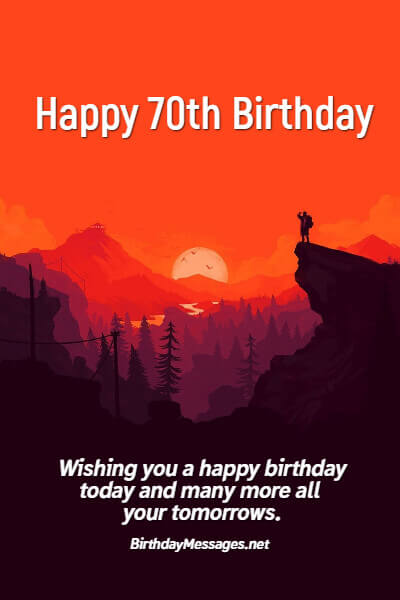 | | | |
| --- | --- | --- |
| Happy 70th birthday. Hope today is full of everything and everyone you love. | Happy 70th birthday. Let's celebrate another year of your amazing life. | Happy 70th birthday. Sending you hugs and kisses on this very special day. |
| | | |
| --- | --- | --- |
| Happy 70th birthday. Have the time of your life today. | Happy 70th birthday. Hope your unfulfilled dreams start to come true today. | It's your birthday! Hope it's filled with happiness and plenty of love. |
---



70th Birthday Wishes
- Happy -
What should you write in a birthday card for a 70 year old? If you want to send 70th birthday wishes that bring even more joy to this special day, get inspired by the 70th birthday messages below.
| | | |
| --- | --- | --- |
| On your 70th birthday day, you deserve to savor every special second of it. Let's make it special together! | Hope all 24 hours of your 70th birthday are as memorable as the last 70 years have been for you. | Celebrate your birthday exactly like you've lived the last 70 years — with joy, wonder and contentment. Happy 70th birthday. |
| | | |
| --- | --- | --- |
| Happy birthday! 70 may not be the new 50 but it's definitely flirting with 60 (in more ways than one). Now that's something to celebrate! | Wishing you the best life has to offer — and the stamina of a long-distance runner to enjoy it — on your 70th birthday. | Happy 70th birthday! Calling you old is like calling love old. That's just silly. |
| | | |
| --- | --- | --- |
| Have a terrific 70th birthday. You'll never be this young again. | Happy birthday! You've always been cool. Now that you're 70, you're hotter than a sauna in the summertime. | Happy birthday! You're the wealthiest 70 year old I know. You have the wealth of love, family and friends invested in your happiness and health. |
Happy 70th birthday! You deserve all the accolades you're getting and more. You've worn so many hats for so many people, for so long — without expecting anything in return. It's time you did!

At 70, there are two rules for making your birthday unforgettable:

Rule 1: Have the time of your life. 

Rule 2: Don't forget Rule 1.

70 may be an awesome number, but not as awesome as you are! Hope you have an awesome time on your 70th birthday!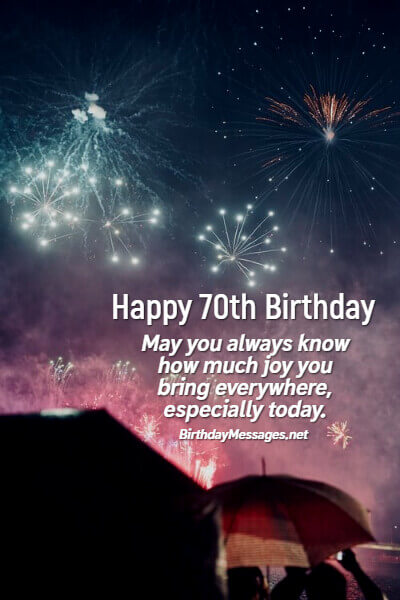 | | | |
| --- | --- | --- |
| Happy 70th birthday! May you always know how much joy you bring everywhere, especially today. | Happy 70th birthday! For this major milestone, I wanted to wish you something extraordinary but nothing is as extraordinary as the gift of you. | Happy 70th birthday! Celebrate, eat, cheer, dance and laugh the day away. After all, this birthday only comes once every seven decades. |
---



70th Birthday Wishes
- Sentimental -
Here's the place to start, if you want to write 70th birthday wishes with the power to make someone feel even more special on their birthday. Sentimental 70th birthday messages have that sort of effect.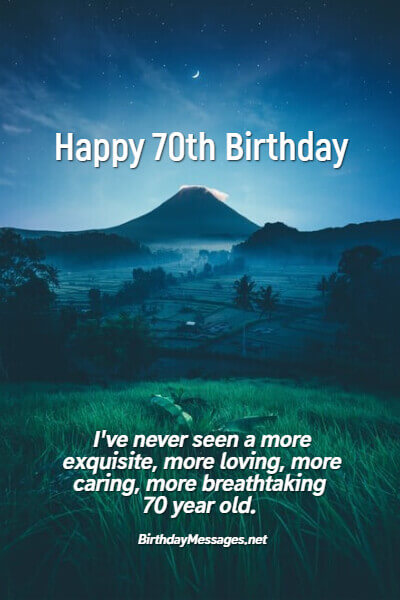 | | | |
| --- | --- | --- |
| I've never seen a more exquisite, more loving, more caring, more breathtaking 70 year old. Happy birthday, my dearest! | Happy 70th birthday! When I'm your age, I hope I'm fortunate enough to have your 70 years of wisdom, grace, compassion and love. | You are the most loving, kind and encouraging person to everyone who knows and loves you. Happy 70th birthday!  |
| | | |
| --- | --- | --- |
| Happy birthday! It's a shame that everyone and everything that's 70 years old is nowhere near as loving, kind, wise, gentle and inspirational as you. But at least we have you. | When you turn 70, you deserve the respect that comes with your age. Unfortunately, life can sometimes be unfair. May you be one of the fortunate few. Happy birthday! | At 70, you deserve to look back to days of old and look forward to many New Years ahead! Happy 70th birthday! |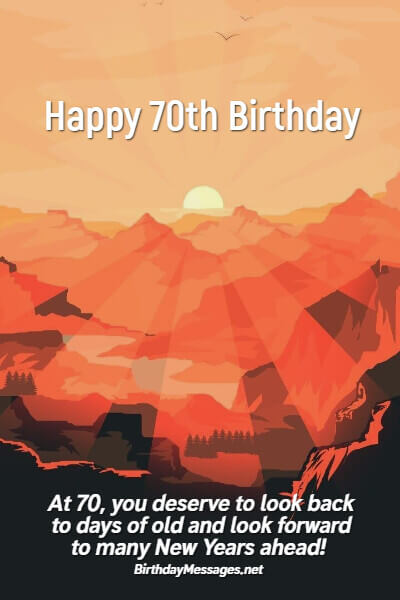 | | | |
| --- | --- | --- |
| Happy 70th birthday! Hope your 70s will be as awesome as (or even better than) your 60s, 50s, 40s, 30s and 20s combined. | Happy 70th birthday! At 70, you're still a regular fountain of youth. May your cup always runneth over! | Happy 70th birthday! It's far, far better to be young at heart at 70 than heavy-hearted at 20. |
| | | |
| --- | --- | --- |
| Happy 70th birthday! Even at 70, you look like a 60 year old. I think it's time for you to give me a taste of your secret fountain of youth. | Happy 70th birthday! This birthday is the perfect time to celebrate all the amazing years you've spent on this planet with family and friends who love, respect and enjoy you immensely. This is an important day for all of us! | Happy 70th birthday! We have known each other for almost seven decades and, still, I count the many blessings of having you in my life all these years. There's not been a dark day between us. May we be blessed for years and years down the road. |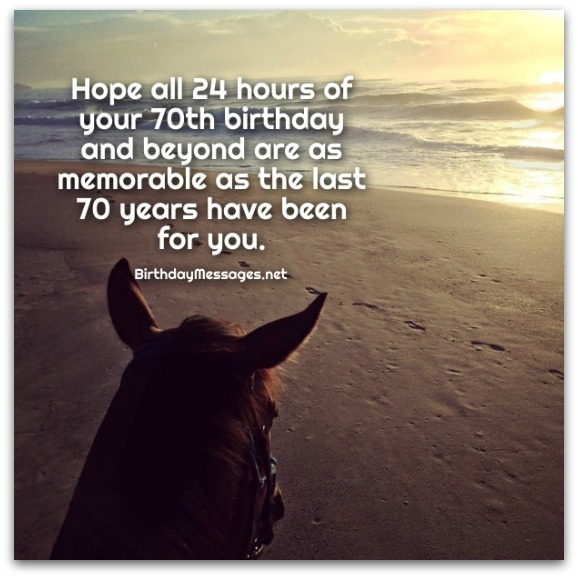 ---



70th Birthday Wishes
- Funny -
If the birthday boy or girl turning 70 has a good sense of humor, write funny birthday wishes that are humorous enough to bring a chuckle to their special day. Need ideas? Check out the examples of funny 70th birthday wishes below.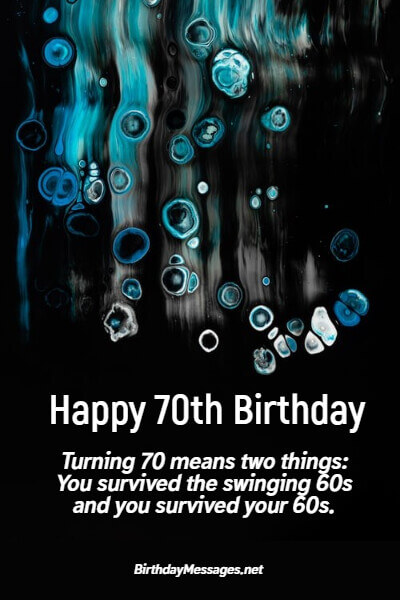 | | | |
| --- | --- | --- |
| Happy birthday! At 70, blowing out every candle on your birthday cake is not the problem. It's if you blow out all your dental work at the same time. | Turning 70 means two things: You survived the swinging 60s and you survived your 60s. Happy 70th birthday! | Happy birthday! When you turn 70, everything needs to be larger than life. That's why there's large print. |
| | | |
| --- | --- | --- |
| Happy 70th birthday! Don't be concerned that your precious youth seems to be slipping away from you. Who at 70 can really expect to chase after all their grandchildren all day! | Happy birthday! When you're 70, the problem is not the fact that you've slowed down — it's that everyone else hasn't. | Happy 70th birthday! With 70 candles on your birthday cake to blow out, you won't have to exercise your lungs for a month. |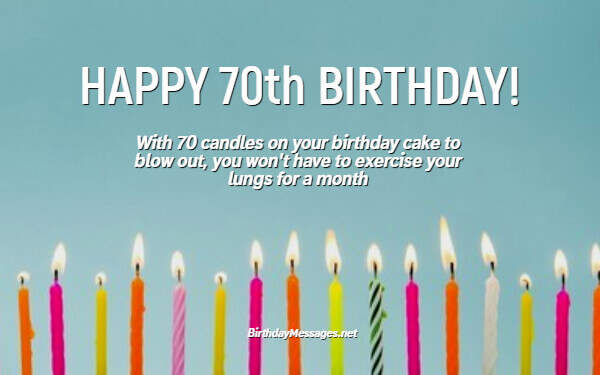 | | | |
| --- | --- | --- |
| Happy birthday! 70 really suits you! But who wants to wear a 70 year old suit? | You're not only the youngest 70 year old I know. You're the only 70 year old I know. Happy 70th birthday! | Happy birthday! With 70 comes a certain amount of maturity, so it's about time you stopped behaving like a reckless 60 year old.  |
| | | |
| --- | --- | --- |
| Happy 70th birthday! Don't look so glum. At least you're not 80. | Happy 70th birthday! Now you're closer than ever to learning the secret to youth: you have to keep moving to keep moving! | Happy 70th birthday! Don't be sad about your age. In dog years, you'd just be 10 years old. |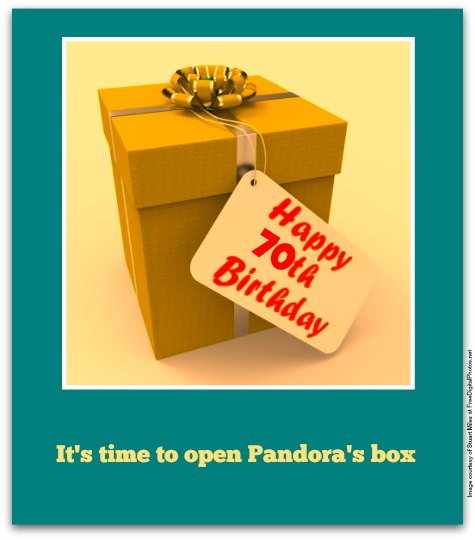 | | | |
| --- | --- | --- |
| Happy 70th birthday! Don't look at turning 70 as the glass half empty. Just keep filling that glass to the brim with your favorite whisky. You'll be so blind drunk, you won't know if your glass is half empty or full. | Happy 70th birthday! They say we get wiser and more forgetful as we age. If you use your forgetfulness wisely, people will never let you do anything remotely complicated ever again. | Happy 70th birthday! You look amazing for someone who is hitting 80! |
---



70th Birthday Wishes
- Inspirational -

Turning 70 isn't the easiest to do. To make the transition to the seventy-somethings a little smoother, write inspirational 70th birthday wishes based on the examples right below.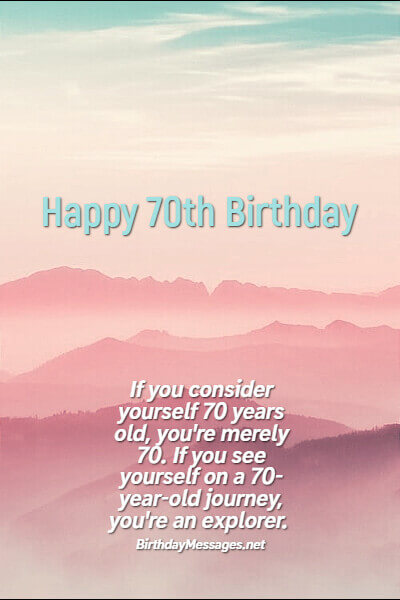 | | | |
| --- | --- | --- |
| Age is a state of mind. If you consider yourself 70 years old, you're merely 70. If you see yourself on a 70-year-old journey, you're an explorer. Happy 70th birthday!  | Happy 70th birthday! Even if I'm only a quarter as kind-hearted, positive and friendly as you are when I hit 70, I'll be able to change the world. | Happy birthday to a 70 year old who could teach any 20, 30, 40, 50 or 60 year old what it means to be young at heart. |
| | | |
| --- | --- | --- |
| Happy birthday! For 70 years, your dreams have fulfilled you. Now it's time to fulfill your dreams. | Truly beautiful 70 year olds are the picture of health, happiness and virtue. When we look at you, we are awed by your beauty, joy and kindness. Happy 70th birthday! | At 70, you may drive slower than your age in miles per hour, but now you can, at last, stop and smell the roses, violets, daffodils, lilies, tulips, whatever flower that interests you, whenever you want. |
| | | |
| --- | --- | --- |
| Happy birthday! You're not 70. 70 is a number. You can't put a number on someone as uniquely incredible as you! | I think it's incredible that it took only 70 years to create someone as young (at heart) as you. Happy 70th birthday! | Happy 70th birthday! Life's longer than you think, even at this age. Keep dreaming and making those dreams a reality. |
| | | |
| --- | --- | --- |
| At 70, your love, kindness, integrity, courage and humility, worth many times their weight in gold when you were younger, are now priceless. Happy birthday! | Nobody and nothing, not even Old Father Time, can come close to you. You're light years ahead of everyone and everything else, in every way. Happy 70th birthday! | Happy birthday! At 70, you are an eight-course gourmet meal in a fast food world. |
| | | |
| --- | --- | --- |
| Happy birthday! Although you have the energy of a 20 year old, the drive of a 30 year old, the joy of a 40 year old, the contentment of a 50 year old and the wisdom of a 60 year old, you are greater than the sum of your parts at 70. | Happy 70th birthday! Think of this birthday message as a friendly welcome mat to your 70s — and the start of a new adventure in a new land with new promise. |  Happy 70th birthday! You're not getting older. You're getting wiser, kinder, happier and, most of all, lovelier. |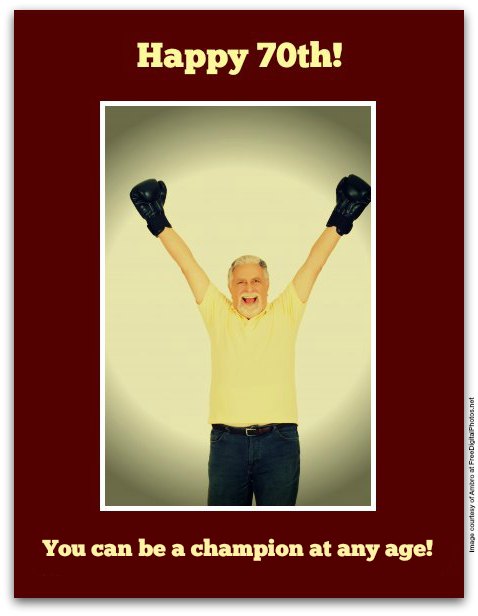 ---



70th Birthday Wishes
- Famous Quotes -
Don't know what to write? Get inspired by the words of the world's greatest thinkers. The famous birthday quotes below have the power to make your 70th birthday wishes for your loved ones extraordinary.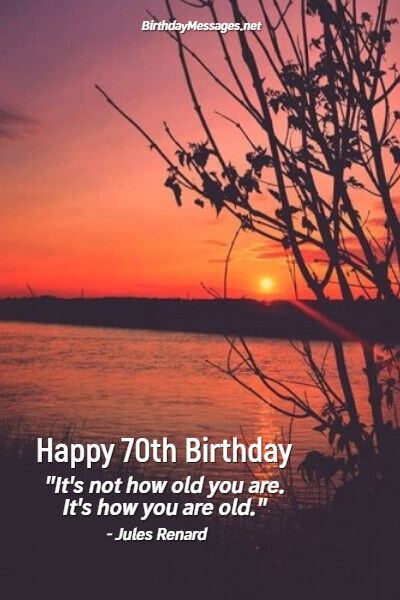 "Wrinkles should merely indicate where the smiles have been."

- Mark Twain

"It's not how old you are. It's how you are old."

- Jules Renard

 "Anyone who keeps the ability to see beauty never grows old."


- Franz Kafka
"When we were small children, we all played dress-up and everybody had a good time. So why stop?"

- Iris Apfel

"We are always the same age inside."

- Gertrude Stein

"One day you will look back and see that all along you were blooming."

- Morgan Harper Nichols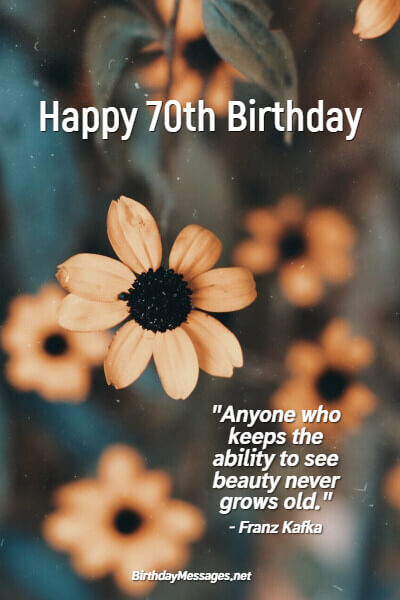 "Getting old is like climbing a mountain; you get a little out of breath, but the view is much better!"

- Ingrid Bergman

"I can honestly say I love getting older. Then again, I never put my glasses on before looking in the mirror."

- Cherie Lunghi

"Getting older is fine. There is nothing you can do to stop it, so you might as well stay on the bus."

- John Byrne 
"It's important to have a twinkle in your wrinkle."

- Unknown Author

"A man is not old until regrets take the place of dreams."

- John Barrymore

"For the unlearned, old age is winter; for the learned, it is the season of the harvest."

- Hasidic Proverb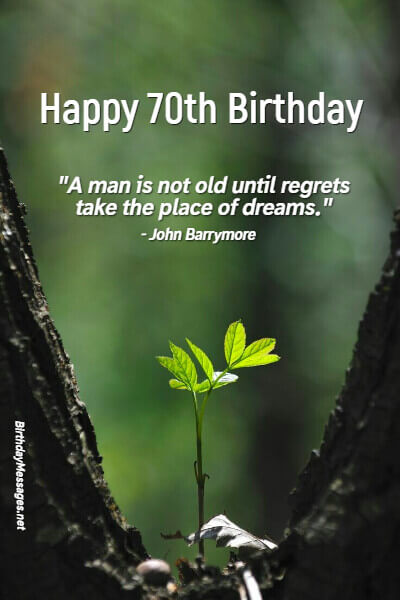 "Age is simply the number of years the world has been enjoying you!"

- Unknown Author

"Let us never know what old age is. Let us know the happiness time brings, not count the years."

- Ausonius

"I suppose real old age begins when one looks backward rather than forward."

- Mary Sarton 
"Ageing is just another word for living."

- Cindy Joseph

"Your 40s are good. Your 50s are great. Your 60s are fab. And 70 is f*@king awesome!"

- Helen Mirren

"My face carries all my memories. Why would I erase them?"

- Diane Von Furstenberg
---



Hints & Tips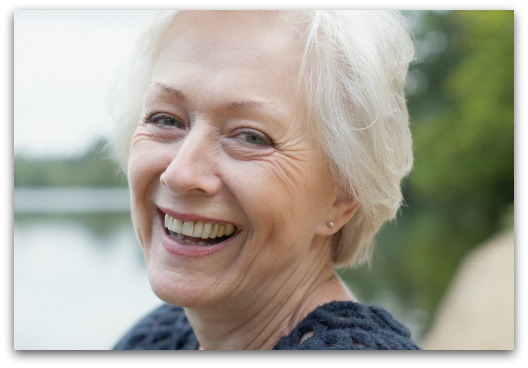 Whether your 70-year-old birthday girl or boy sees the glass half empty or half full, you need to give him or her 70th birthday wishes to feel good about — since they've certainly earned it. That's why great 70th birthday messages celebrate this occasion with tender, loving care.
How do you write 70th birthday wishes?
Turning 70 is a major, bittersweet milestone — joyous for some and emotionally challenging for others. 
Some soon-to-be 70 year olds dread everything about turning 70, from the likelihood of more wrinkles on their face to the onslaught of new aches and pains that never seem to go away.
Then, you have seventy-somethings who have chosen to grow older gracefully, treasuring the trail of memories (and wrinkles) they've forged and enjoyed over the past seven decades of their lives.

The big question: what kind of 70th birthday wishes would be perfect for both types of 70 year olds?
The answer: there's no single birthday message that would be ideal. 
Your goal, therefore? Great 70th birthday wishes that will make your 70th birthday girl or boy feel amazing, no matter how he or she feels — good or bad — about getting older.
The 70th birthday wishes you create should pay proper tribute to loved ones turning 70 who have lived through seven decades of ups, downs, in-betweens and turning points.
Before you even attempt to write any 70th birthday wishes, you need to keep in mind that different types of 70 year olds require different kinds of 70th birthday wishes.

First, there are the "joyous" 70 year olds. These are individuals who are young at heart and, if they've won the gene pool lottery and are relatively healthy, consider the 70s the beginning of the best period in their lives.
This is the so-called "first day for the rest of my life" crowd. 
Accordingly, these "joyous" 70 year olds would probably love to receive these types of 70th birthday wishes:
Inspirational 70th birthday messages that validate their optimism about life
Funny 70th birthday greetings that make fun of getting older, (since they are relatively healthy)
Happy 70th birthday wishes that just add to their joy for life
Even clever 70th birthday messages that exercise their mind
Then, there's the other group  — the "this is my final act" crowd.
These people may suddenly realize or stop denying sometime on, before or after their actual birthday that they have reached the last quarter of their life.
Figuring out what type of 70 birthday wishes to send them can be difficult. Should it be philosophical? Inspirational? Funny? It depends on how "old" these 70 year olds feel. 
For the overly pessimistic faction of this group, the ones who feel very old all of a sudden, probably no message will be taken in the spirit it has been given.
So, just take the safe route and opt for a plain "Happy Birthday" message or a sentimental birthday greeting remembering the good ole days.

For the most optimistic of this crowd (in other words, the least pessimistic), clever or inspirational 70th birthday wishes may also work, and may even snap them out of their funk. 
Whatever you decide to do, try to impart the message that reaching the age of 70 is a liberating, even invigorating experience in your 70th birthday wishes. Ultimately, 70th birthday wishes, done well, mark this milestone with care.
What does your average 70 year old want to hear from you?

First of all, there's no such thing as your "average 70 year old." For a look at what it really means to be 70, click here to read a great article on this very subject. It could make writing your 70th birthday wishes easier.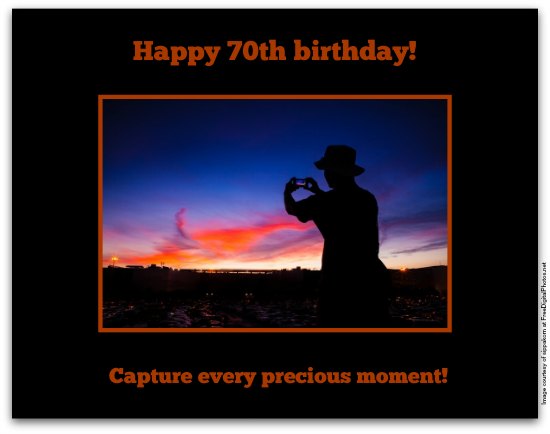 ---
The best last-minute gift
you still have time to buy

Message Guy
Creator of this site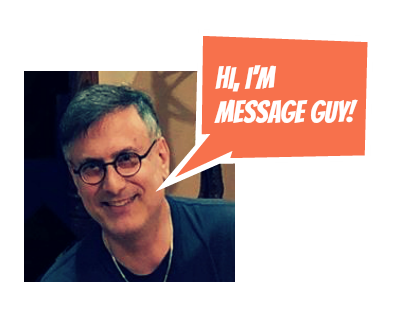 Kevin, the "Message Guy" who writes the birthday wishes, quotes, poems, toasts and speeches on BirthdayMessages.net, has been a content writer since 1993. He created this site in 2012 to share the power of words with you on one of the best days of the year — the birthday of a loved one.

Can't Find
What You Need?
Follow on FeedBurner
By  Kevin (aka "Message Guy")
Copyright © 2013-2022
BirthdayMessages.net.
All rights reserved. 
All trademarks and service marks
are the property of their
respective owners.
The copyrights of all birthday
messages on this website
belong to the individual authors.
Site 
Powered By
Solo Build It (SBI)
Build Your Own Website