70th Birthday Wishes
---
Choosing 70th birthday wishes is not as easy as it may look. Turning 70 is a major and, for some people, an emotionally tricky milestone to reach.
Some soon-to-be 70 year olds dread everything about turning 70, from the likelihood of more wrinkles on their face to the onslaught of new aches and pains that never seem to go away.
Then, you have the type of seventysomethings who have chosen to grow older gracefully, treasuring the trail of memories (and wrinkles) they've forged and enjoyed over seven decades.
Whether your 70-year-old birthday girl or boy sees the glass half empty or half full, you need to give him or her something to feel good about — he or she has certainly earned it. That's why great 70th birthday messages on this page celebrate this occasion with tender, loving care.
Message Guy Tip #70:
How to select 70th birthday wishes...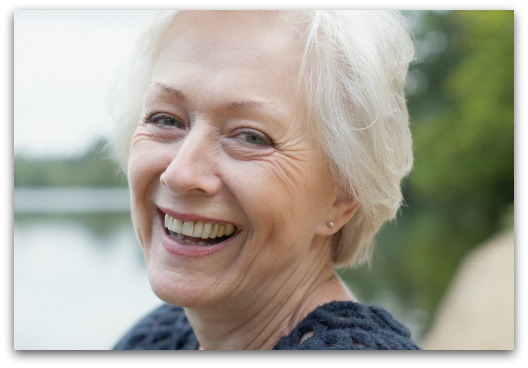 Turning 70 is a major milestone — joyous for some and emotionally challenging for others.
The big question (one I know I would be asking myself about now) is the following: what kind of birthday wishes would be perfect for both types of 70 year olds? The answer: there's no single birthday message that would be ideal. You need to...
Read more ►
Happy 70th birthday! You deserve all the accolades you're getting and more. You've worn so many hats for so many people, for so long — without expecting anything in return. It's time you did!


At 70, there are two rules for making your birthday unforgettable:

Rule 1: 
Have the time of your life. 

Rule 2:
Don't forget Rule 1.

Happy 70th birthday! Think of this birthday message as a friendly welcome mat to your 70s — and the start of a new adventure in a new land with new promise.

| | | |
| --- | --- | --- |
| Happy 70th birthday! Now you're closer than ever to learning the meaning of life: you have to keep moving to keep moving! | Hope all 24 hours of your 70th birthday are as memorable as the last 70 years have been for you. | Happy 70th birthday! Don't be sad about your age. In dog years, you'd just be 10 years old. |
| | | |
| --- | --- | --- |
| Truly beautiful 70 year olds are the picture of health, happiness and virtue. When we look at you, we are awed and comforted by your beauty. Happy 70th birthday! | Celebrate your birthday exactly like you've lived the last 70 years — with joy, wonder and contentment. Happy 70th birthday. | At 70, you deserve to look back to days of old and look forward to many New Years ahead! Happy 70th birthday! |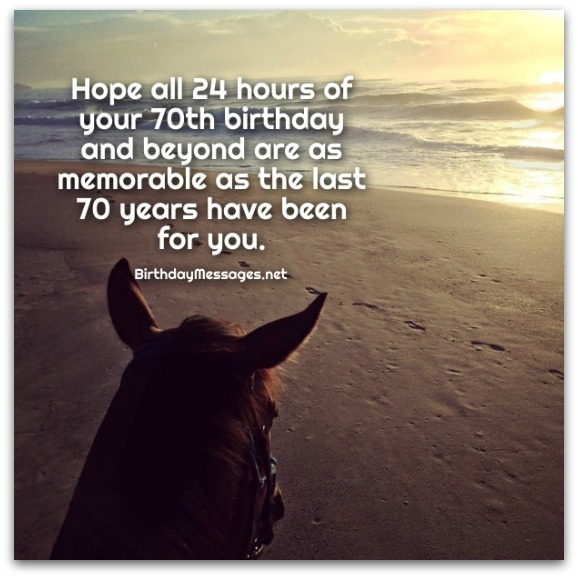 Your average 70 year old thinks about...
First of all, there's no such thing as your "average 70 year old." For a look at what it really means to be 70, click here to read a great article on the subject. It could make choosing 70th birthday wishes easier.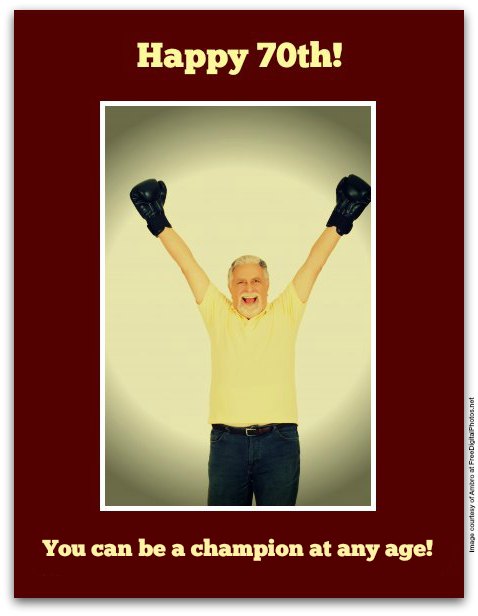 | | | |
| --- | --- | --- |
| Happy 70th birthday! With 70 candles on your birthday cake to blow out, you won't have to exercise your lungs for a month. | Happy birthday! For 70 years, your dreams have fulfilled you. Now it's time to fulfill your dreams. | Happy birthday to a 70 year old who could teach any 20, 30, 40, 50 or 60 year old what it means to be young at heart. |
Don't give up yet!
You'll find more 70th birthday wishes here...
| | | |
| --- | --- | --- |
| Happy birthday! 70 really suits you! Can I wear your 70 year old suit? | Happy birthday! At 70, you're still a regular fountain of youth. May your cup always runneth over! | On your 70th special day, you deserve to savor every special second of it. Let's make it special together! |
Happy birthday! It's far, far better to be young at heart at 70 than 
heavy-hearted at 20.

Happy birthday! At 70, blowing out every candle on your birthday cake is not the problem — it's if you blow out all your dental work at the same time.


You're not only the youngest 70 year old I know — you're the only 70 year old I know. Happy 70th birthday!

Top of 70th Birthday Wishes
Message Guy Pick
"Keeping it real" is the reason why I picked the birthday message below as my favorite on this page. What makes it real? Well...
Read more ►
| | | |
| --- | --- | --- |
| | Happy birthday! It's a shame that everyone and everything that's 70 years old is nowhere near as loving, kind, wise, gentle and inspirational as you. But at least we have you.  | |
---
Message Guy
Creator of this site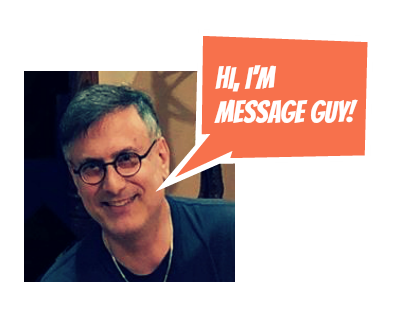 Kevin, the "Message Guy" who writes the birthday wishes, quotes, poems, toasts and speeches on BirthdayMessages.net, has been a content writer since 1993. He created this site in 2012 to share the power of words with you on one of the best days of the year — the birthday of a loved one.

Can't Find
What You Need?
Follow on FeedBurner
By  Kevin (aka "Message Guy")
Copyright © 2013-2021
BirthdayMessages.net.
All rights reserved. 
All trademarks and service marks
are the property of their
respective owners.
The copyrights of all birthday
messages on this website
belong to the individual authors.
Site 
Powered By
Solo Build It (SBI)
Build Your Own Website