80th Birthday Wishes
---
80th birthday wishes on the web come in two ways: original or same old, same old.
The birthday messages for 80 year olds on this page are perfectly original for this major milestone of a birthday. Like your 80th birthday boy or girl, no two are alike but most fall into one of two camps:  Camp "The Glass is Half Full" or Camp "The Glass is Half Empty."
When my mother was about to turn 80, she decided she wanted an iPad for her 80th birthday. Now, years later, she's a Facebook, YouTube and Pinterest junkie. I also know plenty of eightysomethings who just sit in front of their TVs all day, complaining about everything under the sun (literally).
As a result, you need to keep in mind how the birthday girl or boy feels when you choose your 80th birthday messages. For more tips, take a moment to read Message Guy Tip #45 right now.
| | | |
| --- | --- | --- |
| Wishing you an 80th birthday that makes every special day you've ever celebrated pale in comparison. You certainly deserve it! | Wishing you an 80th birthday as magnificent as the best one you've ever had — times a thousand! | Wishing you "Happy 80th birthday" seems so wrong to me — since you're as timelessly beautiful as a flawless diamond. Have a very special day! |
| | | |
| --- | --- | --- |
| Happy 80th birthday! You don't look a day over 79. Maybe two or three days. A week at the most. | Happy birthday! At 80, you're as wonderful as relaxing in a hammock to the sound of the ocean waves and breeze on a hot sunny Caribbean day — in the middle of winter.  | Happy 80th birthday. Still, after 80 years, you have the heart and soul of a lion with a face that could charm a pack of wolves.  |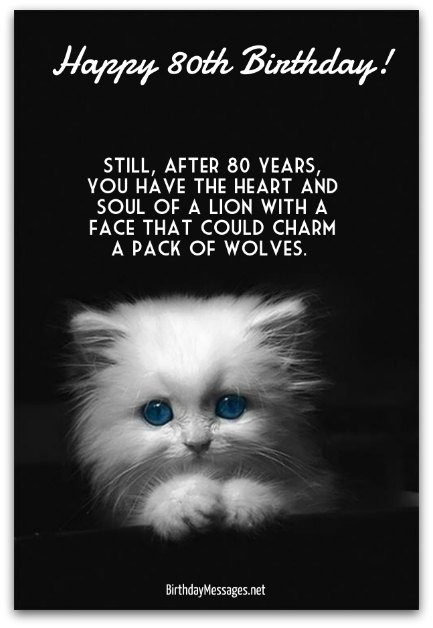 | | | |
| --- | --- | --- |
| Happy birthday! Blowing out every one of your 80 birthday candles could turn out to be as hard as running a marathon. Are you ready to go the distance?  | Happy 80th birthday to a person who absolutely refuses to follow the aging rules...and, come to think of it, every other rule!  | Happy 80th birthday! Thank goodness you don't have to blow out all 80 candles of you — we could be here all day.  |
Top of 80th Birthday Wishes
Keep looking for options!
You'll see more 80th birthday wishes below...
| | | |
| --- | --- | --- |
| Happy birthday! Your driver's license must be wrong — you can't possibly be 80. Maybe 40 years old with 40 years of experience (and that's pushing it)! | The advantage of being 80 is that you have so many people to love, who love you right back. Happy birthday!  | Happy birthday! Now that you're 80 years old, you've learned all the lessons that life has to offer. Now all you have to do is remember one or two to get to the bathroom in time. |
| | | |
| --- | --- | --- |
| You've experienced so much after 80 years of living. Here's to many more wonderful experiences. Happy 80th birthday!  | The older you get, the more precious you get. At 80, you've become more precious than all the gold in the world to everyone who knows and loves you. Happy 80th birthday! | Happy birthday to an 80 year old who truly defines what it means to age gracefully — and beautifully! |
| | | |
| --- | --- | --- |
| Happy 80th birthday! Wishing you a warm welcome to the new 60! | Happy birthday! You're finally 80, so it's only fair to give you the respect and consideration you deserve at your age. Regrettably, life has never been very fair. | Happy birthday! You're only as old as you feel. If you don't feel like telling anyone that you're 80, I'm okay with it. You can pick the age that feels right! |
---
<<Previous     1    2
The best last-minute gift
you still have time to buy

Message Guy
Creator of this site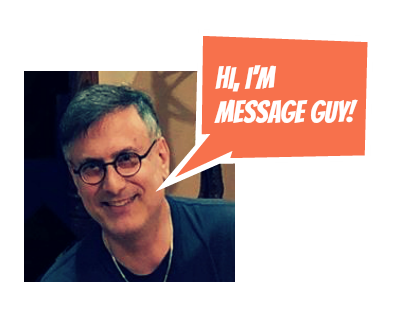 Kevin, the "Message Guy" who writes the birthday wishes, quotes, poems, toasts and speeches on BirthdayMessages.net, has been a content writer since 1993. He created this site in 2012 to share the power of words with you on one of the best days of the year — the birthday of a loved one.

Can't Find
What You Need?
Follow on FeedBurner
By  Kevin (aka "Message Guy")
Copyright © 2013-2022
BirthdayMessages.net.
All rights reserved. 
All trademarks and service marks
are the property of their
respective owners.
The copyrights of all birthday
messages on this website
belong to the individual authors.
Site 
Powered By
Solo Build It (SBI)
Build Your Own Website