8th Birthday Wishes
---
When you just have great 8th birthday wishes to choose from, finding the perfect one is a sure thing. You're sure to find perfect 8th birthday messages here.
What makes a birthday greeting perfect for an 8 year old? Obviously, an 8th birthday greeting has to be interesting enough to get his or her attention.
But what makes a birthday message interesting and the right one to choose? Read Message Guy's Tip #90 below to find out.  
Message Guy Tip #90:
How to pick 8th birthday wishes
All great 8th birthday messages have one thing in common: they're interesting enough to capture the attention of a typical, often impatient 8 year old. What's interesting to these birthday boys and girls? This list includes...
Read more ►
| | | |
| --- | --- | --- |
| Happy birthday! Your 8th birthday totally rocks — because you totally rock. Let's rock until we drop! | Happy 8th birthday! Waking up to your sunshiny, smiley face every morning for eight years have been the best of my life. | Now that you're 8, you deserve to be hugged and kissed eight times. That`s because you're eight times sweeter today! Happy 8th birthday! |
Message Guy Pick
When I read the birthday message below, I try to imagine how I would react if I had received it as an 8 year old. I probably would have...
Read more ►
| | | |
| --- | --- | --- |
| | Eight years back, you came into our life and made everything better. Today, you are 8 years old and everything's better than ever. Happy 8th birthday! | |

Quick Links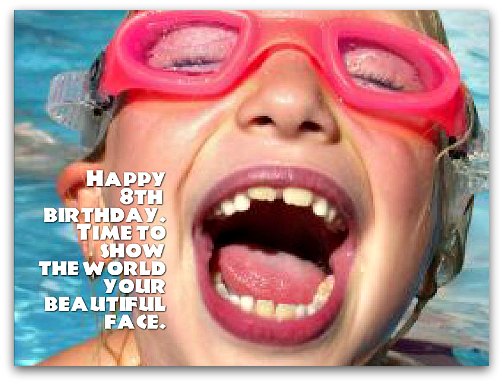 | | | |
| --- | --- | --- |
| Happy birthday! Let's celebrate your 8th birthday like it's the biggest party of the year — because, to me, it is. | Wow, you're EIGHT! That's means you're Extraordinary, Impressive, Great, Hip and Terrific. Happy 8th birthday! | Wishing you an 8th birthday that's the talk of the block, school, even the town. |
Need to look at more examples?
Take a look at the 8th birthday wishes below...
| | | |
| --- | --- | --- |
| May your 8th birthday be the best you've ever had...full of friends, surprises, hugs, gifts, cake, ice cream and love!  | It's hard to believe it's been 8 years since you were born. Every one of them have been truly wonderful! Happy 8th birthday! | Happy 8th birthday. Hope the birthday fairy grants every birthday wish of yours, so you get everything you deserve (like lots of cash). |
| | | |
| --- | --- | --- |
| Eight years ago, you entered our world miraculously. Today, you turned 8 years old and are a greater miracle than ever! Happy 8th birthday! | Today, you reached the age of 8, so I have eight "happy birthday" wishes to share with you: I wish you love, happiness, health, wisdom, dignity, success and fun. Happy 8th birthday! | Happy 8th birthday! Whatever your dreams, keep following them until they come true. Then, dream up even more! |
See everyone's favorite birthday messages
Top of 8th Birthday Wishes
| | | |
| --- | --- | --- |
| Dreams do come true, especially when the dreamer is as dreamy as you are. Happy 8th birthday, princess! | Happy 8th birthday to the coolest of the coolest, smoothest of the smoothest and cutest of the cutest in town. | You're the best BFF a best friend can have. Have the best 8th birthday ever. |
| | | |
| --- | --- | --- |
| For your 8th birthday, I have 8 birthday wishes for you: may you be happy, healthy, inspired, wise, proud, loving, loved and yourself. | Wishing you the eyes to see yourself as I see you: simply wonderful. Happy 8th birthday.  | Happy 8th birthday, my beautiful one. I feel so blessed to have a child like you. You bring me such joy. I love you. |
---
---
Message Guy
Creator of this site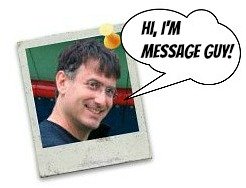 Meet the veteran writer behind every birthday message here
---
---
Check out these
popular pages
CAN'T FIND WHAT YOU NEED?
SEARCH HERE
---
Like this page?


Help me get the message out

Follow this site

 


on Facebook



Be the first to see what's new