Belated Birthday Wishes
---
Missed a loved one's birthday? The belated birthday wishes right here will make the birthday boy or girl feel special...and may even make him or her forget that you're late with his or her birthday message.
To virtually guarantee that you've made up for your forgetfulness, the belated birthday messages on this page contain three very important ingredients:
Contriteness (the fact that you are filled with a sense of guilt over this blunder of yours and only want atonement from the birthday boy or girl)
Self-deprecation (the act of belittling yourself in a funny, almost modest way to show you are, after all, human — and humans are entitled to make mistakes sometimes)
Post-birthday jubilation (a demonstration of your excitement over special someone's birthday, even days after the fact)
All the belated birthday greetings below have a very healthy dose of contriteness, self-deprecation and post-birthday jubilation, which only makes it easier for you to actually be genuinely sorry about your mishap...until the next time you forget someone's birthday.
Funny belated birthday wishes
| | | |
| --- | --- | --- |
| I wanted to give you your birthday message late, so you would have enough time to grieve the loss of your youth. Hope your birthday was rejuvenating. | This birthday message is not late. It's unbelievably early — for your next birthday. Hope your special day was as incredible as you are (yes, I'm buttering you up)! | I'm sorry I missed your birthday, but you've had so many that I've lost count. Wishing you a belated "happy birthday!" |
| | | |
| --- | --- | --- |
| A belated "happy birthday" to my favorite person in the world. Sure, technically, I forgot your birthday. In reality, though, I was once again just fashionably late for another BIG event. | Lately, you have been on my mind — a little too late, though. So here's my belated "happy birthday" wish for you. | Hope your birthday was the best ever. I'm very sorry I missed it — it totally slipped my mind. I guess that's what happens when you've had too many birthdays of your own. |
"Happy Belated Birthday" is grammatically wrong
Find out why...
According to grammarians (grammar experts), writing "happy belated birthday" is grammatically wrong and "belated happy birthday" is correct. Find out why right
here
.
For more assistance with belated birthday messages,
take a quick look at Message Guy's tips
on selecting the best belated birthday greetings for the birthday boy or girl.
| | | |
| --- | --- | --- |
| I like to be the first to wish people a "happy birthday," so consider this birthday wish 11 months or so early. | Yes, it's true that I completely forgot your birthday but I think I should get some points for remembering I forgot it. Hope you had an incredibly wonderful special day! | I'm late, I'm late, I'm late for a very important date. And that date would be your birthday. Hope yours was great! |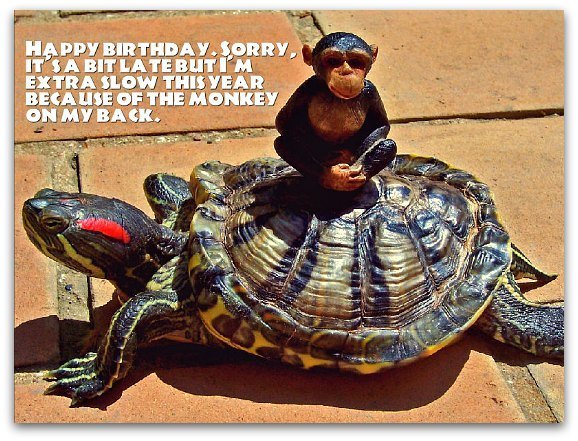 | | | |
| --- | --- | --- |
| Darling, the best birthday wishes are like the best people — they come fashionably late. Hope your birthday was a smashing success! | You shouldn't unfriend me because I didn't remember your birthday. You should unfriend me because I remember your age. Hope you had a wonderful birthday! | Sorry, I missed your actual birthday but I've rescheduled it for, um, uh, today. Happy birthday! |
Serious belated birthday wishes
| | | |
| --- | --- | --- |
| Hope your birthday was as incredibly special to you as you are to me. Sure, I know my wishes are a little late but they are nevertheless as true as ever! | Knowing you, your birthday celebration is still going strong, so I know my belated birthday wishes are relatively on time. Hope you're still having a ball. | Wishing you a belated happy, happy, happy birthday. Sorry, I missed your special day. |
| | | |
| --- | --- | --- |
| I hope all your birthday wishes came true. Here's one more for good luck —  a little late yet as heartfelt as ever. Happy birthday! | My greatest birthday wish for you, although unforgivably late this year, is that your special day was as wonderfully special as you are. | My apologies for missing the best day of the year...your birthday! Happy birthday! |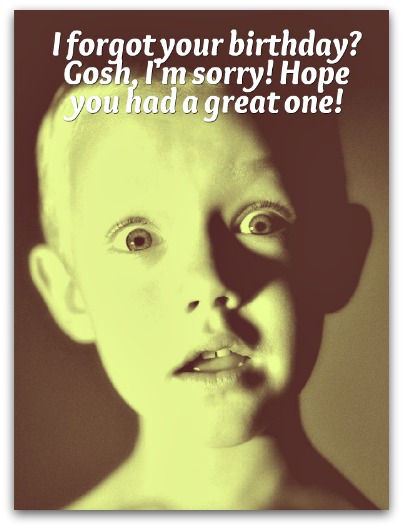 | | | |
| --- | --- | --- |
| | Wishing you a belated happy birthday. Sure, this wish is late, but that's only because I want to make sure you celebrate your birthday a little longer.  | |
---
<<Previous     1    2    3    Next>>
Message Guy
Creator of this site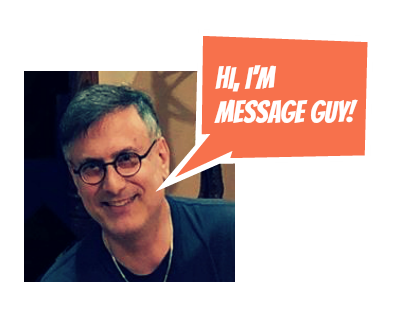 Kevin, the "Message Guy" who writes the birthday wishes, quotes, poems, toasts and speeches on BirthdayMessages.net, has been a content writer since 1993. He created this site in 2012 to share the power of words with you on one of the best days of the year — the birthday of a loved one.

Can't Find
What You Need?
By  Kevin (aka "Message Guy")
Copyright © 2013-2020
BirthdayMessages.net.
All rights reserved.
All trademarks and service marks
are the property of their
respective owners.
The copyrights of all birthday
messages on this website
belong to the individual authors.
Site 
Powered By
Solo Build It (SBI)
Build Your Own Website