Boss Birthday Wishes
---
Finding boss birthday wishes that really do the job — in other words, make your boss feel special on his or her special day— is easy to do here. With the birthday messages for bosses on this page, you'll always make a great impression on your boss.
There's no shortage of boss birthday messages below. And there's no lack of boss birthday greeting styles to choose from. See for yourself.

| | | |
| --- | --- | --- |
| Wishing you only good fortune and immense joy for the rest of your days...and may those be many. Happy birthday, boss! | You're the type of boss every employee needs, because you make work such an enjoyable and fulfilling experience. Happy birthday! | I consider myself lucky to have a genuinely humble and generous boss like you. Happy birthday! |

Quick Links
| | | |
| --- | --- | --- |
| I look forward to work for one reason: you. You're boss (as in "cool") in every way! Happy birthday! | When it's the bottom of the ninth inning with two men out and three men on base, you never lose your cool. Happy birthday to the coolest boss ever. | Teamwork is not when we just do our jobs — it's when you inspire us to pull together as a team to get the job done right. Happy birthday to the best boss! |
| | | |
| --- | --- | --- |
| Let's celebrate your birthday with the hope that the coming year brings you greater prosperity, courage, joy, health and wisdom. Happy birthday, boss! | As a boss, you have guided us every step of the way. In return, we wish you health and happiness on your birthday. Have a wonderful birthday! | Friend, mentor, guide, colleague, manager, boss, motivator and captain. These are some of the roles you play every day. But today, you have only one role: you are the birthday boy. Happy birthday! |
| | | |
| --- | --- | --- |
| Today is Boss Day. Let's celebrate your birthday, boss, like there's no work tomorrow. Happy birthday! | I'm so proud to call you my boss like — you have always been a source of inspiration and guidance for me and everyone here. Happy birthday! | We are so grateful for your insight, wisdom, professionalism, mentoring and inspiration. We wish you much success as both a boss and an individual. Happy, Happy birthday, boss! |
Top of Boss Birthday Wishes
See everyone's favorite birthday messages
Feel like you need to see more?
Check out the boss birthday wishes below...
| | | |
| --- | --- | --- |
| Boss, it's your birthday today, so we're on our best behavior. Enjoy it while you can because tomorrow we're going back to being royal pains. Just kidding (about the best behavior)!  | For your wise words, open door and listening ear over the years, we only have six words for you: Happy birthday to the best boss!  | You could have worked at any company. That's how great you are as a boss. That's how lucky I am to have you as mine. Happy birthday, boss! |
| | | |
| --- | --- | --- |
| It's great to work with a boss who knows the true meaning of success...Helping people succeed. Happy birthday to the world's most successful boss!  | Wishing you a lifetime of the wisdom, courage, hope and strength you inspire in us here. Happy birthday, boss! | May your life outside the office be filled with the happiness, kindness and support you give away so freely inside our walls. Happy birthday, boss! |
---
<<Previous     1    2    3     Next>>
---
Message Guy
Creator of this site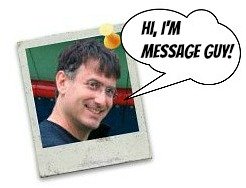 Meet the veteran writer behind every birthday message here
---
---
Check out these
popular pages
CAN'T FIND WHAT YOU NEED?
SEARCH HERE
---
Like this page?


Help me get the message out

Follow this site

 


on Facebook



Be the first to see what's new