Boss

Birthday

Wishes
---
Picking the right boss birthday wishes gives your boss another reason to like you and, maybe, give you a pay raise. On the flipside, choosing the wrong boss may provide your boss, if he or she is the boss from hell, with a reason to make life difficult for you. 
Fortunately, the only kind of birthday messages for bosses you'll find here are the right kind. Take a look below and you'll find the right one, right away!
| | | |
| --- | --- | --- |
| So far, you're the best boss I've ever had. Keep up the good work and enjoy your birthday! | On your special day, may you have the chance to kick back, relax and let everyone do the work for you. Oh, wait, you already do that at work every day. Happy birthday, boss! | With a boss like you, I have only two things to tell you on your special day: First, happy birthday and, second, never change who you are. You're the best! |

Quick Links
| | | |
| --- | --- | --- |
| Happy birthday to the world's greatest boss. You have redefined what it means to be an amazing boss...and what it takes to be a model employee. Thank you! | There's nothing greater than knowing I never have to lose even a minute of sleep on Sunday night because Monday (and a terrible job) is just around the corner. You make working fun. Happy birthday! | Wishing you a wonderful, stress-free birthday, boss! You deserve it — you make our work days less stressful and more wonderful. |
| | | |
| --- | --- | --- |
| Happy birthday and all the best for yet another unforgettable year in your professional and personal life. | On your birthday, may you be blessed with success, happiness, prosperity, health and, most importantly, love.  | Birthdays are the perfect time to show our loved ones how much we care about them. That's why we have nothing to say to you, except "Happy Birthday."   |
Top of Boss Birthday Wishes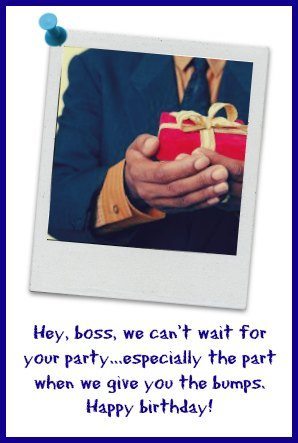 Take a look at even more boss birthday wishes...
| | | |
| --- | --- | --- |
| We don't show it but we owe you so much for your leadership and inspiration. Happy birthday, boss.  | Very few people are as caring, modest and unpretentious as you. You always give us the credit but you're the one who inspires us. Happy birthday! | I'm proud to call you "boss" to anyone who asks. Who wouldn't? You're the best ever! Happy birthday. |
See everyone's favorite birthday messages
| | | |
| --- | --- | --- |
| Wishing that your birthday and the next year of your life brings tons of happiness and wonderful memories, boss!  | Happy birthday, boss! We're not goofing off! We're just here for the birthday cake! | Don't worry, we'll get right back to work after you blow out your candles. Happy birthday, boss! |
| | | |
| --- | --- | --- |
| Happy birthday to a hardworking boss who still has a smile on his face and always puts a smile on our faces. | We just want to let you know you make our office a friendly, fulfilling and funny place to work. That's true leadership. Happy birthday, boss! | You're a real king in our eyes. You're the Elvis Presley of bosses. Let's get the party started, because we're going to get "all shook up." |
---
<< Previous    1    2    3
---
Message Guy
Creator of this site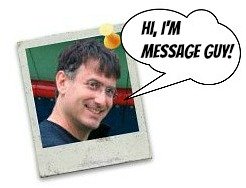 Meet the veteran writer behind every birthday message here
---
---
Check out these
popular pages
CAN'T FIND WHAT YOU NEED?
SEARCH HERE
---
Like this page?


Help me get the message out

Follow this site

 


on Facebook



Be the first to see what's new