Boyfriend Birthday Wishes
---
Home > Birthday Wishes > Boyfriend Birthday Wishes
Getting boyfriend birthday wishes just right doesn't have to be hard.
Finding the right birthday wishes for boyfriends can be so easy for you (and so special for your boyfriend) with the birthday messages on this page.
Your boyfriend will appreciate the time and effort you put into giving him birthday greetings that have all the ingredients of the best romantic birthday messages: passion, honesty, trust, humor, dependability, wonder, creativity, appreciation and, most importantly, love.

To find the right birthday verse for your boyfriends, you can always read Message Guy Tip #52 right below.

Quick Links
Message Guy Tip #52:


How to pick boyfriend birthday wishes...
In theory, boyfriend birthday messages should be romantic.
Of course, in reality, they can be romantic
and
inspirational, funny, clever, whatever you want, as long as the "romantic" quotient is high. The mushy stuff must stand out.
So what's the perfect route for you and your boyfriend? It is...
Read more ►
| | | |
| --- | --- | --- |
| Happy birthday, sweetie! Every day (not just your birthday), I think about you and how incredible you are. If you were not here, my days (even my birthday) would feel so empty. | Every second, my love for you grows. By the time you finish reading this message, my love for you will be tenfold. Happy birthday, my love! | You're my favorite person in the world...and your birthday is my favorite day of the year. Happy birthday, honey! |
Watch your favorite celebrity birthdays
| | | |
| --- | --- | --- |
| Happy birthday! I can't tell you how much I love you and how wonderful I feel when I'm with you, especially on your special day. Oops, I guess I just did! | Happy birthday, lover! I love you 1,586,383 times more today than yesterday, but not 1,586,383th as much as tomorrow. | Happy birthday, lover boy! I'm so happy that I get to spend every special moment of your special day with you, the most special person in my life. |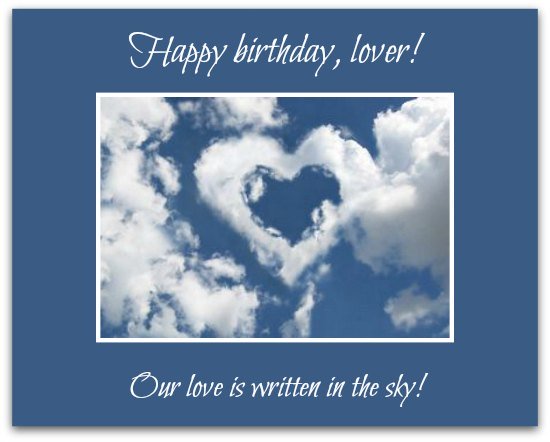 | | | |
| --- | --- | --- |
| | You've definitely proven that you're boyfriend material. You're kind, loving, gentle, strong and, best of all, you're mine. Happy birthday, sweetheart. | The best gifts I ever got weren't even on my birthday. It was when I met you. It was when I fell in love with you. It's every day I get to love you. So my gift to you is my love. Feel free to unwrap it anytime. |
What does your boyfriend want to hear from you?
Redbook has the answer...
Recently, I checked out Redbook article on what boyfriends want to hear. The magazine actually came up with 18 different "sweet nothings" you may want to see. Interested? If so, click here to read the article.
| | | |
| --- | --- | --- |
| I can't be with you on your birthday, so I'm sending you all the hugs, kisses and love in my heart for all the times you miss me. Happy birthday, sweetheart!  | Happy birthday, my love! It may take just a few moments to write "I love you" but I spend every moment of every day loving you…and I can't wait to spend the rest of my life doing the same. | Your Facebook page may be full of birthday wishes from many friends and family but mine is the only one that comes with oodles of hugs, kisses and love. Happy birthday, my prince! |
Top of Boyfriend Birthday Wishes
Want to look at more messages?
Look at the boyfriend birthday wishes below...
| | | |
| --- | --- | --- |
| Happy birthday. Wherever we are, that's where I want to be, right next to you. It's my favorite spot in the world. | Happy birthday, my dearest. The next to best thing I ever did was falling in love with you. The best is being in love with you. | There are good days and there are bad days. Every day with you is not a good day — it's the best day ever, especially your birthday. |
| | | |
| --- | --- | --- |
| On your birthday, I know you'll be getting LOL…Lots of laughs, lots of luck, lots of love and, most of all, lots of lovin'. How do I know? Because I'll be giving it to you! | Together, apart, I'm always deliriously happy and deliriously in love with you. Why? When you're not in my arms, you're in my heart. You're always with me. Happy birthday, sweetkins! | When I think about you, I think I know what love means. When I'm with you, I there's no doubt in my mind. Wishing you a birthday full of the love I feel for you, multiplied by 1,000,000,000.  |
---
---
---
Message Guy
Creator of this site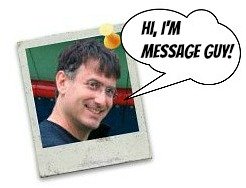 Meet the veteran writer behind every birthday message here
---
---
Check out these popular pages
---



Love what you just read?




Help me get the message out!



Please like this site
Follow this site

 on Facebook



Be the first to see what's new
---