Clever Birthday Quotes
---
Choose clever birthday quotes by celebrities made cleverer and more personal by original birthday wishes (written by me) for the ones you love. You'll only find this great combo right here.
Why have I decided to add personal birthday wishes to the clever quotes on this page? Clever birthday sayings, on their own, are great for brainiacs but they lack the heartwarming side of birthday messages, which is key to making birthday boy or girl feel super special.
But the clever side of any quote matters too. The right pick for that special someone celebrating a birthday is a clever saying with a message that brings him or her meaning and purpose in life (it shouldn't just be a brain teaser). Need some help with your search? Take a moment to read Message Guy Tip #21.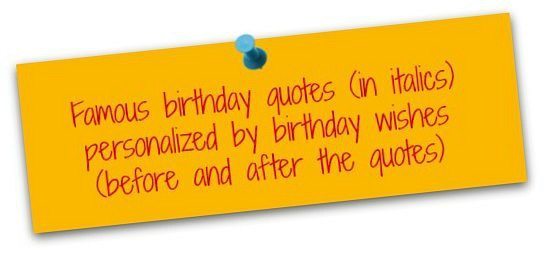 Look forward to middle age...

"Middle age is youth without levity, and age without decay."


~ Doris Day


Embrace your middle age and the youth that comes with it. Happy birthday!


I once saw this happen in a Star Trek episode...

"Life would be infinitely happier if we could only be born at the age of eighty and gradually approach 18."


~ Mark Twain


You make it happen for real...just with your amazing attitude. Happy birthday!


This means we must keep moving forward in thought and action...

"As long as any adult thinks that he, like the parents and teachers of old, can become introspective, invoking his own youth to understand the youth before him, he is lost."


~ Margaret Mead


Good advice. The peace of mind we earn as we grow older is better than anything our youth can tell us. It's done great for you. Happy birthday!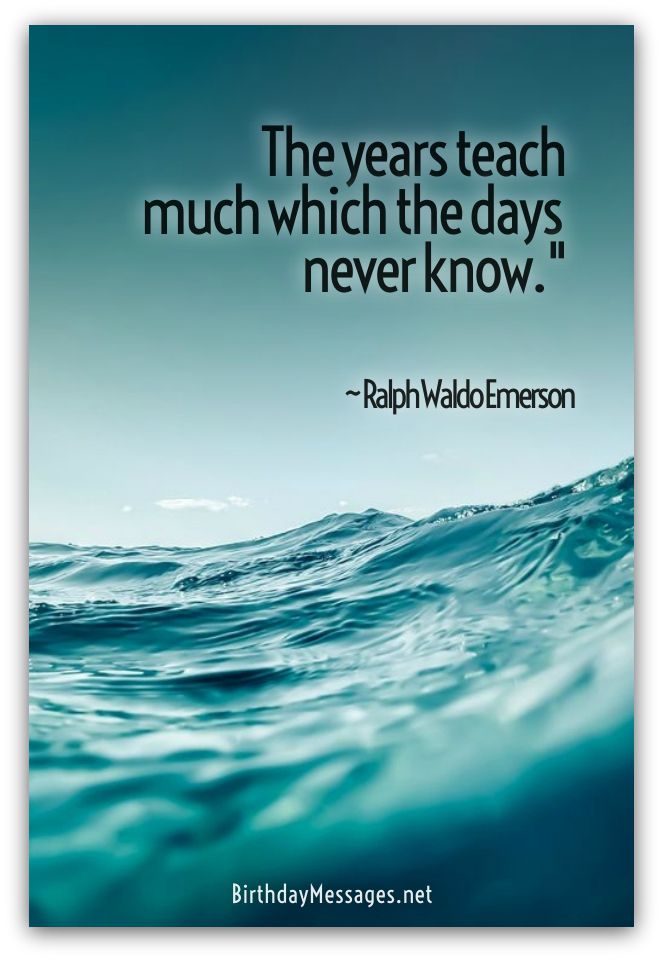 You should always look at the big picture.

"The years teach much which the days never know."


~ Ralph Waldo Emerson


If you look forward with the right eyes, you'll quickly see how to live out your days in happiness! Happy birthday!

Once again, it can be said that age does not matter.

"Age is just a number. It's totally irrelevant, unless, of course, you happen to be a bottle of wine."


~ Joan Collins


No matter how you look at getting older, I think you're simply priceless...just like vintage wine! Happy birthday!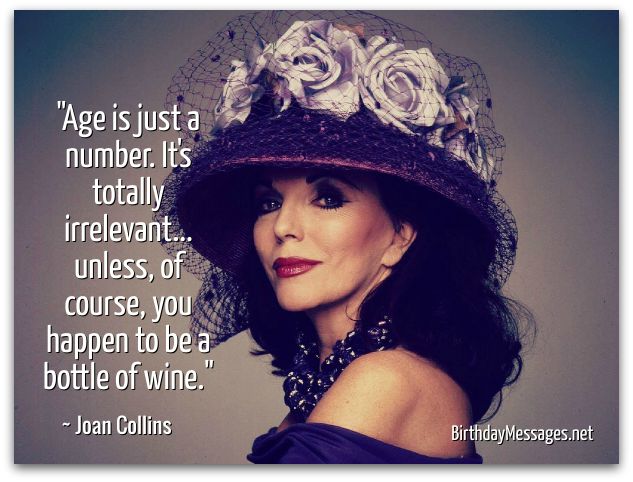 A few words of wisdom...

"The really frightening thing about middle age is the knowledge that you'll grow out of it."


~ Doris Day


Let's enjoy this time of life together. Happy birthday!


Every day, I write the book...

"Each age, it is found, must write its own books; or rather, each generation for the next succeeding."


~ Ralph Waldo Emerson


Every new chapter you write is simply beautiful...just like you. Happy birthday! 


I think this applies to women, too!

"Men are like wine - some turn to vinegar, but the best improve with age."


 ~ Pope John XXIII


You're one of the best, darling. You've only gotten better (at everything). Happy birthday!

Your nest egg isn't the only way to enjoy retirement. 

"Education is the best provision for old age."


~ Aristotle


At 18, you're an adult, so you're old enough to tell you: stay in school and get a degree.


Age is all about your attitude.

"He who is of calm and happy nature will hardly feel the pressure of age, but to him who is of an opposite disposition youth and age are equally a burden."


~ Plato


I hope I have your incredible attitude at your age. You inspire me. Happy birthday!


You never stop learning.

"Why should society feel responsible only for the education of children, and not for the education of all adults of every age?"


~ Erich Fromm


You're the oldest (and youngest at heart) student of life. Keep learning! Happy birthday!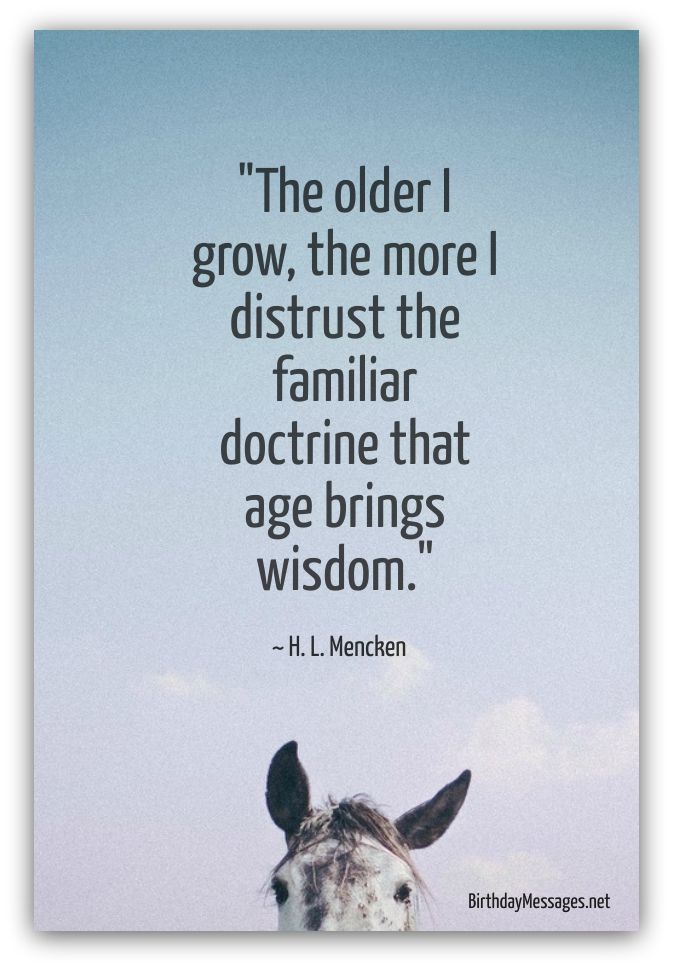 I guess it's good to take a few risks and stay young...

"Hesitation increases in relation to risk in equal proportion to age."


~ Ernest Hemingway


You never hesitate in the face of risk. That's why you're so young at heart. Happy birthday!


Stay excited by life.

"The secret of genius is to carry the spirit of the child into old age, which means never losing your enthusiasm."


~ Aldous Huxley


So I guess your happy inner child makes you a genius (and super young in spirit). Keep your youth IQ up. Happy birthday!


This advice does not smell...

"Age is not important, unless you're cheese."


~ Helen Hayes


This is slice-of-life advice I can live by. You, too! Happy birthday!
Message Guy Tip #26:
The ingredients of the best clever birthday quotes
What are the ingredients of the best clever birthday quotes? What type of qualities? For starters...
Read more ►
Let's forget about the wisdom part...

"The older I grow,the more I distrust the familiar doctrine that age brings wisdom."


~ H. L. Mencken


Let's be unwise (at least on your special day) and celebrate your birthday with abandon. Have a happy one!


Let's get into the spirit of things.

"He who has not the spirit of this age has all the misery of it."


~ Voltaire


Let's also get into the spirits (a few shots never hurt anyone). Let's party! Happy birthday!


 

Oops...

"I grabbed a pile of dust, and holding it up, foolishly asked for as many birthdays as the grains of dust, I forgot to ask that they be years of youth."


~ Ovid


Just pretend you made this birthday wish and stay young forever!

---
<<Previous     1    2    3
Message Guy
Creator of this site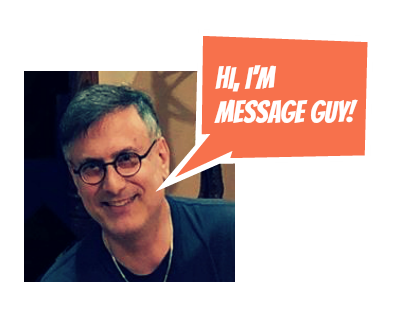 Kevin, the "Message Guy" who writes the birthday wishes, quotes, poems, toasts and speeches for this site, has been a professional writer, editor and translator for more than 25 years. He decided to create BirthdayMessages.net in 2012 to share his passion for birthday and "unbirthday" quotes on the best day of the year — your birthday.

CLICK HERE TO LEARN MORE ABOUT KEVIN (AKA MESSAGE GUY) 
Can't Find
What You Need?
By Kevin (aka "Message Guy")
Copyright © 2013-2019
BirthdayMessages.net.
All rights reserved.
All trademarks and service marks
are the property of their
respective owners.
The copyrights of all birthday
messages on this website
belong to the individual authors.
Site 
Powered By
Solo Build It (SBI)