Colleague Birthday Wishes
---
Immediate access to the right colleague birthday wishes for a birthday card can only make your job easier. Luckily, that's what you have here: the only birthday messages on this page are the right ones.

As you search for the perfect one below, you should really be looking for coworker birthday wishes that do one thing (and do it well). What's that? You need to find something you truly like about your colleague and include this sentiment in your birthday verse. Anything else will just look insincere.
Here are a variety of colleague birthday messages, giving you many birthday wish options to choose from.
Message Guy Tip #64:


How to pick colleague birthday wishes...
When that dreaded office birthday card for one of your co-workers comes around to your desk, you want to be sure you have just the right colleague birthday greeting to add. Am I exaggerating the importance of this moment? Not one bit.
So how should you proceed? You should be very careful because...
Read more ►
| | | |
| --- | --- | --- |
| Working with anybody else would just be a drag. You make work a fun place. Happy birthday. | Today is a special day at work. I think they started serving sushi in the lunchroom. Just kidding! I know it's your special day. Happy birthday!  | Hoping you get a big promotion and an even bigger pay raise this year. You deserve it. Besides, it's about time you picked up our lunch tab. Happy birthday! |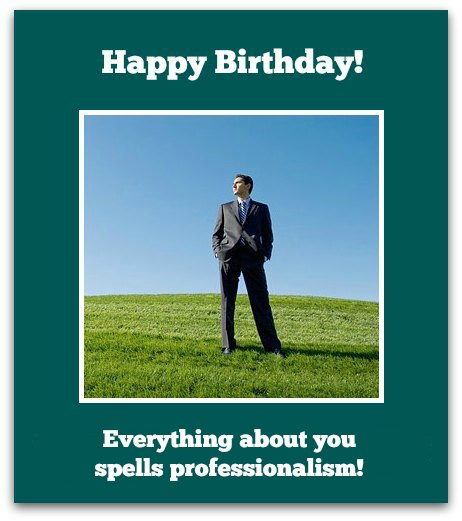 Message Guy Pick
Why would I choose the message right below as the best one? For one major reason...
Read more ►
| | | |
| --- | --- | --- |
| | Wishing "Happy Birthday" to you is a privilege. Working with you has shown me what dedication, honor, respect, hard work and professionalism mean and what they can accomplish. Happy birthday! | |
| | | |
| --- | --- | --- |
| | Happy to the Employee of the Month (in my books, at least). With a coworker like you, I don't think I'll ever have to look for another job. You make work more rewarding and, more than anything else, super fun. | |
| | | |
| --- | --- | --- |
| Working with you is truly a joy. I consider you the second-best co-worker here (I'm the first, of course). Happy birthday! | Happy birthday! You deserve a carefree day. That's why I've decided to do your work today. Tomorrow, of course, we'll go back to usual — you know, you can do my work. | You brighten up everybody's workday with your sparkling personality. You're a shining example of what makes good co-workers great. Wishing you a birthday as spectacular as you are.  |
Keep the search on!
Here are more colleague birthday wishes...
| | | |
| --- | --- | --- |
| Every day, time just flies at work. That's because of you. You strike the perfect balance between professionalism and fun! Happy birthday to my favorite colleague. | You're so lucky! You're not only another year older and wiser — you're another year nearer to retiring. Happy birthday! | Happy birthday! Why don't you just take off the rest of the day and I'll cover for you. That's what good co-workers do for each other (remember that when it's my birthday). |
Top of Colleague Birthday Wishes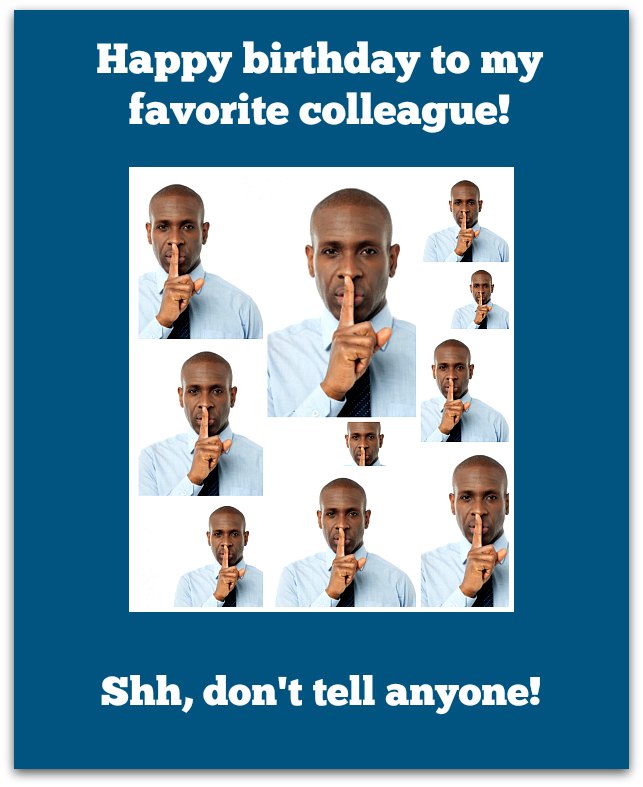 | | | |
| --- | --- | --- |
| You're a great colleague and an even greater pal. Your special day should be as great as you are. Happy birthday!  | Working together is the best part of my workday. You bring out the best in both of us. Happy birthday! | Just wishing you a "happy birthday" is not enough. As my favorite colleague, you deserve more. So here it goes...Happy birthday to my favorite co-worker!  |
As a co-worker, you're the best — probably the best I've ever known. You're there when I need a helping hand or two or three or more. Happy birthday!


For this birthday, everyone at the office made an executive decision. We all want to wish our favorite 
co-worker a truly super birthday! So...Have a supercalifragilistic birthday!

Happy birthday to a person who truly deserves the title of "World's Best 
Co-worker" more than anyone else in the office. I'm so proud to call you a colleague of mine!
---
BE THE FIRST TO SEE WHAT'S NEW
Message Guy
Creator of this site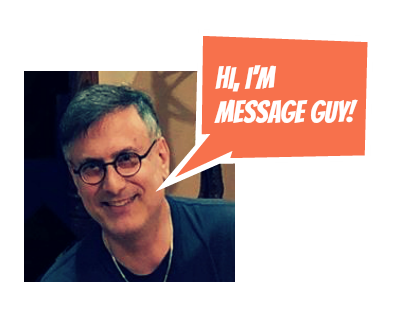 Kevin, the "Message Guy" who writes the birthday wishes, quotes, poems, toasts and speeches on BirthdayMessages.net, has been a content writer since 1993. In 2012, Kevin created this site to share the incredible power of words with birthday well-wishers everywhere.

Can't Find
What You Need?
Follow on FeedBurner
By  Kevin (aka "Message Guy")
Copyright © 2013-2022
BirthdayMessages.net.
All rights reserved. 
All trademarks and service marks
are the property of their
respective owners.
The copyrights of all birthday
messages on this website
belong to the individual authors.
Site 
Powered By
Solo Build It (SBI)
Build Your Own Website